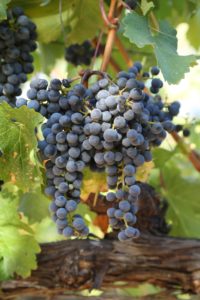 Dos Lagos Vineyards was founded by Tom and Marcie Dinkel in 2007 when they released their first vintage. Both are passionate about wine and nurtured a dream of owning their own vineyards prior to founding Dos Lagos. Their first date was at Hess Collection Winery (today known as Hess Persson Estates) near the city of Napa; Marcie remembers watching and being inspired by their video on winemaking. Tom went to De La Salle (the football powerhouse high school in Concord) and every year for four years his class attended retreats at Christian Brothers Winery (the property and winery that eventually became Hess Persson Estates).
While living in Healdsburg (neighboring Sonoma County) they began a search for vineyard property. They wanted exceptional vineyard terroir, especially for red varietals but didn't have a specific part of the valley in mind. Then one day Marcie received an email about a piece of property high on Atlas Peak that they had looked at previously which was re-listed at a lower price. They quickly jumped at the opportunity and purchased the property in late 2006. What also intrigued them about this property is it was already planted to vineyards.
Their property is 22 acres of which 5 acres are planted to Cabernet Sauvignon. Two separate vineyards, each about the same size are located across from each other. This vineyard location is about 1650 feet above sea level and is above the fog line on most days. This part of Atlas Peak is on a ridge and their vineyard is located in a saddle and fog often creeps up right to the edges of their property.
At this elevation there are dramatic differences in climate versus the valley floor. During the winter months they are often 7-10 degrees cooler than the valley floor during the day and temperatures can certainly reach freezing at nights. In the summer however, its usually much warmer during the morning than the lower elevations and while the sun is out here and its 85 degrees, one can drive to the valley floor and its 20-30 degrees cooler. Shorts and t-shirts are the norm at the vineyard whereas a jacket is needed merely 15 minutes at the lower elevations away where everything is still socked in fog.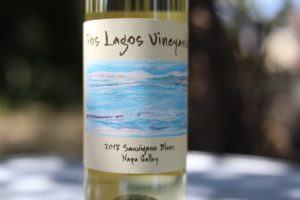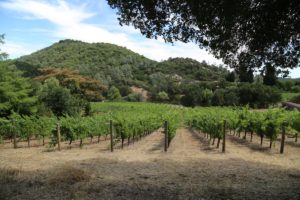 One moderating influence are the breezes that come up from the San Pablo Bay in the afternoon, often times this keeps the temperatures lower here than the valley floor in the afternoons.
Their are also two ponds, or "lakes" if you will on the property. Upon deciding on a name for the wine the initial thought was to use the French words for "two lakes" (Marcie is fluent in French) but during pronunciation tests on family, non French speakers often mis-pronounced the words. Ultimately they chose "dos lagos" which means two lakes in Spanish.
Despite such a small vineyard there is a diversity of micro climates, water penetration and depth of soils. Atlas Peak is known for its tufa rock – a hardened volcanic ash and its no different here. The top soil in much of their vineyard is measured in inches rather than feet and a white hardened tufa "cap" shows through to the surface in select areas. Its rocky here and the vines struggle – the perfect recipe for low production and fruit that produces concentrated flavors.
Atlas Peak experienced terrible fires in 2017 and then additional fires in 2020 (even burning some of the same ground that burned three years prior). There was numerous damage to both homes and winery properties. Remarkably the Dinkel home did not burn despite very nearby neighbors losing both homes and sustaining vineyard damage.
Immediately after the Dinkel's purchased the property there was a meeting of the Atlas Peak Association. Being the "new kids" on the terroir block they found much needed answers relating to vineyard management and winemaking from some of their neighbors. Especially helpful was at the time, neighboring vineyard and winery, Bialla (has since sold) who recommended their vineyard manager, Hector Lopez. Needing a winemaker Hector recommended Robert Foley; Hector worked closely with Robert and manages a number of vineyards that Robert makes wine from.
Robert Foley has left his mark on a number of Napa Valley wineries over the years. In the 1970s he worked with Joe Heitz at Heitz Cellar. Later he was founding winemaker at two fairly well known Napa wineries – Markham and Pride Mountain. Today Robert consults for a number of small premium producers in the valley; he built a winery on Howell Mountain many years. Until 2015 Robert crafted the Dos Lagos wines at his own winery. Following Robert's many years of making the Dos Lagos wines, Kent Jarmon took over in 2016 and is their current winemaker with the switch made primarily due to Robert's limited time constraints and the desire by the Dinkel's to produce wines in addition to their one estate grown Cabernet Sauvignon.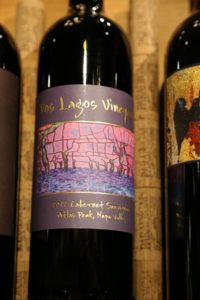 Before wine, Marcie (Hunt) enjoyed a previous career as a super model from the 1970s into the early 1990s and appeared on a number of Vogue Magazine covers including one month on both the covers of the French and English versions. She also modeled for Yves St. Laurent and Dior, among others. She was a cover model for more than 100 covers during her career, which began in high school in Saratoga. While long removed from her modeling career, today she paints, including different vineyard scenes for each vintage and wine label. Her works on canvas are transferred to the labels on the bottles each year.
And Tom (not to be confused with the former NFL player of the same name) has spent a long career involved in pursuing various forms of renewable energy and clean drinking water with more recent involvement in creating fresh drinking water; he serves as the CEO of WaterClear PLUS a company he and Marcie co-founded focusing on ocean desalinization and waste water treatment.
Select wines
The 2018 Dos Lagos Vineyards Sauvignon Blanc was sourced from the Somerston Ranch, a 1,600+ acre property with more than 200 vineyard acres located east of Rutherford on the way to Lake Berryessa. This wine was aged in neutral oak barrels and concrete eggs sur lie for 7 months. It was not allowed to go through malolactic fermentation. This wine is medium yellow color; the bouquet is defined more by its fruit rather than any sort of mineralities which this variety often shows, especially from cooler weather sites. It should be noted that Somerston is a fairly warm site. It offers aromas of lemon juice, citrus rind, lemongrass, orange blossom and much deeper into the aromatics, some notes of vanilla. This wine offers richness of flavor, mouth watering (but not green acidity), and a supple and satiny texture across the length of the palate. Its flavors are pineapple, honeydew melon and dried mango. This is a riper showing of this variety, and is a bottling that delivers plenty of pleasure on the palate.
The 2008 Dos Lagos Vineyards Cabernet Sauvignon initially shows nice earthiness, crushed rock, a dustiness if you will. This persists but as the wine opens it moves more to the background revealing the fruit. Black fig, red currant and blackberry show – the nose keeps evolving even more given time. The blackberry continues through to the palate, with flavors also showing of black currant and black cherry. The finish offers well structured tannins but not exceptionally dominating, instead are complemented by the concentrated fruit. Notes of mocha linger on a very long finish.
Tasting notes for current release wines coming soon.
—
Dos Lagos is certainly one of the smaller producers in the valley with an annual production for many years hovering only around 200 cases of one wine, their estate Cabernet Sauvignon. But more recently their production has increased slightly as they have begun producing a Cabernet Sauvignon based blend, Chardonnay and Sauvignon Blanc. With such a low production distribution is very small; the wine is available through their mailing list and from very select locations nationally including parts of Texas and Florida.
Collectors and serious wine enthusiasts may request an appointment for a vineyard tour. For more information and to join their mailing list visit: www.doslagosvineyards.com