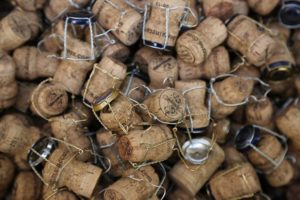 Domaine Carneros is a winery that one won't easily miss seeing while driving through the Carneros region of Napa Valley. The winery looks very European and is perched high on a hill, so it is easily seen from the well-traveled Highway 12. As a result, weekends combined with good weather can make for a very busy tasting experience. We have visited many times; Domaine Carneros is always very popular with well dressed, beautiful & sophisticated looking young professionals. There are only four primary sparkling wineries in all of Napa Valley; a stop here either in the morning or at the end of a day of tasting is always a good idea. The reason for this is twofold; it's location in the far southern part of the valley lends itself well for an early or late stop (a late stop, especially for those staying in either the towns of Napa or Sonoma or heading back to the San Jose Bay Area) – and in our opinion, sparkling wine is either best enjoyed in the early morning or after a day of still wine tasting. And Domaine Carneros is conveniently located only a 10–15-minute drive from downtown Napa and about the same distance from the town of Sonoma.
While their first vintage was a 1987 Brut, the winery and hospitality center was completed in 1989 but looks like it has been here much longer. It exudes old world charm as it was modeled after the historic Château de la Marquetterie, located in the village of Pierry, about a 10-minute drive directly south of the center of Épernay in Champagne (see our notes and photographs of this magnificent old building below). The construction of this handsome building was overseen by Santa Rosa based contractors, Wright Contracting who have worked on numerous significant high-profile properties in Napa and Sonoma including hospitals, schools and wineries. A select number of winery and hospitality projects they have been involved with in Napa Valley include: Bouchaine, Cakebread, Chateau Montelena, Colgin, Dominus, Freemark Abbey, Mumm, Opus One and the French Laundry and Meadowood.
As you may have guessed by now, this winery has a connection to France; it is 50% owned by Taittinger, a French company who operates Champagne Taittinger in Reims, France. In their search for another location to make sparkling wine beginning in the late 1970s, Taittinger identified several premium sites around the world for growing Chardonnay and Pinot Noir – the two essential varietals for making sparkling wine. The Carneros region was one of those sites and Taittinger purchased this property in 1987.
And the other owner is the Kopf family who runs the successful Kobrand Wines & Spirits based in New York and also owns Napa Valley based Sequoia Grove Winery and Sonoma County based, St. Francis Winery. Kobrand Corporation was founded in 1944 by Rudolph C. Kopf with their first office headquartered in the Empire State Building in New York City. Mr. Kopf had previously founded (1933) and run the wine & spirits department at Macy's wine and liquor in New York City (Macy's Herald Square).
The relationship between Taittinger and Kobrand dates back to 1946.
Domaine Carneros founding winemaker Eileen Crane began her career in Napa Valley as a tour guide at Domain Chandon; she remained at Domain Carneros for the duration of her career. She worked at several Napa and Sonoma sparkling wine producers beginning in 1978 and retired in 2020. Her focus while at Domain Carneros was on creating a premium consistent product each year. Another winemaker is responsible for all of their still wines.
Hospitality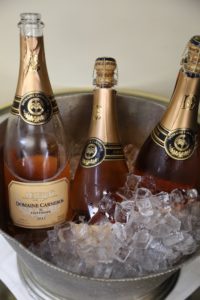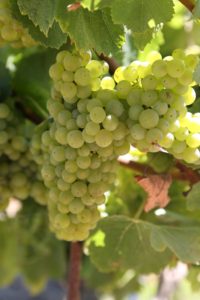 Visitors will walk up a series of lengthy steps past Pinot Noir vines growing to your right and Chardonnay vines to your left; this grand entrance is a popular place for selfies. Short walkways lead to the vines where one can examine the grapes in closer detail (August and early September are ideal times to take closeup "facies" with grape clusters as your backdrop). Walk up the steps until you reach the entrance, proceed inside and check in with a host. Weather permitting and if seats are available, the outdoor tables are where you want to be – to be seen and to see. These tables tend to fill up rather quickly, especially on warm spring through fall weekends.
A typical tasting lasts about 60 minutes although more in-depth tastings can last up to 90 minutes. Unlike most Napa Valley wineries, Domain Chandon offers table service with foods focusing primarily on charcuterie & cheeses.
Because of the wineries' location, uniqueness of being one of only several premium sparkling wine producers in Napa Valley, lengthy history in France, and the memorable appearance of the building, Domaine Carneros hosts more people than most area wineries. Because of its elevated height over the Carneros region, there are excellent views of the Carneros hills. The reserve tasting room is located downstairs and the main tasting space is located in the room to the right of the entrance. Not all wineries have as many tables' setup for wine enjoyment as this one. One comes here for their sparkling wine; our recommendation is to choose their sparkling tasting flight rather than the still wine flight – since this is the wine style, they are most known for – although they do produce quite a few different Pinot Noirs and Chardonnays.
All of their wine comes from vineyards in the Carneros sub appellation – with 95% of the grapes coming from their own estate vineyards (a very important notation, as they have full control over their farming and harvest decisions) spread across six separate vineyards encompassing some 400 acres of which approximately 250 acres are planted to Pinot Noir and 150 acres to Chardonnay. Their vineyards are located on both the Napa and Sonoma sides of Carneros and all within several miles of the winery.
Select Wines
Sparkling
The 2019 Domaine Carneros Verméil Demi-Sec is medium yellow in color; the bouquet offers aromas of Granny Smith apple, honeydew melon, honeycomb, quince, white peaches and nectarines and white toast. This wine reveals flavors of apple, pear, quince, honeycomb, mandarin orange and ginger. While perceptibly slightly sweet, the brightness of acidy and flavors far outshine the sweetness especially on the rich finish. Serve on a warm summer day, poolside with a plate of fresh fruit and a variety of lightly flavored cheeses. The word Verméil refers to plating a thin layer of gold on sterling silver and in the case of this bottling, refers to the layer of dosage added to the Brut Cuvee.
The 2018 Domain Carneros Blanc de Noir is a white sparkling wine made from 100% varietal Pinot Noir and was aged three years in bottle. This wine is pale yellow in color; the bouquet smells fresh and offers aromas of ripe pear, Golden Delicious apple, cooked Golden quince and recently toasted bread. Refreshing and lively across the palate, this bottling offers flavors of tart apple, kiwi, lemon, honeycomb and toast complemented by a light and airy mousse and a lingering tartness. This beautiful bottling is exclusively sold at the winery. Pair this with most anything or enjoy it's refreshing qualities by itself.
One of our favorite Domain Chandon sparkling wines is their Le Reve Blanc de Blancs. This wine is aged longer than most of their other current vintage 'bubblies' and as a result is very smooth. On the palate it shows a wonderful creaminess with a velvet-like texture. It is a blend of several different Chardonnay clones, each of which brings a unique characteristic to this wine. The name in French means "the dream" and was created to be the answer to their French high-end counterpart but in this case using only estate grown fruit. When we mentioned this was our favorite, our guide's response was "good taste is both a blessing and a curse"! Right, this is among their most pricey selections. Of the non-sparkling wines, they produce several Pinot Noir wines including the intriguing California styled estate Pinot Noir along with a Merlot.
Their sparkling wines are primarily vintage dated and are all made in the tradition style (méthode champenoise). And the focus is on sparkling wines made from Chardonnay.
Still
The 2021 Domaine Carneros Avant Garde Pinot Noir is pale ruby in color; this bouquet is clearly about the fruit rather than influence from spices that often this variety exhibits. It offers scents of raspberries, red vine licorice, rose petals, dark cherries and pomegranate – this latter aromatic reminded us of every fall harvesting pomegranates from a friends backyard and the resulting smells and juice that invariably dribbles out when we crack them open. This wine reveals flavors of red cherries, raspberries and other red berries. And where the bouquet lacks in spice notes, the palate picks up some including a very light drying savory spice note which persists on the finish. The tannins are so integrated they are barely felt; this easy-drinking wine lingers with a soft and supple texture. Grapes for this bottling were sourced from all six of the Domaine Carneros owned vineyards. This vintage was aged for 9 months in French oak barrels of which 20% were new.
Tour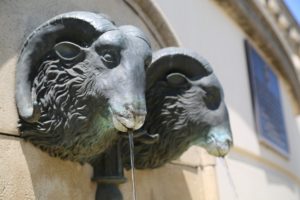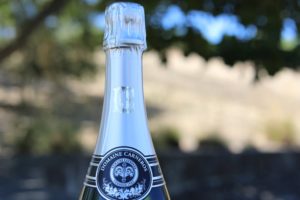 Note: Domaine Carneros currently offers a tour of the winery for members only. The flagship tour is offered daily year-round and offers a general overview of their vineyards, property and basic information about the process of producing sparkling wines. In addition, seasonal summer tours are also offered usually in regard to their still wines. The general tour takes about an hour.
The tour starts in the reception room and then spends some time next to some of the vines planted around the winery. This is a good time for viticulture questions. Then you walk up to their "media" room for a glass of sparkling and short video about Taittinger and Domaine Carneros. At the end of the video the screen moves up and guests are staring through a glass window at large steel tanks. Watching employees walk by some of whom wave at you is like looking at fish in a tank.
Next, visitors will proceed to a windowed area which looks down on their large aging rooms, bottling line, and the automatic riddler machines. A few antique wine making pieces of equipment are located here as well as a display on how riddling works. We were told in the early days of bottling sparkling wines – the amount of volume in each bottle was imprecise due to rudimentary filling methods. Enter foil; long foils were creatively introduced when bottling sparkling wines to hide the differences in volume in each bottle!
Guests will finish the tour in the Reserve room for a sit down tasting of their still wines (several different Pinot Noirs). We've been on several tours; the guides are there to answer questions but also have a good time with their guests. During one of our visits, our tour guide told the story of a Japanese distributor who wanted to buy 5 cases for his daughter's wedding. Domaine Carneros doesn't do much international shipping, so they were trying to figure out how to get these bottlings to the man ASAP. It turned out his daughter was only 2 years old, and he was trying to make a point that yes, Domaine Carneros's sparkling wine will age!
Domaine Carneros has offered a variety of tasting experiences over the years, and these continue to evolve. As of our latest update several special tastings worth noting include a food and wine pairing and a unique wine sabering experience (slicing open a bottling using a sharp sword called a saber, typically used for ceremonial occasions).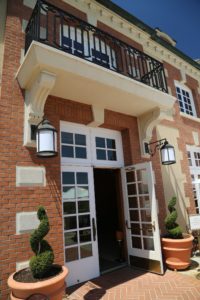 As a side note, they have one of the larger photo-voltaic systems of any winery in the world located towards the back of the winery. And they are certified CCOF (since 2007) which means all their estate vineyards are farmed organically.
In 2018 Domaine Carneros opened a garden conservatory called the Jardin d'Hiver; this enclosed mostly glass room is used for five-course food pairings and select tastings. It faces north overlooking one of their terraces. It was modeled after some of the glass buildings that Gustave Eiffel created in the mid to late 1800s on the Place de la Concorde in Paris. A fireplace helps keep one warm here in the winter.
Note: after years of hosting visitors by walk-in, in 2019 Domain Carneros now sees visitors only by prior reservation – although conceivably last minute or same day reservations can be made on days when they are not too busy (generally weekdays).
Special events are offered at select times throughout the year including with winemaker. For more information, to schedule a visit and or to join one of their wine clubs called the Chateau Society (as of the latest update to this review they offer 6 membership options), Visit: www.domainecarneros.com



Jardin d'Hiver


Winery


Champagne Taittinger, Reims France
One of the most historic Champagne houses, Taittinger was founded in 1734 by Jacques Fourneaux and is the fourth oldest winery operating in Champagne behind Gosset (1584), Ruinart (1729) and Chanoine Frères (1730). In the early 1900s the Taittinger family, Pierre Taittinger and his brother-in-law operated a Champagne distribution company. The modern-day beginnings of Taittinger are from 1931 when Pierre took over the operations of what was called at that time, Forest-Fourneaux. And several years later Pierre purchased Château de la Marquetterie and its accompanying estate. Eventually the Taittinger family took over the site of what used to be the Saint Nicaise Abbey (their present-day headquarters).

The history of this site is overwhelming. Saint-Nicaise, the bishop of Reims was killed in the 5th century and was buried here. In 1229 an abbey was built by the Benedictine monks over Saint-Nicaise's gravesite and to house his relics. The abbey was sold during the French Revolution (1789 to 1799) and over time was dismantled for its stone until by the 1800s it was completely destroyed. Much later during World War I the caves were used to house soldiers and refugees (one can even still signature etchings and dates carved into the chalk from soldiers during World War I).

The history of the site extends even further – the existing caves originated as a chalk quarry/pits (called crayères in French) by the Gallo-Romans in the 4th century, with hand cut blocks of chalk stone used for buildings. Some 900 years later, the Benedictine Monks expanded the quarry into caves used for aging their own wines.
Champagne Taittinger was sold for about a year between 2005 and 2006 to the private USA based investment firm Starwood Capital Group. But by mid 2006 the Taittinger family purchased Champagne Taittinger back. Today the business is family owned and operated.

Tours by appointment are led by knowledgeable hosts and include a visit into the historic underground cellars (approximately 4km of tunnels storing some 2 million bottles at any one time – although the family operates another bottle storage location off site storing up to 25 million bottles). Like the other caves in the region, the temperature is constant. Highlights include seeing some of the original construction by the monks in the 13th century including steps leading up to where the abbey was located at that time. Following a visit to the cave, guests will ascend upstairs to an elegant tasting room to try several of their wines.

Besides enjoying the wine in this tasting room, guests can also view a small historical collection of artifacts collected in Reims during archaeological digs held in the Vieux Port area of town between 2008 and 2009. The items displayed are wooden or leather including several old shoes, beauty products such as combs, cosmetic palettes and makeup 'pots' and a number of wine related artifacts including wine sieves, transportation vessels and even three very well-worn wine barrels.

A book dedicated to founder Pierre's son Michael Taittinger is also for sale in the tasting room written by his brother Claude. Michael died in 1940 on his 20th birthday during World War II.

For more information or to make an appointment to see the caves followed by a tasting, visit: www.taittinger.com

Like several other Champagne producers, Taittinger has international interests, Domaine Carneros of course but also more recently vineyards in southern England through a joint partnership with Hatch Mansfield Ltd (a UK based wine distribution company). See our notes and photography below for more details.

exterior


interior


reims


Château de la Marquetterie
This stately and historic chateau sits on the edge of a hillside overlooking part of the tiny village of Pierry, a less than a 10-minute drive from Épernay. This home was the direct visual inspiration for Domaine Carneros (compare our photographs to see the similarities).

It was home to fiction writer Jacques Cazotte from 1760 until sometime during the French Revolution (1789-1799). Cazotte was most known for his work: Le Diable amoureux. A number of well-known French authors would join annual festivities during harvest during Cazotte's ownership including Voltaire.

Its connection to the Taittinger family began during World War I when Pierre-Charles Taittinger joined Marshal Joseph Joffre who used the chateau as a command center and headquarters. Joffre was most known for leading his troops to victory over the Germans in the First Battle of the Marne in September 1914.

Pierre-Charles purchased Château La Marquetterie in 1934 and it has been under the Taittinger family ownership ever since.

Comtes de Champagne
This significantly restored medieval building (was almost destroyed in WWII) is located in central Reims, a short walk from the Cathedrale Notre-Dame de Reims. It is owned by Taittinger and is used as a private event space including hosting private concerts. Two primary rooms are within the building, one on the ground floor and one on the first floor; each can accommodate up to 150 people.

And while their primary cellar closed for renovation during 2023 and part of 2024, Comtes de Champagne was used to host visitors for the first time in its history.

Domaine Evremond, England
The vineyards for Domaine Evremond are located about a 90-minute drive with no traffic, southeast of central London or a 20-minute drive from Canterbury. This is very rural and agricultural England countryside, with narrow roads often bordered by hedgerows and dirt or gravel roads leading into farms or orchards.

In 2015 Taittinger in partnership with UK based Hatch Mansfield Ltd, purchased 224 acres, the first time a Champagne producer invested in vineyard lands in the UK. Today their holdings are more than 250 acres with the possibility of even more acreage being added to their holdings. Hatch Mansfield was established in 1994; their primary business is working as an agent and wine broker for select premium family-owned wineries and producers. They began working with Taittinger in 1998 and then Domaine Carneros the following year.

With an appreciation for history and tying in both France and the U.K. Domaine Evremond was named in homage of Charles de Saint-Evremond (1614-1703). Evremond was from France, a poet and an ambassador for Champagne in part helping promote its wine in the U.K. And this Frenchman is buried in London – in the poets' corner of Westminster Abbey.

The Taittinger's were already familiar with this part of England prior to their purchase. One of the family members, Jean Taittinger was mayor of Reims from 1959 through 1977 and during his time in office he oversaw the twinning of Reims with Canterbury. For clarification, a twinned city in the UK is similar to a sister city or friendly city in the U.S and it's a very common occurrence to see signs in even small towns or villages listing the twinned name of some other town.

The property is surrounded by numerous apple orchards, planted to various varieties including trees producing extremely tiny apples. The first grapevines were planted in 2017, including Chardonnay, Pinot Meunier and Pinot Noir and the first harvest was in 2019. Today the property is planted to approximately 70 acres of vines. The site must be windy at times; during our visit we noticed several lines of trees near or among the vineyards acting as natural wind blocks.

The first bottling should be released in either 2023 or 2024. We look forward to trying some of these releases at our earlier convenience. And plans eventually call for a two-story winery to be built with both production and hospitality spaces.

For more information, visit: www.domaineevremond.com