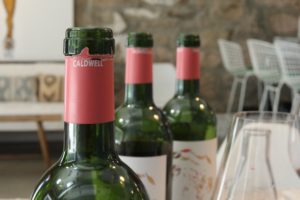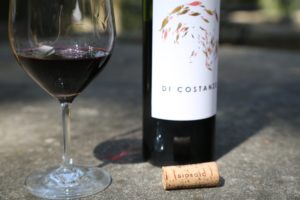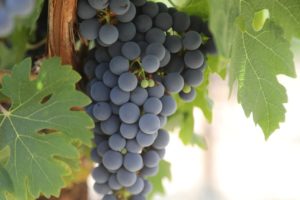 Di Costanzo Wines was founded with the 2010 vintage by owner and winemaker Massimo Di Costanzo. Massimo grew up in an Italian household in Berkeley, California – where wine, food and conversation were blended together during meals. When Massimo went to college (U.C. Davis) he did not initially enroll with the idea of becoming a winemaker. Rather he was interested in economics and business – but after enrolling in an introductory course to wine making and earning a very high grade in this class his interest was, as he says, 'piqued by the process' and he switched career paths ultimately graduating with a degree in wine making.
Post college wine making work took him oversees to a number of wine regions including to Italy, South Africa and Mendoza, Argentina. He learned how quality wines were made around the world and this experience gave him an international perspective on wine making. But ultimately, he chose Napa as the region where he wanted to establish his own career. He had been drawn to well established producers making wines with restraint and finesse – including vintners such as Cathy Corison and Ric Foreman.
His first job in the Napa Valley was working at Provenance with winemaker Tom Rinaldi. In 2005 he met accomplished winemaker Andy Erickson and worked at what was a new winery at the time, Ovid on Pritchard Hill. Massimo then spent 2.5 years working with Andy as his assistant winemaker at Screaming Eagle (during what were exciting times at that vineyard with a winery redesign and a vintage that earned a remarkable score of 100 points from wine critic, Robert Parker).
He then left Screaming Eagle to work with winemaker Philippe Melka. But for many years his dream had been to establish his own brand. In 2008 and 2009 he purchased fruit from several prominent vineyards in Yountville and St. Helena, made his own wine but did not release it commercially. Rather it was bottled as a private label for a wine shop in the valley. Massimo's wife Erin is an instrumental part of the Di Costanzo wines; she oversees direct to consumer sales and other distribution. She worked at Del Frisco's in New York before moving to Napa Valley and working for 10 years at ACME Fine Wines in St. Helena.
While looking for a winery to make his wine at, Massimo was introduced to vintner Tom Farella. Massimo had already been familiar with Tom's wines prior, and he recalls how well they tended to age. Looking to work with a cooler climate Napa Vineyard, Tom's vineyard in the soon to be designated Coombsville appellation at the time seemed like a perfect fit. And timing was right – after the economic downturn of 2008 all of the sudden vineyards who were selling fruit to others had a surplus of grapes.
In 2010 Massimo was able to choose select blocks in the Farella Vineyard and produced fruit from these same blocks through the 2019 vintage. His first Farella Vineyard designate was merely 100 cases; production has grown organically over the years and today is typically between 1,000 and 1,200 cases annually.
Farella Vineyard is one of Coombsville's older vineyards and contains the oldest Cabernet Sauvignon vines in the appellation. Massimo says "this vineyard makes the wines" – as a result he doesn't have to do much manipulation once the grapes come into the winery. He picks at a reasonable brix – his wines from this vineyard have all-natural acidity (no acidulation needed), he does not fine or filter and uses a minimum of SO2. The wine typically is aged in 50% new French oak for 22 months and then receives another 6 months in bottle before being released.
The focus of their winemaking efforts are on creating superbly balanced wines in their youth but with the attributes for aging. They seek out single vineyard sites on volcanic soils from both premium terroir in Napa Valley and neighboring Sonoma County. And exceptional growers who farm organic. The wines they produce from these sites are always 100% varietal.
Select Wines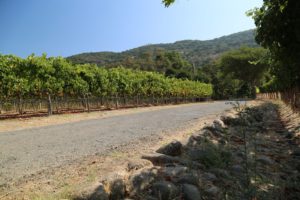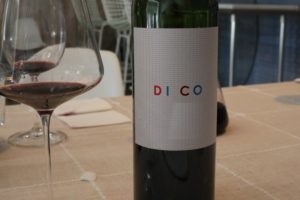 In August 2019 vintner John Caldwell of Caldwell Vineyards in Coombsville called Massimo and offered him a special block of Cabernet Sauvignon which had previously been purchased by Randy Dunn of Dunn Vineyards for his Napa Valley Cabernet Sauvignon. After Randy purchased Eagle Summit Vineyard on Howell Mountain, he no longer needed additional grapes. Caldwell had seen a small mention about the Di Costanzo wines in the Wine Spectator and read about Massimo's affinity for Coombsville. He told Massimo he was looking for a younger winemaker to work with and said, "I think you should take these grapes". And they did.
Erin was familiar with Caldwell wines from her time at Del Friscos. This Caldwell block is typically the last of their vineyard sites to harvest. The 2019 Di Costanzo Caldwell Vineyard Cabernet Sauvignon is dark ruby in color; the nose is somewhat initially floral with notes of dried rose petal and as Erin mentioned, a 'raspberry tea' like aroma. There is also a darker part of the bouquet including of old cedar box. The oak is a complementary component on the bouquet helping showcase the fruit aromas. This wine is fresh, youthful and bright across the palate with red fruit flavors dominating including of cherry and currant, especially on the finish. The texture is a lovely characteristic with finer grained and rounded tannins. This is as wine with finesse.
The Montecillo Vineyard is located adjacent to Sugarloaf State Park in the Moon Mountain appellation of neighboring Sonoma County in the Mayacamas mountains (just west of Napa Valley's Mt. Veeder appellation). This is a hillside site with iron rich soils and due to its elevation receives plenty of breezes. While looking for Merlot from Moon Mountain, Massimo spoke to Chuy Ordaz, grape grower and founder of Palo Alto Vineyard Management Company. He offered Massimo Cabernet Sauvignon from the Monticello Vineyard; the vines are some of the oldest of this variety in Sonoma County having been planted in 1964. The site is both dry and organically farmed and is highly sought after with fruit going or having gone to DuMol, Arnot-Roberts, Carlisle and Turley, among others. 2017 was the first Di Costanzo vintage from this site.
The 2019 Di Dostanzo Montecillo Vineyard is dark ruby in color with aromatics of cherry, red berries, dried herbs. There are some floral notes here to, including violet and lavender. It is noticeably bright and balanced across the palate with no harsh edges. However, it is well-layered with plenty of complexity for serious wine enthusiasts to enjoy in its youth. This wine will certainly age well. The rounded tannins are dusty anchoring a dark finish showing notes of tobacco leaf, dried herbs, pink peppercorn and lavender. This is a lovely showing.
Unfortunately, the last vintage of Di Costanzo from the Farella Vineyard was in 2019. It was sourced from four separate blocks within the vineyard. This wine offers a distinctive bouquet that made it easy to identify in the other current release lineup. Sports aromatics of dried herbs, cigar smoke, hints of jalapeno and as the wine evolves reveals aromas of white pepper and a five-star spice characteristic. There is also an elegant note of old cedar box, reminiscent of my grandmother's old velvet lined jewelry box. It is a bouquet with character and shows the varietal characteristics of Cabernet Sauvignon. On the palate offers mostly red fruits including cherry with red plum. This wine has the tannin profile, the acidity and plenty of fruit to ensure a long life. The finish has some muscle, lingering with grippy tannins and an accompanying brightness of acidity.
In 2016 Massimo expanded his vineyard portfolio to include the Rafael Vineyard in the western hills of the Oak Knoll District, a site adjacent to part of Alston Park. Today grapes from this vineyard are used for an accompanying label called Di Co. Wines under this label are often distributed to select restaurants and retail outlets. The 2019 Di Co Cabernet Sauvignon is medium to dark ruby in color; features aromas of blackberry, clove and hints of pepper on the bouquet. Offers a generous mouth feel with a refreshing thread of acidity running the breadth of the palate. The finish shows a density of tannins; they are dusty and slightly chewy with a good grip. The finish is somewhat savory and lingers with some dried tobacco leaf spice.
The 2015 Di Costanzo, recently bottled at the time of our tasting with Massimo is 100% varietal Cabernet Sauvignon. A warmer vintage with lower yields – this wine is remarkably very approachable in its youth. Shows dark fruit with a ruby purple color in the glass. The bouquet is well layered and continues to reveal a diversity of aromas as it opens. It shows attractive aromatics including sweet blackberry and plum notes along with a dry dust nuance, a kiss of mocha and a perceptible note of tobacco. Reveals both ripe aromatics yet is elegant at the same time. Tom Farella says his vineyard produces "an abundance of fine-grained tannins – and this wine certainly shows this structure on the finish. Somewhat dusty in character the tannins are already fairly well integrated.
—
The packaging certainly stands out; it is a school of multicolored swimming tuna arranged in a semicircular fashion on the label. This is a tribute to Massimo's grandfather who was a fisherman in Positano (Almalfi Coast, Italy). Massimo used a photograph of his grandfather holding two tuna fish by the tails to work with their talented designer (Michael McDermott) to create the image for the label. And in a break from traditional capsules which are normally red or black – Massimo chose a custom pink color for the capsule on the Di Costanzo wines and a green/blue color for the Di Co wines taking inspiration from the pink wrapping of sugar packets in Italy during World War II. These capsules certainly stand out and especially so at a restaurant if the bottle is lying on its side next to other wine bottles.
The wine is sold through a combination of direct to consumer and placement in select retail outlets including restaurants (sommeliers often gravitate towards this style of wine) and wine shops. The wines are selectively distributed in New York, Chicago and also overseas including the United Kingdom and Switzerland. Locally one can sometimes find select vintages at the French Laundry, Press, Cook and Oenotri restaurants. And the wine is also available at ACME Wine Shop in St. Helena. For more information and to join the mailing list, visit: www.mdcwines.com