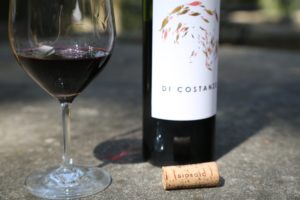 Di Costanzo Wines was founded with the 2010 vintage by owner and winemaker Massimo Di Costanzo. Massimo grew up in an Italian household in Berkeley, California – where wine, food and conversation were blended together during meals. When Massimo went to college (U.C. Davis) he did not initially enroll with the idea of becoming a winemaker. Rather he was interested in economics and business – but after enrolling in an introductory course to wine making and earning a very high grade in this class his interest was, as he says, 'piqued by the process' and he switched career paths ultimately graduating with a degree in wine making.
Post college wine making work took him oversees to a number of wine regions including to Italy, South Africa and Mendoza, Argentina. He learned how quality wines were made around the world and this experience gave him an international perspective on wine making. But ultimately he chose Napa as the region where he wanted to establish his own career. He had been drawn to well established producers making wines with restraint and finesse – including vintners such as Cathy Corison and Ric Foreman.
His first job in the Napa Valley was working at Provenance with winemaker Tom Rinaldi. In 2005 he met accomplished winemaker Andy Erickson and worked at what was a new winery at the time, Ovid on Pritchard Hill. Massimo then spent 2.5 years working with Andy as his assistant winemaker at Screaming Eagle (during what were exciting times at that vineyard with a winery redesign and a vintage that earned a remarkable score of 100 points from wine critic, Robert Parker).
He then left Screaming Eagle to work with winemaker Philippe Melka. But for many years his dream had been to establish his own brand. In 2008 and 2009 he purchased fruit from up valley (Oakville and St. Helena), made his own wine but did not release it commercially.
While looking for a winery to make his wine at, he was introduced to vintner Tom Farella. Massimo had already been familiar with Tom's wines prior, and he recalls how well they tended to age. Looking to work with a cooler climate Napa Vineyard, Tom's vineyard in the soon to be designated Coombsville appellation at the time seemed like a perfect fit. And timing was right – after the economic downturn of 2008 all of the sudden vineyards who were selling fruit to others had a surplus of grapes.
In 2010 Massimo was able to choose select blocks in the Farella Vineyard and has continued sourcing fruit from these same blocks. His first Farella Vineyard designate was merely 100 cases – today production has grown to typically between 300 to 400 cases a year. In 2016 Massimo expanded his vineyard portfolio to include the Rafael Vineyard in the western part of the Oak Knoll District.
The Farella Vineyard is one of Coombsville's older vineyards – and contains the oldest Cabernet Sauvignon vines in the appellation. Massimo says "this vineyard makes the wines" – as a result he doesn't have to do much manipulation once the grapes come into the winery. He picks at a reasonable brix – his wines from this vineyard have all natural acidity (no acidulation needed), he does not fine or filter and uses a minimum of SO2. The wine typically is aged in 50% new French Oak for 22 months and then receives another 6 months in bottle before being released.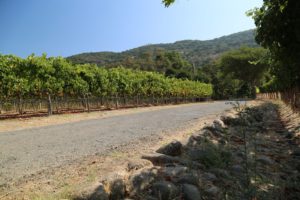 The 2015, recently bottled at the time of our tasting is 100% varietal Cabernet Sauvignon. A warmer vintage with lower yields – this wine is remarkably very approachable in its youth. Shows dark fruit with a ruby purple color in the glass. The bouquet is well layered and continues to reveal a diversity of aromas as it opens. It shows attractive aromatics including sweet blackberry and plum notes along with a dry dust nuance, a kiss of mocha and a perceptible note of tobacco. Reveals both ripe aromatics yet is elegant at the same time. Tom Farella says his vineyard produces "an abundance of fine-grained tannins – and this wine certainly shows this structure on the finish. Somewhat dusty in character the tannins are already fairly well integrated.
The packaging stands out – a school of multi colored swimming tuna are arranged in a semi circular fashion on the label. This is a tribute to Massimo's grandfather who was a fisherman in Positano (Almalfi Coast, Italy). Massimo used a photograph of his grandfather holding two tuna fish by the tails to work with his designer to create the image for the label. And in a break from traditional capsules which are normally red or black – Massimo chose a custom pink color for his capsule. This certainly stands out and especially so at a restaurant if the bottle is lying on its side next to other wine bottles.
The wine is sold through a combination of direct to consumer and placement in select retail outlets including restaurants (sommeliers often gravitate towards this style of wine) and wine shops. The wines are selectively distributed in New York, Chicago and also overseas including the UK, Switzerland and Hong Kong. Locally you can find the wine at ACME Wine Shop in St. Helena. For more information and to join the mailing list, visit: www.mdcwines.com