Destino Wines is was founded by Chris Calkins in 1998. The winery name in Spanish means destiny, fate or journey. It is Chris's philosophy that the journey of winemaking itself is in fact the destination. Chris has a long background in the coffee industry, working with Starbucks in Seattle and then later co founding the well-known Spinelli Coffee Company based in San Francisco. He sold the company in 1998 and then soon after founded Destino Wines in 1999. He has always been interested in wine having made home wine off and on for a number of years.
Making high end wine is similar to producing excellent coffee. It all starts with the specific terroir source (influence on flavors and aromas) and in this case Destino sources from a number of very high end vineyards mostly in the Napa area. For the most part their vineyard sources are consistent from year to year and Chris is personally involved in various vineyard management aspects (determining crops loads, when to pick etc). He has been the winemaker since day 1. His wines are made in a style where they are approachable early on and the tannins are well managed.
Destino makes a wide variety of wines (each wine is under 1000 cases totally and all are quite reasonably priced) including two Chardonnays, one from the Russian River in Sonoma County and a Napa Valley Chardonnay. The 2005 NV Chardonnay has a very aromatic nose with notes of citrus and other herbs followed by a palate that is rich in fruit – pear, melon and more citrus with hints of toasted oak and almond to round out the finish.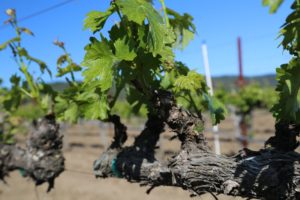 The 2007 Rose of Syrah was the first year Destino produced a Rose. This is not your typical light Rose. It is a robust Rose with very distinctive flavors – some raspberry and watermelon are mixed with various spices which round out the palate. This wine was made by the French saignée method in which juice is "bled" out of the red wine during an early stage in fermentation (rather than merely letting the juice sit on the skins for a set amount of time).
The 2005 "The Mask" was the first vintage released of this proprietary blend. Chris has a mask on the wall from Guatemala and the image of this mask now graces the label. The wine is Cabernet Sauvignon, Zinfandel and Syrah. This is a wine with big fruit aromas that carry into delicious flavors on the palate. It has a very smooth mouth feel with a nice long finish.
The 2004 Cabernet Sauvignon is made in a Bordeaux style but wines such as this do no harm to the well-deserved image of Napa's Cabernets! Bordeaux yeast is used during fermentation and the wine sees extended maceration. This is an excellent wine at a great price. Hints of chocolate and mocha on the nose lead to berry & cherry flavors on the palate. The tannins are well managed and soft on the finish.
In addition, Chris owns a cruiser Yacht and serious wine enthusiasts can taste with Chris at the dockside guesthouse in South Napa. Destino club members who order 2 or more cases in a single calendar year can also enjoy a cruise of the Napa River and nearby wetlands.
NOTE: Chris sold Destino and is now the consulting winemaker for the new owners Kevin & Anne Murphy. This review is listed for a revisit and an update or to be archived. Not sure if Destino is still producing wines.