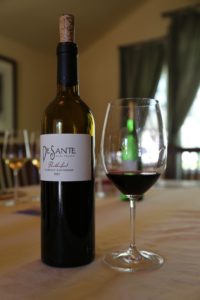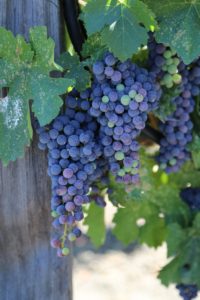 DeSante Wines. At age 10, Napa Valley winemaker David DeSante had an inkling he might want to pursue wine making someday. His introduction to wine started simply enough; in western Pennsylvania where he was born and raised, Concord grapes are commonly grown. He recalls climbing trees to pick bunches of Concord grapes one summer, carrying them back to his mother's kitchen and mashing them up until he had enough juice to fill a large glass Coca Cola bottle. His plan was to let the juice ferment but when his mother discovered the 'mess' – he quickly informed her he was going to allow it to turn into wine. In such a perfectly cared for kitchen, her son's Concord grape production and early wine making interests fell on deaf ears; David's initial interest in wine making suffered a temporary setback.
He used to hang out at a nearby cider mill fascinated by the process and mechanics of making cider. However, his early interests in wine were diverted for some time – he attended Virginia Tech with an interest in becoming an aerospace engineer. Then the Space Shuttle Challenger disaster occurred and there was a damper on hiring aerospace engineers. He changed gears and began medical school at the Medical College of Virginia.
He met his wife Katharine by chance (David was lost on the campus of William and Mary and randomly knocked on a dorm room asking for directions and Katherine answered). After they married, he told Katherine he was contemplating a career change and mentioned the possibility of learning how to become a wine maker. Katherine was familiar with the Napa Valley through her parents who had visited the valley since the 1960's. Neither Katherine nor David had much experience with wine at that time – but were familiar with some of the wines Katherine's parents enjoyed. One such wine was a Chalk Hill Chardonnay that was in their refrigerator at this time. One day David called the phone number listed on the back of the bottle and was immediately connected to the tasting room. He then asked for their winemaker (who was traveling at the time) and instead, was soon talking to the founder and owner, Fred Furth. David introduced himself as a medical student and was rather impressed this winery owner was taking the time to explain the industry and basic wine making based on his random call.
David remembers then calling up UC Davis and being transferred to the only professor who was available at that time, Roger Bolton (who he later studied under). With his interest in wine peaked David and Katharine moved across country. Ultimately David earned a degree in Viticulture and Oenology at the University of California at Davis. His first harvest in the Napa Valley was at Trefethen. Robert Mondavi soon hired him where he helped make 128 different wines during his first year. He was working with a variety of different clones – and was making small lot experimental wines. It was at Mondavi that he really furthered his palate and knowledge of international wines.
Château Lafite Rothschild offered him a position but with a caveat – it was only for him, and he could not bring Katharine. An opportunity then presented itself in Australia and he and Katharine moved to Margaret River where he worked for Cullen Wines and was introduced to organic and biodynamic farming practices. Upon returning to Napa, he worked at what was S. Anderson – making both their sparkling and still wines.
The first vintage of DeSante Wines was from 2001 – 2,000 cases of Sauvignon Blanc purchased from grower Andy Beckstoffer. The higher case was a result of Andy's minimum order specifications. Today David provides consulting wine making advice for a number of select clients. Both David and Katharine help manage a number of the old vines they source fruit from.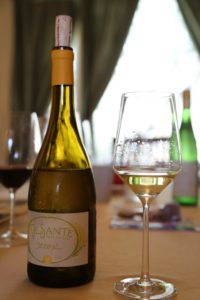 David lists two mentors as being extremely influential to his own career. One, Didier Dagueneau was a winemaker from the Loire Valley who tragically died in 2008 in an ultralight plane crash in France. David was introduced to him when Didier was working on yeast trials at the University of Bordeaux. Didier used to say the Sauvignon Blancs in California were hot, sweet, oxidized and flavorless. He gave David excellent advice on best locations for growing this variety, how to manage the vines and suitable wine making practices. David wrote down a quote from Didier in one of his many notebooks he has kept over the years "Great wines have elegance, finesse, length, subtlety – in short have mineralities and are complex".
David's second mentor was Jean-Claude Berrout, a French winemaker who was influential during his time working for Jean Pierre Moueix at Chateau Petrus in Bordeaux. David refers to Jean-Claude as the "Bordelais existential father of terroir".
Select Wines
The L'Ateliere wine was named after one of David and Katharine's interns Louis. At the time David was using part of a cave to make his own wines in a custom crush winery and Louis would refer to this niche space as L'Atelier – or in French referring to a workshop or a studio. The 2015 shows a noticeable mineral component on the nose, with citrus blossom and a subtle toast aroma. As the wine breathes aromas of stone fruit show including white peach and white nectarine. The wine is lively and crisp on the palate.
The 2014 Old Vine Chardonnay is from a vineyard in St. Helena with vines that date back to 1960. David worked with Mike Chelini (long time winemaker at Stony Hill) for additional experience working with this variety. This wine undergoes partial malolactic fermentation to help soften the overall acidity. This wine usually sees between 6- and 12-months barrel aging. The oak is a subtle complement to the fruit rather than dominating as one might think this much barrel time might normally impart. This is a beautiful and expressive wine across the bouquet and the palate. It is darker yellow in the glass; notes of toast, hazelnut, mandarin and caramel aromas show on the bouquet. The palate has an ideal balance of weight and fruit without heavy viscosity. There is a pleasing sweet yet at the same time tartness that shows on the long rich finish.
Besides being rare and difficult to find, there is almost no interest from an economic standpoint for growing or sourcing older white varieties in the Napa Valley. As a result, out of 1,100+ Napa wineries/producers met with to date, we have tasted very few old vine white wines. It is uniquely refreshing when we discover a producer such as DeSante who is interested in preserving what is left of these old vines in the Napa Valley – especially old white varieties that used to be planted in much greater abundance in Napa such as Riesling, Green Hungarian and Golden Chasselas among others.
One vineyard David has worked with is the 100+ year old head-pruned, dry farmed family owned and managed Proof Vineyard in Rutherford located on the railroad track side of the intersection of Highway 29 and Zinfandel Lane. The vineyard footprint encompasses approximately 4 acres and besides its extremely old and rare white varieties, is also planted to some red varieties, i.e., Petite Sirah.
One very special wine David produces is simply called The Old Vines and is a field blend of Sauvignon Vert, Sémillon, Sauvignon Blanc, Green Hungarian, Golden Chasselas and possibly several other Alsatian white varieties they have not yet identified. The oldest vines on this family-owned property date from the 1890s and the newest plantings are from the 1950s. The majority of vines were planted prior to prohibition. And this vineyard has been dry farmed without any use of chemicals or sprays since the mid 1950's and the vines are all head pruned. After decades, the vines do not yield much fruit (around 0.5 tons/acre) – but what they do yield is remarkably rich, concentrated and layered.
The 2013 Desante Old Vines shows a noteworthy and distinctive bouquet for a Napa Valley produced white wine – initially showing notes of petrol and pine bouquet – as it opens additional nuances come forth – including a nuttiness, perhaps almond. The wine is balanced with great acidity – citrus including lemon, and an orange zest linger for a long time. This is an extremely rare wine (for Napa) and is a wine that should be treasured and one well worth seeking out.
The 2013 Desante Oakville Cabernet Sauvignon was sourced from the eastern side of Oakville – 10 barrels were produced. There is a noticeable dark fruit intensity of aroma; it is layered with both fruit and spice including black cherry, toasted cedar, graphite and a sweet vanilla nuance that is more subtle than the other aromas. Darker fruit shows on the palate including black cherry – the finish is slightly earthy showing both fruit and oak tannin.
The 2013 Desante Rutherford Cabernet Sauvignon is 90% Cabernet Sauvignon, 9% Petite Verdot and 1% Alicante Bouschet (a cross of Petit Bouschet and Grenache) – all co-fermented. This wine shows a neat meaty/savory component on the bouquet with elegant cedar box notes and black currant. The palate is earthy, deep and dense with darker fruit. The tannins are polished and refined.
—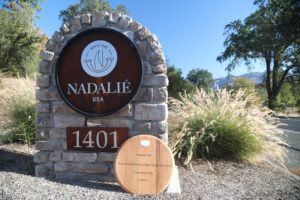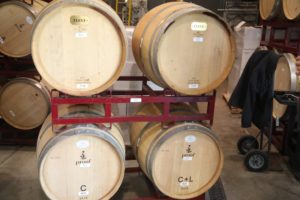 The process of choosing oak barrels for their wine making program is somewhat unique in Napa. They choose the specific region in France, then choose a specific forest and generally opt for lighter toast levels. After the wood to be used in their specific barrels has been shipped to Napa, they help assemble the barrels and toast the barrels at Nadalie Cooperage in Calistoga.
Rather than having purchased barrels already made well before harvest – they are able to wait closer to harvest to make all their barrel decisions including their assembly. This timing can be advantageous allowing them to carefully tailor the oak and toast levels based based the anticipated nuances and character of each vintage.
Total production usually runs between 1,000 and 2,000 cases per year. For more information and to join their mailing list, visit: www.desantewines.com