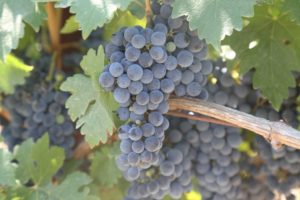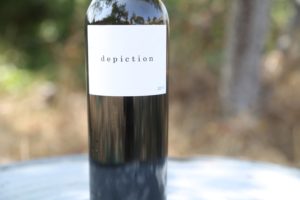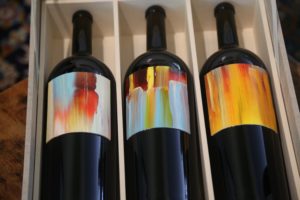 Depiction Wines. Founded in 2012 this tiny St. Helena based producer is owned by husband-and-wife Sebastian and Estelle Lane. Depiction Wines is a creative boutique brand – bridging the intersection of hand-crafted wine and fine art. Both Estelle and Sebastian have embraced the world of wine through a variety of outlets; it is clear from meeting them they are both incredibly passionate about their tiny brand.
Estelle has worked at Opus One since 2002, currently as a Guest Relations Coordinator. Sebastian works as a real estate broker including both private and vineyard and winery sales and is a managing partner in Tonnellerie Baron (a France based cooper established in 1875 with distribution to numerous wineries worldwide). He is also part of the Nimitz Group, along with vintner Gaylon Lawrence (Heitz Cellars, Burgess Cellar) and winemaker Dave Phinney. This company owns more than 800 acres on Mare Island in neighboring Solano County and are actively working on ambitious development and redevelopment plans for the island including restoring numerous historic buildings, new residential spaces, new commercial spaces, parks and recreation spaces and wine production facilities.
The genesis for Depiction was through his real estate career. In 2009, an existing winery and vineyard in St. Helena offered 2 non-planted acres for sale at the end of Vallejo Street southwest of town. Sebastian brokered the sale; after the property was purchased the new owner built a home on site – but not with the intent of planting grapes.
However, from a viticulture perspective, this part of St. Helena is one of the top regions in the valley and also one of the most historically relevant vineyard neighborhoods; neighbors include Beckstoffer's Bourne Vineyard, Pellet Estate and Edge Hill.
Sebastian approached the owner about putting in a vineyard and he readily agreed with the caveat being that Sebastian oversee the planting and vineyard management, but the owner would pay for all the farming costs and receive some of the wines. This 'surround the house vineyard' was planted in 2010 to three clones of Cabernet Sauvignon and three rows of a clone of Petit Verdot that Sebastian thinks may be the first ever of this clone planted in the United States. This vineyard is only about 1 acre in size.
This is a very low vigor site; the soils are extremely well drained – composed of gravel, sand and old river cobble. With Sebastian's international wine connections, he consulted with several well-known and well-regarded viticulturists before planting this site. Root stock and clonal selections were carefully thought out. Because of the layout of the vineyard there are many short rows and as a result numerous end vines. The vineyard team even chose a devigorating root stock for each of the end row vines. The vineyard has produced between 1 and nearly 4 tons – with an average yield of around 3 tons to the one acre.
The Labels/Art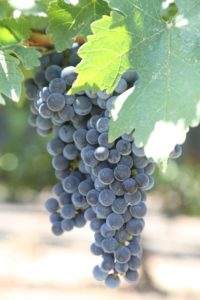 Beginning with their first vintage in 2012, they only bottled the wines only as magnums. Starting in 2016 they began also bottling a portion of the production in 750ml bottles – referring to these bottlings as the 'blank canvas'. Taking the art of the wine label to the next level (one of the more creative labels from any Napa Valley producer), Estelle and Sebastian choose a unique piece of art to represent every vintage for all the wine bottled in magnums. Rather than creating a label from an existing standalone painting – they 'segment' a single piece of artwork into 4×4 wine magnum label size squares, physically cutting up the canvas and adhering each unique piece to every bottle.
It crossed their mind to segment up pieces of art by iconic artists (IE Chagall, Picasso) but doing so would certainly bring significant negative publicity, not to mention the cost of acquiring a single piece. Rather, each year they commission a single piece of art from one artist (being sure to communicate their intended use) – often from emerging artists. The artist and their art must appeal to both Estelle and Sebastian but because it will be segmented, and the individual mini paintings must be able to stand on their own. The pieces are generally colorful and often abstract in nature – but the diversity of pieces chosen varies. One year they used a piece from a street artist.
All magnums are sold in 3-bottle boxes. Each bottle is numbered as is the reverse side of each label so it can be traced back to its original placement in the painting – easily identified through a roll up canvas image included with every shipment showing the grid layout of all the labels on the original piece of art. In 2014, the painting they commissioned was partly created with glow in the dark paint. And every magnum is bottled, and painstakingly labeled and numbered by hand.
Select vintages
The 2016 Depiction Cabernet Sauvignon is deep purple in color; the bouquet offers scents of red berries, pomegranate, dried rose petal, violets, dusty cedar, a sweetness of milk chocolate and Graham cracker – and deeper into the aromatics, a kiss of espresso. Medium bodied, supple in its feel across the entire palate with flavors of plum and darker cherry. There is nothing harsh about this wine whatsoever and its texture is a lovely attribute. The finish offers dusty, finely woven tannins, felt more in the front and mid palate rather than on the back. This is a wine well worth seeking out.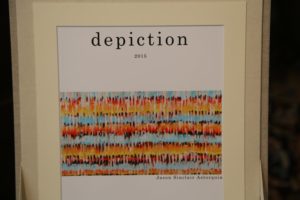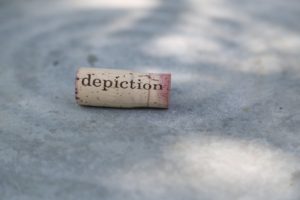 2017 was a fairly warm and 'ripe' year; stylistically Sebastian produced this wine slightly different then the 2016 vintage – using a bit less new French oak and pressing off quicker than previous vintages. The 2017 Depiction Cabernet Sauvignon is dark purple in the glass; the bouquet offers a simultaneous freshness yet a forward ripeness of fruit. A bit savory, meaty with some darker spice notes. Engaging. Aromas include blackberry, darker cherry, a hint of red licorice, dust and tobacco leaf. Nice acidity across the palate with berry fruits. The tannins are a little more tightly woven then the 2016 due to its youth and vintage but still remarkably well integrated for such a young wine.
Two words can be used to accurately describe these two wines – balanced and seamless.
The wines are primarily sold through their mailing list but are also selectively available in the Napa Valley at fine establishments such as ACME Wines – a retail shop in St. Helena, Oakville Grocery, and the following restaurants: Meadwood, the French Laundry and Press. Total production is usually around 50 3-pack magnums and 100 cases of the 750ml bottlings. The wine is released once a year, in the autumn. For more information or to join their mailing list, visit: www.depictionwines.com