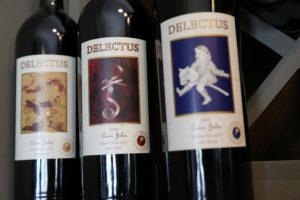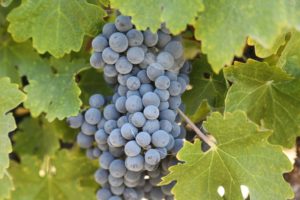 Delectus Winery. Not all wineries survive changes in ownership, changes in tasting rooms and ultimately the closing of their tasting room (which was vacated on December 1, 2021). Rather than maintaining any retail presence, Delectus continues producing as a wine brand selling directly to consumers through their website and also to wine club members.
Delectus was founded in 1995 by Gerhard Reisacher & his wife Linda at the time – both of whom we met for tastings several times over the years. Gerhard, Delectus's founding winemaker was originally from Austria and comes from 8 generations of wine making. He fell in love with Napa Valley when he visited at 19 years old, and never left.
In 2016 Delectus was acquired by Vintage Wine Estates (with headquarters in Santa Rosa in neighboring Sonoma County). Today Vintage Wine Estates has become a significant player in the wine worlds of Napa and Sonoma with the acquisition of a number of winery properties and vineyards in both counties. In Napa, as of our latest update, in addition to Delectus, they own Clos Pegase, Cosentino, Delectus, Girard, Swanson and the former Napa based Cartlidge & Brown.
A core part of Delectus's early vision was a 112-acre hillside piece of property in Knights Valley (neighboring Sonoma County) near Peter Michael Winery. This location is historical; an old toll road runs through this part of Knights Valley, originally used by miner's accessing Lake County cinnabar ore mines (which when processed, produces mercury, commonly called quicksilver). Well-known author Robert Louis Stevenson used to spend time on the property writing his poetry. And while Delectus still produces wines from Knights Valley vineyard locations, this property was not included in the sale to Vintage Wine Estates
Knights Valley has some intriguing microclimates. South facing vineyards often receive significant sunlight and ripening time. Contrary to what one would think about mountain grown fruit, Gerhard originally told us their picking time is surprisingly early in the season, usually in mid-September. One year they even started harvesting some of their red varieties in early September. Case in point was the 2009 season in which a heavy somewhat quick rainstorm hit northern California fairly early, but Delectus had already picked most of their own vineyard. The temperatures on the hillsides of certain vineyards in Knights Valley are more moderate; they don't experience the large diurnal temperature shifts in nearby valleys.
Select Wines
The focus of Delectus is on creating premium hand-crafted red wines. Cabernet Sauvignon is one of our favorite varieties and the early vintages of the Delectus Cabernet Sauvignon from Sacrashe Vineyard (in the hills above Auberge du Soleil Resort) always showcased robust flavors and structure. Today, one will have to search for this wine as they no longer produce wine from this particular vineyard.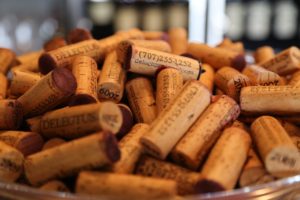 Many of their wines are higher alcohol. They are meant to be consumed when purchases a bottle, but with years of production we have noticed their wines will also hold up nicely with some bottle age. Nothing is about being quick to market with Delectus. They barrel age their red wines for a minimum of 2 years and then give it additional bottle age so by the time the wines are released they are typically a bit older than the current releases in the market. We tried one of their 1999 Cabernet Sauvignon vintages 10 years post vintage; with a texture like liquid velvet (if there was such a product) showcasing rounded and soft tannins on the finish.
The 2007 Delectus Knights Valley Cabernet Sauvignon is from a vineyard almost directly on the other side of the valley from what was their own vineyard at the time. It is ruby red color in the glass with an elegant bouquet interwoven nicely with both vanilla and red fruit aromas. This wine is bright and lively on the palate with good acidity. It does have higher alcohol but that isn't really noticeable on the palate. A hint of white pepper spice lingers on the finish.
The 2005 Delectus Mutti's Pride was made in tribute to Gerhard's mother Elisabeth who used to visit from Austria every year to help out during harvest. "Mutti" is Austrian for mother. This predominately Cabernet Sauvignon blend is crafted from a barrel selection. The layered nose is somewhat sweet, with herbal hints, red licorice and also shows red and black cherry aromas. The palate is rounded and juicy with a finish offering slightly dusty and lingering red fruit notes including cranberry and raspberry.
Tasting Room Evolution
Delectus moved their winery operations and tasting room to the old Milat Winery space in south St. Helena in August 2014. This location gave them an immediate public presence that they did not have at their other winery in the Napa business park. This space was along a busy section of Highway 29 near major wineries. A typical tasting included sampling a wide variety of wines in barrel from the actual winery (located behind the tasting room) and then a lineup of their finished wines. The tasting table contained blocks of soil profiles from their various source vineyards.
A diversity of barrel samples was a real treat for visitors; Delectus sources from a variety of vineyards and one was able to taste through the differences based on terroir. Visits would usually last about 45 minutes to an hour for a tasting. The crush pad was in the back of the tasting room and all wine was produced on site. A highlight of a visit was tasting the wine and the individual attention one received from the wine educators.
Long time customers may remember visiting Delectus in an industrial park in the southern Napa city limits; at the time they were one of only a handful of wineries south of Napa located in an industrial/business park with a tasting room. As a result, they were not a winery you simply stumbled into. And from the outside, their old space was extremely non assuming; other than a small sign in front, one would never have suspected this was a winery and a tasting room. There were no signs greeting visitors as they pulled into the parking lot and guests were surrounded by metal framed industrial buildings; we were told that some people assumed they were lost and ended up calling the winery even though they were parked right in front of the winery building! Delectus used to sell hats capitalizing on this old location that said, "Grapes don't need a view".
Many years ago, Delectus found a neat use for old wine bottles; the bottle would be cut off about 2/3 of the way up above the label and the rest of the bottle would be filled with a soy-based wax and a candle wick. This type of wax is longer burning then regular wax. These were sold on site.
All their labels have stories behind them; the Gerhard's daughter Julia had a very small production Cuvee named after her and their older labels contained her artwork from each year. The Dog-Gone Good is a red wine blend made as a tribute to their dogs (who are often wandering around the winery).
Since the permanent closure of the tasting room, serious wine enthusiasts and fans of Delectus wines can request private tastings. One can also setup a virtual tasting with a Delectus team member. Sometimes a very limited number of library wines are available for purchase through their website. For more information or to join their wine club, visit: www.delectuswinery.com
NOTE: THIS REVIEW HAS BEEN IDENTIFIED AS NEEDING A **MAJOR UPDATE**.