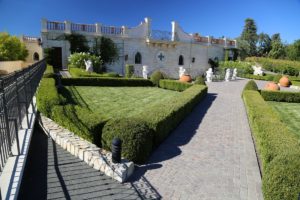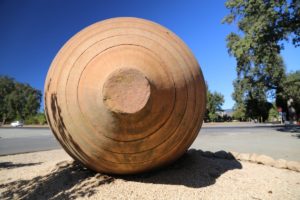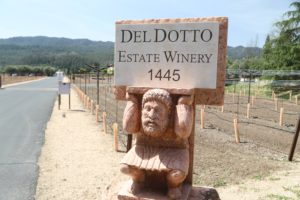 Del Dotto Estate Winery & Caves opened for tastings by appointment in early November 2007 and was fully open for appointment only tours on Thanksgiving Day 2007. If you think Castello di Amorosa (located near Calistoga in the north part of the valley) is impressive, then you will certainly want to visit this winery. It is just as unique but on a smaller more elegant scale. We visited several times during the construction and have since taken several more detailed tours. The winery is located just off the west side of Highway 29 south of St. Helena in the Rutherford sub appellation. For easy reference, look for the two large 300-year-old amphora ceramic vases at the entrance to their driveway.
Not many wineries can boast of having four wineries within Napa Valley: the original historic winery on Atlas Peak Road (near the city of Napa), Villa del Lago on Pritchard Hill (the old Girard Winery), this property (in Rutherford) and not one to stop with merely three wineries, Del Dotto opened a 4th winery (Piazza del Dotto Winery & Caves) in Oakville just north of Yountville on the East side of Highway 29 in September 2017.
Real estate and TV infomercial man, now Napa winery mogul, Dave Del Dotto is the brains behind this "palace". He traces his ancestral roots to the early 1100's in Venice, Italy. As a result, his heritage plays a big part in the style of his wineries as well as the actual wine making. This winery is everything a classic Italian villa should be from the ancient, gnarled olive trees in front to the marble façade on the outside of the building to the gorgeous 1-ton marble columns inside. In addition, check out the colorful and ornate tile work, the Venetian chandeliers, the ancient mosaic marble floors, and a beautiful bright orange onyx window upstairs.
It took several years to build this masterpiece. Italian stone masons were brought over to build the intricate brick ceilings as well as to work on the detailed floor tile designs.
Oh, and did we mention their sound system is tops with fantastic acoustics in the main part of the winery, the bathrooms and into the caves. As you face the tasting bar you can see the audio control screen built into the wall on the right (quite impressive!). Thanks, Dave, for turning us on to the modern opera band, Amici – good taste.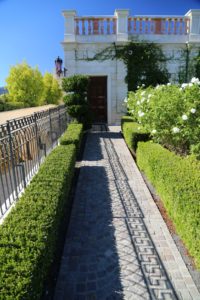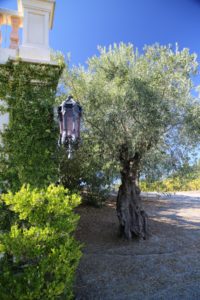 No expense has been spared on the construction and furnishing of this winery. As you look at the main winery building from the parking lot it appears to be quite low to the ground – however as you walk towards the building you will see that most of the building is set into the ground, so the inside two stories are actually quite spacious. This is the only Napa winery that we know of and have visited that has a cave built right into the valley floor. Almost without exception, winery caves are built into hillsides. Del Dotto came up with some unique engineering to construct this cave. Vines are planted on top of the cave and from the outside of the winery one has no idea there is a cave on site.
The barrel tasting tour takes at least an hour and includes stops at hand painted murals built into the walls which correspond to historical wine making events. If a tour is a part of your visit here allow at least 90-120 minutes including some time spent in the wine salon after the actual tour. As with tour groups at their winery on Atlas Peak Road near the city of Napa, small groups of people simultaneously take tours with individual tour guides.
A VIP room and several alcoves near the end of the cave contain some of their most sought-after wines including the Villa del Lago Cabernet Sauvignon and 'the Beast", a proprietary red blend made from grapes from their multiple vineyard sources. Their 2012 vintage of this wine earned a perfect 100 score rating from prominent wine critic, Robert Parker Jr.
Also of note are their two Salumi rooms (very unusual for Napa Valley wineries); both are located at the end of the cave and contained a number of curing meats used by their culinary team.
While focusing on Cabernet Sauvignon from the Napa Valley (owning a number of vineyards up and down the valley) Del Dotto also owns a 359-acre ranch called Cinghiale in neighboring Sonoma County. The vineyard is located on the Sonoma Coast not far from the ocean. As a result, this is completely different growing climate than their St. Helena based winery. Their coastal vineyard is cooler, foggy (often moist during certain times of the year) and contains different soil types. That property is planted to some 40+ acres of grapes including Pinot Noir, Chardonnay, Syrah and Sauvignon Blanc.
Select Wines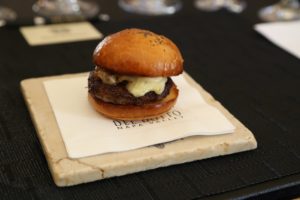 The 2014 Del Dotto Pinot Noir Rosé was sourced from their Sonoma Coast vineyard; it shows notes of fresh strawberry with a flinty minerality and as it opens notes of lime show on the bouquet. There is a pleasing creaminess on the front and middle of the palate. The extended and weighty finish is noticeable and somewhat rare for a wine of this style.
The 2014 Del Dotto Sauvignon Blanc was also sourced from their Sonoma Coast vineyard; it shows notes of red apple and pear on the bouquet and as it continues to open the bouquet becomes much more tropical in nature with pleasing aromas of lychee. The palate shows a wide depth of flavor; is rounded and has notes of citrus flavor. It is clean, crisp and very well balanced for such a young wine (at the time of our tasting).
—
Besides being functional, the cave is really a shrine to the history of wine making. Tours also include healthy barrel samples of premium wines; typically, guests will try 8-to-10-barrel samples. Small leaflets describing each wine sampled are available on the heads of the barrel or one can see a summary of what was tasted with a printout available at the end of the tour.
Believe it or not Del Dotto is probably Napa Valley's number one producer as far as making the largest number of different styled Cabernet Sauvignons. As of the time of this review they make approximately 35 different types of Cabernet bottlings with many very small lots, i.e., often 50 cases or so. As a result, this is an excellent opportunity to see how various types of aging can really change the characteristics, aromas and flavors of a wine. Your guide will provide samples of the "same wine" but in different types of oak. The nuances are pronounced and noticeable. Let's just say the wine thief gets some serious workouts on these tours. At the end of the tour, you will head to their impressive wine salon where you will try the actual finished products (from bottle of course).
'Delicacies by Del Dotto' is a memorable combined barrel tasting experience followed by a sit down pairing in their upstairs VIP room with small bites prepared by their onsite chef, Joshua Schwartz (formerly of Bouchon and the French Laundry). Allow about 2 hours for this experience – call for availability (usually offered Fridays and Saturdays). While the bites are small – unless you are extremely hungry this tasting/culinary experience makes a nice light lunch, and you won't leave hungry. To get you salivating – during a recent visit one of the small bite highlights was a Pan Seared Hudson Valley Foi Gras Morels n' Smoked Yams Black Truffle Jus.
NOTE:
As of September 1, 2017, this tasting experience has been moved to Piazza Del Dotto near Yountville.
Joshua has reign over one of the nicest winery kitchens you will see in the valley. His culinary domain increased dramatically once he moved the culinary team over to Piazza del Dotto on Highway 29 (just north of Yountville). When Piazza del Dotto opened, the culinary epicenter of the Del Dotto empire shifted to a space that is even more impressive than their Rutherford kitchen.
Sometimes Dave sits behind the bar on Fridays enjoying the results of his wine making team's efforts and interacting with guests.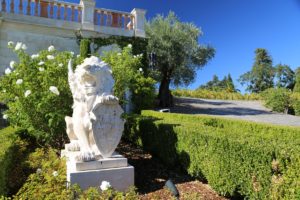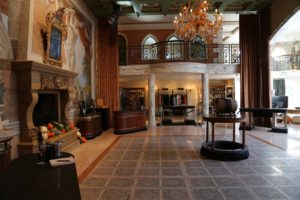 Any oak used for aging is 100% new, either American or French; they use only organically grown grapes which are always handpicked and hand sorted. In addition, only free run juice is used (the highest quality juice) that comes before pressing.
The number of wines created by a variety of different wine making methods is probably the single most key factor that separates Del Dotto from every other commercial wine producer in Napa (and yes there are over 1,100 of them). Del Dotto makes such a variety of wine that it is truly consumer oriented and with their diversity of product they have wine for most every taste. Dave's philosophy is that consumers are the king or queen; therefore, at Del Dotto you can mix and match purchases from what seems like an almost limitless number of choices!
Hopefully by now after reading this review and our review of their parent winery, you will have concluded that Del Dotto is known for fun, experimentation, and creativity. This carries through to their wine aging program. They are already a Napa winery leader in oak barrel experimentation as they use many different coopers and types of oak. How many wineries carve out additional grooves inside their wine barrels to increase the surface area? Del Dotto does this for some of their experimental programs.
Historically the inside of barrels have been toasted with coopers assigning levels of toast based on the amount of toasting each barrel receives. However, Del Dotto has been working with Vicard Cooperage in France – using a small number of barrels that are 'toasted' not by the traditional means of fire but rather by radiation. The temperature can be computer controlled so the toasting remains even throughout, along with maintaining a fairly constant temperature.
They take the aging of wines a step further. For some of their wine (Cabernet Sauvignon, Sangiovese, Zinfandel etc.) starting with their 2005 vintage, they are conducting the fermentation and aging of the wine in large clay amphora vessels located in the cave at this property. The original vessels they used for this are over 300 years old. This is how wine was made starting two thousand years ago and Del Dotto even buried several of these vessels to represent historical duplication. This type of aging brings a certain earthiness and softness to the wine.
We know of a number of premium Napa Valley wineries aging their wine in what those in the wine industry affectionately called "eggs", the concrete oval shaped tanks from France – but only several Napa producers to date including Del Dotto are using the clay amphora vessels for aging wine.
For more information on this unique winery, to schedule a visit to the property or to to join either their wine club or the more coveted VIP membership, visit their primary website here: www.deldottovineyards.com
Note: Piazza del Dotto, Dave Del Dotto & family's newest winery opened its hospitality center on September 1, 2017 (tastings by appointment). Construction continued on their cave for many months after and as of our latest update, the 40,000 square foot cave is open for visitors. See our review on this site, filed under Piazza del Dotto.
Grounds/Exterior

Interior/Cave