Davis Estates was founded by Mike and Sandy Davis with the purchase of two contiguous properties, the larger piece in 2011 followed by a smaller piece in 2012 (in the Calistoga appellation). The total property is 155 acres. Prior to their purchase the land was owned by long time residents of the Napa Valley, the Saviez Family (who we originally met with years ago). The original winery on the property dated back to 1900 (burned down in 1946). Visually, the property has changed significantly since the Davis Family took over ownership and by late 2016 the cave, winery and hospitality center were completed after five long years of construction.
Mike started a tech company in his garage (Applied Computer Solutions) in Huntington Beach, Southern California in 1989. He sold the company but still serves on their board. He and Sandy have owned a home in Rutherford for a number of years along with a tiny Sauvignon Blanc vineyard on site; they divide their time between Huntington Beach and the Napa Valley. Mike was raised in San Mateo (San Francisco Bay Area) and used to vacation in the summer with his family at the old Napa Valley Ranch Club (was located just south west of Lake Berryessa in what is still very rural Napa County).
After the sale of his company neither he nor Sandy could envision him retiring. This ambitious project of restoring the historic barn, developing the hospitality center, cave, offices and winery is certainly not your typical retirement project.
Mike has a degree in history from Indiana University Bloomington and his interest in historical items is clearly evident when you visit the property. The original barn on site dates from 1916 and was the primary structure on the property for many years. Mike & Sandy hired noted wine country architect Howard Backen of the architectural firm, Backen, Gillam & Kroeger Architects with the instructions to mirror the look of the new buildings based on the exterior look of the weathered old barn.
They restored, retrofitted and added a bit of wine country rustic charm inside. During the rehabilitation, the barn was moved from its original location on rollers and then raised two feet to it's current footprint. One needs time to absorb the diversity of furnishings in this barn – a weighty wooden table is made from the staves taken from 30+ American Oak barrels. Two beautifully restored tractors are also located here, a 1939 John Deere and a 1944 Ford. The Big Ass Fan (labeled as such) is certainly a conversation piece. And if it gets to quiet in here – reach for the remote control to the 1909 Wing and Son player piano. This barn is used for larger group tastings or for club members and also features an outdoor patio and a loft.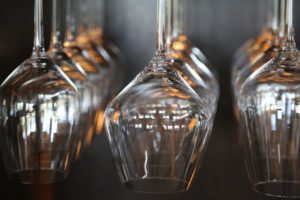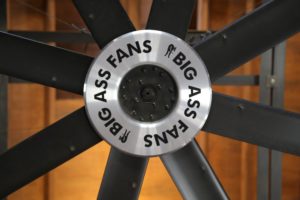 A 'twin' barn was built to mimic the look and feel of the original barn; this new barn houses their offices and wine lab.
Their hospitality center is world-class with an interior combination that is both rustic and elegant – complemented by excellent views looking west across the northern part of the Napa Valley. A commercial kitchen is located here offering seasonal small plates prepared by their Executive Chef. Weather permitting the outside terrace is an ideal place for relaxing, soaking in the views and the wines. Oh and the seating out here features plush and comfortable porch swings hanging from cables which can be slowly rocked back and forth.
A few other items worth mentioning: during any visit here, invariably one's eye will be drawn to the Kugel (means ball in German), a spherical sculpture made of South African reddish granite that continues to rotate among a thin film of water. This 5,000 pound stone represents a Cabernet Sauvignon grape and sits above a sculpted Cabernet Sauvignon leaf. And the wind vane on top of the new barn features a metal bear – not necessarily a tribute to the California bears, although it could be especially with a grizzly bear being the icon of the state flag. Bears have also been spotted on their property – in the hills to the east of the winery. Instead, this is a tribute to Mike; when one meets Mike, one sees that he has the physique of a retired NFL Football player. During college he became known as "the bear".
Nearly eleven acres of vines are planted on site – mostly to Cabernet Sauvignon with smaller blocks of Petite Sirah and Cabernet Franc (it is noteworthy to mention their Cabernet Franc vines are 35+ years old). Much of the property is wooded and hillside and will never be planted to grapes although they do still have room to expand their vineyard acreage. Their driveway bisects several vineyard blocks; the small steep Petite Sirah block is located directly behind the parking lot next to the hospitality center. Mike owns additional land on Howell Mountain and his home property in Rutherford. Besides their estate properties, they also source fruit from other premium Napa vineyards they do not own.
After purchasing this property, Mike hired a water dowser – who soon located a number of areas on site where they would find water. Their deepest well is over 600 feet. One of these wells now houses a windmill which when spins pumps out a few gallons of water a minute which is in turn stored and used as needed for vineyard irrigation.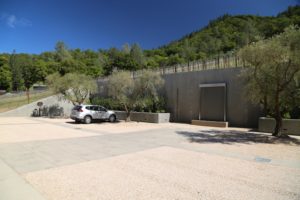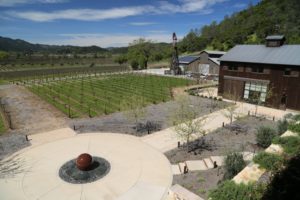 Davis Estates employs two highly sought after winemakers – long time winemaker and consultant Cary Gott makes their primary Davis Estates wines and the Hungry Blonde wine and Philippe Melka consults for the Phase V wines. When Mike was interviewing Philippe for the job, he almost though Philippe was interviewing him – and he was surprised to discover that Philippe knew so much about the property. Turns out Philippe was bidding on the same property at the same time as Mike. Cary helped design the cave – a number of small lot vessels for fermentation are within the winery including stainless steel, wood and concrete tanks. Each tank has it's own pump for pump-overs during harvest.
A number of their wines are produced in quantities of several hundred cases, but they have since grown to a current annual production of approximately 6,000 cases. The primary Davis Estates and Hungry Blond wines are priced very well for the quality. Their first vintage was from 2011 – all wines were made off site until the cave was completed – their first vintage made on site was from 2016.
The 11,000 square foot cave is an impressive show of subterranean elegance. It seamlessly blends the functional aspects of a working winery with art and hospitality. We have explored numerous wine caves in the Napa Valley – while not among the largest, this is one of the more memorable ones from a visual perspective.
Select Wines
The 2012 Davis Estate Sauvignon Blanc is a pleasing wine from a vineyard that is dry farmed – also in Calistoga; showing gold in the glass with an interesting bouquet containing aromas of dry grass, orange blossom and honeysuckle. This wine was fermented in neutral oak and stainless steel tanks. It has some viscosity and weight on the palate and also shows some notes of baking spices.
The 2011 Davis Estate Chardonnay sees no malolactic fermentation; it is dark amber color in the glass with aromas of lemon and toasted oak. The mouth feel is somewhat oily – a nice balance of weight on the palate without to much viscosity. Caramel and plenty of fruit shows on the palate with notes of mocha on the rich, long and lively finish.
Their Cabernet Sauvignon is their most produced wine. The 2012 vintage is dark violet in the glass. The nose shows sweet violet aromas complemented with an herbal hint – an a subtle note of sandalwood. This is a very well made wine – balanced with well managed tannins and good acidity.
The 2012 Davis Estate Petit Verdot has a lot of life to it. It is a robust muscular wine that dominates the palate with both flavor and structure. It is pink purple in the glass; it needs time to open – when it does it starts showing a variety of darker fruits as well tobacco and various spices.
Zephyr is appropriately named – Zephyr means a gentle breeze – tying into the westerly breeze that often develops here in the afternoons. This is a Bordeaux styled blend dominated by Cabernet Sauvignon. The 2013 Davis Estate Zephyr (aged 24 months in oak) shows riper yet elegant fruit aromatics – somewhat briary with aromas of blackberry, dark chocolate and Asian spices (even a bit of white pepper). Also a subtle dusty component to the bouquet. On the palate, it shows flavors of red cherry with a nice balance between structure and acidity. Very approachable young.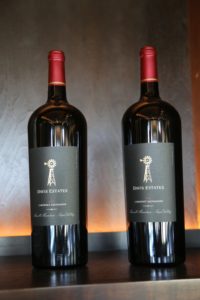 A fun wine that is rarely found in Napa Valley is a late harvest Cabernet Franc. Think raspberry jam; the 2013 Davis Estate Pinwheel Cabernet Franc vintage delivers similar aromas as well as flavor. It is not heavily viscous but has plenty of sugar to complement its' rich flavor. Dessert wine connoisseurs will definitely want to seek out this very limited production wine. They also produce a Pinwheel late harvest Chardonnay.
—
One could easily spend several hours here to fully absorb the scope as well as the details of the property and the winery. A number of varied and curated personalized experiences are offered for guests – with some taking full advantage of the wide diversity of spaces offered on site. The introductory offering, a Terrace Tasting includes a hosted educational tasting of several current releases. Guests can add a food pairing to this tasting with small bites complementing each of the wines.
For a more in-depth visit, consider their 90 minute historical tour and tasting including a visit to the 'barn'. A 90 minute Library Tasting takes one into the cave where guests enjoy a private personalized experience in their 'library' room including a taste of the coveted Phase V wines. And for those looking for a more in depth experience, allow 2 hours for the highly personalized VIP Experience tour (including a visit inside the cave) and a tasting in the private VIP Crush Room.
An extremely exclusive membership club offering focuses on the Phase V wines. These are premium wines with a name that pays tribute to the final of the five phases of developing this property: Phase 1: acquisition, Phase 2: improving the existing vineyards and infrastructure, Phase 3: architectural plans, Phase 4: building the winery and Phase 5: crafting the wines. Only two Phase V wines are made each year, a Petite Sirah and a Cabernet Sauvignon. Both are produced in quantities of only approximately 100 to slightly more then 200 cases each year. Membership to this club caps out at only 150 members (at the time of our latest update to this review they still have some space but it is filling up fast) and gives one allocation access to a certain number of bottles of the Phase V wine each year and other benefits.
The Phase V Cave Room (called the Cellarium) is one of Napa's most elegant cave alcoves. Access is via an electronic infrared vein scanner system which is calibrated so only members and employees have access to the room. For members, simply scan your hand and the system will recognize your unique vein pattern. The sizable doors swing open once access has been granted – a single row of barrels line the edges of the wall with various Phase V large format bottles on display. One portion of this alcove was not covered in gunnite and one smells the volcanic ash perhaps before even seeing the raw rock left chiseled by the drill bits.
More elegant then opulent, the glass and steel enclosed octagonal Cellarium is a small room within the cave that can be temperature controlled for guests preferences. Guests sit at a table made of wood from a specific Monkeypod Tree from Hawaii (a hardwood tree that develops an extremely wide canopy).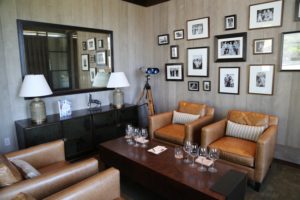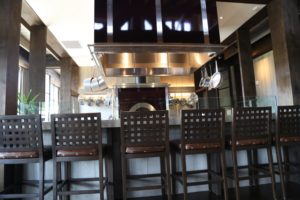 While Petite Sirah is not a variety that Philippe focuses on or is known for, he was already familiar with the tiny block of Petite Sirah on the property and welcomed the opportunity to make wine from it. The 2012 Phase V Petite Sirah shows darker violet in the glass with a hue that is both purple and dark red. A sweetness of fruit complemented by pretty floral aromas and sweet dessert spices. As the wine breathes additional aromas comes forth similar to stewed prunes. There is a dense mid palate with noticeable and surprisingly softer tannins (this is a variety that can sometimes produce coarse grippy tannins). Drinks very well by itself and as a young wine.
The 2013 Phase V Cabernet Sauvignon is dark ruby red in the glass and shows a perceptible gravelly or dusty note on the aromatics with a hint of sage. Dark fruit driven aromatics show – plum along with darker berries and blackberry. This is a well layered wine that features a density of both flavor and structure on the palate. Dryer, somewhat chalky but not overly coarse tannins persist for some time. These make for a very pleasing mouth feel.
A Tesla Charging Station and a Universal Electric Charging Station are located next to the guest parking lot.
And if you are staying at the nearby Calistoga Ranch, guests can make a guided hike from the resort property to Davis Estate using a small trail that cuts through the hills eventually reaching a vineyard road which cuts across the hills on part of the Davis Estate property (offering excellent views of the valley in the distance). And once your tasting is finished, you will be picked up in a private Mercedes and whisked back to the resort.
For more information and to book a memorable visit to this winery, visit: www.davisestates.com
PHOTOGRAPHY
Barn

Hospitality Center

Cave/Winery

Cellarium

Grounds + Vineyards

Hike, Calistoga Ranch to Davis Estates