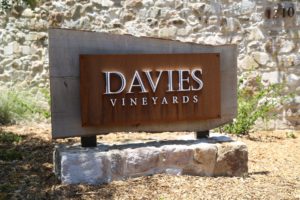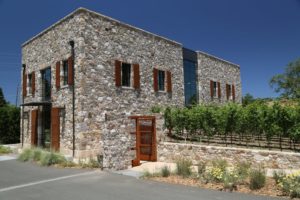 Davies Vineyards was originally founded at the historical Schramsberg Winery in the Diamond Mountain appellation just south of Calistoga. Davies is named after Jack Davies, who along with his wife Jamie, founded and restored the modern day Schramsberg – one of the earliest wineries in Napa Valley, originally founded in 1862 (still in the midst of the turbulent Civil War years). As a result, the earliest hillside vineyards on the property date from 1862, making this one of the first hillside vineyard locations in all of Napa County.
For many years Schramsberg has been noted for their Internationally famous sparkling wines. When Jack and Jamie Davies moved to the Napa Valley from Southern California, they decided to plant Pinot Noir and Chardonnay for making sparkling wines (a style of wine they enjoyed drinking). Their hillside estate had been planted to these varietals for many years – however this location is not necessarily the best area for growing these cooler weather grapes. Their Diamond Mountain property is better suited to growing red Bordeaux varietals. As a result, the grapes for Schramsberg's sparkling wines are sourced from cool weather generally coastal California locations as are the Pinot Noir wines under the Davies label.
In 1994 they began to plant red Bordeaux varietals on the estate. Most wineries after planting vineyards will take full advantage to harvest their first grapes within 3 or 4 years after planting. Not so with Davies Vineyards. They waited 7 years before releasing their first commercial vintage in 2001. They were producing wine during this time, just not commercially as it was merely for their own experimentation and knowledge. During these years, they kept improving their vineyard blocks including vine layout and best suited rootstock, clones and varietals.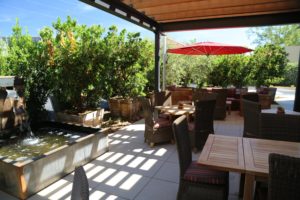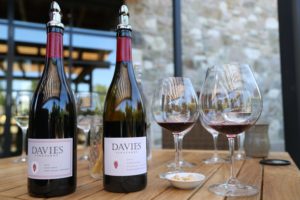 Their wine making team was especially interested in finding ways to manage heavy tannins and tight structure sometimes characteristic of mountain grown fruit. Today approximately 41 acres are planted to vines on the estate. Its yields are fairly low by Napa standards – at about 2 tons per acre. Schramsberg's property is 218 acres of which two historical vineyards are located on site, the original Schram Vineyard and the McEachran Vineyard first planted in 1878.
Initially Davies Vineyards produced a single wine (a Bordeaux styled blend), today they produce several wines including a Napa Valley Cabernet Sauvignon, an estate Cabernet Sauvignon and several Pinot Noirs. For differentiation purposes, their Pinot Noirs and Napa Valley Cabernet Sauvignon are bottled under the Davies label while their estate grown Cabernet Sauvignon is bottled under the J Davies label. They source grapes from select vineyards throughout Napa (mostly the southern part of the valley), parts of Sonoma County, Marin County and Anderson Valley in Mendocino County.
Jack and Jamie's son Hugh is the President of Schramsberg and also oversees the wine making for Davies Vineyards. Davies Vineyards has certainly grown in production and number of wines produced since their first vintage. In 2012 they found a winery home in the south part of St. Helena – right next to busy Highway 29 in a rather simple and unobtrusive building.
In May 2017, Davies Vineyards opened their first ever stand-alone tasting room on the same property as their winery (a 1.5+ acre piece of land). Landmarks include the nearby St. Helena High School and the next door, highly unusual culinary offering for the Napa Valley – an A&W restaurant. A decent sized parking lot is located within the cozy confines of the winery + tasting room property. This site including their nearby winery used to be the Epps Chevrolet dealership which went out of business in 2011.
The tasting room is two stories built of stone quarried from within some of the mountains in the Napa Valley. It is built to look somewhat old – and almost has a feel of a ghost winery (stone wineries typically built before prohibition). A commercial kitchen is on site – with a nifty dumbwaiter to deftly bring food or wine from the kitchen to their second floor. Several private tasting rooms include one downstairs they refer to as their Pinot Noir room and the one upstairs referred to as their Cabernet Sauvignon room. In addition, weather permitting, a smart looking outdoor patio with a number of tables is available for outdoor tastings. And the cool looking chandeliers were designed by Hugh and his wife Monique – they are made from metal wine-barrel straps.
A demonstration vineyard was planted in 2017 to various Bordeaux varietals and this mini vineyard is used to educate visitors about a variety of practices relating to vines including trellising, pruning and picking. Its addition it will allow visitors to see closeup the changes that occur in vines over a full year including bud break, flowering, veraison and visitors can taste ripe grapes before harvest.
Visitors are greeted by a host at the entrance awaiting with a glass of Schramsberg sparkling wine and then given an overview of the history of Schramsberg as well as details about some of the vineyards and locations their grapes are sourced from.
Select Wines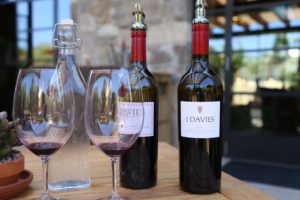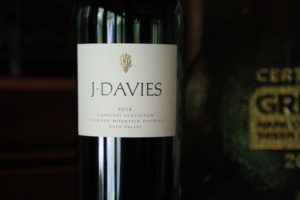 The 2014 Davies Vineyards Pinot Noir is from two prominent growers in the Napa side of Carneros – Lee Hudson and Larry Hyde (the Hudson and Hyde Vineyards). This wine is highly aromatic in the glass with a sweetness of fruit aromas that dominate over the more subtle spice components (hint of white pepper and vanilla). Very supple entry through to the mid palate – velvet like in its texture with flavors of raspberry and slightly spicy integrated earthy tannins anchoring the finish.
The 2005 J Davies Cabernet Sauvignon; this is a blend of Cabernet Sauvignon, Malbec & Petit Verdot. It is a very dark inky wine that is unfined and only lightly filtered for maximum color and flavor. This is a medium bodied wine, with a smooth mouth feel, rich in blackberry and cloves flavors with just a touch of toasted oak noticed on the finish. The tannins are soft and do not overpower.
The 2013 J. Davies Estate, Cabernet Sauvignon Diamond Mountain District tantalizes with its layered aromatics featuring mostly darker fruits (blackberry and black cherry). It shows a depth of flavor, like the aromatics the palate showcases mostly darker fruits. A bit of baking spice nuances. Slightly chewy and noticeable tannins linger for some time. However, the structure is in balance with the rest of the wine – for mountain fruit this is not a wine demonstrating the power of terroir or 'bigger' wine making styles, rather it showcases depth of flavor with the finesse of structure.
—
Both Davies Vineyards' and Schramsberg sparkling wines can be purchased on site. For more information and to schedule a tasting, visit: www.daviesvineyards.com
Tasting Salon

Winery

Pre-Renovation winery