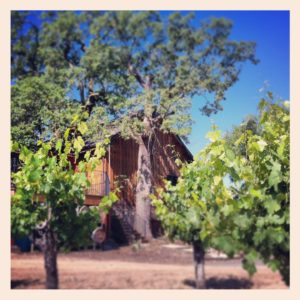 David Fulton Winery is appropriately located at the end of Fulton Lane in the town of St. Helena – about a 10-minute walk from downtown. Part of their vineyard touches the northern fringes of St. Helena's residential neighborhoods and one can easily see homes looking across their vineyards. Visitors cross the train tracks as they drive down Fulton Winery – the winery itself is located about halfway down the dead-end Fulton Lane. The Napa Valley Wine Train still uses these tracks – this is close to the northern most terminus of the train tracks – which end on the Charles Krug property slightly north of here.
This was the oldest continuously owned and operated family vineyard in California until the family sold the winery and property in 2020 to Jayson Woodbridge of Hundred Acre. During several visits to the property over the past year, we have yet to see any updates or visual appearances of active winemaking.
Records show the Fulton family first planted vines on the property in 1860 and established the winery building a year later in 1861.
Patchett Winery was the first winery built in the Napa Valley in the city of Napa in 1858 (founded by John Patchett who was in his 60's at the time – born in England in 1797). That winery is no longer in existence. The next three wineries in Napa Valley were under construction in 1861, Charles Krug, Crane Cellars & David Fulton – and of those, Crane Cellars is no longer in business (although the Beckstoffer owned Dr. Crane Vineyard still carries his name) and Charles Krug while still family owned, isn't under its original family ownership.
David Fulton was quite an individual. He ran the towns first saddlery and was a blacksmith; he sold his saddlery shop in downtown St. Helena to help fund the vineyards. When you drive down busy main street St. Helena think of David Fulton; he planted St. Helena's first vineyard here in 1858.
He also was instrumental in helping create the area's first viticultural organization which at the time was called the "Sonoma, Napa, Solano Grape Growers Association. In later years he invented what today is called the "Fulton Plow" (the one horse plow) and there are one or two of these sitting on the property. An image of this appears on their label. 130 years passed between commercial vintages at this winery. The "new wineries" first commercial vintage was made at a nearby winery in 1999 and relatively soon after they were producing wine on the site of their original winery. 14.5 acres of vines are planted mostly to Petite Sirah and the majority of these vines date back to the 1950's and 1960's.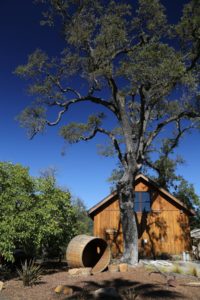 Unfortunately Fulton's original wooden winery building blew down during a violent wind storm in 1973 leaving just the stone foundation walls. The historical house located nearby is still standing and dates from the mid 1860's. Today this winery has been reconstructed in the exact same location as the original winery. In fact the two massive oak trees which surround the new winery even predate the original winery.
A visit is for serious wine enthusiasts looking to meet with the owner or winemaker and try limited production hand crafted wines. Note that at certain times groups of visitors arrive in small buses from a local tour company so it can be more crowded but they have plenty of room to spread out on their deck and inside the winery. Fulton Mather (David Fulton's great grandson), his wife Dink and their son Richard also help run the winery. Fulton and his son are the winemakers and they also have two consulting winemakers. They celebrated their 160th anniversary in 2020 – not bad for a small winery that started when you could count the number of commercial producers in the valley on one hand and considering today there are approximately 1,100 commercial wine producers in Napa County of which 500 are physical wineries.
Because of its rich historical presence in the Napa Valley a visit here typically includes an overview of their history, a quick tour and the tasting which is held within the new winery building or if the weather permits outside on their spacious deck. This outdoor setting overlooking the vineyards is a beautiful spot to relax with a glass of wine from one of Napa's finest Petite Sirah producers. Their vineyard and winemaking focus is on Petite Sirah with this varietal comprising the majority of their total production. However their vineyard wasn't always focused on this variety – other varieties over the years included Green Hungarian and Palomino and for a period of time between the 1930s and 1950s much of the property was planted to prunes.
As of the time of this review they produce over 700 cases of this wine as well as smaller quantities of Zinfandel & Cabernet Sauvignon – all blended with smaller amounts of Petite Sirah. David Fulton does sell some of their grapes to other vintners and in 2007 had a batch of Petite Sirah that was supposed to be purchased but never was. They decided to make a Port-style of this in very limited quantities, and release approximately 25 cases total of this each year. They typically age their wines a bit longer than many wineries – at least 2.5 years in barrel with another half year in bottle.
We tried the 2005 David Fulton Petite Sirah mere days after being released. This is one of the nicer Petite Sirahs coming out of Napa Valley that we have enjoyed on this project. The nose is deeply layered with rich aromatics. Aromas of baking spices, berry and cassis are pronounced, followed by a rich very juicy palate with minor touches of oak; a wine that is all about the dark fruit flavors including black cherry and blackberry. The wine is full bodied with a velvety mouth feel that persists from the entry all the way to the smooth finish. The tannins are delicate but structured.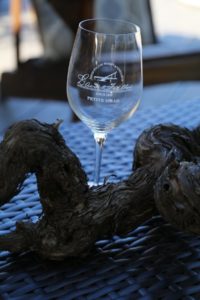 While they typically have not submitted their wines for review, word has gotten out. One notable Napa winery has an internal tasting every year of their own wine as well as other Napa wineries. Their winemakers actually chose David Fulton's wine as their favorite, even over their own wine! In addition the International Wine Review gave Fulton's 2004 Petite Sirah their highest rating (only 7 wines out of 185 were given this score). Their wines are typically found in very select wine shops in California with a small distribution in just a handful of other other states. Locally they have good distribution at wine shops including at Cal Wine Shop in Calistoga.
For several years, David Fulton was producing a number of other wines – under the popular # (hashtag) brand including #besties, #selfie and #bromance. Some of the proceeds from #bromance were donated to TAPS, a 24/7 tragedy assistance resource for anyone who has suffered the loss of a military loved one or friend.
NOTE: the most recent information we have indicates this winery sold in 2020. As a result, this review has been identified as needing a major update and we will do so when we have more information and conduct another revisit and tasting at the winery.
For more information or to join one of their two wine clubs, visit: www.davidfultonwinery.com