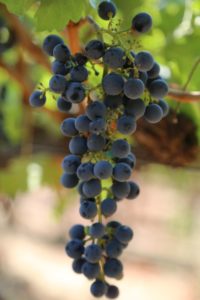 Daviana Winery released their first vintage in 2007. Owner Tim Darrin moved to the Napa Valley in 1977 and started the valley's first hot air balloon company. This became a successful venture which he ran for many years. Some people move to the Napa Valley and get bitten by the "wine bug" rather quickly – it took Tim more time.
He and his wife Debbie purchased twenty four acres in 1994 in the rolling hills just North East of the city of Napa. The property, like much of this region at the time was planted to white varietals. The Chardonnay on the property actually was recognized by the Wine Spectator as producing some of their top reviewed wines for several years. The property also came with a bonded winery – which would later be resurrected under the Daviana label.
When you live in Napa, even if you don't make wine – its considered 'cool' to plant a home vineyard. In the case of the Darrin's, they decided to plant a "mini" vineyard to add to complement their landscaping. As luck would have it, Debbie was the chair of a nearby Montessori school and one of the auction items was a "backyard vineyard". The Darrin's ended up making the winning bid and 250 some odd vines of Cabernet Sauvignon were planted on their property.
Initially they sold the fruit from the commercial vineyard that was already on the property – but due to its age and old rootstock (phylloxera) they decided to replant. Upon looking for varietal recommendations Tim was told that this part of Napa was too cool to plant red grapes and he was encouraged to plant white wine varieties. This was disappointing as both he and Debbie enjoyed drinking red wines. Ultimately he was introduced to well-respected vineyard manager Mike Wolfe and the decision was mutually made to plant red varietals.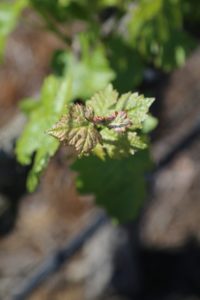 When the time came to plant – Tim wanted to mirror his vineyard after the blended wines from the region of Châteauneuf-du-Pape in southern France. The decision was made to create a vineyard somewhat like a "spice rack" so that a number of varietals could be chosen from for making their wines. However, as Tim says tongue in cheek, he found out later the wines of Châteauneuf-du-Pape are permitted to blend up to thirteen varietals.
Keeping things a bit more simple – he opted to plant several clones of Cabernet Sauvignon, Cabernet Franc and Grenache. For the first few years they were growers, not producers. This changed when Tim decided he wanted to learn how to make wine. He went back to school. For 3.5 years he took classes through the viticulture and enology program at the Napa Valley College. He became a winemaker and today is Daviana's primary winemaker. With a degree in Public Relations and Communication Debbie handles most of their sales and marking.
Their vineyard is in Napa's newest appellation, Coombsville and today many of their nearby neighbors are growing primarily red wines. They are surrounded by premium vineyard terroir; Palmaz and Far Niente are close vineyard neighbors. Their nine acres of vines are planted on rocky tufa like soils (compressed volcanic ash). Soils are very shallow here – measured in inches rather than feet and the vines have to certainly struggle for their nutrients.
Daviana's total production is small – usually 300 to 500 cases annually. While they use some of the grapes in their own wines, several premium wineries and producers continue to source fruit from their vineyard. Their wines are barrel fermented – each of the varietals and unique clones are fermented in their own barrels – and after nearly two years in barrel are blended together.
This is the only winery we know of in Napa producing a unique blend of both Cabernet Sauvignon and Grenache (both grown in Napa). During a tasting of these two varietal blends, the name "Cabernache" was suggested. The blend is aptly described in the "name," and is a wine they produce each year. The 2008 Cabernache aromatically shows layered ripe fruit on the bouquet including blackberry, black licorice with undertones of toasted cedar and vanilla. This wine is smooth and silky on the palate with a good mix of both red and black fruit flavors. The finish lingers for some time – the tannins are super delicate.
The 2008 Cabernet Sauvignon is 100% varietal – a blend of various estate grown clones. The bouquet breathes beautiful black ripe fruit with an inviting earthy component along with cherry cassis. As the wine opens the fruit remains but components of the oak aging show including cocoa powder and brown chocolate. This is a bigger wine than the Cabernache both in mouth feel and structure. The mid palate is fairly rounded with more structure showing towards the end – the finish is just as long as the Cabernache.
Daviana also produces a Rose of both Cabernet Sauvignon and Grenache. They source their Syrah from premium vineyards; each year this is their one non-estate wine.
The name Daviana is a tribute to their children – it combines the middle names of David and Anna. Most of their wines are sold direct through a mailing list but they also have distribution, mostly at restaurants in New York and Texas.