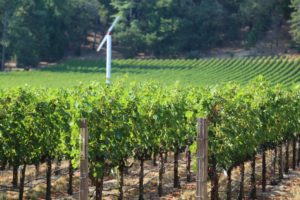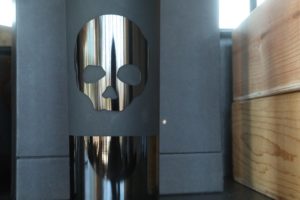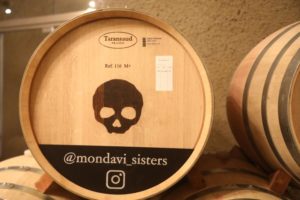 Dark Matter Wines. This is a very unique producer for a variety of reasons combining both deep rooted Napa Valley family pedigree, quality of vineyard sites and extended aging of the wines before they are released. And in a rare twist of fate, the winery is owned by four sisters, Alycia, Angelina, Giovanna and Riana Mondavi. Angelina lives in Napa Valley and Giovanna lives on the grounds of Charles Krug, Napa Valley's oldest winery (1861) – owned by her family since 1943.
All four sisters are involved and share the ownership. They have no employees. Alycia handles much of the sales and marketing efforts while Angelina makes the wine. Riana works for the family business (CK Mondavi) and also helps Alycia with sales and Giovanna works in finance and helps with their social media. Growing up in one of Napa's oldest wine making families, it is no surprise that the sisters decided to continue their family heritage.
Alycia started working at Charles Krug Winery at the age of 10 for a whopping $0.25 per hour doing miscellaneous work in both the lab and their hospitality center at the time. She received her degree from the University of San Diego in Marketing and Management and later earned a paralegal certificate. Working at a law firm in Napa Valley she worked on a number of wine related business cases and contracts.
Angelina grew up in the vineyards of the Napa Valley (her first wine job was also at the age of 10 working in the lab at Charles Krug) – but wine as a career didn't hook her immediately. She went to school with the intent on studying forensics but after a few years of this, realized she knew much more about the wine world. She changed career paths and ultimately graduated with a degree from Villanova University in chemistry. She later earned her master's degree in winemaking from the University of Adelaide in South Australia.
Over the year she has worked at several wineries in Napa Valley including Hess Collection and with Jayson Woodbridge (proprietor of Hundred Acre, Layer Cake and Cherry Pie Wines among others). As with most younger Napa winemakers these days, she also has some international experience – working for the storied Yalumba Winery in Barossa Valley, Australia for a harvest. Today she has her own consulting company working with small brands that own vineyards in the Napa Valley.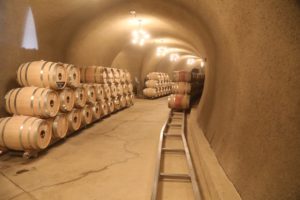 The genesis of Dark Matter came before this brand was even created. For decades the Peter Mondavi Family had farmed vineyards on the valley floor. Then in 2001 Marc and Janice Mondavi (parents of Giovanna, Riana, Alycia and Angelina) acquired 20 acres of undeveloped land on Howell Mountain. They planted 10 acres to Cabernet Sauvignon on land they named the Rocky Ridge Vineyard. Highly sought after Jim Barbour manages this vineyard – he and Marc have been friends for decades. This is in a beautiful part of the appellation – with nearby vineyards including one owned by Pine Ridge, the Lucia Abreu Vineyard owned by David Abreu and the historic Bancroft Vineyard with fruit being sold to Beringer. Rancho La Jota – part of an old land grant is also nearby and dates to 1843.
Several years later in 2005, when Angelina was working for Jayson Woodbridge; they both created a limited production Howell Mountain Zinfandel. 2006 was their first commercial release.
The four sisters own a small two-acre vineyard in rocky volcanic soils on Howell Mountain appropriately called the Four Sisters Vineyard. They acquired it in 2003 from another Napa Zinfandel producer – at that time the vines needed some work. They debated between pulling out the Zinfandel and replanting to Cabernet Sauvignon. Fortunately, they did not do this – rather spent two years rehabbing the vines before using the fruit themselves. While Howell Mountain is known for Cabernet Sauvignon it is also one of the few spots in the Napa Valley known for Zinfandel (along with Calistoga). This tiny vineyard is also one the few Howell Mountain vineyards still planted 100% to this variety.
Select Wines
The focus of Dark Matter Wines is exclusively on two extremely limited production wines – a Cabernet Sauvignon and a Zinfandel. Zinfandel enthusiasts take note; this is one of the most unique Zinfandel's in all of the Napa Valley.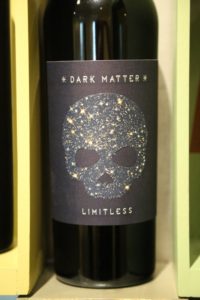 Angelina ages this wine for nearly 4 years in new French oak and then up to 2.5 years aging in bottle before being released. As a result, current releases are often available 5 to 6 years after the vintage date. The 2012 Dark Matter Zinfandel quickly draws one in with its voluptuous like aromas. It shows powerful aromatics including raspberry, brown sugar and white pepper. This wine smells like desert in a glass. Very approachable on the palate with a rounded mouth feel, flavors of cherry with slightly dusty but very well integrated tannins. Super balanced.
The 2011 Dark Matter Limitless Cabernet Sauvignon offers spice notes on the bouquet with notes of pipe tobacco – it is slightly smoky but certainly shows plenty of fruit. A rounded entry leads to a harmonious palate with superb balance with flavors of raspberry and blackberry. This wine is a classic example of why not to trust those who completely panned the 2011 vintage in the Napa Valley. This is one of the finer wines of this vintage from the Napa Valley that we have tried – in a vintage of wines that seem to have shown best from the eastern hills in the Napa Valley including Pritchard Hill and Howell Mountain.
Tastings
Private tastings by appointment are held in the Winemakers Den at Brasswood Winery located just north of St. Helena. This private room within the Brasswood Winery complex of buildings is a comfortable place to hang out – an hour can quickly turn into two with good friends and excellent wines. Both the Aloft and the Dark Matter wines can be tasted here (and both brands are produced at Brasswood). Formerly the St. Helena Factory Outlets, the property now features a number of tasting rooms, the physical winery, an art gallery and a restaurant and a gourmet deli.
This is a very unique Napa property. It is approximately 50 acres and straddles two sub appellations including Spring Mountain and St. Helena. While no grapes are currently planted on the property for commercial use, they have up to 20 acres to develop in the future. The property also comes with a variety of valuable permits – one being the extremely rare Napa permit to allow weddings on site.
This "campus" if you will, features four tasting rooms including the main tasting room where most walk-in visitors will taste wines), The Winemaker's Den, an appointment only room across from the main tasting room, the Vintner's Den just outside of the wine cave and one within the winery.
The property allows a number of their custom crush wineries to host visitors. Guests interested in tasting the Dark Mattter wines can reserve several visit options including a sit-down tasting or a longer experience in which their wines are paired with a several course lunch from Brasswood Bar + Kitchen.
Food is an integral part of the property. Brasswood Bar + Kitchen is a Gastro Pub; the large window behind the bar looks north towards the actual winery facility; you can watch harvest activities on the crush pad during September and October from your bar-stool seat! Their founding chef has Michelin three-star experience; he joined them previously from The Restaurant at Meadowood, also located in St. Helena. The sizable commercial kitchen easily has enough space to accommodate both the restaurant and the cafe's needs. Weather permitting, guests can eat outside on the patio overlooking the grounds, a great place to see and be seen, inside in the booths or at the bar.
Some of the fresh ingredients used by chef are sourced directly from the property – from a culinary garden growing on the south side of the property.
This experience typically lasts a minimum of 90 minutes up to 2.5 hours for a more leisurely lunch and occurs outside on the Brasswood patio (weather permitting) or inside the restaurant. Aloft wines are poured in between each course.
We always recommend guests coming to Brasswood Estate to arrive early to spend some time browsing the grounds including The Shop at Brasswood + Mercantile. This small store offers a collection of hand selected products from around the globe – it is a unique shopping experience for this part of Napa Valley. Both men and women's fashion, home décor, artisan jewelry, culinary tools, fine textiles, ceramics, hand-blown glass, specialty cosmetics and even a few electronics are available.
And this shop also contains wines from Brasswood wine partners as well as products from Brasswood Spirits, American whiskey, gin and vodka.
Sojourn Cellars Connection
Angelina is affiliated with Sonoma based Soujourn Cellars (known for their Pinot Noir) with partners who also own the property that was the site of the old Ravenswood Winery. Sojourn Cellars currently maintains a tasting room on the square in Sonoma and will base its operations at the Ravenswood property (18701 Gehricke Road). Angelina is also associated with Harrow Cellars (15 acres of historic Zinfandel vines) and wines from both producers will be made at this winery and will also be available for tastings.
We will update our notes here once we have have more details and after we have visited the winery and tasting room.
—
The wines are sold exclusively via their member allocation list. For more information and to join this list, visit: www.darkmatterwines.com