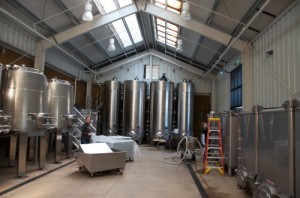 Dancing Hares Vineyard During what was probably the best artisan tasting event of 2009 in the Napa Valley (Atelier tasting at ACME Wine Shop in St. Helena) – we were able to taste some of the top wines coming out of the valley with a number of the valley's most well regarded winemakers present. During this event while sampling the various wines, rather than taking tasting notes like we normally do at tastings we simply wrote down a few of our favorites. Dancing Hares was clearly one of these for us. As a result, we followed up with owner Bob Cook.
This winery was founded by both Bob Cook and Paula Brooks. Bob spent 3 decades in the computer software business and has enjoyed drinking fine wines for many years. He first fell in love with the Napa Valley during one of a number of trips to the area. In the mid 1990's he started looking for property and by the late 1990's had purchased a hillside estate.
The "Dream Team" of winemaking as Bob refers to his team, has been on board since the beginning. They are big names in the business ranging from David Abreu (top vineyard manager) to Andy Erickson (winemaker – clients include Screaming Eagle and consulting for Dalla Valle among other premium producers) to Michel Rolland (consultant and blending master – we read somewhere that Michel tastes over 35,000 wines year year!). There are 5 vineyard acres planted on the 31 acre estate which lies in the northern part of the valley below Howell Mountain; their property is hillside, located just above the valley floor. The vineyards were planted in 2000 and are separated into a number of very small unique blocks. Major Bordeaux varietals are planted on site.
Look for the very interesting black & grey label that has been silk screened on the bottle – with the same theme carried over to the corks. Upright hares are depicted dancing. This may be an unusual name of a wine; however it is a catchy one and is a name that originated from a statue located next to their vineyards which depicts several rabbits frolicking upright. The statue was nameless until one day Bob's daughter came up with the appropriate title, "dancing hares" and this became the name for their wine.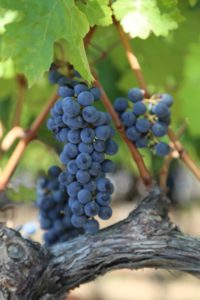 The first commercial release of Dancing Hares to date was the 2004 vintage. However they also made wine in 2003 and that vintage may or may not be released commercially depending on how it benefits from additional aging. They also produce a second wine called Mad Hatter which is only released in certain years (reasonably priced). We tried the 2005 Dancing Hares Bordeaux blend – this vintage contains 58% Cabernet Sauvignon, 24% Cabernet Franc, 15% Merlot and 3% Petit Verdot.
The wine is a dark ruby in color in the glass. The bouquet is very distinct and representative of their unique terroir. This is a complex elegant nose with excellent depth of aroma including baking spices, a distinctive earthiness, graphite, and red cherry. The palate is smooth and soft and for a young wine is already well in balance. The entry shows just a touch of toasted almond and vanilla with concentrated ripe fruit flavors from start to finish including red cherry, plum and raspberry. The finish shows broad well structured tannins that do not dominate the wine, rather they complement the long finish. Enjoy with food or just by itself!
It is recommended to decant this wine as introducing some oxygen before serving brings out additional complexities both in aroma and flavor as well as softens the tannins.
With premium meticulously cared for vineyards and "the dream team" on board, this is one of the more affordably priced wines of this caliber and yes the production is low. Typically only 550 to 700 cases of their Bordeaux blend are released each year. They made the first several vintages at a nearby winery but as of 2010 they finished tunneling a cave and completed a small private winery on site. Visits are for serious wine enthusiasts and collectors – by appointment.
You can find their wine locally at a number of restaurants including the French Laundry, Go Fish and Press among others. They are also selectively distributed in parts of Los Angeles, Las Vegas, New York & Florida. Several wine shops in the valley carry the wine including ACME and the St. Helena Wine Center. Dancing Hares also maintains a mailing list which is still open to new customers.
NOTE: in early 2016 this winery was sold to Tuck Beckstoffer Family. This winery is now called Amulet Estate – see our seperate review on this site for more details.