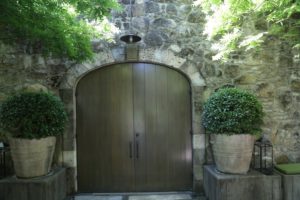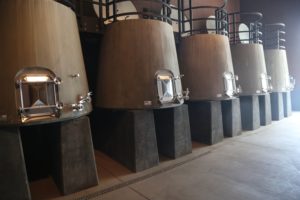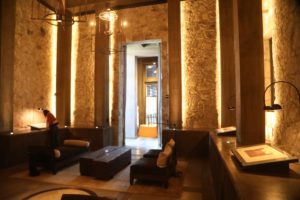 Dana Estates (pronounced da-nuh) is located in the heart of Rutherford on benchland just above the valley floor nestled against the edge of the Mayacamas mountains. This estate is historically rich – it is home to a ghost winery (stone wineries that were built before prohibition) founded in 1883 by H.W. Helms, a German immigrant and viticulturist.
The winery closed during Prohibition and grapes from the property were not used for making wine until John (a petroleum engineer and geologist by training) and Diane Livingston purchased the site in 1976 and crafted their first wine in 1984 labeled as Livingston Vineyards, later the name was changed to Livingston-Moffet. A number of accomplished winemakers worked with Livingston-Moffet over the years including Randy Dunn (Dunn Vineyards), John Kongsgaard (Kongsgaard Cellars), Marco Di Giulio and Juan Mercado (Realm Cellars). While Livingston-Moffet produced wine from the property, they never actually produced wine on site.
Dana Estates is owned by South Korean businessman Hi Sang Lee; he has been involved in a wide diversity of businesses over a lengthy career including flour, pet foods and grain production, a car dealership, a restaurant and a wine bar among other ventures. Mr. Lee has been an avid wine collector and enthusiast for many years and founded Nara Cellar in 1997, a fine wine distribution company headquartered in Seoul, South Korea. During Lee's travels around the world, he would visit wine regions including the Napa Valley seeking out premium wines and ultimately introduced a number of the Napa Valley's finest wines to the South Korean luxury market. He has long appreciated Napa Valley, especially for its Cabernet Sauvignon.
His introduction to the Napa Valley came from the late Tom Shelton (former President and CEO of Joseph Phelps). Trips to Napa became more frequent – during one trip he was scheduled to visit a number of properties potentially for sale. Livingston-Moffet was his first stop and last stop – he immediately fell in love with the property (and John and Diane's rooster collection – Lee was born in the year of the rooster). In 2005 he purchased this property from John and Diane who were forced to sell after the infamous Mare Island warehouse fire destroyed all of their library wines and current release wines leaving them in a matter of hours, without any product to sell.
At the time of his purchase the old ghost winery was crumbling and only parts of 4 walls were standing. Mr. Lee interviewed seven different architectural firms – six of whom wanted to remove the old walls and start from scratch. Fortunately, one of the seven firms led by well-known architect, Howard Backen of Backen & Gillam Architects had another idea. He told Mr. Lee they should preserve and incorporate the old stone walls into the winery. Backen's firm has designed a number of premium wineries in the Napa Valley including Harlan Estate, BOND and Futo Estate among others – as well as Poetry Inn, Robert Redford's Sundance Institute in Utah and other prominent international designs. Later solar panels in the hills just west of the winery were installed by SolarCraft – and today powers all the winery's electrical needs.
After all the renovations, the old ghost winery is now a beautiful blend between history, function and visual appeal. The winery is state of the art while the hospitality space offers a feel of sophisticated elegance. This might just be our favorite Backen designed winery in all of Napa Valley.
This is a "winemaker's winery" and is setup entirely with their vineyards and small lots in mind. Unlike nearly all other Napa wineries we have visited to date, stainless steel tanks are nowhere to be found – they are not used for fermentations. Three individual fermentation rooms correspond to three of their vineyard sites – the Helms Cabernet Sauvignon is fermented in large, customized oak tanks, much of the Hershey Vineyard wines are barrel fermented in French oak barriques of various sizes and grapes from the Lotus Vineyard are fermented in several sized concrete vessels (the idea that these particular vessels help soften some of the robust tannins that the Lotus Vineyard is known for).
How wastewater is handled is always an important component of wineries. Dana Estates uses two AdvanTex AX100 treatment units installed by Sutherlin, Oregon based Orenco Systems. These units are designed to handle up to more than 2,650 gallons a day. Two additional units are used to treat all the wastewater from the tasting room.
Well-regarded Philippe Melka has been the consulting winemaker since the inaugural vintage; he also offered significant input during the design and construction phase. With his expertise in the vineyards including a background in geology, his wine making prowess and blending mastery, he is one of the Napa Valley's most sought-after winemakers. Several winemakers have worked with Philippe at Dana Estates over the years including Cameron Vawter and current winemaker Chris Cooney (formerly of Provenance Vineyards).
Vineyards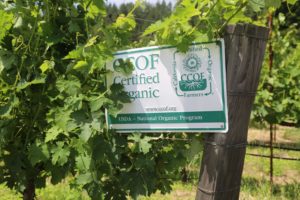 The estate is 30 acres of which 6 are currently planted to vine (Helms Vineyard). Vines were originally planted on site in 1880 a time when this part of the valley was starting to be devolved in vineyards – several old stone wineries dating from the 1880s are within close proximity to Dana Estates.
Their property sits in the northeast portion of the Rutherford appellation, just south of the St. Helena appellation and is located on the Rutherford Bench; soils that are not directly on the valley floor yet not a part of the Mayacamas mountains either. This is a slightly elevated section of land on the western side of the Rutherford appellation that has formed during millions of years through erosion. As a result, these soils are composed of both gravel and loam and provide excellent drainage.
Their other three vineyards are hillside, located on the other side of the valley in the Vaca mountains. The Hershey Vineyard is located at about 1,800 feet on Howell Mountain and is planted to nearly 35 acres of vines. Winemaker Chris Cooney calls this their most complex vineyard site with its multiple exposures, numerous soil types and six varietals including Sauvignon Blanc. The Lotus Vineyard is around 1200 feet on the slopes just below the Howell Mountain appellation and lies directly above the Crystal Springs Vineyard (around 800 feet in elevation).
All their vineyards are all farmed organically; attention to detail is paramount – the vineyards are farmed vine by vine based on each vine's individual need. Yields are also low especially from their hillside vineyards – usually under 2 tons per acre. Total planted vineyard acreage among their four properties is around 60 acres.
Select Dana Estates Wines
Dana Estates presently focuses their winemaking efforts on producing several unique wines, a single 100% Cabernet Sauvignon from each of their 3 vineyards. Production will remain small. Their first few vintages in total are under 500 cases; each wine is produced in very limited quantities.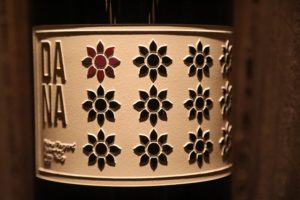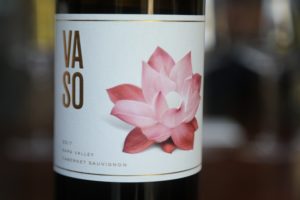 The 2018 Dana Estates Sauvignon Blanc is from a 1.5 acre block of this variety planted at the Hersey Vineyard at about 1,800 feet on Howell Mountain. Only 90 cases of this wine were produced, and it is only sold at the winery. This wine is medium gold in color offering bright aromatics on the bouquet including lemongrass, cut grass and a lemon zest. Its textured roundness is complemented by a very bright acidity. This Sauvignon Blanc shows an intensity of flavor across the palate. Lingers with green apple and a citrus zest. We tasted three years post vintage; this wine clearly has plenty of life ahead of it still.
During an early visit to the winery, we had the privilege to taste the 2006 Helms and 2006 Lotus vintages. Both wines are 100% Cabernet Sauvignon and were aged in 100% new French Oak.
The 2006 Dana Estates Helms Cabernet Sauvignon is dark ruby in color with a sophisticated elegant bouquet that shows enticing aromas of spice intermingled with red and dark fruits as well as a pleasing floral characteristic. The palate expresses layers of flavor tending more towards dark fruit including black cherry and black currant. The finish shows dustiness with broad sweet tannins and lingers beautifully on the palate for some time. This is a rare wine that shows both elegance and power.
The 2006 Dana Estates Lotus is a big dark mountain grown wine that delivers an unbridled richness in the nose and on the palate. Aromatically the bouquet is quite appealing – it is complex "candy store" showing black licorice, baking spices, black fig and other notes of black fruit. This superb richness carries to the palate with dark fruit including more black licorice, black cherry and blackberry. Hints of mineralities and earthiness also show. These complexities of flavor lead to a big finish with broad structured tannins. Again, this wine has an extended and satisfying finish.
The wines of Dana Estates are superbly hand-crafted with their terroir or location in mind. These are wines that will appeal to serious wine enthusiasts and collectors. Their wines have the power to age gracefully for a number of years yet the elegance to drink now and Philippe estimates they will age well for 20+ years. With the structure, fruit, acidity and balance these wines will continue to evolve and develop additional intriguing complexities.
The name Dana is Sanskrit, translating to "the spirit of generosity" and ties in to the "generosity" that nature hopefully gives each year with its production. In addition, it was Hi Sang Lee's childhood nickname. Every bottle of Dana Estates contains 12 lotus flowers, each representing the 12 months of the calendar year. Lotus flowers also signify rebirth and, in this case, symbolize the rebirth that the vineyards experience every year.
VASO Cellars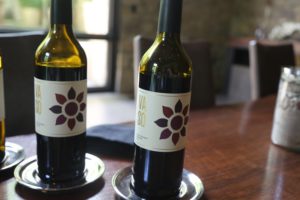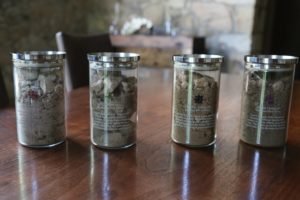 The first vintage of VASO Cellars was in 2006 and until 2012 was exclusively sold in the South Korean market. 2013 was the first release to the international market, including domestically. VASO Cellars (meaning cup or vessel and inspired by the white porcelain Korean Moon Jar, national treasures, the earliest of which date back some 600+ years) was created to introduce wines (at a lower price point then the extremely limited production Dana Estate wines) to a wider audience of serious wine enthusiasts. The backbone of VASO Cellar are grapes from the Hershey Vineyard.
One of the most exciting wines in VASO Cellars collection is their Sauvignon Blanc – a 'mystery' clone, this wine is 100% varietal each year from the Hershey Vineyard. Carefully crafted beginning with whole cluster fermentation, this is a wine that has the ability to age for several years. The 2013 VASO Cellars Sauvignon Blanc is golden yellow in the glass with a distinctive bouquet featuring a diversity of aromas including pear, red apple and papaya along with subtle dessert spices. A thread of sweetness also shows with more subtle notes of lemon zest. Features a lovely balance on the palate with a rounded creamy almost briny texture complemented nicely by good acidity. Even six years after the vintage date at the time of our tasting, the finish is still rather lively.
The 2019 VASO Cellars Napa Valley Cabernet Sauvignon (also blended with Malbec and Merlot) is deep ruby in color; the bouquet is not shy offering plenty of ripe fruit including dark plum, black cherry, blackberry, boysenberry and plum accompanied by scents of freshly tilled dry soil, cedar wood, dark chocolate, mocha and Graham cracker. It offers an initial sweetness of fruit on the front including of dark cherry and raspberry along with some dried herbs towards the back of the palate; the flavors drop off fairly quickly and are hidden to some extent by it's texture. The grainy, drying and broadly distributed tannins contained within continue to persist for quite some time on the long finish. These are primarily felt as grape tannins, not wood tannins as the influence of oak seems on the lighter side. The majority of the grapes for this wine came from the Hershey Vineyard on Howell Mountain.
The 2013 VASO Cellars Cabernet Sauvignon (a blend of also 5% Malbec, 3% Merlot and 3% Petit Verdot) is a darker shade of garnet immediately offering dark fruit aromatics – layered and continues to evolve nicely as the wine opens showing more fruit. Also, a dessert spice nuance – vanilla and darker chocolate. Expansive in its flavor profile with mostly darker fruit including ripe blackberry. Firm, still youngish tannins anchor a mouthwatering finish. This wine definitely has plenty of age ahead of it.
Compared to the 2013 vintage in Napa Valley, in general the 2014 vintage tended to be more approachable in its youth. However, Chris noticed that their 2014 wines as they have aged in the bottle have developed more complexities and power since their initial releases. The 2014 VASO Cellars Cabernet Sauvignon offers a medley of aromas including darker berry fruits, vintage cedar box, a dusty nuance, tobacco and a slight hint of menthol. Well layered on the palate with flavors of darker cherry and blackberry. The tannins show a firm grip but are cohesive in their feel and integration on the finish.
And a third label, Onda is a Cabernet Sauvignon based blend sourced from grapes from their four vineyards.
Limited appointments are available to taste the wines of VASO Cellars. For more information and to request an appointment, visit: www.vasocellars.com
FORMER BUSINESSES, SOUTH KOREA
Nara Cellar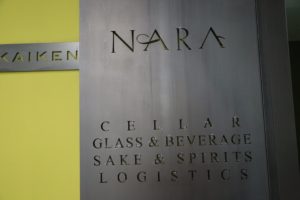 was established in Korea in 1997. Based in Seoul in the H Business Park on the 7th floor of Tower A Building this is South Korea's leading supplier of international wines – with more than 500 wines represented from wine regions around the globe (primarily Europe and the USA).
As expected, their portfolio includes numerous wines from the Napa Valley including some of the valley's most coveted brands (Colgin, Harlan Estate, Screaming Eagle and Grace Family among others).
Four other integral parts of the company include Dana Glass & Beverage (importing stemware from Germany and VOSS water from Norway), Winetime (select retail stores in Seoul), Oaklime (importing domestic and foreign beverages) and The Box, an eCommerce system in China directed to Chinese consumers.
vin.ga Wine Bar (this space is permanently closed, we keep our notes here for historical reference)

is located within about a 10-minute walk from the Apgujeong Metro stop on the orange line (line number 3) in Seoul South Korea. This chic wine bar founded in 2005 and owned by Hi Sang Lee is located one floor below the street level. Dimly lit this space offers small plates along with an impressive wine list from around the world (over 700 selections) with a focus on Europe along with numerous heavy hitters from the Napa Valley. Also, older vintages available for purchase. All visits per table require the purchase of at least one bottle of wine.
Seating is at the bar, inside the circular wine room or at any one of the tables in the primary dining space. A small stage is setup – musicians often perform Jazz. Has received recognition for their wine selections from the Wine Spectator. Arguably the best wine bar in the country. Valet parking is available.
Winetime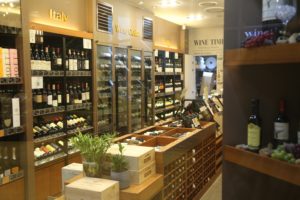 – as of the latest update to this review, Nara Cellar operates 7 Winetime branches (most are within Seoul and several are outside of Seoul) including at the following locations: Apgujeong, Songpa Branch, Jongno Branch, Yeouido Branch, Samsung Branch, Pangyo Branch and Busan Branch.
These shops are small and focus on the wines that Nara Cellars imports into Korea. Stemware from German and VOSS Water are also available for purchase.
Wine education events are sometimes offered with visiting sommeliers and winemaker dinners. Nara Cellar also operates Exfoliate Wine Shop (opened in 2021).
—
Dana Estates sells directly through their mailing list. One can also find their wine locally at several premium wine shops in the Napa area including ACME Fine Wines and St. Helena Wine Center both based in St. Helena. For more information visit: www.danaestates.com
VINEYARDS
Crystal Springs

Helms, Winery Estate

Hershey, Howell Mountain

Lotus