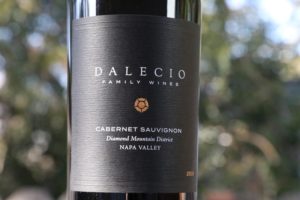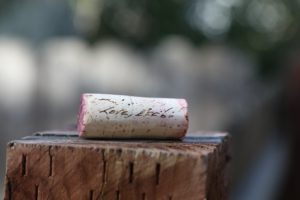 Dalecio Family Wines. Scott Dalecio grew up in the San Francisco Bay Area; his early introduction to wine came when he was working in the food and beverage industry and making wine purchase decisions for various properties. Admittedly he knew very little about wine when his career was beginning in his early 20s, but he quickly met the right people in the industry including winery owners, winemakers and distributers. His first trip to Napa Valley was when he was in his twenties in the early 1980s.
After three years of searching for properties in Napa Valley, in 2021 Scott and his wife Kathy purchased 8 acres in the west part of Rutherford located on alluvial fan sloped soils near the edge of the Mayacamas mountains. This is a gorgeous part of Napa Valley, close to Highway 29 but feeling far removed from its traffic. And it is a formidable vineyard neighborhood including nearby neighbors: Staglin, Scarecrow, Morisoli, Greer and Inglenook Winery. Six acres of a single clone Cabernet Sauvignon are planted, dating from 1993/1994. This property was owned by the Morisoli family (long time grape growers in Rutherford) who sold it to the Collins family (founders of Conn Creek Vineyards) in the early/mid 1990s. For about 10 years the grapes were being sold to Opus One. The first vintage barreled from the property for Dalecio was in 2021. The family plans to replant the site primarily to Cabernet Sauvignon but also with some rows of Cabernet Franc.
Winemaker Philippe Melka and his team at Atelier Melka including Maayan Koschitzky have made the wines since the inaugural vintage in 2016. Scott and Kathy met Philippe in Yountville for lunch and proposed their vision for the brand. Philippe was intrigued when he heard they were interested in producing Pinot Noir as he does not make a lot of wine from this variety for his various clients. And with Philippe's lengthy history of working in Napa Valley and his subsequent relationships they were able build the brand from the beginning with access to some of Napa Valley's most premier vineyard sites.
Scott has worked in the hospitality industry for more than 30 years; he co-Founded KSL Resorts in 2004 and is currently the CEO of the company. KSL Resorts offers hotel and resort management, asset management and development, among other resort services. The KSL Resorts owned properties are extremely diverse including in California, Hawaii and Thailand among other locations. Locally they own Silverado Resort & Spa. And borrowing a line from his hospitality career, Scott refers to the ownership of their Rutherford vineyard and to their own wine brand as being, "caretakers in time" applying the best practices to ensure a healthy vineyard and building a business with the intent to become owned by subsequent generations of the family.
Select Wines
Their red wines represent the diversity of Napa Valley terroir, and that is by intention. They source from premium vineyards, often that Melka has a long history of working with including both hillside and valley floor and ranging from Coombsville through Oakville and Pritchard Hill over to Diamond Mountain. These wines are indicated by a black label on the bottle. And their white label wines represent non-Napa Valley bottlings including Chardonnay and Pinot Noir. A dark blue label is reserved for their most premium Cabernet Sauvignon, the Reserve bottling. The first vintage of Dalecio was in 2016.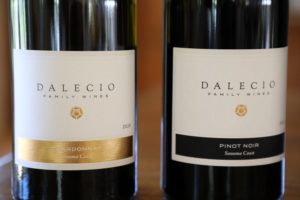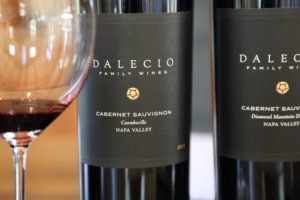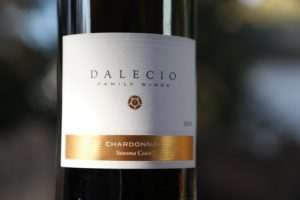 There is no rush at Dalecio when it comes to quality. The red wines are typically aged in barrel for between 20 to 24 months and then spend another 2.5 to 3 years in bottle before being released. So, the current release red wines are typically 5 years post vintage date.
Dalecio sourced from the Platt Vineyard from 2018 through 2022. This site is in Sonoma County only about 5 miles from the cooling waters of the Pacific Ocean. The Chardonnay growing here tends to produce small berries and great acidity. The 2018 Dalecio Family Sonoma Coast Chardonnay (Platt Vineyard) was fermented in stainless steel and French oak and then aged in 45% new French oak barrels. It is medium gold in color; the varied aromatics are immediately attractive and smell fresh (we tasted 5 years post vintage) including of honeysuckle, citrus blossom, yellow pineapple, grapefruit pith, lemongrass, vanilla and a hint of warm butter. The palate offers a creamy but not heavy texture accompanied by a balanced but brightly shining acidity and richness of fruit including flavors of pineapple, mandarin and a hint of apricot and mango. The finish is lively and lingers with some mouthwatering citrusy notes. If we were to choose one word to describe this wine's character, it would be harmonious.
The Dalecio Pinot Noir comes from the Reuling Vineyard near Forestville in Sonoma County. Every year they source three different clones including Calera and two clones from the Vosne-Romanee part of Burgundy – each of which is harvested and fermented separately in both stainless steel open top fermenters and French oak barrels. In 2016, about 20% of the production was whole cluster fermented; the winemaking team handpicked each of these clusters from the original harvest lots for its own fermentation. Scott vividly recalls its wonderful aromatics when it was fermenting in the winery. The 2016 Dalecio Family Pinot Noir Sonoma Coast (tasted 8 years post vintage) is medium ruby in the glass; its aromatics are expressive and immediately wide-open offering scents of ripe raspberry, Graham cracker and cardamom. The bouquet is mostly about the generosity of the gorgeous fruit. This wine is richly flavored including of raspberry and cherry with a thread of white pepper running the length of the palate. It lingers with a light savory note including of darker spices and dried herbs. And perhaps no surprise, Scott said he receives the most reorders for this vintage bottling of any of their wines.
The 2018 Dalecio Family Cabernet Sauvignon Napa Valley is 92% Cabernet Sauvignon and 8% Petit Verdot. It was aged in 50% new French oak. The wine is deep ruby in color; the aromatics show a union of dark berry fruits including blackberry, boysenberry and mulberry. The fruit becomes more expressive as the wine has time to breathe. And the bouquet is primarily about the fruit as the oak characteristics take an aromatic back seat. The palate offers darker fruit, bright and energetic acidity and darker spices including crushed peppercorn and some notes of dried herbs. The tannins offer a silty textural feel and linger with a light dryness. This wine is very approachable; it is their most produced wine each year, usually 200 to 300 cases.
The 2018 Dalecio Family Coombsville Cabernet Sauvignon is from two vineyard sites in the southern part of Napa Valley. The aromatics are layered and ever changing in the glass including of plum, mineralities, violets, rusting iron, old cedar box and light scents of dessert spices and some dark chocolate. It delivers mouth-filling red and dark fruits and is juicy and mouthwatering from the bright acidity. The texture is a noteworthy character with rounded and integrated tannins. The finish is dark, energetic and shows notes of crushed peppercorn and plum.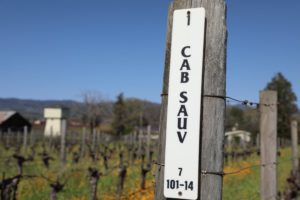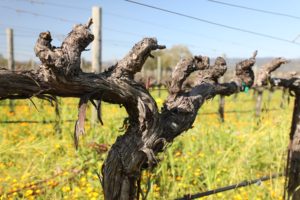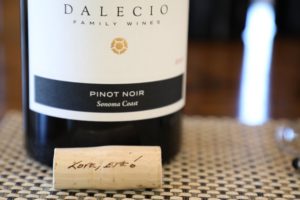 The 2018 Dalecio Family Diamond Mountain Cabernet Sauvignon is 94% varietal with 6% Petit Verdot. It was aged in 60% new French oak barrels from a vineyard site at about 2,200 feet in elevation with part of the vineyard straddling the Sonoma County line. This is high elevation Napa Valley. This wine is deep ruby and opaque; the bouquet is dark with aromas of old leather, cedar box, a meatiness, dried peppercorn and dried herbs. Give it time to evolve in the glass and the darker fruit will start showing more including of plum and blackberry along with notes of mocha, espresso and coffee. The savory characteristics on the bouquet are also present on the palate. It offers rich, juicy and mouth filling dark fruit supported by a savory finish offering flavors of plum, crushed peppercorn and persistent gravely and grippy textured tannins along with a persistent drying note. This wine delivers plenty of mountain depth and character and is well-worth seeking out by serious Napa Valley Cabernet Sauvignon enthusiasts.
Their most premium wine is the Reserve Cabernet Sauvignon created by selecting four or five exceptional barrels each year regardless of vineyard locations. The varietal percentages vary each year; some years it has been 100% varietal Cabernet Sauvignon. The 2018 Dalecio Family Reserve is 83% Cabernet Sauvignon and 17% Petit Verdot with the grapes coming from Coombsville, Pritchard Hill and Diamond Mountain. This wine is deep ruby and quite opaque in the glass; the fruited aromatics include plum and blackberry. The palate is well-layered including of both fruit and its accompanying texture. Medium to full bodied, the gravelly textured tannins anchor a very long and darkly fruited finish. This wine shows nicely at the time of our tasting 5 years post vintage but has all the characteristics of being able to age for quite a few more years.
—
The wine label is in homage to family. The golden flower was modeled from a family crest of a distant relative. The five petals represent Scott and Kathleen and their three children. And two simple but powerful words are printed on every cork: Love Etc! This was their children's idea to honor Kathy's father John Futch. He was in the marine core, was a policeman, a fireman and later worked on a number of international hospitality projects. He was also a man of few words. When giving gifts to his children or grandchildren he would address them by name and write, Love Etc! And for the family, it is always a reminder of the memories they shared with John.
Production has grown from around 550 cases in 2016 to around 1,200 cases presently. The wines are sold both direct to consumer with some limited distribution in California. Locally one can find select bottlings at V Wine Cellars in Yountville and ACME Wines in St. Helena and at the Silverado Resort and Spa.
The wines are produced at Brasswood Estate in St. Helena. Dalecio participates in the annual Vintner's Vanguard every August. This open to the public event by advance ticket purchase showcases a number of wines from producers who make their wine at Brasswood. It is a rare opportunity to meet the owners/vintners and try a number of limited production wines.
For more information, to purchase wine or to join their mailing list with access to the allocation list, visit: www.dalecio.com