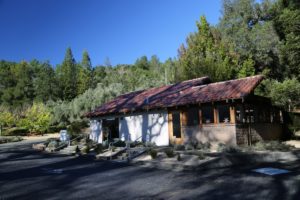 Cuvaison Estate Wines (Calistoga) is an intimate winery located near the northern part of the Silverado trail on the east side of the road at 4550 Silverado Trail North. They are one of a select few Napa wineries to have two wineries and two tasting facilities (see below for review of their Carneros location). Lots of oak trees grace this property which sits on the edge of the hills just above the valley floor. This is one of our favorite wineries in the valley to have a picnic (no outside wines). Several tables are available under the oaks near the front of the tasting room and additional tables are available in their olive grove.
From the small size of both the winery and tasting room you would never know their wines are distributed internationally on major airlines and cruise ships! We conduct a fair amount of International travel and that was where we first became familiar with their wines. If you have flown China Airlines, British Airways, United or other carriers, you may have come across a Cuvaison chardonnay. Their wines are also served on many well-known cruise ships. Cuvaison was originally started in 1969 by a pair of Silicon Valley engineers and was purchased in 1979 by the current owners, the Schmidheiny family from Switzerland.
The word "cuvaison" is French and refers to the period of time during fermentation when the fermenting juice is kept in contact with the seeds and skins so as to transfer color, structure and aroma to the actual wine. This period of time takes place both during fermentation and after fermentation (maceration).
There is an interesting story to how the winery was purchased. Adda Schmidheiny was visiting San Francisco and happened upon a bus tour going to the Napa Valley. She requested permission to come on board and after enjoying several quality Napa wines she took some dirt back in a silk handkerchief to Switzerland to present to her family. This was the initial impetus for getting into the California wine business! The Schmidheiny's also purchased 400 acres in Carneros and much later additional land in the Mt. Veeder appellation. Their family has a long history (since 1912) of running a hugely successful International concrete and aggregate company (Holcim LTD). The family enjoys wine of course – besides Cuvaison they own Chapel Hill Winery in Australia and additional vineyards in Argentina and Switzerland.
Look for the olive trees and picnic grounds next to the tiled covered tasting room. As you pull in the driveway, two parking lots are available to your right – the one in front of the tasting room (good shade here) and the larger one a few hundred feet down. Cuvaison remodeled and modernized their entire tasting room in 2009. Choose from either their featured (larger distributed wines) or from the limited release tastings. Say hello to the friendly cat if she decides to saddle up to the tasting counter. A wine glass is included with every tasting. Their specialty is Chardonnay which they make significantly more of than any other wine produced here. They also offer a short introductory tour of their 22,000 square foot caves (advance reservations required). This is a production type tour with a general overview of the tanks and barrel aging, ask lots of questions if you have them! A highlight is their large romantic cave room for events and other special occasions. A visit here is about as non flashy as you will find in the Napa Valley. The people "behind the counter" are friendly, helpful and down to earth.
Cuvaison makes a fair amount of wines (this facility is now used by other small vintners to make their own wine as the Cuvaison wines are made in their Carneros winery) and as a result we have chosen to spotlight a few of our favorites here. They make a variety of Chardonnays including several from individual vineyard blocks. The 2006 S Block has nice crisp notes of pear and apple. Looking for a longer aging Chardonnay – their ATS Chardonnay fits that bill. Cuvaison makes a couple of Zinfandels including one from Mt. Veeder from dry farmed vineyards planted in 1926. Now that's old vine Zin! Our favorite is their other Zinfandel, the Bald Mountain. This wine expresses great fruit, white pepper in the aromas and flavor and a very juicy palate. Brandlin Wines www.brandlinvineyard.com is also owned by Cuvaison and you can taste these in their tasting rooms (very limited releases). The Brandlin Vineyards are located on steep rocky slopes of Mt. Veeder and were originally planted in the mid 1920's. The Brandlin's exclusively focused on growing high quality fruit and never made their own wine. That all changed when they sold their vineyards to Cuvaison.
The 2003 Brandlin Cabernet Sauvignon was their first release – the vineyard site produces big complex Cabernet Sauvignon wines and for a first release, this wine is a great representation of the terroir of the vineyard and the mountain appellation of Mt. Veeder. Rich ripe fruit and spice aromas lead to a layered palate exploding with fruit (plum, cherry) and good structure. Nice acidity and a strong tannin backbone will ensure this wine will age for a number of years to come! When their first long time employee retired (someone who enjoyed ports) Cuvaison decided to make a port and name it after him. Not a bad way to be remembered at all! As a result, the Espiritu is named after this employee and its a wonderful uncommon blend of Petite Sirah and Zinfandel. It is a Ruby styled port, low in residual sugar (7%) for the 2003 vintage. Great flavor and great price. Visit: www.cuvaison.com
NOTE: changes are coming soon to this tasting room. Stay posted here for details as they materialize. As of April 1, 2015 this tasting room and property has been sold by Cuvaison. The property will take a new name; Fairwinds Estate Winery – and some of the brands currently using the winery in a custom crush capacity may pour their wines in this tasting room.
Like we have done with a number of winery and tasting room related changes that have invariably occurred in Napa over the years – we will revisit this winery once the new changes are in effect – and will update this review accordingly. The Cuvaison Signs no longer appear and the tasting room is currently, however in early September the new Fairwinds Estate Winery sign is now showing. closed. LAST UPDATE SEPTEMBER 2015.