Culler Wine is operated by long time Napa vintner Karen Culler. She worked at Mondavi Winery for many years until branching off on her own in 1997. She is currently the winemaker for several high end Napa wineries in addition to being the winemaker for her own winery. She focuses on two types of wines, Cabernet Sauvignon and Syrah. She has been in the Napa wine industry for many years and knows the regional terroir very well. As a result she has secured high quality grapes from select locations ranging from the Coombsville area near the town of Napa all the way to the Howell Mountain area in the northern part of the valley. We have tasted wine from at least four of the wineries that Karen makes wine for and her wines are true to the varietal in that the flavors of the grapes are well represented. In addition, despite stylistic differences in some of her wine, her wines typically exhibit beautiful velvety mouth feels.
We tried two distinct Syrahs and two Cabernet Sauvignon's. Her Griffith's Lair 2005 is from the Sonoma Coast and as a result is a "cool weather" Syrah based on its relatively close proximity to the ocean (windy, cool & foggy). This wine contains a bit of white pepper flavors on the mid palate with additional nuances of ripe currants. In contrast her 2005 Napa Valley Syrah comes from a warmer growing climate and is from two vineyards. Each vineyard brings different characteristics to the actual wine. This very full-bodied wine and is not quite as peppery as the Griffiths Lair. It is a very well balanced wine with a super long finish. She makes two styles of Cabernet Sauvignon; we tried the 2005 La Palette which is blended with Petit Verdot. This is a wine that begs to be paired with a large steak! It is a bigger style California Cabernet, a "juicy" wine with lots of layered fruit flavors on the mid palate.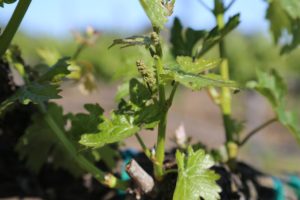 In contrast is her 2005 Howell Mountain Cabernet. This is more of a soft elegant styled wine. The hillside fruit comes from Ladera vineyards (where she is the winemaker) at about 1800 feet and sees cooler day and warmer night temperatures than the valley floor, which produces an ideal slower even growing climate. This wine is 100% varietal.
We also tried the 2006 at a tasting – this is a dark wine as expected from this terroir – nice red and dark fruits on the bouquet with plush tannins that anchor a remarkably well balanced palate. Production is typically around 1000 cases for Culler; her second label is called Casaeda. Culler is distributed in select markets in a variety of states (NY, OH, IL) and you can find her wine locally at Backroom Wines in the town of Napa.
Culler is one of the very few Napa wineries to donate 1% of their total gross profits to an organization called 1% For The Planet – funds from businesses who participate in this are distributed to organizations protecting the environment worldwide. Visit: www.cullerwines.com