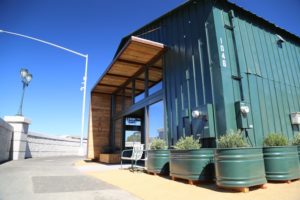 CRU @ The Annex opened on an auspicious date – 9/29 2016. The focus of tastings are on CRU wines from Vineyard 29 (winery based in St. Helena) as well as select Vineyard 29 wines. This tasting room is open to the public by walk-in and is located next to the Oxbow Public Market and overlooking the Oxbow Commons.
NOTE: as of 2021 changes are coming to the CRU @ The Annex location – stay posted, this review has been identified as needing a *major* update. We will do so once we have more details – the latest we heard is that CRU will be moving somewhere near the Napa Valley Visitor center off of 1st Street. CRU has moved out of its location next to the Oxbow Public Market and is no longer seeing visitors here.
The interior of the tasting room is unique, memorable and very well designed (created by Erin Martin Design, based in St. Helena), Notice the Napa Valley map on the wall – it is lit from behind and cleverly shows the outline of the city of Napa and the valley to the north. The three lit dots represent the tasting room, Vineyard 29 (the winery location) and their Aida Vineyard. A digital video wall typically loops every hour and plays video art – if audio is present, guests can download the Audio Everywhere app to pair with the wines.
Several unique concepts have been built into a visit – before you enter the bathroom you will notice a series of paper calendars hanging on the wall with the current day's date. Simple remove one of these before entering the bathroom – then write your thoughts on the paper and pin it to the wall. Great for leaving your friend a note, writing about your time in the Napa Valley or your experience enjoying the CRU wines.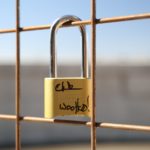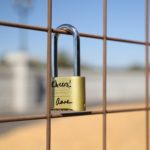 New metal locks "decorate" some of the tables – there is a purpose to these aside from their artistic visual appeal. A metal wire fence directly outside of the tasting room serves as a perfect location for visitors to hang these locks. Founders of Vineyard 29 and this tasting room, Chuck and Anne McMinn kicked off this 'lock fence' with their own lock – a 'Cheers' written from Anne on one side and a "WooHoo" from Chuck on the other side. Our lock simply reads "Experience CRU"!
An outside patio offers additional seating overlooking a pedestrian and bike pathway that winds its way past the Oxbow Public Market and near the Napa River.
The first vintage of CRU wines dates from 2004. Chuck and Anne's initial wines were bottled under the Vineyard 29 label – these wines continue to be highly sought out by serious wine enthusiasts and collectors. They were producing such limited quantities of the Vineyard 29 wines that they became allocated to their wine club members, leaving no other wine for additional placement in retail locations. These wines were from their estate.
Chuck and Ann decided to start CRU with the intent to produce wines under this label in higher quantities and at a different price point then their Vineyard 29 wines. In addition, the sources for the CRU wines are non estate properties but are carefully managed with input from their own vineyard management team.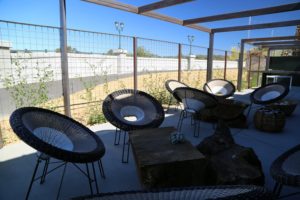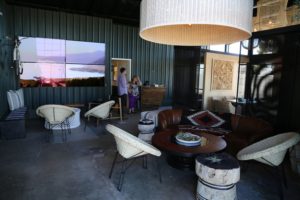 The tasting room focuses on the CRU wines but will certainly pour the wines of Vineyard 29. Appointments can be made for more private tastings – through working with local food vendors, they offer select culinary experiences paired with the wines. Several different tasting flights are offered – each one unique to the CRU wines, AIDA wines, a Cabernet Sauvignon only tasting or the Vineyard 29 wines. Wines can be ordered by the glass or bottle.
Vineyard 29 makes a wonderful Sauvignon Blanc and their Sauvignon Blanc offering from CRU is equally as enticing – simply called the CRU Blanc for short. 450 cases were made. Golden yellow in the glass, this wine is very aromatic with notes of orange blossom, honeysuckle and aromas of guava and initially an intriguing spiciness. The wine is very balanced with a clean finish that lingers with notes of lemon/lime. Crisp with very good acidity.
An unusual offering for a Napa producer is a Pinot Noir from the Willamette Valley in Oregon. Long time Vineyard 29 Director of Wine making, Keith Emerson decided to purchase grapes from the Willamette Valley one year to make a Pinot Noir under his own label. Hering about this, Chuck asked Keith where and how he was going to process the grapes since the vineyard source was so far from Napa. Chuck ultimately recognizing the logistics issue of this and offered some of his own picking equipment, bins, and helped facilitate a refrigerated transport of the grapes from Oregon to Napa. Keith offered a barrel of his Pinot Noir to Chuck as a thank you for his help – Chuck tried the wine and realized it's high quality – and then decided that they should also make a Pinot Noir (bottled under the CRU label).
Only 500 cases were made of the 2014 Willamette Valley grown Pinot Noir. There is a reason select vintners from Napa have sourced Pinot Noir from here despite the geographical distance. This wine shows delicate aromas on the bouquet – somewhat floral at times with a noticeably spicy characteristic (white pepper) along with a dusty characteristic. The bouquet is quite appealing with notes of cherry and raspberry. On the palate this wine is silky smooth, rounded and delicate. A lingering tartness shows with fine-grained well integrated tannins.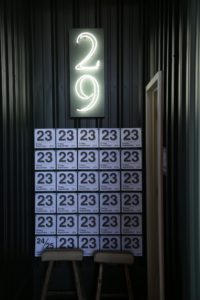 Only 23 cases of the 2014 CRU Merlot was produced from their AIDA Vineyard – this is a tasting room exclusive and a rare wine – with increased production planned for this variety in future vintages. This wine is super dark in the glass and shows darker fruit aromatics with a dessert spice sweetness. Blackberry aromas shows – the palate is layered and lingers for some time. The tannins are somewhat sediment like – with a slightly chewy texture. This is a rich example of a Merlot.
The 2014 CRU Cabernet Sauvignon is dark red with purplish tinges on the rim; the bouquet shows notes of both blackberry and raspberry – on the entry it is rounded but quickly gains in complexity of flavor with a tannin profile that is earthy and long lasting. Somewhat chalky feel on the finish. Excellent acidity.
Note the brown bike locks and bike pump next to the parking lot as you walk towards the entrance to the tasting room. Chuck and Anne have been passionate proponents of creating a bike trail that spans the length of the Napa Valley; Chuck is the founder of the Napa Valley Vine Trail Coalition. When completed this will be a 47 mile trail for bikes and pedestrians leading from the Vallejo Ferry Terminal in the South to Calistoga in the north. When this tasting room opened – approximately 16 miles of trail have been completed from south Napa to Yountville (mostly within the city of Napa).
To become a wine club member of CRU – choose from two cleverly named levels of commitment – the ACCRUAL is two 6 bottle shipments a year and the CRUSH provides two twelve bottle shipments per year.