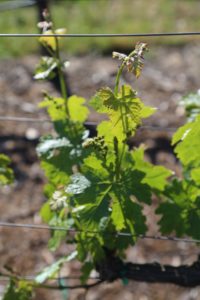 Cross Cellars is owned by Jim and Sue Cross. Both have a life long interest in wine having each followed wine related passions in 1972 before they even knew each other. Jim started the Societé Joie du Vin, a group of wine tasting aficionados from Los Angeles who have met once a month since its inception and Susan started California Wine Tours which at the time was setup for serious wine enthusiasts in a small group environment. She sold that business a number of years ago, but it is still in operation today, having expanded its scope and type of tours. As a graphic artist, Jim continues to design a number of area wine labels for some of the top wineries in the valley. Both are serious food and wine enthusiasts and have dreamed of making commercial wine for some time.
Their first commercial release was in 2003 with fruit sourced from the 9+ acre Brix Vineyard located appropriately right behind the Brix 25 restaurant (great food and excellent wine list by the way!), between the towns of Oakville and Yountville on Highway 29. This vineyard is on the valley floor in the heart of Oakville, one of Napa's prime Cabernet Sauvignon appellations. Some history is in order to understand the inception of Cross Cellars. The owners of Brix 25 restaurant, the Kelleher Family have been friends with Jim and Sue for a number of years. If you live in Napa and own a vineyard, sooner or later you will start making your own wine. We call it the "Napa Allure"!
The Kelleher's were inspired to make wine came when restaurant guests would ask to taste their wine, automatically assuming they used the grapes on their property. For several years the Kelleher Family made home wine and after tasting the Kelleher's non commercial wine Jim immediately realized the quality of their vineyard. He decided the timing was right to produce his own commercial label and Cross Cellars has sourced Cabernet Sauvignon from the Brix vineyard every year. As a side, the Kelleher's also now make their own commercial wine from the same vineyard.
The well regarded winemaker Craig Becker was soon hired. In the past, we have met Craig to discuss several of his other winery projects; he is a winemaker who is actively involved in the vineyards he makes wine from. As a result, when he came on board with Cross Cellars he introduced a new approach to the management of this vineyard. Since all fruit is sourced from this one vineyard – there are things you can do with the management of the vines to really display the terroir characteristics in the wine. With the help of his vineyard manager pruning, crop loads, and nutrient availability were all altered and tailored to this particular vineyard. The idea was to essentially limit the vigor of the vines as well as crop load to try to produce more concentrated fruit.
As of press time they produce one wine, always a 100% single vineyard Cabernet Sauvignon. Cross is one of the smaller producers we have visited with on this project. Production is always very limited, generally just a few hundred cases. The Cross's also tend to release their current vintages a bit later than a number of area producers, ensuring their wine has additional aging. The 2004 vintage was aged in a combination of French and American oak – all native yeasts were used for both primary and secondary fermentations and the wine was bottled unfiltered for maximum flavor and color. This year is the first full vintage that is the result of Craig's work in the vineyard. The elegant aromatic nose is dominated by sweet fruit with some herbal nuances as well as notes of tobacco and additional spices. The palate is very smooth on the entry yet full bodied throughout. It contains slightly tart notes of boysenberry, cherry and raspberry helping make this a good choice to pair with food. The finish has balanced delicate tannins with just a touch of vanilla that pleasantly lingers from the American oak.
Based on the owners history in Los Angeles, their wine is fairly well distributed in the "southland", especially at restaurants. They are found at at Brix Restaurant located just north of Yountville (no surprise there), Redd in Yountville and Cole's Chop House in Napa.
NOTE: Winery possibly no longer producing wine – will archive as necessary once more details become available.