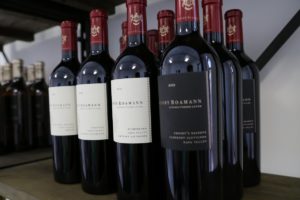 Crosby Roamann. The vision for Crosby Roamann began in New York City in 2006. Husband and wife, Sean and Juliana McBride started making wine in Tribeca in 2006, merely a barrel of grapes they purchased from one of Napa's most well known vineyard managers, Andy Beckstoffer. Bitten by the bug Sean moved to the valley and started making wine at White Rock Vineyards; this is where he learned much of the hands on process of wine making. Their first commercial release dates from 2007. They started selling this release in 2010 and with this increased commitment, both Sean and and Juliana moved to the valley and now live here full time.
Sean first discovered his interest in wine while working in college stocking a wine shop. His "aha moment", as he describes it was over a bottle of Ridge 1995 Zinfandel from Paso Robles. While working at this wine shop he developed a new found passion for wine and became a voracious reader of wine literature and tried to learn as much as he could about the industry. How it is made, why it taste differently and so forth. The enjoyment of drinking wine became ancillary.
The focus of Crosby Roamann's wines are on single vineyard single appellation hand-crafted wines. They work with local independent growers and currently source fruit from more than 10 vineyards – all in Napa. Often times they will hear from friends and other growers of a select vineyard that needs a home for its fruit; they are not opposed to making wine from the vineyard for just a single vintage or if there is a chance for a longer term agreement, they may add a particular vineyard into their annual portfolio.
Sean is highly interested in the terroir of Napa and what makes each region within the valley unique. Generally, can you taste the differences between Rutherford and neighboring Oakville? Is the "Rutherford Dust" an aspect that is completely unique to this sub appellation? Some of their wines explore these terroir differences – especially neat are wines he makes from grapes grown so close to each other but in different soils and even differences in mini microclimates.
Select Wines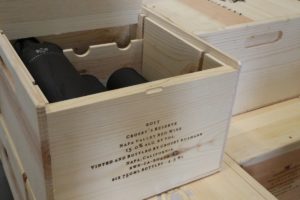 The vineyard they source from for their Sauvignon blanc is one that Sean pays special attention to – carefully working with the vineyard management team and before harvest he is in the vineyard hand selecting and dropping any fruit that doesn't meet his specifications for when it is ready to be harvested.
The 2011 Crosby Roamann Sauvignon Blanc was barrel fermented and left to age on the lees. This wine has an appealing aromatic play of both citrus intertwined with tropical nuances including notes of banana. The finish is long with plenty of flavor and hints of vanilla and some mineralities.
A unique wine of which they made only 37 cases is their black label Sauvignon Blanc simply titled "blanc". This was was made by hand selecting each cluster of grapes. Only the ripest fruit was chosen; this is a big wine that delivers richness of flavor, tannins and alcohol (15.4%). 2011 was the first vintage they made of this and they will only produce this wine when the vintage conditions are favorable.
The 2010 Crosby Roamann Mt Veeder Cabernet Sauvignon contains 12% Merlot and a small percentage of Petit Verdot. The nose is intriguing – a slight smokiness and dried herbal quality shows. Aromatically, darker fruit shows with lesser aromas of cedar and spice. There is a savory note to the bouquet. More red fruit rather than black fruit shows on the palate. This wine has great acidity – with lingering mountain chalky tannins that last for some time.
The 2010 Crosby Roamann eserve is their first vintage of a reserve wine. Only 77 cases of this vintage were produced – it is a barrel selection – only the best three barrels were chosen for the final blend. Like their other Mt. Veeder Cabernet Sauvignon, this wine was bottled unfined and unfiltered. This is a bigger wine but still with great acidity. Notes of wet gravel, a savory component and some underlying spices show on the bouquet. As the wine breathes the bouquet becomes more elegant. The palate shows black fruit, blackberry and black licorice. Again good structure that lingers for some time.
—
Cupiens Videre Lucem" is written on the front label of all their wines. Translated from Latin it means, "desiring to see the light" or waiting for dawn to appear. This line was taken from a poem in which two friends stay up all night drinking wine waiting for the first light of dawn.
The name Crosby Roamann is a tribute to relatives – taking the last names of two women – both artists in their own right – one a stage performer in the 1920's and the other a poet.
They opened a tasting room (by appointment) in the business park in the southern part of Napa in 2015. This part of the valley is home to a number of other wineries – "the Crusher District" as it is called. After a number of years of being a nomadic wine maker – Sean is glad to have finally secured a permanent home for their wines. The winery is located directly behind the tasting room. Visits are often with either Sean or Juliana.
Their wines are distributed in a number of states including New York, Illinois and California. They selectively participate in area tastings including Flavor Napa Valley Premiere Napa Valley and Auction Napa Valley. For more information and to join their mailing list, visit www.crosbyroamann.com
View Sean talking about Crosby Roamann Wines starting at 43:30 of this video: