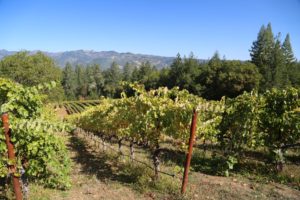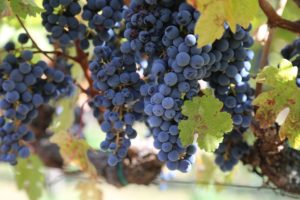 CrauforD Napa Valley was founded in 1999 by Marilyn Crawford Corley; her daughter Carolyn was initially involved with the winemaking. Her son Chris is the current winemaker and his wife Julianna manages their source vineyards. Marilyn was married to Jay Corley; both were founders of Napa based Monticello Vineyards (Jay died in 2016).
CrauforD released their first vintage from 1999, merely 70 cases of a Sauvignon Blanc called Highlander. While CrauforD does not own a physical winery, conveniently they produce the wines at Monticello Vineyards. Marilyn was born and raised near Falkirk, Scotland (about halfway between Glasgow and Edinburgh); the wines are a tribute to her heritage and the historical spelling of her last name. The Scottish motto which appears on their label, "Tutum te robore reddam" translates to "I will render you safe by my strength".
Julianna (or Jules as she is known by friends and family) was born and raised in Maryland. She became hooked on wine while working in restaurants and waiting tables, eventually becoming in charge of one restaurant's wine list. Looking to further her wine education she moved to California and enrolled at the University of California Davis, ultimately graduating with a degree in viticulture and enology. Her first wine job was for Opus One as a vineyard researcher collecting data relating to roots and soils. Later she worked for a vineyard management company – helping oversee numerous vineyards. Today she is a vineyard consultant working with vineyards throughout the Napa Valley, including a number in the eastern part of the county, the Russian River Valley and select vineyards in the Sierra Nevada foothills. Her vineyard management philosophy is to farm as organically as possible.
Combining her love of travel with viticulture and Chris's winemaking skills, between them both they have worked on a number of international wine-based projects including an intriguing project in Taiwan (Weightstone Vineyard Estate & Winery) in which she oversaw the shipping of numerous winemaking and viticulture supplies to Taiwan as well as a number of vineyard workers from California. They have also consulted for vineyards in Valle de Guadalupe in Baja California.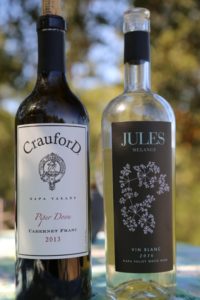 Jules and Chris's former estate property (which they purchased in 2015) is located in the Spring Mountain Appellation. Situated at an elevation of about 1700 feet among forested slopes well above the valley floor, the property feels remote yet is only about a 15-minute drive from the center of St. Helena. The site is 40 acres of which 5 of are planted to vine including 4 rows of Cabernet Franc with the remainder planted to 4 clones of Cabernet Sauvignon. And Jules was intimately familiar with the site long before they purchased this property; she helped plant the vineyard back in 2000. This feels like old Napa Valley, a working ranch tucked into the hillsides with chickens, sheep, goats and gardens – far away from the traffic so often associated with the valley floor.
NOTE: the core property that Jules managed and the site of their home for a number of years on Spring Mountain was unfortunately burned in the Glass Fire of Fall 2020. They were able to evacuate their sheep right before the fire. These animals now live on the Monticello Vineyards property in Oak Knoll and have since produced additional animals; they are used for 'mowing' the grass during certain times of the year among their vines. Julianna and Chris no longer live here or produce wines from the vineyard. Our latest update as of 2023, contrary to the older vintages listed on their website, they are still producing wines bottled under CrauforD Napa Valley.
Select wines/winemaking
The focus of CrauforD's production is on hand crafting limited premium production Napa Valley wines including their original wine, the Highlander Sauvignon Blanc, and the ever popular whimsically named Kilt Lifter Zinfandel, Piper Doon Cabernet Franc and the Tattoo Cabernet Sauvignon. Despite the grapes for these wines coming from premium mostly Napa Valley based vineyards they have kept their prices very reasonable by Napa standards.
Jules also runs her own label, Jules Melange which focuses on a white and red blend and a rosé. Conveniently Chris is the winemaker. Jules enjoys working with wines bottled under this label because it gives her a chance to work with varieties that are not always associated with the Napa Valley – and be creative, especially with the final blends. And these are wines that won't set your budget back – they are very reasonably priced for the quality.
The varietal composition of the Jules Melange Vin Blanc changes every year – with the base varietal being Sauvignon Blanc. The 2016 Jules Melange Vin Blanc is a blend of approximately 1/3 Sauvignon Blanc, 1/3 Chardonnay and 1/3 Albariño. Jules loves working with older vine Albariño and is fortunate to have access to a small vineyard source in Calistoga as well as in the foothills of the Sierra Nevada. This wine is straw golden in the glass offering pretty aromas of both tropical and citrus nuances. Initially shows notes of passion fruit, melon and floral nuances including citrus blossom as the wine opens further. Balance and texture define this wine – it is a pleasure to drink with its supple almost oily at times mouth feel across the palate. But there is also good acidity to balance out the textural weight.
And Jules defines Melange on the back of every bottle, "Melange – a distinctive and delightful blend of seemingly inharmonious elements". The label is an image of grape flowers in bloom. And rather than bottle with a screw cap or cork, the wine is bottled with a glass vino seal enclosure.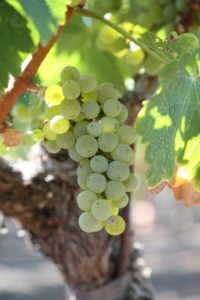 The 2013 CrauforD Cabernet Franc Piper Doon is 100% varietal sourced from a single vineyard in the Oak Knoll District along with 4 rows of Cabernet Franc from their Spring Mountain property. The bouquet shows aromas of ripe blackberry, raspberry and as the wine opens a thread of mocha/vanilla dessert spice sweetness along with tobacco leaf. A robust vintage in general from the Napa Valley in its youth, this wine needs time to open. Medium bodied on the palate, flavors of red cherry and currant show anchored by a finish with some textural grip but not an overly muscular finish. Fruit along with black pepper and some cedar spice linger. Only 48 cases of this wine were produced. And for those interested, the name is a play on the "We have a Piper Down" scene from the film, So I Married an Ax Murderer.
The 2006 CrauforD Highlander Sauvignon Blanc. This is a delightful wine with a very floral and highly aromatic bouquet. Serving this when it is not as chilled, allows more of the tropical fruit flavors to show rather than lime/citrus type flavors. We even picked up just a hint of banana flavor towards the finish.
The 2003 CrauforD Tattoo Cabernet Sauvignon was actually held back longer than normal as it was a robust wine that needed additional aging before release. The palate is full of black cherry flavors complemented with hints of chocolate and mocha and a touch of vanilla from the oak towards the finish. This wine will do well with aging and at the time of our tasting, another 10-15 years is not unreasonable aging estimate.
The 2005 CrauforD Brown Estate Vineyard, Kilt Lifter was aged partially in Hungarian oak which is responsible for some of the spicy characteristics in this wine including cloves and cinnamon. This is certainly not an overly fruity "jammy" Zinfandel like some of the ones we have tried in the valley, rather it strikes a nice balance between fruit, acidity and tannin structure.
—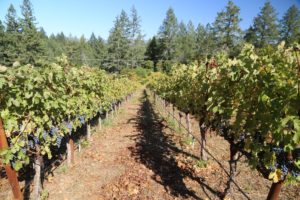 Total production of all the CrauforD wines is around 700 cases per year with most of the wine sold direct via their wine club. The wines are selectively available in the New York and New Orleans markets (based on a family friend who owns a distributor).
For more information, and or to join their "whats under your kilt" wine club (with access to some exclusive events), visit: www.craufordwine.com