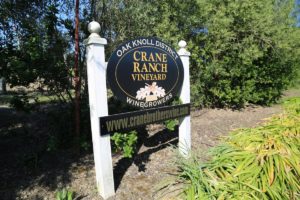 Crane Brothers Wine as the name of the winery suggests, is owned and operated by two brothers Michael and Rob Crane who are third generation natives to the Napa Valley. Both have many years experience of being home winemakers and in the mid 90's purchased land in the Oak Knoll district and planted several varietals including Syrah, Merlot and Cabernet Sauvignon. As they will tell you, they took the "long road" to becoming commercial winemakers and managing their own vineyards! Michael works in real estate and the Rob is a hospitality manager at Sterling Vineyards. Rob has grown up in and around the wine industry with his first winery job in the cellar at the old Christian Brothers Winery in 1970.
The vineyard management is all kept within the family and great attention to detail is paid to the pruning, trellising and thinning of the crop. Their property is close to Hendry winery which is a relatively small property but contains many different soil types. The same is true here and it has taken the Crane brothers a number of years to identify which blocks are most suited to which varietals and even to particular rootstalks. They made a few barrels in 2000 and were quite pleased so their first commercial release was the next year in 2001- a Syrah. Having a good rating from the wine master Robert Parker right out of the gate certainly helped their reputation and sell wine! For small artisan crafted wines, and micromanaged vineyards their prices are fairly reasonable by Napa standards.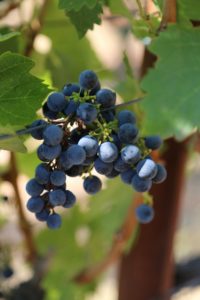 All grapes for their wine come from the estate and the wine is made at a nearby small hands on winery also in the Oak Knoll district. Syrah could almost be called their "specialty", as they have 3 different clones of this varietal including 2 French clones and they make several different Syrah wines. We tried their 2007 Eye of the Crane Syrah Rose (look for the yellow crane on the top of their bottles). The grapes for this Syrah are typically picked several weeks earlier than their main harvest and this wine has its own characteristics slightly different than found in similar Rose's. The acids and tannins are a little lower. It is a dry very crisp rose with lots of fruit on the palate and hints of strawberries on the nose. This is a great pool and patio sipper wine.
One of their more popular wines is Brodatious which is a twisted play on the word Bodatious, meaning big. Yes, their 2004 vintage is certainly a big rich wine; it is a blend of Cabernet Merlot, Petit Verdot and also a touch of Syrah. This is a well rounded wine with an interesting mix of flavors including black licorice, some cinnamon and also a bit of chocolate. There is also another Syrah wine (non vintage port) in the works but as of press time has year or two until release. They have good restaurant distribution in the Napa area and you can also find their wines locally at Back Room Wines, Bounty Hunter, & JV in the town of Napa.