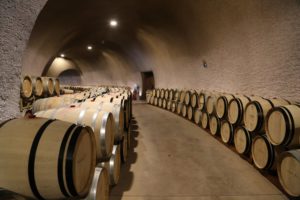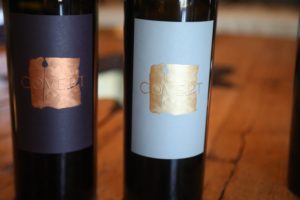 Covert Estate. In 2012 winemaker Julien Fayard and his then wife Élan, husband wife Cal Nicholson and his wife Pam, and husband wife Dave & Laura Nestor purchased a 12 acre site in Coombsville of which 4.5 acres were already planted to vine. Julien and his partners spent three years looking for property before they located this particular site.
Julien was born in Saint Etienne in France and has a well-rounded diverse background in wine making. His father grew grapes, and their family was involved in the wine business in France for several generations. Julien's uncle Jean Pierre Fayard and his wife Brigitte purchased Château Sainte Marguerite, located in southern France in the tiny community of La Londe-les Maures on the French Riviera in 1977 and sold the majority of the business in 2022. See our notes on Julien Fayard Wines on this website for more details about Château Sainte Marguerite.
Julien made his first wine at age 16 and continued his education by working in Provence, the Loire Valley and Bordeaux (Lafite Rothschild). He met his then wife Élan in the Loire Valley; she was living and studying wine and the French language at the time.
After they married, they both moved to Napa Valley in 2006 – Élan to be closer to her family and for Julien it was an opportunity to make wine outside of France. Julien worked with noted winemaker Philippe Melka for seven years before starting his own wine consulting business where he currently makes wine for several clients.
Part of the property is a knoll which boasts excellent views overlooking much of Coombsville and to the south including the San Pablo Bay in the distance. This knoll has proved useful in that geographically it provided the footprint for their wine cave – their 12,000 square foot cave was completed in late 2015. All prior vintages were made at other wineries; their first harvest completed at their new home was in 2015. There is enough space to also accommodate barrels and wine making needs for Julien's other brands. Lighting is often an overlooked aspect in caves often with dim lights – not so here, they used LED lights. Their tanks were custom made from an Italian producer.
The winery is also Napa Green, a local certification program for both physical wineries and vineyards highlighting reduced water, waste and energy usage.
Julien lives a short distance from the winery. Julien has been attracted to the wines coming out of Coombsville for some time – appreciating the cooler growing climate and longer hang time than what is typically seen up valley. Fog is often common in this part of Napa Valley – blanketing the region in the morning and often lingering until late morning or mid-day. Spikes in temperature tend to be less extreme than in other parts of the valley. His focus is on wines that showcase Napa's richness of fruit, yet at the same time present balance and versatility.
Architect Juancarlos Fernandez of Signum Architects has designed a number of unique and beautiful wineries in the Napa Valley in recent years. His first Napa project was Cade Winery; he was instrumental in designing the Covert Estate Cave. The name 'covert' was carefully chosen due to their location – they are fairly hidden from view; they are not located on any of the primary roads within the Coombsville region and their physical footprint above ground is fairly limited. In addition, their impact on the land is covert, if you will – they farm the vineyards biodynamically (certified) and are extremely sensitive to water use. They use solar cells for additional energy. An old oak grove (dated to approximately 115 years) grows on the slope above their cave.
The tasting room was designed by Richard Vonsaal, of Von Saal Design Build, a Napa based design and artistic firm. It is creative in its presentation utilizing components from the wine industry including charred French oak barrels which cover part of the walls and ceiling in the adjoining alcoves. A large piece of obsidian discovered on the property hangs from the impressive chandelier.
A simple embossed image of a piece of tile shows on their labels. If you look carefully, you will notice this tile is split three ways – representing the three owners. Their estate wines are all 100% varietal.
Select Wines
Covert Estate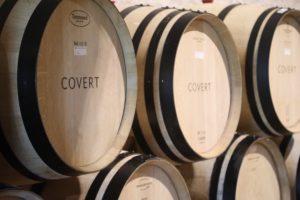 The 2013 Covert Estate Cabernet Sauvignon is 100% varietal using two clones. This wine is very dark red in the glass. The bouquet shows dark fruit including black currant, darker plum and a dark berry component. Notes of toasted cedar also show along with dried fig and licorice. As the wine opens the oak influence becomes less pronounced and the fruit becomes more expressive. Good acidity shows on the palate supporting a lingering finish showing notes of oak, coffee and polished tannins.
A very limited production wine that is highly allocated is their Cabernet Franc. Only 47 cases of the 2013 vintage were produced. The bouquet quickly reveals enticing aromas – both fruit and floral characteristics. Black berry and boysenberry show along with hints of black olive and a tinge of sweet mocha. The aromas are lively – so is the palate. The tannins are fine grained and texturally smooth.
A second rarer bottling of Cabernet Sauvignon is from clone 341 located in the coolest and most gravelly part of the property. The 2013 bottling takes some time to open but when it does it shows a diversity of aromatics. There is a sweet note on the bouquet, perhaps white chocolate. The palate is certainly not linear, rather it is multi layered with depth of flavor (more dark fruits than red fruits) and a subtle herbal note. This wine is superbly balanced. Of the Covert Estate wines, we tried this wine has the most tannin presence; they are earthy and linger for quite some time.
Le Pich
Le Pich is a Wappo term referring to golden eagle. And the image on these wines is among some of Napa Valley's most beautiful labels.
The 2021 Le Pich Sauvignon Blanc Napa Valley is pale to medium yellow in the glass; often we describe a wine's aromatic profile as being rich, but these aromatics can easily be described in terms of their depth and richness. The bouquet offers scents of lemongrass, lemon juice, honeydew melon, citrus blossom, Star Jasmine, mint, slightly under ripe pineapple, passion fruit, guava and a subtle vanilla note almost hidden under the other layers. The palate is also rich and layered but balanced nicely between fruit, texture and acidity. It offers flavors of lemon zest, tangerine, pear, pineapple, red apple, cantaloupe, and a lingering sweetness, not from fruit, but almost like tarragon or dill. Sauvignon Blanc is commonly paired with seafood, but this wine has all the immediate crowd-pleasing attributes that it doesn't need to be paired with anything except a glass.
Purlieu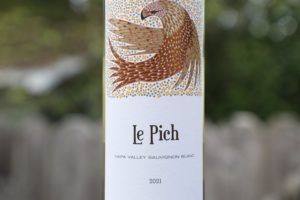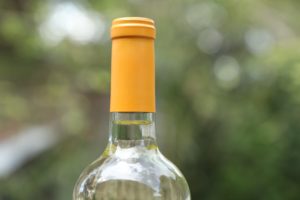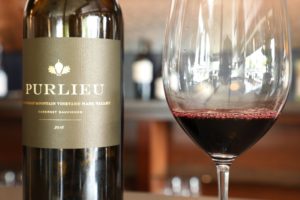 Purlieu is a French word that refers to the edge of the forest or an outlier region. This word also refers to their stylistic approach in making Cabernet Sauvignon. The focus of their production is on single vineyard, primarily red wines from Napa Valley, although they do produce a Chardonnay from neighboring Sonoma County. And these are some of Napa Valley's most premiere sites including Beckstoffer owned To Kalon Vineyard, Georges III and Missouri Hopper, among several others.
One of Napa's larger and more impressive vineyards is Sugarloaf Vineyard (at nearly 700 acres, vines flow in all directions along the rolling hills overlooking San Pablo Bay to the south and the southern Napa city limits). Bevan sources his Cabernet Franc from select blocks within the vineyard. This vineyard is predominately planted to Bordeaux varieties – growing in a part of Napa historically thought to be too cold to ripen red varieties. An important characteristic of this vineyard (despite its size) is a consistency of rocks throughout the property. This vineyard does not visually show a lot of soil – when one has a chance to walk through block after block, one clearly sees what this means.
Piles of rock literally line some of the vineyard rows for as far as the eye can see. Despite the closer proximity to the cooling influences of the San Pablo Bay, it is this rock that actually helps mitigate some of the cooler temperatures at night. It acts as a huge heat sink or solar collector during the day and then radiates back some of this collected heat at night. Afternoon breezes often kick up – cooling things down later in the day. Fog is common in the morning. Hang time is long with harvest often occurring in October and sometimes in November.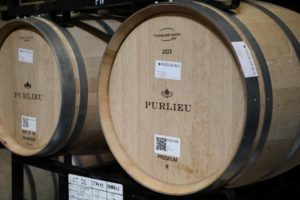 The 2018 Purlieu Cabernet Sauvignon, Sugarloaf Mountain Vineyard is deep ruby in color and almost opaque in the glass with an amaranthine rim. This wine offers darker, ripe and opulent fruits on the bouquet including of blackberry and boysenberry. There are plenty of other secondary spices here as well – chocolate brownie, mocha, espresso, an old cedar wood spice and deep in the bouquet, a hint of nutmeg. This wine offers flavors of blackberry, dark plum, black currant, chocolate and a darker dessert spice. It lingers with some darker tobacco spices including a note of dried tobacco leaf. The tannins are soft, slightly grainy and if we were to characterize their texture into the title of a song, it would be Peaceful Easy Feeling, by the Eagles. This wine drinks very well in its youth.
And in 2023 Purlieu released a 7 year aged brandy in a handsome looking bottle from all new French oak barrels. This was produced from 100% varietal Napa Valley Sauvignon Blanc grapes. Only 350 bottles were made.
Maison Fayard, Napa
Maison Fayard opened on September 23, 2023. The previous tenant was Engel & Volkers; after they vacated the premises the space was remarkably renovated and completed in about 3 weeks – perhaps some sort of record for shortest amount of time needed to convert an existing space into a tasting room in downtown Napa. The interior remodel was overseen by Cruz Calderon (co-proprietor of Scalon Cellars). Artwork will rotate from time to time; the inaugural artist represented was Laurie Shelton, also proprietor of CAMi Vineyards (known for her paintings of colorful cows).
Maison Fayard is a collection of wines produced by Julien Fayard including wines under his own ownership (Julien Fayard, Purlieu, Just Pink Les Vins Julien and Covert Estate). Most of the brands he makes wine for are from Napa Valley but there are several producers whose focus is non Napa Valley wines. This collection is diverse including varieties and price points. The interior is partly a bottle shop and a tasting space with a private room located upstairs for more intimate tasting. Maison Fayard is located at 1408 2nd Street in downtown Napa.
This part of 2nd Street (between Franklin & School streets, sometimes locally referred to as SoFi – south of First Street) has seen as much of a renaissance as any other part of downtown. One of Fayard's nearby wine neighbors, Gamling & McDuck were one of the very first businesses part of this burst of energy brought to this part of the city. It's a hip and happening place to hang out, especially on the weekends and features a variety of welcoming shops including tasting rooms. And in the spirit of neighbors having fun Jeffries General next door, Benevolent Neglect across the street and Gamling & McDuck carry nerf guns next to their counters for friendly neighborhood fights. Although on the second day they were open, we personally provided Maison Fayard with a nerf gun of their own to defend themselves as needed.
The Wine Thief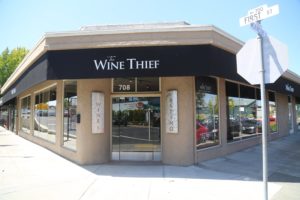 Wines from Fayard's Purlieu and its sister label, Le Pich are available for tasting at The Wine Thief. This tasting room is located on the highly visible corner of First and McKinstry Streets directly across from Gott's Roadside Hamburgers and the Oxbow Public Market. Several other tasting rooms are located on this block and or within a short walking distance and one can easily spend a couple of hours exploring this part of downtown Napa. Parking is curbside (difficult to find on weekend afternoons) or in the overflow Oxbow Market parking lot located within a short walk of The Wine Thief.
Wines are available for tasting by walk-in at the tasting counter or at one of several tables in the main room. Appointments can also be made to try current releases of either of these two brands in one of two private rooms on site with one of the wine educators. And for the private tastings, cheese and charcuterie are served from The Fatted Calf, located at the nearby Oxbow Public Market.
The Green Room
In early 2019, Julien and Élan opened The Green Room in an industrial park located just south of the city of Napa. This tasting space was formerly occupied by Holman Cellars and with a few updates, is now used for private tastings (by appointment) focusing on wines produced by Julien Fayard (including wines from some of his clients).
The idea behind the name is two-fold, Green Room is generally referred to as a room where actors or others about to go on live television or other performances take time to relax and calm the nerves – and it is also a surfing slang, referring to barreling a wave or getting time inside the hollow of a wave as it curls over before cresting. Appropriately named – the room is a calm space, intimate in size, it sits just outside the winery but close enough that visitors can watch the action through the adjoining windows. And the name ties into one of Julien's other passions, surfing. Eventually he plans to line the ceiling of the winery with surfboards.
In addition to the Covert Estate wines, some of Julien's other brands can also be tasted here by appointment including Le Pich and Purlieu Wines.
Because production is so limited, the wines are available direct to consumer via a guaranteed allocation allocation available by joining their Prelude membership, offering an automatic annual three bottle shipment of Covert Estate Coombsville Cabernet Sauvignon. They may eventually selectively distribute to a handful of restaurants. For more information and to schedule a visit, see: www.covertestate.com