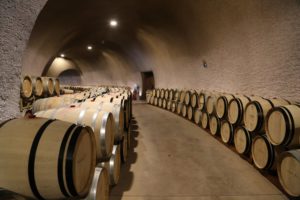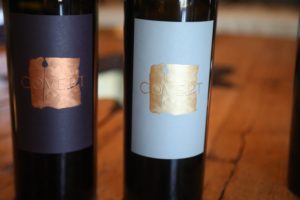 Covert Estate. In 2012 winemaker Julien Fayard and his then wife Élan, husband wife Cal Nicholson and his wife Pam, and husband wife Dave & Laura Nestor purchased a 12 acre site in Coombsville of which 4.5 acres were already planted to vine. Julien and his partners spent three years looking for property before they located this particular site.
Julien was born in Saint Etienne in France and has a well-rounded diverse background in wine making. His father grew grapes, and their family was involved in the wine business in France for several generations. Julien made his first wine at age 16 – and continued his education by working in Provence, the Loire Valley and Bordeaux (Lafite Rothschild). He met his then wife Élan in the Loire Valley; she was living and studying wine and the French language at the time.
After they married, they both moved to Napa Valley in 2006 – Élan to be closer to her family and for Julien it was an opportunity to make wine outside of France. Julien worked with noted winemaker Philippe Melka for seven years before branching out on his own where he currently makes wine for several clients.
Part of the property is a knoll which boasts excellent views overlooking much of Coombsville and to the south including the San Pablo Bay in the distance. This knoll has proved useful in that geographically it provided the footprint for their wine cave – their 12,000 square foot cave was completed in late 2015. All prior vintages were made at other wineries; their first harvest completed at their new home was in 2015. There is enough space to also accommodate barrels and wine making needs for Julien's other brands. Lighting is often an overlooked aspect in caves often with dim lights – not so here, they used LED lights. Their tanks were custom made from an Italian producer.
Julien lives a short distance from the winery. Julien has been attracted to the wines coming out of Coombsville for some time – appreciating the cooler growing climate and longer hang time than what is typically seen up valley. Fog is often common in this part of the Napa Valley – blanketing the region in the morning and often lingering until late morning or mid-day. Spikes in temperature tend to be less extreme then in other parts of the valley. His focus is on wines that showcase Napa's richness of fruit, yet at the same time show balance and versatility.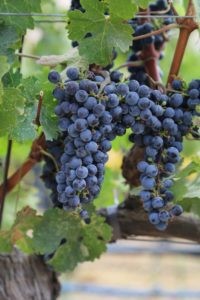 Architect Juancarlos Fernandez of Signum Architects has designed a number of unique and beautiful wineries in the Napa Valley in recent years. His first Napa project was Cade Winery; he was instrumental in designing the Covert Estate Cave. The name 'covert' was carefully chosen due to their location – they are fairly hidden from view; they are not located on any of the primary roads within the Coombsville region and their physical footprint above ground is fairly limited. In addition, their impact on the land is covert, if you will – they farm the vineyards biodynamically (certified) and are extremely sensitive to water use. They use solar cells for additional energy. An old oak grove (dated to approximately 115 years) grows on the slope above their cave.
The tasting room was designed by Richard Vonsaal, of Von Saal Design Build, a Napa based design and artistic firm. It is creative in its presentation utilizing components from the wine industry including charred French oak barrels which cover part of the walls and ceiling in the adjoining alcoves. A large piece of obsidian discovered on the property hangs from the impressive chandelier.
A simple embossed image of a piece of tile shows on their labels. If you look carefully, you will notice this tile is split three ways – representing the three owners. Their estate wines are all 100% varietal.
Select Wines
The 2013 Covert Estate Cabernet Sauvignon is 100% varietal using two clones. This wine is very dark red in the glass. The bouquet shows dark fruit including black current, darker plum and a dark berry component. Notes of toasted cedar also show along with dried fig and licorice. As the wine opens the oak influence becomes less pronounced and the fruit really shows well. Good acidity shows on the palate – the finish lingers with notes of oak, coffee and polished tannins.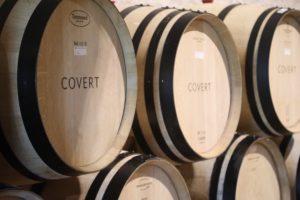 A very limited production wine that is highly allocated is their Cabernet Franc. Only 47 cases of the 2013 vintage were produced. The bouquet quickly reveals enticing aromas – both fruit and floral characteristics. Black berry and boysenberry show along with hints of black olive and a tinge of sweet mocha. The aromas are lively – so is the palate. The tannins are fine grained and texturally smooth.
A second rarer bottling of Cabernet Sauvignon is from clone 341 located in the coolest and most gravelly part of the property. This wine takes some time to open but when it does it shows a diversity of aroma. There is a sweet note on the bouquet, perhaps white chocolate. The palate is certainly not linear – it is multi layered with depth of flavor (more dark fruits then red fruits) and a subtle herbal note. This wine is superbly balanced. Of the Covert Estate wines, we tried this wine has the most tannin presence – they are earthy and linger for some time.
—
The Green Room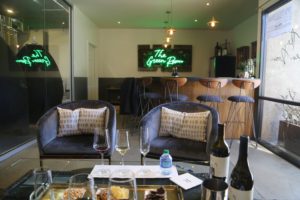 In early 2019, Julien and Élan opened The Green Room in an industrial park located just south of the city of Napa. This tasting space was formerly occupied by Holman Cellars and with a few updates, is now used for private tastings (by appointment) focusing on wines produced by Julien Fayard (including wines from some of his clients).
The idea behind the name is two-fold, Green Room is generally referred to as a room where actors or others about to go on live television or other performances take time to relax and calm the nerves – and it is also a surfing slang, referring to barreling a wave or getting time inside the hollow of a wave as it curls over before cresting. Appropriately named – the room is a calm space, intimate in size, it sits just outside the winery but close enough that visitors can watch the action through the adjoining windows. And the name ties into one of Julien's other passions, surfing. Eventually he plans to line the ceiling of the winery with surfboards.
Some of Julien's other brands can also be tasted here by appointment including Le Pich and Purlieu Wines. In a unique offering by a Napa winemaker, Purlieu offers a brandy produced from Napa Valley grown grapes – their first release came in early 2021.
—
Because production is so limited, the wines are available direct to consumer via allocation – offered through two allocations, the Essential and the Collector. They may eventually selectively distribute to a handful of restaurants. For more information and to schedule a visit, see: www.covertestate.com