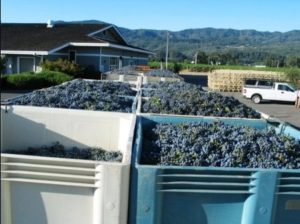 Covenant Wines is owned by three partners, vintner and author Jeff Morgan and his wife Jodie – and Leslie Rudd (owner of Napa's Rudd Winery, Dean & Deluca, Oakville Grocery etc). It is always nice and a rarity when we meet a winemaker who has a passion for writing as well as an obvious passion for wine. Jeff's interest in wine began many years ago – in New York where he was a partner at a small winery on Long Island. At that time he also started writing about wine for a local newspaper. Over time he was picked up by the New York Times and then started writing for the Wine Spectator in 1992 and became their West Coast editor in 1995.
One thing led to the next and he was hired by Leslie Rudd to be the Wine Director of Rudd Winery. During a charity tasting at Rudd Winery in 2002 Jeff was pouring wine next to Leslie and they started discussing Kosher wines. Leslie made a comment about how he would like to see a high quality Kosher wine. This conversation got the ball rolling and by the next year they had produced their first vintage together. The name Covenant means a contract or an alliance, in this case as it pertains to religion and the name was chosen for its historical religious significance.
Jeff has authored a number of wine and food related books including Rosé: A Guide to the World's Most Versatile Wine (there are just not many books about this style of wine on the market), the PlumpJack Cookbook, Dean & DeLuca: The Food and Wine Cookbook and the Working Parents Cookbook" with his wife Jodie. He runs SoloRosa with his business partner and winemaker Daniel Moore. SoloRosa is dedicated to producing premium Rose wines and is based in neighboring Sonoma County.
A certified Kosher winery is rare indeed, Jeff knows of only 4 or 5 active Kosher producers in all of California. In Jewish tradition, all wine is actually Kosher (Holy) but to be certified Kosher by the Union of Orthodox Rabbi's for Passover, all handling of the grapes (once picked) and the wine must be strictly conducted by Sabbath-observant Jews. There are other restrictions such as forbidding the use of certain yeasts and other ingredients. Many Kosher wines are hit with high temperature (flash pasteurization) or Mevushal, Covenant's wines do not use this process.
Jeff's winemaking honors both Jewish winemaking traditions and as Jeff says, "the new Napa winemaking traditions" – he can say this, Jewish people have winemaking traditions dating back 3500 years. Wine is an integral part of their history and religious traditions.
Covenant's first vintage is from 2003 – all their fruit is sourced from Napa. However due to the difficulty of finding a Sabbath-observant winemaking team in the Napa area, for the first several years the wine was made at wineries in Santa Maria and Oxnard (central and south coast of California). Winemaker Jonathan Hajdu has worked on Covenant's wines since the first vintage; in 2007 he moved up to the Bay area and is now Covenant's full time assistant winemaker. As a result all their wine is now made at a winery near St. Helena. There are certainly inherent advantages in making the wine close to the vineyards not the least of which is the elimination of trying to commute 450 miles down to Oxnard! David Ramey is the consulting winemaker.
Current releases at the time of this review are two wines; the 2007 Red C and the Covenant. Both wines are 100% varietal Cabernet Sauvignon from various clones. Covenent has always sourced fruit from Napa including from a 3-acre vineyard from Larkmead Winery (same vineyard for every vintage).
With partner Leslie Rudd's collection of vineyards it makes sense to source fruit from his own vineyards. Look for additional wines to be released in 2010 including the Covenant Solomon a co-fermented red wine blend from two of Leslie's vineyards (Mt. Veeder & Oakville). This wine takes its name from Leslie Rudd's Hebrew name. A barrel fermented Chardonnay (Covenant Lavan) from one of Rudd's Sonoma Coast vineyards will also be released in 2010. Currently there are no high end Kosher Chardonnays on the market and we look forward to trying this once it is released.
The 2007 Red C Cabernet Sauvignon is of course a play on the historically significant Red Sea in the Middle East. This is a wine that easily stands out on a wine shelf with its black square label and prominent red C. The Red C includes pressed fruit from the Larkmead Vineyard as well as a small vineyard behind Dean & Deluca in St. Helena. The historic Larkmead vineyard consistently produces high quality wines. The 2007 vintage shows loads of red fruit on the bouquet including plum, cherry and cranberry as well as hints of cedar. The mouth feel is smooth and rounded with a finish anchored by soft tannins. This wine drinks well young.
The Covenent Cabernet Sauvignon is made entirely from free-run juice. Jeff has noticed that the Larkmead Vineyard produces similar characteristics year in and year out – differences being the vintage rather than the terroir. The 2007 shows black licorice, cigar smoke, a floral quality and darker fruits. There are flavors of licorice, black cherry and just a touch of espresso towards the finish. This wine is elegant, balanced and soft. As Jeff indicated, "we treat the wines gently, we don't over oak anything". It certainly shows. The mouth feel is smooth and displays excellent concentration from mid palate to the finish. The finish is long, clean and and is anchored by delicate finely-grained tannins.
These two wines are amazingly balanced for being so young. They are built to drink young but have the structure, fruit and acidity to age for a number of years, especially the Covenant Cabernet Sauvignon. Kosher wines have not always been looked upon favorably – for good reason. Jewish people in exile did not have reliable grape sources and concord grapes used by Jewish immigrants in America certainly do not make the best wine. With Covenant, Jeff has significantly raised the bar for Kosher wines and blended the best of Napa winemaking with his own Jewish traditions.
Look for the "U" surrounded by an "O" next to a "P" symbol on the back of every bottle; this is the official Kosher International certification symbol. Covenant's wines are fairly well distributed on the East Coast and can be found in a variety of locations in Northern California including on the list at the French Laundry and at local wine retail outlets including the Oakville Grocery, St. Helena Wine Center and CalWine in Napa. You can also purchase direct and join their mailing list: www.covenantwines.com
NOTE: While Covenant has been associated with the Napa Valley for a long time – they make non Napa wines including Mevushal wines, all sourced from outside of Napa. Also in 2014 they moved their winery operations to Berkely, California in the San Francisco Bay Area and technically are no longer a Napa winery.
NOTE: This review has been archived.
REASON: Moved winery operations to Berkley area, no longer a Napa based winery