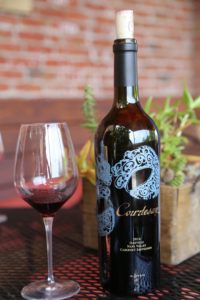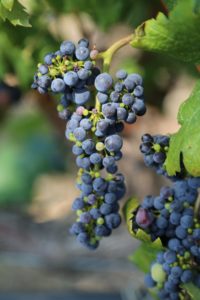 Courtesan Wines. For founder and owner Bridget Raymond, producing her own wines is deeply rooted in her own upbringing. Growing up in the Oakville/Rutherford part of the Napa Valley her family home was surrounded by vineyards, her family grew grapes, and she fondly recalls her childhood playing among the vines, grape fights in the vineyards with her brother and even one day building a mud bath in their yard, trying to recreate a Calistoga mud bath experience for her mother. And often biking down to La Luna Market on Rutherford Cross Road. Back then the only winery operating near her house was Caymus.
Fast forward many years from her initial introduction to making wine which was helping stomp grapes as a child, Bridget attended both Napa Valley College and the University of California Davis extension to study winemaking and supplement what she had already learned from family and friends; she additionally holds a marketing degree. She has worked at several wineries in the valley over the years, made wine in Italy and in addition to her focus on her own wines, also consults for select clients. In 2004 she created the first vintage of Courtesan Wines.
Today she hand-crafts several labels, her primary wines are the Courtesan Cabernet Sauvignon focusing on Oakville. She produces multiple Courtesan wines – all with the same label but differentiated by their color – primarily the blue, red and purple mask labels. The Courtesan Blue Mask focuses on a Cabernet Sauvignon from Oakville, the Purple Mask is a wine made from the same vineyard sites but is a barrel selection for the final blend and the Red Mask Reserve is an Oakville and Atlas Peak Cabernet Sauvignon blend.
Bridget chose Courtesan for the name of her wine in part to reflect her love of history. Courtesan can have a number of connotations, some more lurid in their meaning, but in this case, she honed-in on the use of the word during the Renaissance Period, referring to a well-educated women trained in arts or artisan crafts – someone who was given higher privilege at that time through their association with wealthy and upper-class society.
The Brigitte label includes a Bordeaux-style red blend and a rosé made from Cabernet Sauvignon (her rosé has been made in several styles over the years). Omerta is a word whose etymology is traced back to southern Italy (Bridget's heritage is from Italy), standing for code of silence and a code of honor. It was also a book of the same name written by the Godfather Series author, Mario Puzo. And incidentally another Godfather connection – Francis Ford Coppola's winery is located in Rutherford (not far from where she grew up). Bridget remembers meeting Francis as a child at one of his parties and one of their family friends would often visit Coppola's property and she would tag along.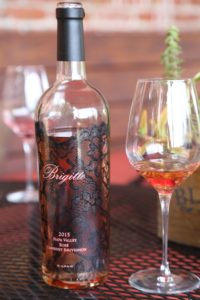 Bridget does not produce the Omerta each year, but when she does it is a secret blend and features some of her best wine (very limited production). She recalls releasing one vintage before the crescendo of the anti-Merlot movement had peaked based on the movie Sideways. But she never called it Merlot and she had no trouble selling the wine.
Bridget has long been fascinated with history and even recalls collecting Venetian masks when she was a child. She loves being creative with her label design. When deciding upon labels for the Courtesan wines she chose the image of a mask – silk screened to each of these bottles. And the label for the Brigitte wines is a silk screen of black lace lingerie – seductive in its visual presentation and certainly a unique label within the Napa Valley.
Her wine making focuses on age before release – both in barrel, with her red wines often seeing 28 to 31 months in French oak (the majority of which is new) and then up to 2 years in bottle. Over the years we have noticed select premium producers conducting barrel fermentation but in general, this is not common because it is such a labor intensive and expensive process. Barrel fermentation in part is related to tannin management – a high quantity of tannins are extracted but are fairly soft and approachable in their youth – but also gives the wine an age-worthy backbone.
Select Wines
The 2018 Courtesan Napa Valley Cabernet Sauvignon Rosé (contains 10% Merlot and a tiny bit of Grenache) was left two days on the skins – as a result the color is darker than one normally associates with rosé wines. Dark pink in the glass offers appealing aromas of strawberry and cranberry. Rich in flavor across the palate, the wine feels rounded, creamy with a pleasing supple quality to the texture. Shows a zesty finish. It is easy to keep drinking this!
The 2014 Courtesan Oakville Cabernet Sauvignon (Blue Mask label) is dark red ruby in color. It is forward with the fruit on the bouquet – showing dark ripe cherry, cassis, a hint of black olive, darker spices and as the wine breathes more, a note of mocha. Plush and rounded on the entry – nothing stands out as being harsh on the palate. Nicely balanced and approachable – finishes clean with dry fine-grained well-integrated tannins. Lovely texture.
—
Winemaking is a labor of love for Bridget, but being in the vineyard, regardless of where she is takes her back to her childhood. And perhaps like gardening for some, being among the vines for her is therapeutic, calming and a place of solace at times.
Courtesan is the 'definition' of boutique – operated by one person incorporating all aspects of being a small producer: Bridget selects her vineyard sites based on numerous winemaker and vineyard manager relationships she has cultivated over the years – she is the winemaker and also responsible for the label design & packaging and marketing of the wines.
The wines are sold both direct to consumer via an allocation membership list as well as through select distribution channels. Focusing on restaurants in certain markets in California, some of her wines are found in Michelin starred restaurants in the Napa Valley, San Francisco and Los Angeles. And parts of Asia are also interested in her wines with distribution in Hong Kong, Macau (including in some major casinos), and Japan. Locally her wines are found in V Wine Cellar in Yountville.
While Courtesan does not operate a retail location, Bridget often conducts winemaker lunches and dinners at select locations around the country – and has been involved in various charity wine focused events. Total production is around 800 cases for all of the wines. For more information and or to join the mailing list, visit: www.courtesanwines.com