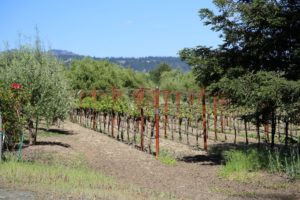 Corvalle currently focuses on three single vineyard wines – an estate Sauvignon Blanc from their Rutherford Runway Vineyard, a Chardonnay from the Oak Knoll district and a Syrah sourced from Atlas Peak. Their first vintage dates from 2009.
Proprietor Ryan Moreland has been involved with agriculture and farming for many years. His family owns a sizeable walnut and almond farm near Modesto (Central Valley). The Moreland's purchased their Napa Valley property in 2005. At the time the particular site they chose for their vineyard had never been planted to vine. The family has always enjoyed drinking Sauvignon blanc so the decision was to plant this varietal.
They are surrounded by good vineyard terroir – neighbors including a Pine Ridge owned vineyard and Tres Sabores. Francis Ford Coppola's Inglenook winery and estate is slightly to the south. Their estate vineyard is small – it is only one acre – almost in the shadow of the Mayacamas mountains. The soils here are interesting – it is a dense clay, and unlike many of the "edge" of the valley vineyards we've walked – there are very few rocks here.
As a result the vines have to struggle and the fruit is small and concentrated. Production has been very small – as in around 1.5 tons per acre. The Moreland's manage the vineyard themselves.
Corvalle, while a young label, is built around a property that has its own unique story and is certainly surrounded by vineyard history. This little piece of Rutherford is located on what was part of the original sprawling Inglenook Estate. John Daniel Jr. – one of the legendary names in the Napa Valley built a small dirt runway here in the 1950's. He was winemaker at Inglenook Vineyards for 25 years. He also flew a small open cockpit plane and this dirt runway allowed him to fly directly onto his property.
Today the runway is no more – but Corvalle's tribute to this old airstrip is in the naming of their small one acre "Runway Vineyard" which sits right at the foot of where the runway used to be. Today this area is completely covered in vines although John Daniel Jr's original hangar for the airstrip still stands.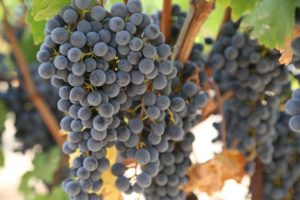 Ryan has been the winemaker since his first vintage. During college he knew he wanted to find a career that would broadly involve work related to the natural world. While at the University of California San Diego he earned a degree in Environmental Chemistry. Initially he was pursuing a career that involved monitoring air and water quality but his degree was also applicable in the wine industry.
Coming to the valley he started working for a wine lab and then ultimately learned winemaking and vineyard management by on the job training at several area wineries. He continues to work at a local area winery but enjoys the freedom that comes from making his own wines. Making Corvalle "is like working in his own sandbox" – he makes wines that he enjoys drinking. All his wines are single vineyard and are 100% varietal.
Corvalle translates to "soul of the valley" and embodies the spirit of both community, hard work and is a tribute to the founding fathers of the Napa Valley wine industry. The name pays homage to those in the industry who paved the way for young wine makers like Ryan. Ryan likes working with small growers – those who often have a family heritage of working in agriculture.
Aromatics are a big part of Corvalle's white wines and Ryan takes steps in the winery to ensure this. He ferments small lots in small vessels – using a combination of both oak and stainless steel. Fermentation is done cold – towards the low end of the temperature spectrum where yeast will feed. Battonage or stirring of the lees during the aging is also critical in his winemaking.
Ryan strives for balance in his wines. He describes this effort like a table with legs – the legs stand for acidity, tannins, fruit etc. It doesn't matter how tall the table is, the legs need to be similar in size so that the table is level – or balanced.
The 2010 Oak Knoll Chardonnay is from a vineyard that Ryan found a few weeks before harvest. A buyer did not pick up a contract and Ryan took the fruit – its a good vineyard, the wine has already earned accolades and Ryan is now locked into a longer term contract. The bouquet is certainly aromatic with notes of apricot and pear as well as more tropical notes as the wine opens, chiefly white pineapple. The mouth feel walks a fine line between viscosity and crispness. It has weight and is rounded on the palate but very much in balance.
The 2010 Sauvignon blanc from their family's estate vineyard comes from a part of the valley certainly known for its red wines (Rutherford dust) but Rutherford is also an appellation that is producing some of the valley's finest Sauvignon blancs. Layers and layers of aroma breath from this bouquet. Initially aromas of lychee show (the vibrancy of aroma similar to and that only a fresh lychee can deliver), then stone fruit including nectarine and white peach. The palate shows layers of juicy fruit – the finish is long and weighted with fruit – sweet, but in reality there is no residual sugar. It is the richness and concentration of this properties' soil and other terroir characteristics that show through.
The 2009 Syrah is sourced high on Atlas Peak – this is certainly small production – only 3 barrels were produced. The wine is very dark in the glass and as it breathes reveals notes of plum, mild black pepper, and leather. As the wine opens – aromas of fruit and a floral component become more dominant. Ripe plum and hints of mocha show on the palate. Dusty broadly distributed tannins complete a long finish.
With such a small production, the wines are selectively available in the Napa Valley. You can find them at St. Helena Wine Center, and ACME Wine Shop (both in St. Helena). At the time of this review, they have distribution in New York. Corvalle's wines are also available via a mailing list. Visit: www.corvalle.com