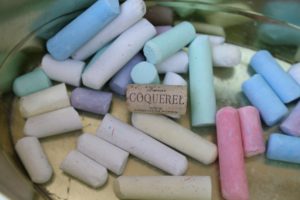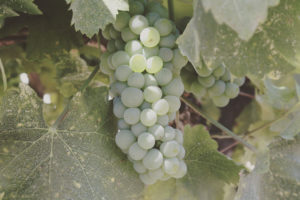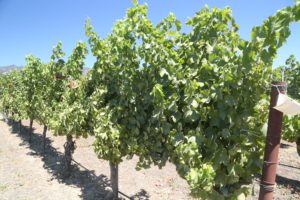 Coquerel Family Wine Estates was founded by Brenda and Clay Coquerel in 2005 with the purchase of an existing vineyard on the north side of Tubbs Lane in Calistoga. Several years later they sold part of this vineyard and acquired one of their neighbor's vineyard's; today they have a total of 11 planted vineyard acres including 4 acres to Cabernet Sauvignon. The remainder of the varieties are Sauvignon Blanc, Verdelho, Petite Sirah and Tempranillo. This property is known as the Walnut Wash Vineyard.
Brenda and Clay are high school sweethearts from Abilene Texas. Clay is the founder of Cockerell Dermatopathology, a medical lab based in Dallas, Texas focused on skin diseases. He is also the co-founder of Dermpath On Demand, providing educational dermatology courses and has served as the president of the American Academy of Dermatology and the American Academy of Dermatology. Cockerell Dermatopathology was formerly Freeman-Cockerell Dermatopathology Laboratories, founded by Dr. Robert G. Freeman in 1972. Clay's introduction to Cockerell Dermatopathology was through his father, Dr. E. G. Cockerell who befriended Dr. Freeman while both were students at Baylor College of Medicine.
Both Brenda and Clay have collected wines for 30+ years and have always enjoyed French Wines especially from the Graves sub-region in Bordeaux, France. They fell in love with Napa Valley during an anniversary trip. While visiting the valley, Brenda decided she wanted a wine project, so they started with the vineyard, then they began making wine commercially. And it is always nice when the second generation becomes involved in continuing to grow a brand; their daughter Lily also works for Cockerel. Today they produce about 4000 cases annually.
With a love for French wine, the Coquerel's found Christine Barbe, a Napa Valley based winemaker originally from France who honors French wine-making tradition and techniques. If you're a French winemaker who moves to Napa Valley, you quickly meet other winemakers from France. With Christine's connections a number of their non estate vineyard sources were originally from French owned vintners that she personally knows. However, over the years the focus has shifted to now producing wines entirely from the estate.
Each wine is divided up into small batches during the fermentation using separate yeasts and then ultimately blended together. Their focus is to preserve varieties' characteristics; the wines are only filtered one time before bottling.
The neighboring vineyard they acquired was owned by Prager Portworks; it is no surprise that some of the varieties planted here are Portuguese and Spanish grapes. After purchasing this vineyard, the Coquerel's decided to keep these varieties but make their own wine.
Select Wines
A rare variety in Napa is Verdehlo; it is a white wine grown throughout Portugal including in the famed Douro Valley of Northern Portugal, in the Azores and is most commonly associated with the island of Madeira. The only other Napa Valley wineries we know associated with making wine from this variety was Casa Nuestra (grown in their vineyard) and Calafia (sourcing from Amador County). The 2011 Coquerel Verdelho was a production of only 80 cases. This wine has pleasing aromatics including a juicy fruit component, white peach and honeydew melon. The palate is soft, somewhat creamy and well balanced with decent acidity. A pleasing finish lingers with a mix of both citrus with tropical nuances.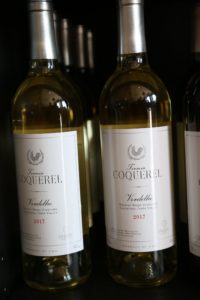 The Napa winery who releases a white wine as their first vintage is rare indeed. After a few vintages of just producing white wines, with customer demand they realized they needed to produce a red wine. A Petite Sirah was their first red from the 2010 vintage and a Tempranillo and a Cabernet Sauvignon were later released. Their flagship wine and the backbone of their production has been their estate Sauvignon Blanc. They produce two Sauvignon Blanc wines annually, one stainless steel fermented and the other aged in oak.
The 2011 Coquerel Le Petit Sauvignon Blanc is their most produced wine; much of the grapes for this bottling vintage came from Yountville and then was blended with some of their estate fruit. This wine saw no oak during the fermentation and aging and was stirred sur lie several times a week for seven months. Initially there is a gravelly almost concrete component but as the wine opens additional aromatics show including citrus. This is a classic Christine Barbe wine (she also has her own label, Toquade producing Sauvignon Blanc made in a similar style) with great acidity and freshness on the palate including green grass and notes of green apples along with a very crisp and a lingering bright finish. Great with spicy food.
The 2011 Coquerel Terroir Sauvignon Blanc was aged in oak, sur lie and as a result, there is some additional weight and viscosity on the palate. This wine drinks well by itself. It has a rounded mouth feel with underlying spices just waiting to evolve as this wine ages. And this is not a typical Napa Valley Sauvignon Blanc; as it ages for a few years, it will continue to evolve additional complexities. This wine has less acidity than the stainless fermented counterpart.
In 2017 Coquerel produced their first estate Cabernet Sauvignon. The 2017 Coquerel Cabernet Sauvignon is dark ruby in color; the bouquet offers sweetly fruited aromatics including of blackberry, raspberry jam and some notes of chocolate. The oak is a complementary character on both the bouquet and the palate. This bottling offers darker fruit flavors which persist through the finish including of blackberry. It offers a pleasing tension between both fruit and structure. The tannins take some time to show and reveal a medium but still tight grip on the savory, slightly dry and dusty finish. A noticeable dried tobacco leaf nuance completes the finish. We tasted this wine 6 years post vintage; it still has plenty of life ahead of it. Only 100 cases were produced.
In 2019 they produced their first Reserve Cabernet Sauvignon from the estate vineyard. The 2019 Coquerel Reserve Cabernet Sauvignon is dark ruby and almost opaque in the glass; it offers aromas of dark fruit including blackberry, cherry and boysenberry, complemented by darker dessert spices and a hint of sage. This bottling features plenty of layers including flavors of plum and blackberry. We wrote 'mouth filling fruit' in our notes. The juicy acidity is especially noticeable on the mouthwatering finish. The tannins are grippy but not heavy or course in their textural feel; the overall feel of this wine is its superb balance.
The 2011 Coquerel Tempranillo (from their estate vineyard) is dry farmed. The aromatics are lively; they immediately jump out of the glass and as the wine opens notes of chocolate, black licorice and darker cherries show. We wrote in our notes, "dessert in the glass". It is dusty and earthy on the palate and lingers with rich flavors but not heavy tannins.
The Coquerel 2010 La Petite Sirah is blended with 5% Cabernet Sauvignon. Aromatically this wine has a seductive nose with layered aromatics. The palate shows high toned fruit which includes more red fruit than dark; this is a big wine, robust with weighty, chewy and chalky tannins which linger for quite some time.
Feast it Forward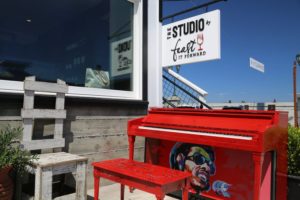 For a short period, Coquerel was one of up to eighteen vintners featured in The Studio by Feast it Forward (opened in June 2018). We keep our notes here for historical reference. The studio is located directly across from the Oxbow Public Market in downtown Napa and packs numerous experiences into a small space. This two-story building houses an "experiential showroom", as founder Katie Hamilton Shaffer calls it – with a focus on wine, food and music. Each vintner represented offers several wines and several of the showroom's sponsors have prominent placement including guitars from Gibson Brands, Inc. and furniture from Crosley. A chocolate tasting is also offered oddly enough sponsored by Sherman Williams and a vinyl station if offered for playing a variety of old records. Upstairs features a demonstration kitchen; when shows are being filmed here, televisions downstairs broadcast the live feed. This kitchen can also be used for guest chefs to offer culinary classes.
And visitor's will want to stop by their bathroom to read the latest in all the graffiti and words of wisdom that visitors mark on the walls. The site can be used for a number of events including the availability of plenty of space in the back of the building. The Yard is a sizable outdoor space featuring several stages, cute places to taste wines, a lemonade stand, a place for food trucks and a comfortable fake lawn. The Ultimate Airstream Film Lounge trailer is often be parked in The Yard; this trailer is used when the Feast it Forward team is on the road hosting unique lifestyle events and it also serves for private tastings on site or for special events. One such event at the showroom has included "Terrible Tuesdays" in which bad films with cult like followings are shown.
The second floor features a sizable surround building deck and a swinging 'bed'. This is an ideal perch to watch pedestrians walking to Oxbow Public Market or those enjoying the park next to the Napa River. These are also some of the best seats in the area to watch live performances at the nearby green. And the interior features a full kitchen used for various culinary TV shows. This space is where Andretti Winery prefers to host visitors.
—
Coquerel continues to grow the brand including securing permits to build a winery on their property. Vineyard visits to their Calistoga property are available by appointment and are for serious wine enthusiasts looking for more intimate experiences. In late 2013 they formed a wine club and have since increased their distribution. Currently the wines are available in parts of California, Texas, Oklahoma and New York. Because these are wines that pair well with food – restaurants form a solid backbone of their distribution. They even produce one of their wines in kegs for restaurant distribution.
By Napa standards, their wines have refreshing price to quality ratio. Coquerel sometimes hosts wine dinners around the country and pours their wines at select Napa Valley Vintner events. For more information, to purchase wine or to join their wine club, visit: www.coquerelwines.com