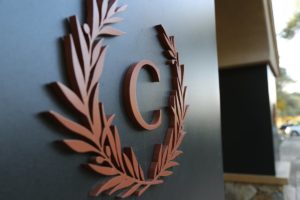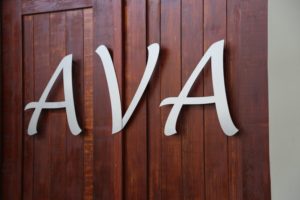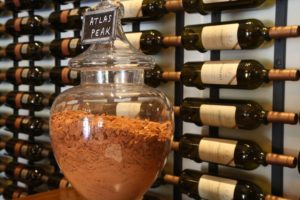 Conn Creek Winery was founded in 1973 by Bill and Kathy Collins (Bill died in early 2017 at age 89) – making this one of the older operating wineries in Napa Valley. Bill and Kathy purchased 54 acres of Zinfandel (finding the property listing in the Wall Street Journal's real estate section) off of Highway 29 just north of St. Helena in 1968 and called it the Collins Holystone Vineyard. Bill founded an engineering firm Collins & Hyde (later Collins Electronics) and lived in the San Jose area before eventually moving up to the Napa Valley.
Their first two vintages were from purchased wines since the Holystone Vineyard was planted to old vines of Carignane, Chasselas, Sauvignon Vert and Zinfandel and they elected to not make wines from these grapes. Rather, they decided to pull out most of these vines and began replanting the vineyard to Cabernet Sauvignon. Therefore, their vines were still too young to begin producing wines – but Conn Creek needed wines to release. So, in the mid 1970s Conn Creek purchased several lots of wines produced at Lyncrest Vineyard along with various winemaking equipment at an auction.
Lyncrest Vineyard, (named after primary partner Dick Lynn) on Spring Mountain (now the site of Marston Vineyards) ultimately closed down in 1974 (the last year of their production) due to bankruptcy. Conn Creek Vineyards purchased in barrel a 1973 Steltzner Vineyard wine and in tank a 1974 wine from the iconic Eisele Vineyard in Calistoga. Conn Creek bottled these as their first ever releases. We can find no record of a 1975 vintage from Conn Creek nor a 1977 vintage – they have produced continuously since 1978.
The Collins purchased the property for Conn Creek Winery in the mid 1970s, next to the intersection of Highway 128 and the Silverado Trail. Several of their partners at the time were also involved in other Napa wineries including Francis and Francoise Dewarin (founders of Chateau Woltner – now owned by Cade) and Koerner Rombauer, founder of Rombauer Vineyards. The partners built the winery in 1979 after outgrowing a facility they were leasing (now site of Plumpjack Winery). Its construction is intriguing with its 12″ thick walls made of Styrofoam and other materials including 20,000 wine corks!
The Collins sold the winery, brand and surrounding property in 1986 but retained their Holystone Vineyard (which son Peter still manages today – and sold some fruit back to Conn Creek through the 2012 vintage). Collins Holystone Vineyard contains rare (for Napa) 5 acres of ancient vines of Zinfandel and according to the Historical Vineyard Society, at least 1/3 of these vines still date back to the 1920s. Collins Holystone was partially named after Bill and Kathy Collins and "holystone" refers to a porous sandstone rock used to scrub wooden decks of ships. This is an appropriate name since the vineyard is full of rocks and Bill spent several years in the Navy.
Conn Creek is owned by Ste. Michelle Wine Estates based in Woodinville, Washington (about a 30-minute drive north of Seattle). In 2021 Chateau St. Michelle Winery was sold by the tobacco firm Altria to equity firm Sycamore Partners. In Napa Valley, the company also owns Stag's Leap Wine Cellars. These are only two of a number of wineries in their overall portfolio.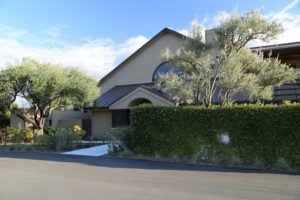 While Conn Creek Vineyards owns 2.5 acres of vines surrounding the winery (all planted to Cabernet Sauvignon) and over 40 acres in Wooden Valley (a more recent purchase in a small valley east of the city of Napa) most of their grapes come from growers and privately owned vineyards. Conn Creek sources from vineyards up and down the Napa Valley – both valley floor to hillsides from Carneros to Calistoga. They source grapes from fourteen of the sixteen sub-AVAs in the Napa Valley. While they have their own viticultural in-house team they also work with growers and their own vineyard management teams.
As a result of all their vineyard sources, Conn Creek produces a number of limited production single vineyard wines – focusing on Napa Valley Cabernet Sauvignon bottled under their AVA Series. These limited-production hand crafted wines are not the same wines merely with different labels on the bottle; rather they represent unique vineyard sites and terroir and each wine is meant to be unique from the others. A couple of our favorites are the Hozhoni Vineyard (Rutherford), Rutherford Estate and the Herrick Vineyard in Yountville.
Conn Creek's former winemaker Mike McGrath began working at Conn Creek in 1986 and spent most of his career making their wines before he retired in mid 2017. Influential winemaker André Tchelistcheff used to consult for Conn Creek. One day Mike called him up and complained the wines were tasting to acidic and the tannins were too strong. Andre came down to the winery to see for himself. Finding nothing wrong with the wines he told Mike he was probably getting a cold which was altering his palate. Sure enough, two days later Mike came down with a cold.
AVA Room Barrel Blending Experience
During a trip to France Mike participated in a cellar tasting in which wines were tasted from many different appellations. Enjoying the experience, he brought the concept back to Conn Creek. He was instrumental in setting up their appointment only one-of-a-kind Napa offering (the AVA Room Barrel Blending Experience).
The AVA room contains barrels of wine from vineyards within many of the Napa Valley's sub appellations. This room was originally used for club members and those in the industry for tastings. This is a fun and educational introduction to the art of blending components together to create a wine with favorable aromas, flavor and structure. It is also a rare opportunity to taste wines in one location sourced from vineyards throughout the valley. The wines are organized by style ranging from soft, supple, complex, rich and bold. While tasting through each style of wine, the wine educator will simultaneously explain each of the wine's various nuances and what it potentially could contribute to your blend.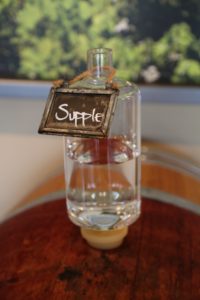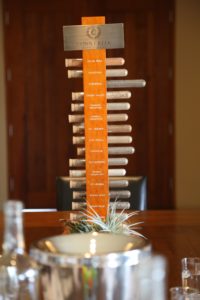 Once you have tasted through the various styles you must then choose your favorite wines; use the provided pipet to create your own blend siphoning off specific percentages. Once you have decided upon your Cabernet Sauvignon blend you have the opportunity to further add to the complexity of the blend with additional Bordeaux varieties including Cabernet Franc, Malbec, Merlot and Petit Verdot. The same barrel regiment is used for all wines, the wines are all the same vintage, and each wine is 100% varietal from the barrels. Soil samples are provided from the vineyards represented. This two-hour seminar is offered twice daily – call or check their website for current hours and availability.
One of their wine educators, Tom, recommends the morning session, saying "what better way to start off the day but to taste through single vineyard Napa Valley Cabernet Sauvignon". Agreed! The seminar includes a basic overview of the Napa Valley, a number of tastes of the blending components, advice during your own blending including various techniques and strategies, and the fun part – a 750ml bottle of your custom blend to take with you. Following the seminar, visitors will also enjoy a tasting of their current Anthology release along with select other current releases.
As long as you take good notes on the provided blending card (with the blending percentages, varieties and vineyards) – you can order up to a case of your own special blend.
Generally, this is a session of cooperation and collaboration. However, some groups reserve the space, and it becomes a competitive environment – trying to create the 'best' blend. These groups sometimes even bring their own trophy to award the 'winner'.
Select Wines
The Conn Creek wines are well made utilizing excellent often privately owned vineyard sites. The wines are crafted to be approachable in their youth, with great balance right out of the gate yet are simultaneously built to be age worthy.
The AVA Series are all 100% Cabernet Sauvignon from premium vineyards in select sub appellations within the Napa Valley. Part of the AVA series, Anthology is perhaps the wine Conn Creek is most known for, although it has certainly evolved over the years. When we first tasted this wine, it was a Bordeaux styled blend but today is 100% varietal Cabernet Sauvignon.
The 2014 Conn Creek Anthology is a blend of 4 Bordeaux varietals with the majority being Cabernet Sauvignon; it is dark ruby in the glass with bright aromatics including blackberry and plum. On the palate there is a pleasing suppleness on the front and mid palate with well-integrated tannins anchoring the finish along with some spice notes, presumably from the oak. This is a food friendly versatile wine that shows great acidity.
The 2016 Conn Creek Cabernet Sauvignon Anthology is 100% varietal (with vineyard sources from 6 sub appellations – grapes from each vineyard site were fermented separately before being blended together). Medium ruby in color it offers an elegant bouquet with darker plum, cherry, some toasted cedar and as the wine opens further, mocha and espresso. This wine has absolutely no harsh edges on the palate – it is supple from start to finish. The light tension across the palate is an appealing characteristic. Anchored by fine-grained tannins.
The 2016 Conn Creek Cabernet Sauvignon Spring Mountain was sourced from the Crowley Vineyard at about 2,000 feet. The bouquet is elegant with sweet fruit driven aromatics and a kiss of mocha. The palate shows flavors of plum and dark cherry lingering with notes of dried tobacco leaf. Showcases a juicy mouthwatering finish. Savory. Arguably this is the most robust of the AVA series wines we tried. Finishes with granular tannins that retain their grip for some time (but their texture is not heavy or coarse in feel).
The 2016 Conn Creek Cabernet Sauvignon Mt. Veeder is from the Saffron Vineyard (next to Mayacamas Winery) at an elevation ranging from 1200 to 1500 feet. The wine is noticeably dark in the glass; it offers very attractive aromatics focusing on fruit rather than additional influences from its time in oak. Lingers with earthy, grainy tannins, darker spices and mouthwatering acidity. Wonderfully balanced.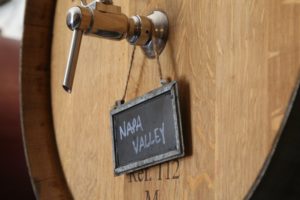 Winemaker André Tchelistcheff coined the phrase, "It takes Rutherford dust to grow great Cabernet." Twisted slightly and commonly used today is the term, Rutherford Dust which can sometimes (not always) reflect the features of the soils in this sub appellation as characteristics within the wines themselves.
The 2016 Conn Creek Rutherford Cabernet Sauvignon is a blend of fruit from their estate vineyard and the somewhat nearby Hozhoni Vineyard. The bouquet on this wine was different then the aromatics on all the other Cabernet Sauvignons we tried. Unmistakable was the smell of dry rocks, a dust-like quality if you will. Also hints of dried tobacco leaf. But there is also plenty of fruit – primarily blackberry. Balanced with darker fruit flavors – with a moderate yet noticeable grip of long-lasting granular tannins. Also lingers with a cigar note, dark fruit and some darker spices.
Yet remarkably different is the 2017 Conn Creek Rutherford Cabernet Sauvignon (same two vineyard sources). With a bouquet that could be easily picked out of a lineup in a blind tasting, the aromatics are ripe and dessert spice forward. Pronounced are notes of a balsamic reduction along with Graham Cracker, cardamom, brown sugar and fruit sweetness including plum. Great acid/fruit flavor balance on the palate – lingers with earthy somewhat dusty tannins, some nutmeg spice and plenty of fruit.
Two tastings/experiences are available for visitors to the winery – the AVA Cabernet Sauvignon Series and the Barrel Blending Session. Tastings are either hosted indoors, at several tables near the main entrance or weather permitting, in their outdoor courtyard behind the hospitality center.
Among other perks, wine club members enjoy complimentary tastings and discounted pricing on the Barrel Blending Experience. Some older vintages are generally available for purchase at the winery. Total production each year used to be in the 30,000-case range but has significantly dropped in recent years to around 5,000 cases. For more information, visit: www.conncreek.com
Winery & Grounds

Holystone Vineyard (no longer selling fruit to Conn Creek)

Chateau Ste. Michelle, part of Conn Creek's parent company is a gorgeous estate open for tastings and tours throughout the year. The property is 105 mostly wooded acres and used to be called the Hollywood Farm. This is the oldest winery in the state of Washington having been founded in 1954 with roots dating back to 1934 – however the first vintage of Chateau Ste. Michelle was not produced until 1967 overseen in a consulting role by legendary Napa Valley winemaker André Tchelistcheff. The French-styled chateau was built in 1976.
Today the winery operates two separate state of the art production facilities – one for whites in Woodinville and one for reds at their Canoe Ridge Estate property (559 acres) located outside of the tiny community of Paterson along the banks of the Columbia River (an extremely confusing name since there is also a non-related Canoe Ridge Vineyard – a winery + separate tasting room in the town of Walla Walla). The first vineyard planted for Chateau Ste. Michelle was in 1973, the Cold Creek Vineyard – now 753 acres and dedicated to André Tchelistcheff. Andre's influence in Napa Valley has certainly been well chronicled – however he also left his mark on the Washington wine industry. And his nephew Alex Golitzin co-founded one of Washington's top wineries Quilceda Creek along with his wife Jeannette.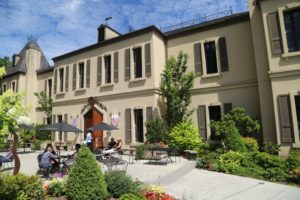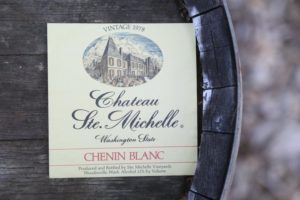 Today Chateau Ste. Michelle contracts the majority of their grapes (rather than owning vineyards) and they are the largest producer of Riesling wines in the country.
Chateau Ste. Michelle, similar to Robert Mondavi Winery helped spawn the careers of numerous winemakers. Noted Washington vintner and founder of Long Shadows Winery, Allen Shoup worked at Chateau Ste. Michelle from 1980 until 2000, serving 17 years as the company's CEO.
Visitors to the winery are free to explore the gorgeous grounds and picnic. Several tasting or tour options are available on site including an estate tasting (no appointment required) a tour of the winery + tasting, a guided tour of the property including a tasting, a blending session where guests learn the art of 'building' wines through blending and a separate sensory educational experience focusing on identifying characteristics of wine including both through smell and taste.
Also popular at the winery is their Summer Concert Series (similar to the ones held at Robert Mondavi Winery – but with a bit more space). Popular acts perform on select dates throughout the summer – big name acts have performed here in the past including Bob Dylan, Paul Simon and John Legend.
Chateau Ste Michelle, Woodinville, WA EXTERIOR

Chateau Ste Michelle, Woodinville, WA INTERIOR