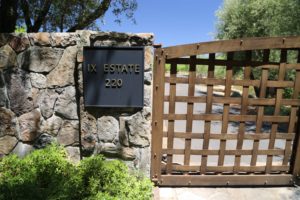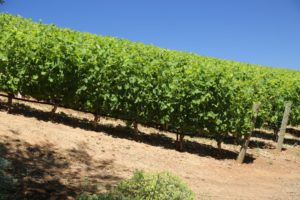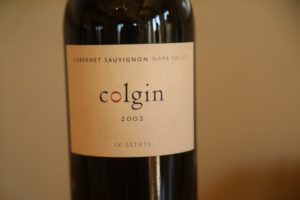 Colgin Cellars was founded by Ann Colgin in 1992. Ann was born in Waco Texas, graduated from Vanderbuilt University in Nashville with a degree in art history and later earned an M.A. from New York University. After finishing her undergraduate studies, she moved to London to work for Sotheby's. Her introduction to wine came at Sotheby's – through a variety of wine dinners and wine related events. She spent years working in the world of fine art including at one of the world's other most prominent auction houses, Christie's.
Her first visit to Napa Valley was in 1988 when her mentor at Christie's, Brian Cole invited her to attend one of the early Napa Valley Wine Auctions (now called Auction Napa Valley). Returning to the valley, Ann was shopping at All Seasons Wine Shop in Calistoga when she met a wine merchant who was working at that shop, John Wetlaufer. John introduced her to his wife, winemaker Helen Turley – Helen became Colgin's first winemaker. Helen then introduced Ann to the small privately owned Lamb Vineyard located just below the slopes of the Howell Mountain AVA, today owned by Jennifer Lamb (Herb died in 2014). Colgin's first release was from 1992 – sourcing grapes from 13 rows from the 'sweet spot' or middle of the Lamb Vineyard and continued to use this vineyard until 2007.
Colgin Cellars owns two vineyards, Tychson Hill in St. Helena and IX Estate on Vaca Hill (the Pritchard Hill area of Napa Valley) and is in a long-term lease with the Cariad Vineyard, also in St. Helena.
Their philosophy of terroir is to capture the spirit of unique geographical and geological sites from vineyards that are entirely hillside planted on north or east facing slopes. These are sites that help them best express the freshness of fruit, the perfume and floral nuances of varieties as well as the mineralities from the soil itself.
Nowhere is this clearer than the differences in sunlight hours between the Vaca mountains and the Mayacamas mountains (the two ranges roughly aligned on the eastern and western sides of Napa Valley). The west facing slopes of the Vaca mountains receive longer sunlight hours then on the east facing slopes of the Mayacamas mountains across the valley which are already shaded by the late afternoon. And the vegetation clearly reflects this – with open more chaparral type vegetation on the Vaca mountains compared to the much heavier forested Mayacamas (not to mention the Mayacamas mountains closer proximity to the ocean).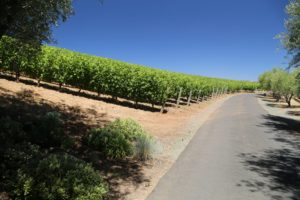 The IX Estate vineyard is east facing – providing more protection from the sun in the late afternoon. The property ranges in elevation from about 1100 to 1400 feet and the fog line often ascends above their vineyards. Also, a gap in terrain near the vineyard allows for very good air flow at times. During periods of heat, particular close to harvest misters located among the vines may be turned on for periods of times in select blocks to help mitigate the higher temperatures. And the soils are noticeably dark orange, rich in iron. And besides known for growing excellent wine, much of Napa Valley in general 'grows' rocks – this vineyard took 2 years to prepare to plant because of the enormity of the work required to clear these rocks. The vineyard is separated into 24 unique blocks.
Ann purchased the Tychson Hill Estate property (north of the town of St. Helena) in 1997 intrigued by both the site itself and potential for growing exceptional grapes as well as its unique historical pedigree. This property is part of a very coveted hillside bench of land in the lower Mayacamas mountains that stretches for a short distance just above the valley floor. Even 150+ years ago Charles Krug knew that this part of Napa Valley was ideal for growing grapes. Krug planted vines in what is now Tychson Hill as early as 1860. Historical records show that grapes from Krug from this vineyard site produced wines of exceptional quality – a claret that Krug produced won awards at wine competitions in London and Paris.
The Tychson Hill property was later planted to vines in 1881 by Josephine Tychson (she became a widow after her husband committed suicide). She was well ahead of her time – becoming the first woman in the state of California to build and operate a winery – her winery was called Tychson Cellars, later changed to Lombarda Cellars with new ownership and ultimately became the home of today's Freemark Abbey. Tychson Hill is located almost directly across from Freemark Abbey (on the other side of the highway). When Ann was introduced to the property, grapes had not been grown here since Prohibition and Josephine's home had fallen into disarray. In 1997, the property was planted to grapes for the first time since Prohibition (4 acres of 100% Cabernet Sauvignon).
The Tychson Hill site is also the coldest of their vineyard sites with temperatures often differing up to 40 degrees Fahrenheit between the day time highs and the nighttime lows.
After restoring the house where Josephine lived until her death in 1939, Ann and her husband Joe Wender now live here when they are in the valley.
Three years later in 2000 Ann purchased 120 acres (now called IX Estate) from long time Pritchard Hill family, the Longs. Patriarch, Donald Long, divided up a number of parcels which have been sold over the years to now prominent wineries. Ann purchased what was called Parcel Number 9 from the Longs – the highest numbered parcel and renamed it to IX Estate (9/9 was also her and Joe's wedding date). At the time it was not planted to vines; much of the vegetation on the slopes on this side of the valley is chaparral. With the help of vineyard manager, David Abreu (who still manages all of Colgin's vineyards), 20 acres of vines were ultimately planted including 16 acres to red Bordeaux varieties, primarily Cabernet Sauvignon with another 4 acres to Syrah. In 2020 and 2021 additional land was cleared for planting, in the process removing some 130,000 tons of rock of which approximately 65,000 tons were crushed. This vineyard development brought another 11 acres of vineyard land to their holdings.
And in 2002, the winery was built – perched on a fabulous overlook – one of several select Pritchard Hill area locations that immediately illicit the word 'wow' when observing the surrounding visual beauty for the first time.

Visiting with more than 1,100 Napa Valley based wineries and producers has given us a unique wine-focused perspective on Napa Valley; time spent at Colgin's IX Estate feels like the pinnacle of wine making in the valley (there are certainly others in this remarkable group, but it is a select group of estates). It is obvious that the bar is set extremely high here in all that they do.
A majority of their 'sorting' takes place in the vineyard throughout the growing season. However, once the grapes are hand-picked and delivered to the winery, they are again carefully hand sorted. While continuing to sort by hand, in 2017 they introduced an optical sorter as another 'tool' in the toolbox. Much of the wine is fermented in stainless steel while certain varieties are fermented in barrel. Winemaker Allison Tauziet has been with Colgin since 2005, initially as the assistant winemaker.
Ann remains actively involved in the art and auction worlds including serving on the board of LACMA in Los Angeles and as a consultant to the Sotheby's Wine Department. Part of the persona of Colgin Cellars has always been its involvement with charity wine auctions with verticals and large format donated Colgin wines raising millions for a variety of important causes including healthcare and community services.
And perhaps in somewhat of a surprise, in late 2017 Paris based LVMH purchased 60% of Colgin Cellars. However, this partnership is not their first ownership in Napa Valley; LVMH also owns Domain Chandon, Joseph Phelps and a majority of Newton Vineyards.
Select Wines
The 2016 Colgin IX Estate (a blend of 68% Cabernet Sauvignon, 15% Cabernet Franc, 10% Merlot and 7% Petit Verdot) is dark ruby with purple tinges on the rim of the glass; the bouquet offers a variety of aromatics including blackberry, black licorice and dark and dusty earth notes. Also shows notes of mocha and espresso and some floral nuances including of violets. The nose is slightly savory. The textural feel across the palate and its resulting structure are simply wonderful hallmarks of this wine. Features dense, tightly packed and dark tannins but with a chalky almost rounded feel with absolutely no sharp edges. The savory notes on the bouquet also show on the finish, which lingers with plum and a hint of dried tobacco leaf. This is an exceptional wine, highly worth seeking out.
The 2016 Colgin Cariard is a blend of 60% Cabernet Sauvignon, 20% Cabernet Franc, 12% Merlot and 8% Petit Verdot; the wine is dark ruby in color. The bouquet initially shows aromatics of dark olive, plum and a variety of darker fruits including black currant. Give this wine time to open and it does so wonderfully, revealing additional nuances including notes of clove and cardamom along with mocha and vanilla. We tried this wine 5 years post vintage date; the tannins are firm, gravelly and persist for quite some time, sporting a noticeable grip. At 5 years post vintage date at the time of our tasting, this well-built wine is certainly built to age for many more years.
The 2015 Colgin Tychson Hill (like other vintages from this vineyard show red fruits (the O in Colgin is even colored red on the label). A pretty bouquet shows floral notes (violets), red cherry and a subtle hint of cedar box. Lots of layers with an intensity of fruit that lingers on the palate. There is a beautiful finesse on the finish with tannins that are finely textured – almost chalky in nature. And the flavors continue for quite some time. A generally accepted robust vintage in Napa Valley, this wine while well layered, shows restraint, a balance if you will between fruit and structure.
Cariad meaning "love" in Welsh is from the David Abreu owned Madrona Ranch west of St. Helena in the foothills of the Mayacamas Mountains (400-500 feet in elevation) with vines growing on volcanic soils along with soils that are also alluvial in nature. Colgin maintains a long-term lease on the vines. Small percentages in the blend were sourced from the Thorevilos Vineyard at the end of Mund Road, just below Howell Mountain (now called Ecotone Vineyard) and the Lucia Abreu Vineyard on Howell Mountain. The 2015 Colgin Cariad is 53% Cabernet Sauvignon, 30% Merlot, 8% Cabernet Franc and 9% Petit Verdot. Shows an elegant bouquet with more dark fruit then red – a pleasing cigar smokiness and hints of sage as it opens. Brings an intensity of flavor on the palate, is somewhat savory with excellent acidity. Very long finish.
The 2015 Colgin IX Estate reveals dark fruit aromatics, dark cherry and blackberry and as it opens notes of dark chocolate. This is a powerful wine on the palate which reflects a vintage ripeness – with the aromas leading to equally dark fruit flavors along with a perceptible influence from their soils – somewhat dusty. Features a very long finish showing robust dry tannins along with a hint of mocha. Definitely built to age. A gorgeous expression of this particular property.
Their Syrah comes from two separate blocks at the IX Estate – all from the coolest parts of their property. Ann prefers Syrah from the Côte-Rôtie in the Northern Rhone Valley of France – she knew that great Syrah could be grown in Napa Valley if the sites were carefully chosen. With that said, Napa had proven itself with several excellent Syrah sites including from the Eisele Vineyard made by Joseph Phelps (as well as Syrah from their own property) and Lee Hudson's plantings in Napa's Carneros region.
Taking a chance on growing this variety on the hillsides of Pritchard Hill and following the old adage that 'Syrah likes a view' they planted 4 acres of Syrah from cuttings originating in the Côte-Rôtie and Hermitage regions of France.
This is a wine we had been wanting to try for quite some time.
The 2015 Colgin IX Estate Syrah (100% varietal) is noticeably dark in the glass. The bouquet has incredible depth of aroma – it is meaty at times, with aromas of bacon fat, then becomes more floral along with notes of chocolate and hints of crushed pepper. Also, an additional spice component (cardamom). Flavors of blackberry along with a white pepper nuance that shows more towards the finish. Savory with somewhat chewy tannins. This wine shows pure variety characteristics – in our notes we wrote "tastes like a Syrah should taste". This is a beautiful and rare wine raising the bar on what can be done with this variety and perhaps an unexpected offering to those not intimately familiar with Colgin.
And as an interesting side note, Syrah's from the northern Rhone were historically co-fermented with Viognier with the primary purpose to increase alcohol – with ancillary benefits including increasing the depth of color and aroma and tannin management.
—
With all of the accolades, hype and recognition aside, Ann simply says "Our people are the foundation of how we make the wines. We make it with our hands".
Due to strong demand for the wines, Colgin maintains a wait list to join their mailing list. For more information please visit: www.colgincellars.com
Colgin, an Uncommon Journey

Wine Spectator

Vinous Live

Robb Report TV

Maison Camille Giroud, Burgundy
Founder and namesake, Camille Giroud was born in Switzerland (from French ancestors). He moved to France and married Mademoiselle Deschamps who was part of a Beaune based family of coopers and merchants. He was a wine merchant and operated a small merchant called Maison Giroud Deschamps. In 1903 he changed the name of his business to Camille Giroud and based it in Beaune continuing to operate it under the négociant model. He ran it until the 1940s purchasing musts and finished wines.
Camille and his wife had three children: Léon, Lucien and Ginette; in 1950 Lucien took over the operations following his father's death. Following World War II, the operations moved to their current location; in 1968, a woman from the New York who would play an extremely important role in Camille Giroud's evolution, moved to Burgundy and would live there until her death in 2021 – wine distributor Becky Wasserman. In 1988 she became the sole distributor for the Camille Giroud wines in the U.S.
The property continued to be family owned; in the 1990s for the first-time Camille Giroud began to move away from purchasing finished wines and began buying grapes and fermenting and cellaring them; in addition, they also purchased several vineyards. In 1995 Anne Colgin and Joe Wender were attending Wasserman's annual Bouilland Symposium (Burgundy wine education and courses) and were first introduced to Camille Giroud.
In early 2002 Colgin, Wender and several investors and friends took over ownership of Camille Giroud from brothers Bernard and François Giroud (grandsons of Camille Giroud). The early 2000s was a time of significant refocus and revitalization for the company including developing a new winery on site. Today they source grapes from more than 40 different Burgundian Appellations d'Origine Contrôlée (AOCs), of which approximately 60% of their production is on red wines and 40% on white wines. By far the vast majority of their production is from purchased grapes; the winery currently owns only approximately 3 acres of their own vines.
Fermentations are done using indigenous yeast, no sulfites are added during vinification and some of their wines see longer aging times – up to 26 months. Tank sizes are small. Total production each year ranges from 8,000 to 10,000 cases (100,000 to 120,000 bottles).
Select Wines
The 2020 Camille Giroud Bourgogne Aligoté is pale yellow in color; the bouquet offers a lively citrusy note including of lemon peel, citrus blossom, tangerine and apple. Its rounded texture is complemented nicely by its energetic acidity. The palate offers flavors of green apple, lemon/lime slushy, pomelo and grapefruit with some mineralities present. This wine finishes crisp and bright but not tart. The grapes for this wine were sourced from the hillsides of Pernand-Vergelesses and rocky parts of Marsannay. We have tried Aligoté from several producers in Burgundy but to the best of our knowledge is only being grown by one producer in Napa Valley (Young Inglewood). It originates from a hybridization between Gouais Blanc and Pinot Noir.
The 2009 Camille Giroud Nuits-Saint-Georges 1er Cru Les Vaucrains is medium ruby in the glass. Initially it offers some bottle bouquet characteristics; it shows aromas of baked blackberry and raspberry. This bottling needed some time for the aromatics to really shine at the time of our tasting (13 years post vintage) and continued to evolve nicely as it opened revealing additional aromatics of black raspberry, dried currant, dried cherries and a hint of mocha and chocolate. The palate reveals flavors of dried cherry and red plum complemented by bright acidity – a freshness that makes this wine seem younger than its actual vintage. One can feel the presence of the tannins; they are long lasting with a hint of dryness that persists on the finish. This wine has aged very nicely and still has life ahead of it. This wine was aged in French oak barrels (25% of which were new) for 18 months without any racking before being bottled.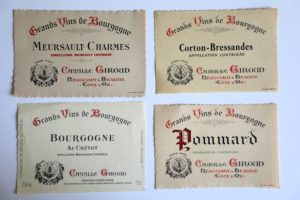 The 2003 Camille Giroud Beaune 1er Cru Les Avaux is pale to medium ruby in color; the sweetly fruited aromatics reveals scents of cranberry, red licorice, cherries and as suggested by sales manager, Aurélien Bigot, Tonka Bean (native to Central and northern South America with aromas including vanilla, almond and tobacco) along with a hint of darker baking spices and old leather. Shows flavors of dried cranberries and red cherry. The finish is complex and layered, lingering with a note of sweet fruit and long lasting, rounded and slightly earthy tannins. this is another example of one of their bottlings which has held up exceptional well for nearly 20 years at the time of our tasting.
During our visit we also sampled numerous wines from barrel; each one was distinctive, well-made and focused on the purity of the fruit rather than secondary influences. We found their wines bright and invigorating and always begging another sip. The several older bottlings we tried; prove they age very well and is an attribute they are well known for. And Camille Giroud's old cellar contains numerous older bottlings with the oldest vintage in their collection at the time of our visit, dating back to 1937.
—
The majority of their wines are exported with select distribution in Asia including Singapore, Hong Kong and Shanghai. Their wines are also found in the U.S. and Iceland. For more information, visit: www.camillegiroud.com