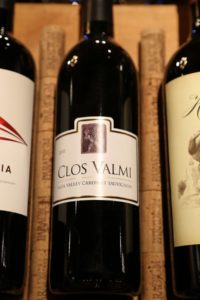 Clos Valmi is operated by 90+ year old owner Ted Astorian. Ted used to run a fairly sizeable wine import/export business but when he sold that his passion for wine was not included in the sale. Wanting to further explore his interest in wine and make his own wine he started researching vineyard land. He located a 15 acre hillside piece of property in the north eastern part of the Yountville appellation. For all intensive purposes, this part of the appellation could be either Oakville or Stags Leap as both of these appellations are located within a short distance of his property.
"Hillside Pinot Noir" is not a term you often hear bandied about these days in the Napa Valley. When Ted purchased the property there was a small vineyard on site but he has since developed other small blocks in select locations on the property including Cabernet Sauvignon and a small block of Petit Verdot.
The vineyards on the upper part of his property are about 400 feet above the valley floor. As a result he often does not get frost that the valley floor receives in this area or at higher elevations. The vineyards are on the west facing side of the Vaca mountains and as a result, receive quite a bit of sun exposure (compared to say the other side of the valley on the more vegetation covered east facing Mayacamas mountains). However there is one factor that helps keep the temperature more moderate here and that is the wind.
The same vineyard manager has worked for Clos Valmi since Ted acquired the property. The vineyard is farmed mostly organically – no chemicals are used, no tilling, just gentle treatment of the soils.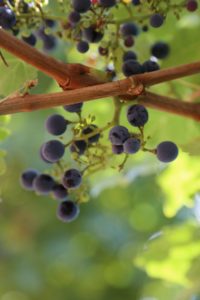 Today Ted makes his Pinot Noir vintage each year on a small bonded winery on the property and a winemaker at another nearby winery makes his Cabernet Sauvignon. As he says, "my Cabernet Sauvignon production outgrew my ability and energy to keep up". Still both of his productions are among the smallest in the valley. A typical year sees only 50-75 cases of the Pinot Noir and only 125 to 150 cases of his Cabernet Sauvignon.
Despite pushing 90, Ted looks to be in his early 70's and keeps up a schedule that would be hectic for someone half his age. He manages the winery several days a week from his Napa property and commutes to the Bay Area each week where he manages his real estate firm.
The first vintage of Clos Valmi dates from 2003.
Elegance and balance are hallmarks of Clos Valmi's wines. The 2008 Pinot Noir has an inviting nose of red fruits – raspberry and watermelon with aromas of red licorice. The bouquet initially reveals nuances of baking spices but as it opens over time the fruit takes over. The bouquet is an elegant one. The mouth feel is smooth and rounded – this is a wine that is great by itself but it certainly can be paired with a number of foods as well. The tannins are fine grained and linger delicately for some time.
The 2006 Cabernet Sauvignon shows elegant fruit on the bouquet with just a little spiciness and dustiness. Red fruit dominates rather than dark fruit – red cherry. The entry is soft, the wine has good acidity with lingering flavors, not alcohol. With nice acid balance, this is a good food wine. It is drinking very nicely now.
The 2007 Cabernet Sauvignon is a slightly bigger wine than the 2006 vintage. Bright red fruit, black licorice and hints of leather show on the bouquet followed by a palate that is elegant and rounded upon entry. The wine is soft from start to finish; it shows oak, a bit of spice and a nice liveliness on the finish. This wine really comes alive when you pair it with some food.
The name of the winery is not to be confused with Clos du Val (located up the road a bit) but rather, the "Valmi" is a conjunction of Ted's daughter's first two names Valerie and Michele – and Clos perhaps, is a tribute to his time spent in France and his love of French wines (Clos is often used in French wine names and in French means "a walled vineyard".)
Old School: Clos Valmi has never had a website (one of the very few producers in the valley without one) nor a mailing list. We know of most of the producers in Napa Valley but had never heard of Clos Valmi until recently when we attended a tasting event in Yountville for Premiere Napa Valley where Ted was pouring his wines. Without a website, they are certainly "under the radar"! All their wine is distributed via retail locations – with most of their placement in the Napa Valley and San Francisco and limited distribution in Chicago. For a boutique Napa producer Ted's wines are one of the best values in the Napa Valley. V Wine Cellars carries the wine in Yountville.
NOTE: need to confirm Clos Valmi is still actively producing wines – may archive this review soon.