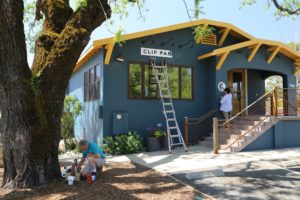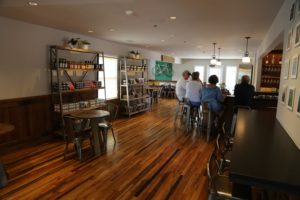 Clif Family Winery operates a beautiful open-to-the-public tasting room in St. Helena called Velo Vino or in Italian, "Bicycle Wine". Clif Family Winery released their first vintage in 2006. Founders of Clif Family Wines, Gary Erickson and Kit Crawford have always enjoyed good wine and found inspiration to start a winery during extended bike tour stops at villa estate wineries in Northern Italy.
Gary is a graduate of California Polytechnic State University in San Luis Obispo California. Incidentally, another Napa winery founder, Gary Andrus of Pine Ridge Vineyards began a sporting store in San Luis Obispo in the late 1960s/early 1970s on Higuera Street called Mountain Sports. Gary sold this store in 1975, the new owners changed names then to The Mountain Air and eventually moved the store to a small shopping center on Marsh Street where it continues to operate (and is often frequented by Cal Poly students and the local community). And Gary Erickson worked at this store for several years in the late 1970s.
Twelve years after graduating Cal Poly, Gary began Clif Bars, finding inspiration after chewing/chocking down unappetizing energy bars while on a 175 mile bike ride with his friend. He named this energy bar after an eponymous hero in his life – his father, Clifford.
All of their wines are made at a nearby custom crush facility. The grapes used in their wines are sourced from vineyards that are generally farmed organically. Their philosophy is that blended wines make great wines and as a result all of their wines contain several varieties. They make several whites and the rest are made from red varieties.
The tasting room is located on busy Highway 29 in the south part of the St. Helena city limits. St. Helena requires all wine to be poured in new tasting rooms within the city limits to be from the Napa Valley. As a result Clif's Hill Climber wines are not poured here – only their Napa wines are on the tasting menu. All their Napa wines are small production – usually only several hundred cases per wine and are only available online and directly from the tasting room. These wines are not distributed. Several different tasting options are presented, paired with their "mountain mixes" of nuts and dried fruits.
Select Wines
During our most recent visit we sampled several of their young Sauvignon Blancs. The 2010 Clif Family Rte Napa Valley Sauvignon Blanc shows notes of lime and pineapple on the nose with flavors of stone fruit as well as pear. The 2010 Clif Family Napa Valley Sauvignon Blanc is slightly blended with Chardonnay – is smoother, rounder and has a bit more weight. This is a clean easy to drink wine – great for summer events on warm days.
Gary plays trumpet and Clif Family's "Improv" label is a tribute to his musical prowess. The most food friendly wine we tried is their 2007 Napa Valley Cabernet Sauvignon.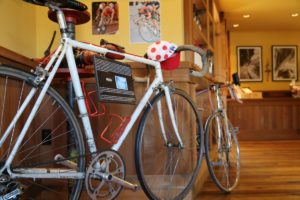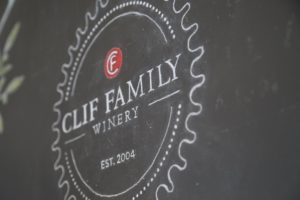 Some of their Cabernet Sauvignon comes from premium vineyards sourced from Oakville and Diamond Mountain which are regions that because of their unique terroir produce different characteristics in the wines as compared to other Napa Valley sub appellations. The fruit from the valley floor Oakville vineyard they source from produces softer fruit (mouth feel) and the hillside Diamond Mountain contributes more tannins and a bigger bolder flavor. However, these complement each other very well when blended together.
The Clif Family wines are among the most affordable priced wines in the Valley (both their Napa and non Napa wines). You can find their wines locally at the Oakville Grocery and the Sunshine Market in St. Helena. They also produce an olive oil pressed from olives that grow on their farm (samples available in the tasting room). And as one might expect, samples of Clif Bars are also available.
The following wines are not poured on site but we tried offsite during a prior visit. The 2006, Clif Family "The Climber" is a delightful blend of Sauvignon Blanc, Sémillon, Viognier and a touch of Chenin Blanc. This is a very affordable wine all about the fruit both in the aromas and on the palate. Each variety brings unique components which when blended together make a very pleasurable wine.
The 2004 Clif Family "The Climber" Red Wine contains 5 varieties with Zinfandel and Syrah making up the majority of the blend. The Syrah gives it the very dark color; it is a balanced wine with a super soft mouth feel. Hints of raspberry round out the palate. For a wine of this quality its hard to beat the price.
The Clif Family Napa Valley Petite Sirah Dessert Wine, Arriva – tasting notes coming soon!
—
A very neat concept for packaging wine is the "Clif Climber Pouch" or alternatively, the "All Terrain Wine Transport" – this unique wine container holds the same volume as two wine bottles, is lighter, more environmentally friendly and won't break. A small valve serves the wine. The pouch lets in very little oxygen as the wine is served and it will last longer (open) than an opened bottle of wine.
Along with their respect for the environment and limiting their carbon footprint where possible, Clif Family donates 1% of their total gross profits to an organization called 1% For The Planet – funds from businesses who participate in this are distributed to organizations protecting the environment worldwide. Much of the inside of the tasting room is made from recycled materials.
And in 2016 Clif Family Winery created Sip and Support, a series of of fundraisers to benefit local non profits – since it's inception this program has already raised thousands of dollars through events held at their tasting room.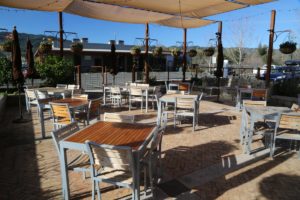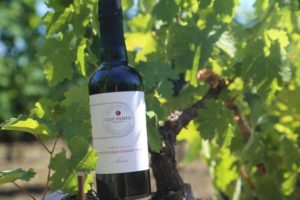 Those looking to start their day or add a burst of energy later can stop by the tasting room and order an espresso. Several sit down tables are located indoors and a patio is located outside in the back of the building. The tasting room is popular with bicyclists and has become a good place to relax before or at the end of a bike ride. A number of employees work in the tasting room – of various ages. During our most recent visit they were extremely welcoming and knowledgeable. Main Street St. Helena can be aggravatingly busy (especially on summer weekends) – fortunately Velo Vino has their own parking lot which wraps around the building. Serious wine enthusiasts can call ahead and reserve a private tasting room.
An sit down outdoor fenced off tasting area is available behind the main tasting room – and is a great place to chill during warm days. The Clif Bar food truck (the Bruschetteria) is usually parked next to the tasting room on the street and serves up a variety of seasonal Italian inspired foods.
An electric vehicle charging station is located on site.
Clif Family Farm is located high on Howell Mountain on the narrow, windy and steep Ink Grade Road. The farm provides a portion of the fresh and seasonal ingredients used in the dishes prepared in their Bruschetteria. Everything grown here is organic – certified CCOF. Ever heard of wine salt? In partnership with a salt company in Oregon, they produce several interesting salts including one that is processed with their Zinfandel wine (naturally the salt is purple in color).
Cold Springs Estate Vineyard. A visit here offers a highly personalized and in-depth vineyard experience available by reservation only. Guests will enjoy an intimate vineyard tour high on the slopes of Howell Mountain. Taste through a variety of freshly prepared specialty foods from the Clif Family Kitchen (a product line featuring a diversity of tasty treats). A visit here is certainly a slower change of pace compared to what is often a busy tasting environment at Velo Vino in St. Helena.
Gary and Kit support a variety of worthwhile causes through Clif Bar including the Save the Waves Coalition (protecting coastal ecosystems around the world). For more information about their wines and diversity of products, visit: www.cliffamily.com
Velo Vino Tasting Room

Bruschetteria food truck

Cold Springs Estate Vineyard

Clif Farm on Howell Mountain

Offices