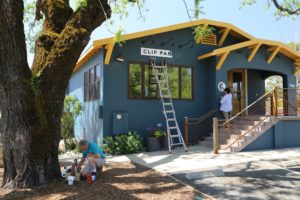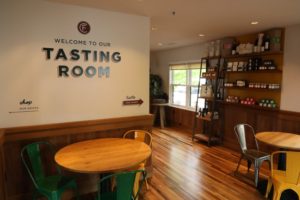 Clif Family Winery operates a beautiful open-to-the-public tasting room in St. Helena. Clif Family Winery produced their first vintage in 2004. Founders of Clif Family Wines, Gary Erickson and his wife Kit Crawford have always enjoyed good wine and were inspired to start a winery during extended bike tour stops at villa estate wineries in northern Italy.
Gary graduated from California Polytechnic State University in San Luis Obispo, California in 1980 with a degree in business administration. In 2017 he was the commencement speaker for Cal Poly's graduating class. Incidentally, another Napa winery founder, Gary Andrus of Pine Ridge Vineyards began a sporting store in San Luis Obispo in the late 1960s/early 1970s on Higuera Street called Mountain Sports. Gary sold this store in 1975, the new owners changed names then to The Mountain Air and eventually moved the store to a small shopping center on Marsh Street where it continues to operate and is often frequented by Cal Poly students and the local community. And Gary Erickson worked at this store for several years in the late 1970s.
CLIF Bar
Twelve years after graduating Cal Poly, Gary began commercially producing CLIF Bars in 1992 in Emeryville with his business partner Lisa Thomas. Kit also became involved in the early days of the business. Gary came up with the CLIF Bar recipe in his mother Mary's kitchen in Berkeley. Prior to founding CLIF Bar Gary began and operated Kali's Sweets & Savories with Thomas in 1986 – later called Kali's Bakery. Gary named the business after his grandmother Kalliope.
Gary found inspiration for CLIF Bar in 1990 after chewing/choking down unappetizing energy bars while a planned 125-mile bike ride with a friend turned into 175 miles. He named this energy bar after an eponymous hero in his life, his father, Clifford. CLIF Bar experienced remarkable growth in its early years; numerous bicycle shops were early retail outlet adopters as was Trader Joes. In 1997 the company transitioned names from Kali's SportNaturals to Clif Bar, Inc. Today the business is known as Clif Bar & Company and until 2022, was privately owned by Gary and Kit.
The company has evolved since the early days and has introduced numerous other products since the original CLIF Bar. Today they also produce LUNA, health bars geared towards women, CLIF Pet, a plant-based jerky for dogs and CLIF Kid, health bars for children. The 11,500 square foot LEED Platinum-certified Clif headquarters are located in Emeryville; they also maintain bakeries in Idaho and Indiana.
Those looking to learn more about this amazing success story, including Gary's decision not to sell the company for 120 million in 2000, can do so by reading, Raising the Bar: Integrity and Passion in Life and Business: The Story of Clif Bar Inc., a book Gary wrote in 2004. It is a book of life lessons learned but it's also a book about trusting one's gut and making decisions based on what feels right rather than doing what other people tell you.
In mid 2022, Gary and Kit sold Clif Bar for nearly 3 billion dollars to Mondelez International Inc., (owners of Oreo, Ritz & Toblerone among numerous other name brand snacks and foods). Their winery and Napa Valley owned properties were not included in this sale.
Rifugio Tasting Room, St. Helena
The Clif Family Winery Rifugio tasting room (originally called Velo Vino, meaning Bicycle Wine in Italian) opened in 2011 and is located on busy Highway 29 in the southern part of St. Helena city limits. The exterior was originally painted orange. Their tasting menu contains primarily Napa Valley grown and produced wines but also select bottlings from vineyards outside of the county. All their Napa Valley wines are small production, usually only several hundred cases per wine and are available online and directly from the tasting room. These wines are generally not distributed although one may find select Clif Family wines at several wine shops in Napa Valley. Several different tasting options are offered, all using food products and ingredients from the CCOF-certified organic Clif Family Farm on Howell Mountain.
Two exciting options for guests are a plant-based food pairing alternative for all of their experiences by request, and a Farm Elixir Mocktail Flight, showcasing some of the seasonal Clif Family artisan food products through unique and creative mocktail elixirs. These are popular with designated drivers and or those who just want to take a break from wine. And this experience is offered with small bites. Check the Clif Family website for the latest offerings and experiences.
Those looking to start their day or add a burst of energy later can stop by the tasting room and order an espresso. Several sit-down tables are located indoors and a fenced in garden patio area is located outside to the rear of the building. The tasting room is popular with bicyclists and has become a good place to relax before or at the end of a bike ride. Several bike parking spots are available for cyclists.
Much of the inside of the tasting room is made from recycled materials.
A number of employees work in the tasting room – of various ages. During our visits to the space over the years, they have always been extremely welcoming and knowledgeable. Main Street St. Helena can be aggravatingly busy (especially on summer weekends) but fortunately the tasting room has their own parking lot which wraps around the side and back of the building.
Unlike tasting rooms that only sell contracted food products, Clif Family's artisan foods focus on their own grown and prepared items. These are all organic and include a variety of nut mixes, chocolates, farm fresh preserves (made in-house) and their Solar GrownTM honey including the spiciest honey we have ever sampled, the Solar GrownTM Hot Honey with Cobanero Chili. They also produce an olive oil pressed from olives that grow on their farm (samples available in the tasting room). And as one might expect, samples of Clif Bars are also available.
Select Wines
All of the Clif wines are made at a nearby custom crush facility (as they do not own their own physical winery). The grapes used in their wines are sourced from vineyards that are farmed organically. One of their philosophies is that blended wines make great wines and as a result some (but not all) of their wines contain several varieties. They produce a diversity of wines including both white, red and sparkling. These are not cookie cutter style wines; from a number of tastings over the years, we have noticed that each wine has its own distinctive personality and character including the 100% varietal single vineyard Cabernet Sauvignons.
In recent years we have noted more Napa Valley wineries producing wines from Grenache, mostly outside of the county due to the fact there is not a lot of Grenache planted within Napa Valley. Clif Family sources their Grenache for their rosé from Mendocino County. The 2022 Clif Family Grenache Rose is a very light salmon in color, or as we were told, winemaker Laura Barret refers to its color as ballet slipper pink. The initial aroma we noted was of pear drop hard candy, pink bubblegum, baked rhubarb, wild strawberry and watermelon rind. It texturally slides across the palate like velvet and is nicely balanced between texture, flavor and acidity. It offers flavors of wild strawberry, some mineralities and a light lemon zest and lime flavored bright finish. This rosé has some depth to it.
The 2021 Clif Family Sonoma Valley Grenache (from the Steel Plow Vineyard) is medium ruby in color; this wine offers aromas of rose petal, red cherry, strawberry, rhubarb, cherry cola, pomegranate and a note of dried herbs. This is a very balanced wine, offering flavors of cherry and red plums complemented by a lightly savory finish. The tannins are seamless in their integration. Despite 15.1% alcohol, this wine smells and tastes like the variety and is not 'overripe'. It spent 14 months aging in neutral French Oak barrels. The vineyard is organically farmed by Phil Coturri (also associated with the farming at Oakville Ranch in Napa Valley).
Clif Family produces both and oaked and unoaked Chardonnay. The 2022 Clif Family Unoaked Chardonnay was fermented and aged before bottling entirely in stainless steel. This was their second harvest of Chardonnay from Valle di Sotto Vineyard in the Oak Knoll District. This wine is medium gold in color; the aromatics offers notes of honeydew melon (reminded us of the resulting smell from scooping out the ripest part of the melon where the flesh is almost translucent), ripe comice pear, nectarine and pineapple. It also smells like spring florals including of jasmine. The bouquet is highly attractive. The palate is bright with flavors of apple, pear, some minerality notes and lemon juice. Its texture is rounded and lightly creamy. This is an energetic showing and one that perhaps would not be easily identified as a Chardonnay in a blind tasting.
The 2019 Clif Family Napa Valley Chardonnay is from the Oak Knoll District. This wine is medium golden color in the glass with both floral and tropical aromas and a slight aromatic raciness that is sometimes (but not always) shown by Chardonnay. Opens to some honeysuckle and cantaloupe notes as the wine continues to evolve in the glass. The palate offers a rounded texture which is complemented by a noticeable brightness of acidity and some minerality nuances. Offers flavors of mandarin and melon and some darker desert spices lingering on the finish. This wine was aged in 30% New French oak barrels. In 2021 Clif Family produced their first ever unoaked Chardonnay.
The 2017 Clif Family Le Colline Vineyard Estate Zinfandel Napa Valley is not an overly ripe or jammy style of wine. This wine is more medium ruby than deep ruby in color; offers a bouquet of cherry and raspberry aromatics and old cedar box, notes of mushroom and as the wine opens further a hint of coffee grinds. The palate shows both red berry and cherry flavors. The tannins are very fine grained and extremely well integrated into a finish which lingers with hints of pepper and some darker baking spices. This wine shows some spiciness but not overly so; it is very well balanced from start to finish.
The 2018 Clif Family Cold Springs Howell Mountain Cabernet Sauvignon is dark ruby in color; shows an earthy and meaty bouquet with aromas of mushroom, forest floor, pepper and darker baking spices. On the palate features flavors of dark plum with both wood and grape tannins lingering on the savory finish. Features dark spices and finer grained yet noticeably grippy (and dusty) tannins which continue to linger for some time. A thread that shows throughout this wine is its bright acidity.
The 2017 Clif Family Cold Springs Howell Mountain Cabernet Sauvignon is dark in color, garnet and nearly opaque; this wine offers attractive aromatics including a union between dark fruits and baking spices. It reveals sweetly fruited scents including of blackberry, boysenberry and ripe plums. And it shows mocha, chocolate, coffee and espresso. There is also a lingering note of tobacco spices and old cedar box. Some of the aromatics are mirrored on the palate including blackberry and boysenberry. We noted this wine has 'good bones'; its structurally firm and lingers with a persistent grip of dark fruit and drying tannins and a note of dried tobacco leaf. This wine is showing very well 6 years post vintage at the time of our tasting and still has many years of life ahead of it.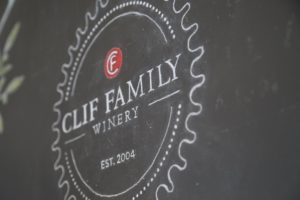 The 2018 Clif Family Croquet Farm Cabernet Sauvignon is made from the same clone as in their Cold Springs Cabernet Sauvignon. But this wine could not be more different, perhaps because of differences in site elevation, exposure and soil types. Shows dark ruby in color with a bouquet that shows more fruit than the Cold Springs bottling. The bouquet is elegant focusing more on fruit aromas rather than barrel aging. It offers notes of blackberry and plum. It is mouthwatering across the palate, but especially noticeable on the finish. The dry tannins are still tightly woven and persist for some time with a noticeable grip.
The 2017 Clif Family Vedo Cabernet Sauvignon was the first ever bottling from a special block within the Croquet Vineyard. Single vineyard, single block. Very limited production. This is Clif Family's most premium Cabernet Sauvignon. This wine is dark in the glass with deeply layered aromatics including ripe dark cherry. The palate also shows plenty of darker fruits including plum and blackberry. Well layered. The tannins are broadly distributed and are certainly noticeable but are not course in their textural feel. Lingers with both fruit and darker spice notes. For serious Napa Valley Cabernet Sauvignon enthusiasts, this difficult to find wine is highly worth seeking out.
Most of their wines are from Napa Valley but several are sourced from vineyards outside of the valley including the Clif Family Rosé of Grenache from Mendocino and a Sonoma Valley Grenache. Some of their wines are produced exclusively for their wine club members. And one of their wines is named in homage to Gary who enjoys playing the trumpet; Clif Family's "Improv" label is a tribute to his musical prowess.
Some of their earlier Cabernet Sauvignon vintages came from premium vineyards sourced from Oakville and Diamond Mountain; these are regions which because of their unique terroir produce different characteristics in the wines as compared to other Napa Valley sub appellations. The fruit from the valley floor Oakville vineyard produces less intense fruit and a softer mouth feel whereas the hillside Diamond Mountain contributes more tannins and a bigger bolder flavor. However, these complement each other very well when blended together. Today their single vineyard wines are from Howell Mountain.
Clif Family used to produce a brand called Climber, including the Climber Pouch, primarily for grocery stores. They have since stopped these large production wines and shifted to producing The Climber Bordeaux-Style Red Blend, an elevated wine that is 100% all estate-grown Napa Valley fruit now. This is one of three wines bottled as part of their "Adventure Series" of wines.
—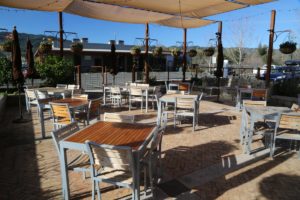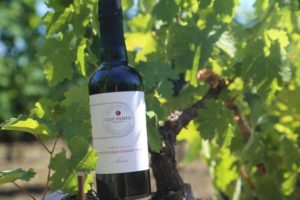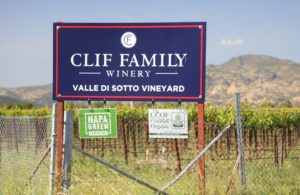 In addition to their respect for the environment and limiting their carbon footprint where possible, Clif Family has partnered with American Forests. Starting in 2021, each year they pledge to donate $10K to help plant trees across the country through American Forests' Tree Equity program which ensures that people in all neighborhoods experience the benefits trees provide, no matter where they live. In addition to this annual $10K pledge during April (Earth month), donations are accepted from guests who visit their tasting room to further help their efforts in planting trees with American Forests. Furthermore, "Compost Cookies" from the Food Truck are sold with 100% of the proceeds from each cookie being donated.
Clif Family Winery is a member of SME Climate Hub, a global initiative serving small to medium sized business to take action on reducing their impact on the environment. Clif Family has already taken certain steps in this regard including grazing sheep among their vineyards and sourcing packaging for their products closer to home.
In April 2023, Clif Family was awarded a B Corp certification recognizing both the positive impact of their social and environmental footprint. Along with the B Lab, a non-profit with an international team that certifies B Corporations, independent third parties are also part of the certification process. Certified businesses are not only wineries but include a diverse range of operations. Clif Family was one of the very first Napa Valley wineries to earn this certification.
And in 2016 Clif Family Winery created Sip and Support, a series of fundraisers to benefit local nonprofits. Since its inception this program has already raised thousands of dollars through events held at their tasting room in conjunction with their food truck. These are hosted one Wednesday every month and also usually involve live music on the patio from local artists and a Street Food Napa Valley menu. 20% of all wine and food orders placed throughout the day are donated back to each local organization they host for that day supporting a total of 12 non profits each year.
Clif Family Enoteca
This space opened for tastings on March 14, 2022, and is located at 1334 Vidovich Lane, a short walk from the primary Clif Family tasting room. Clif Family tore down the existing structure but left the foundation and the floor and completely rebuilt the building. It sits right at the edge of Beckstoffer's historic Dr. Crane Vineyard; visitors have excellent views to the west overlooking these vines and the forested Mayacamas mountains in the distance. Weather permitting, a small outdoor patio area is a great place to enjoy the wines, the food and the company. Or a larger room offers seating indoors.
Unlike the tasting room which accepts walk-in visitors, all visits to the Enoteca are by reservation. Several tastings are offered; all include small bites prepared by their in-house chef, primarily using seasonal vegetables, fruits and other ingredients harvested from their Howell Mountain farm. During a recent visit we enjoyed local artisan cheeses, yogurt with Clif Family farm fresh fruit, buttermilk-cheddar biscuits with Clif Family Solar GrownTM Raw Honey and fresh eggs with caviar.
As of our latest update to this review, the Clif Family Enoteca offers three distinctive experiences: Presto Gusto, offered daily at 10am (we recommend a light breakfast before this experience as the pairings are lighter in size), La Cima Reserva, offered twice daily in the afternoons featuring pairings with single vineyard Howell Mountain Cabernet Sauvignon and Pasto e Vino, a 5-course farm to table lunch paired with some of their limited selection wines.
Bruschetteria
The Clif Family Bruschetteria Food Truck is often parked next to the tasting room on Vidovich Lane and serves up a variety of seasonal Italian inspired foods. Food from this truck can be enjoyed during a tasting of the Clif Family wine on premise, taken to go, or weather permitting outdoors at a limited number of seats. With a commercial kitchen located just to the west on Vidovich Lane, food is sometimes ordered at the truck and then picked up curbside from the kitchen. And on Wednesday the multicultural culinary team often focuses on specific types of food. We have seen Thai, Ukraine and Vietnamese cuisine as several examples.
Some proceeds from this 'sip and support' are donated to local charities or other nonprofit organizations. The food truck is popular with both visitors and also with locals and especially those working in the wine and hospitality trade. Visit the Clif Family website for the latest food truck operating hours.
Clif Family Farm is located high on the eastern slopes of Howell Mountain on the narrow, windy and steep Old Ink Grade Road. This was the first property that Gary and Kit purchased in Napa Valley. The farm provides the majority of the fresh and seasonal ingredients used in the dishes prepared in their Bruschetteria, sold in their tasting room and paired with their wines. Everything grown here is CCOF-certified organic. This farm in an important and integral part of the Clif Family brand.
And contiguous to the farm but slightly higher elevation is their Croquet Vineyard named in honor of the professional sized croquet court on the property.
Cold Springs Estate Vineyard. Like their farm, this property is closed to the public but a number of years ago we were able to visit and enjoy a highly personalized and in-depth vineyard experience high on the slopes of Howell Mountain. We also tasted through a variety of freshly prepared specialty foods from the Clif Family Kitchen (a product line featuring a diversity of tasty treats). A visit here was certainly a slower change of pace compared to what is often a busy tasting environment at the tasting room in St. Helena.
Prior to Clif Family's ownership, this property used to be home of Marc Cohen's Howell at the Moon wine brand.
Clif Family also owns the 80 acre Valle di Sotto Vineyard (which translates into English as, The Valley Below) in the Oak Knoll District, planted to ten different varieties including a mix of white and red grapes. They farm a total of slightly more than 90 vineyard acres in Napa Valley and 5 acres of vegetables and fruit trees. With the purchase of Valle di Sotto Vineyard in 2018 Clif Family has transitioned more into producing wines from estate growing grapes.
Gary and Kit support a variety of worthwhile causes through Clif Bar including Save the Waves Coalition (protecting coastal ecosystems around the world). And in 2006, Gary and Kit founded Clif Family Foundation, which focuses on providing grants to select small organizations centered around food, community health, and the environment and natural resources.
In 2000, Kit was instrumental in creating LunaFest (still in existence), a traveling film festival highlighting films created by women. Its name comes from the Luna Bar, first produced by CLIF Bar in 1999, and was the first energy/nutrition bar created for and marketed to women. CLIF Bar continues to be a sponsor of LunaFest.
Two electric vehicle charging stations are located on site. Total annual production of Clif Family wines is approximately 12,000 cases. Clif Family wines are among the more affordable wines in Napa Valley (both their Napa and non-Napa wines). They have limited retail distribution in California; one can sometimes find some of their wines locally at Backroom Wines in Napa, Oakville Grocery in Oakville and Sunshine Market in St. Helena. For more information about their wines and diversity of products, to purchase wine, or to arrange a reservation for a tasting, visit: www.cliffamily.com