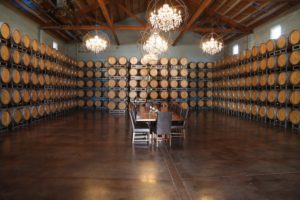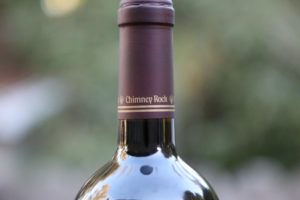 Chimney Rock Winery was founded in 1981 by Sheldon 'Hack' and his wife Stella Wilson (both now deceased). Hack enjoyed a lengthy career as a businessman in a variety of ventures including owning and operating a number of Pepsi-Cola plants in Africa, was president of New York-based Rheingold Corp and later operated restaurants and luxury hotels.
Already successful in business, Hack went to Bordeaux in the 1970s seeking to purchase vineyard land but then he became intrigued by Napa Valley (as an up-and-coming wine region). This was in the late 1970s, a slower time in the valley and a period when there were only approximately 40 Napa wineries at the end of the 1970s who are still in business today. Currently there are approximately 1,100 unique producers in Napa Valley by our count. And Napa had just been recognized for its role in the Paris Tasting of 1976.
The Wilson's purchased 180 acres including an 18-hole golf course (with a coffee shop and café) on the east side of the Silverado Trail in what is now the famed Stags Leap District. Hack had 9 of the golf courses' 18 holes removed to plant grape vines (perhaps leaving 9 holes to satisfy his enjoyment of playing golf). Vineyard workers still find a few golf balls among the vineyards.
In 2000 Hack sold part of Chimney Rock to the Terlato Family (based in Chicago) and several years later completed the final sale of Chimney Rock to the Terlatos. The Terlatos removed the final 9 holes of the golf course and expanded the vineyard operations and production. Today approximately 100 acres are planted to red wine grapes on the estate with the about 80% of the vines planted to Cabernet Sauvignon and the remainder to Merlot, Petite Verdot, Cabernet Franc and a small amount of Malbec. The entire vineyard is separated into 28 distinctive blocks. The Stags Leap District is known for its red wines; one doesn't find many white wine grapes growing in the region.
While their property is entirely in the Stags Leap District there are remarkable variations in soils and temperatures at any given time throughout the estate. This is especially noticeable in the northern part of the property where vines are growing directly next to the rocky outcrops of the Palisades where it is often warmer than the cooler southern part of the property which is more open and further removed from the Palisades; the two ends of the property are separated by only 1/2 a mile.
Their vineyards and winery are certified Napa Green; in the vineyards, this involves minimizing erosion, water usage and conducting habitat restoration and in the winery involves minimizing water usage and reducing waste. The winery uses solar energy to power much of their operations – the top of their 25,000 square foot barrel winery and cellar is covered with solar cells. And in an interesting use of recycled water, the city of Yountville supplies recycled water to several wineries in the area including Chimney Rock which they then can store as needed in several ponds on site and use for drip irrigating the vines.
All of the vines needed to be replanted in 1990 due to phylloxera – but longtime winemaker Elizabeth Vianna calls this "a blessing in disguise" allowing their vineyard management team to better match root stocks and clones to specific parts of their property and of course use phylloxera resistant root stock. Winemaker and viticulturist, Doug Fletcher (began his career with Chimney Rock in 1987) oversaw the replanting. He also pioneered the use of a specific open lyre trellising system – now called the Fletcher Lyre. Chimney Rock uses this trellising on some of their blocks – essentially it ensures that grapes on both sides of the vine ripen simultaneously despite different exposures. On one of their east west row orientated blocks, the cordons on the north facing side are trained to be slightly higher than the cordons on the south facing side of the vines.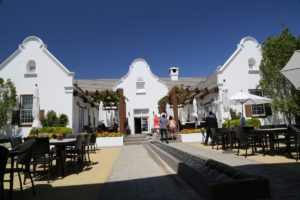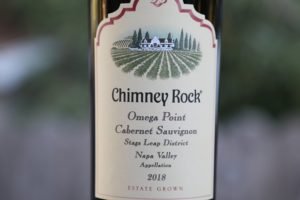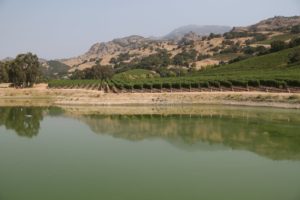 And in addition to their Stags Leap District estate property, the Terlato's also own 60 acres on Mee Lane in Rutherford with nearly 9 acres planted to Sauvignon Blanc and Sauvignon Gris.
Their original winemaker for the first two vintages (1984 and 1985) was industry veteran Philip Togni. Philip is one of Napa Valley's most treasured winemakers – now into his 90s he is still very much involved in every harvest for his own winery on Spring Mountain. The first few vintages were made at Bouchaine in Carneros as the winery on site was not completed until 1989.
Part of the original barrel room was modeled after South Africa's Groot Constantia, the oldest wine estate in the country. While no longer used for production it is now used for various club member events and select tastings. One of the highlight experiences for club members in this room is a sit-down harvest dinner held annually following the end of harvest. Empty barrels line the perimeter of this room, many displaying plaques with the names of those who have been club members for a minimum of 20 years. A larger facility was constructed later offering plenty of space containing more tanks than needed and a sizable barrel room.
Elizabeth (born and raised between Brazil and the east coast of the United States) came to Chimney Rock as a harvest intern in 1999. She was studying Biology at Vasser College in New York on a pre-med track when she discovered wine and changed career directions. She moved to California and enrolled in U.C. Davis, ultimately earning her master's degree in enology. Interestingly enough the woman that hired her at Chimney Rock, gave up a career in wine for medicine. Elizabeth also spent a few years working at Napa Wine Co alongside noted women winemakers Heidi Barrett, Pam Starr, and Celia Welch.
The grapes for their reserve wines are typically sourced from similar blocks in the vineyard each year – the "sweet spots" if you will. What is always neat is to see how noticeably different the wines are from each other in aromas and flavor based on the various microclimates and soil types throughout the property. In part, differences in vintage (weather) and time of aging also play roles in this.
Chimney Rock has the luxury of only using free run juice in their wines (no pressed juice). Elizabeth wants to extract as much color and flavor from the grapes as possible and often runs maceration extending some 30 to 45 days (depending on the wine, vintage etc).
While primarily a Cabernet Sauvignon house, Chimney Rock does make several lighter styled wines including a Sauvignon Blanc from their Rutherford vineyard and a dry rosé of Cabernet Franc. This has been made since the 1990s; Chimney Rock was certainly ahead of the curve on making rosé. We noticed the latest trend to make a dry rosé in Napa Valley started somewhere around 2012.
Elizabeth ferments the various lots of this wine with a number of different yeasts including indigenous yeasts (8 different strains of yeast were used in the 2013 vintage). In doing yeast trials in white wines, she has noticed some remarkable differences between the yeasts – mostly in terms of aromatics and the resulting texture of the wines. She hasn't noticed the effects of different strains of yeast in red wines like what occurs in white wines. The wine making team uses battonage (stirring of the lees) for up to 8 weeks.
Select Wines
Whites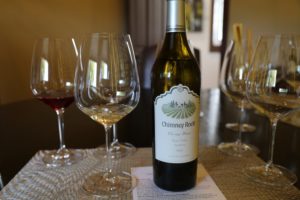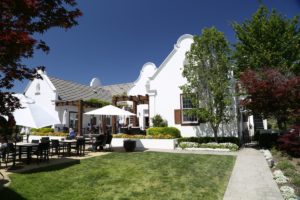 Elevage Blanc may be one of Napa's most under rated white wines – and this is from a winery focusing on Cabernet Sauvignon. White wines (from Napa in most cases) are created to be consumed rather quickly upon release. Not so with this wine, it is hand-crafted so that it can be aged – Elizabeth likes to drink this 5 years after release but it can certainly go much longer than that. She referenced their first vintage of this wine (2004) was still drinking well 13 years after the vintage date. Grapes for this wine come from their Rutherford vineyard and is a blend of Sauvignon Blanc and Sauvignon Gris (a clonal mutation of Sauvignon Blanc – visually when fully ripe it has a pink, yellow greyish color to the skin).
Elizabeth likes the aromatics that the Pinot Gris brings to the blend and as she puts it, "it tames the wild side of Sauvignon Blanc." The 2014 Chimney Rock Pinot Gris shows a hint of dessert spice, honeysuckle as it breathes and both tropical and citrus aromas (although the bouquet is not dominated by either end of these aromatic spectrums). Noticeable immediately on the palate is a pleasing weight – creamy, almost oily in nature; with that said the body is not overly viscous and there is a nice acidity to balance out the weight. Flavors of red apple and stone fruit show. This wine drinks very well by itself.
And as one of their long-time employees says about this wine, "it is a white wine for red wine drinkers." And of note, one of their earlier vintages of this wine appeared in the movie, Sex and the City.
Reds
The 2018 Chimney Rock Omega Point Cabernet Sauvignon Stags Leap District is deep ruby and nearly opaque in the glass; we set this wine aside for a few minutes to breathe but kept getting distracted by its lovely aromatics. The bouquet sports a union of both ripe primary fruit aromatics and secondary scents. These are of blackberry, boysenberry and dark cherries at the peak of their ripeness along with mocha, chocolate, old cedar, sweet tobacco spice and a hint of Graham cracker. If one were to describe a bouquet as crowd friendly, this would be an ideal candidate. A mouthful of fruit, the palate offers flavors of dark plum, black cherry, boysenberry and Pakistani mulberry accompanied by a light and lingering woodsy spice. The grainy tannins are broadly distributed across the palate and are well-integrated into the lengthy finish.
The genesis of Omega Point dates back to 2012 when the best barrels were selected from their single vineyard wines to create this extremely limited production bottling. Omega Point refers to the ultimate complexity and consciousness of an ever evolving universe. For a challenging and esoteric read about our accelerative universe, refer to a paper our father has been working on for the past 50+ years: www.ouraccelerativeuniverse.com
The 2012 Chimney Rock Stags Leap District Estate Cabernet Sauvignon shows aromas of ripe blackberry, dust nuances and a kiss of mocha. This bottling features bright acidity and shows somewhat juicy on the palate with flavors of blackberry and black currant. The tannins are broad shouldered and fairly robust. This is an ideal steak wine. Perhaps it won't have as much age ahead of it as the powerful 2013 vintage but it still has a long way to go (we tasted this wine 5 years past the vintage date).
The 2013 Chimney Rock Ganymede Vineyard Cabernet Sauvignon (100% varietal) is very dark in the glass; the bouquet shows dark and seductive aromas with notes of toasted cedar with notes of caramel – but mostly is a showcase of the powerful fruit perhaps accentuated by what is generally accepted as a robust vintage in Napa Valley. The wine is full bodied on the palate with darker fruit flavors including blackberry and black cherry. This wine is very youthful and will benefit from some age. Powerful tannins anchor a very long finish.
The 2013 Chimney Rock Tomahawk Vineyard Cabernet Sauvignon is named as an homage to the native Wappo Indians who would hunt on the hillsides of the Palisades – despite never using Tomahawks. This wine is 100% varietal and comes from the southern part of their property. Shows darker notes on the bouquet including hints of tobacco and as the wine breathes, dessert spices. It is big and plush with powerful chewy tannins that linger for quite some time. But there is a noticeable mouthwatering acidity. Age worthy for sure.
Chimney Rock's wines are built to age, Elizabeth enjoys drinking some of their Cabernet Sauvignons between what she calls the sweet spot of 10 to 12 years. These are generally big wines out of the gate and over time (based on the older vintages we tried) all the components become more harmonious. Chimney Rock's older vintages show off very nicely including the 2006 Stags Leap District Cabernet Sauvignon and the 2007 Tomahawk Cabernet Sauvignon – both of which perhaps still tasted a bit more youthful than their age would imply.
—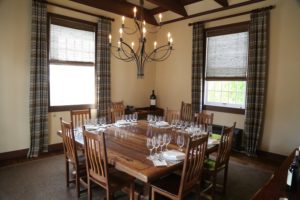 A variety of tasting experiences are offered; one of their most popular and in depth offerings is the Vineyard Odyssey Tour & Tasting. Guests (up to 8 people) are driven around the estate in a open air (with a roof) cart. The driver/wine educator offers insights into the property's history, farming practices and stops at some of the most well-known vineyard blocks where you will try wine from that particular block at each of the stops (followed by a seated tasting).
Other experiences include their estate tour and barrel tasting (including a stop in their production facility), a private vertical tasting of select years of their Stags Leap District Estate Cabernet Sauvignon (vintages up to 8 years old), and the Palisades Preview Seated tasting (where guests enjoy limited production Palisades Society club wines. In 2017 they opened an east facing tiny, gated space next to the hospitality center called the Palisades Patio which offers great views of the nearby rocky palisades (for wine club members). Several private rooms are also available in the hospitality center.
Lunches can be reserved (there is no commercial kitchen on site) so they work with select caterers.
Due to their popularity the tasting room can often fill up quickly especially on busy summer and harvest time weekends – the hospitality staff is very sensitive to keeping enough space in the tasting room and may turn away visitor's if the tasting room is already filled to capacity. Recommendations are highly recommended, especially on the weekends.
Total production varies from year to year but is usually between 25,000 to 30,000 cases with a large part of that production being their Stags Leap District Cabernet Sauvignon. The Palisades Society offers several levels of club membership. One of the perks of membership is gaining access to limited production wines that are not distributed. Another highlight is every year they re-release an older vintage of wine. For more information, to schedule a tasting or to purchase wine, visit: www.chimneyrock.com