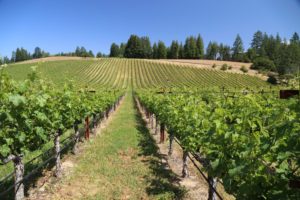 Checkerboard Vineyards. It is rare to locate a Napa Valley property under one ownership that spans from the valley floor to the top of the mountains. Checkerboard Vineyards encompasses some 300 acres just south of Calistoga touching the valley floor and extending up to 2000 feet on the upper slopes of the Diamond Mountain Appellation. This was not always one contiguous property. Founders and real estate developers and businessmen Dennis O'Neil (Florida property developer, primarily apartments) and Stephen Martin purchased initial property for what would become Checkerboard Vineyards in 1998 and then later acquired other hillside properties.
Each of the properties had a strong pedigree in prior ownership including Dean Witter III, grandson of the founder of Dean Witter & Company, Mike Martini, part of one of Napa's iconic wine making family's (his grandfather started Martini Winery) and the Bechtel family. The name Checkerboard comes from Witter – he called his property the Checkerboard Ranch.
Presently only about 14 of the 342 total acres are planted to vines – ranging in elevation from around 600 feet to 2000 feet. Part of the property was planted to old vine Chardonnay, which was being sold to another Diamond Mountain vintner but has since been replanted. Based on the geographical topography of the Diamond Mountain Appellation all of their vineyards are entirely within the appellation's confines – the appellation's lowest elevation starts at 400 feet. Checkerboard's lowest vineyard, Spring Meadows is planted to Sauvignon Blanc and Cabernet Franc. Coyote Ridge Vineyard is located at about 900 feet, the largest planting, Aurora Vineyard is at 1200 feet and forms a dramatic landscape next to the winery. Located on a small knoll it faces mostly south – somewhat unusual compared to many Diamond Mountain Vineyards which face east. The uppermost vineyard, Nash Creek is at 2000 feet. A 2.5-mile road leads from the bottom of the property to the top. The property features a number of spectacular and rugged views looking east especially of Mt. St. Helena and the valley floor far below.
Classic Diamond Mountain land is steep, rugged, brushy, rocky, and east facing. The vegetation is unique here as compared to the Vaca mountain range across the valley. Diamond Mountain features more densely forested and bushy vegetation whereas on the other side of the valley the vegetation is more scrub-like scattered among wider open spaces. The Mayacamas mountain range is similar to California's Sierra Nevada on a much smaller scale in that the western side of the range has a gentler elevation gain while the Eastern side drops off rather dramatically. You can experience this on any of the steep narrow roads that climb out of the Napa Valley floor crossing over the Mayacamas. Flat land is at a premium here. The soils are extremely rocky and volcanic in nature.
Founding winemaker Martha McClelland earned a degree in Oenology and Viticulture from the University of Geisenheim in Germany. Prior to moving to the Napa Valley full time, she worked at wineries in Germany and Australia. She became an assistant winemaker at Merryvale in 1995 helping make several of the Harlan Estate wines including several vintages at Merryvale and later at Harlan Estate once that winery was completed. She shares wine making duties with her husband Bob Levy for their own highly sought after label, Levy & McClelland. Later she became winemaker at the acclaimed Sloan Estate and Blankiet and in addition to Checkerboard Vineyards is currently consulting winemaker at Vineyard 7 & 8 on Spring Mountain.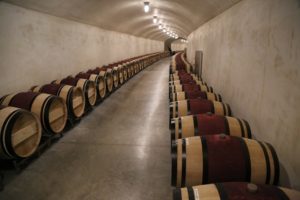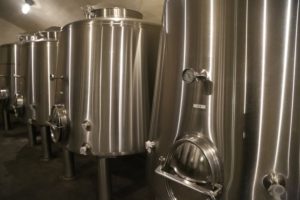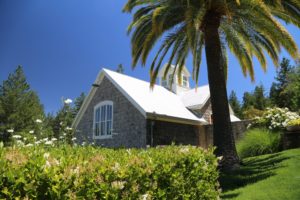 The attention to detail in the vineyards and winery is nothing short of remarkable. Jim Barbour and his highly skilled vineyard crew oversee the management of the vines. When Martha is ready to harvest – she marks off specific blocks within the vineyards even down to specific vines. During a typical harvest often over 100 picks are executed – each one organized into specific lots within the winery and fermented and aged separate from any of the others. Small wooden tanks manufactured by Taransaud are used and fermentation is also conducted in barrel.
The cave is surprisingly large for such a small production – it is 20,000 square feet. However, based on their usage this begins to make sense; it also serves as storage – unlike many wineries, all their wines are stored on site including multiple vintages and case goods. Parts of the cave can be sectioned off for temperature control such as for malolactic fermentation. They also maintain their own lab on site – a luxury that affords the wine making team the ability to test in the moment and test more extensively, rather than sending specific samples out to a lab and then waiting for the results.
And all of their wines are bottled by hand on site.
Select Wines
The 2017 Sauvignon Blanc is extremely limited due to the tiny block of this variety – this vintage saw about 50 cases. A single varietal blend of two clones – Clone 01 (referred to as the Wente clone, originally traced to Chateau d' Yquem in Bordeaux) and the Musqué clone. Immediately aromatically appealing – is floral with notes of citrus, orange zest, an underlying subtle spice, minerality nuances and graphite on the bouquet. This wine sees no oak during its fermentation or aging, rather stays in stainless steel with some battonage. Feels supple and soft on the palate – textural weight without being heavy – a creaminess if you will. Long lasting flavor. Drinks very well by itself.
Impetuous is an accompanying label to Checkboard crafted from grapes growing on the Checkboard estate. The 2019 Checkerboard Impetuous Napa Valley Red Wine is a blend of 62% Cabernet Sauvignon, 30% Merlot, 4% Cabernet Franc and 4% Petit Verdot. It was aged for 28 months in French oak (30% was new). This wine is deep ruby in color; the bouquet is darkly fruited including of ripe blackberry along with with aromas of chocolate, marshmallow and a kiss of vanilla. A sweetness of fruit initially shows on the entry complemented with notes of baking spices including cinnamon. The juicy fruit-laden finish lingers with plum and blackberry. There is also a savory component with notes of crushed black pepper, tobacco spice and pixelated slightly-dry and long-lasting tannins. This bottling is delicious just by itself.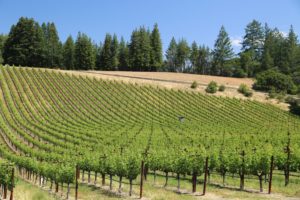 The 2014 Checkerboard Kings Road is a wine crafted as a barrel selection each year. It is always dominated by Cabernet Sauvignon. Created to be approachable young, this wine shows a very aromatic bouquet with darker fruits, cedar box, Asian spices and hints of mocha as it opens. Shows a pleasing mid palate softness yet depth of flavor throughout the long finish. Anchored by noticeable but well integrated tightly grained tannins.
The 2014 Checkerboard Aurora Vineyard is dark ruby in the glass; shows a generous depth of aroma offering notes of dust, meaty nuances including bacon fat, dark chocolate, cedar and dark fruits including blackberry and plum. A hint of spice is a more subtle nuance in a bouquet dominated by darker fruit characteristics. Shows a density of fruit – with plenty of 'stuffing' yet there is a balance – a seamless quality if you will, rich in flavor but without any harsh texture. Lingers nicely with both flavor and structure and grainy but not coarse tannins. Slightly chalky. This wine has lots of life ahead of it.
Over the years we have tried wines from Diamond Mountain featuring aggressive tannins – these wines are not like this at all – tannin management is certainly an integral part of the wine making team's efforts.
The first vintage from the property was in 2006 but was never released. 2007 was their first release, offered to their mailing list. Total production remains remarkably small – usually around 700 cases per year. Today about 80% of their wines are sold through their allocation list and the rest are selectively distributed, mostly to premium restaurant and retail outlets in New York, Florida, Chicago, Texas, California and Las Vegas. A very small percentage is distributed in Taiwan and in Switzerland.
—
In addition to Checkerboard Vineyards, in honor of their generous support, the cancer center at the nearby St. Helena Hospital is named the Martin-O'Neil Cancer Center (this center opened in 2010 and is affiliated with the University of California San Francisco).
For more information and to join their mailing list, visit: www.checkerboardvineyards.com
Estate

Vineyards