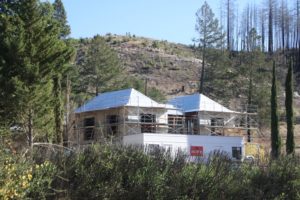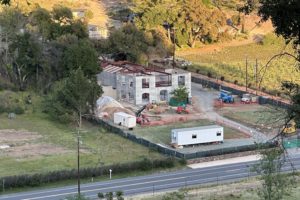 Château Boswell Winery is one of northern Napa Valley's stunning estates; the winery was founded by Los Angeles born Richard Thornton Boswell (RT for short, died in 2014), a dentist and lover of outdoor adventure who practiced in Laguna Beach. In the 1970s, he began investing in real estate and in 1979 purchased 10 acres of land – what would become the home of Château Boswell Winery (built in 1982). Their first commercial release was in 1979, merely several hundred cases. Their production has grown significantly since then yet still remains fairly small focusing on limited production hand-crafted wines (usually several thousand cases per year spread over a number of small lot wines).
Note: in 2020, tragically Chateau Boswell burned in the Glass Fire, one of the very early winery casualties from that particular fire. As of our latest update to this review, the winery is currently under construction. As of November 2022, Chateau Boswell began hosting guests again for tastings and tours. Construction is coming along nicely with the walls of the new building already in place as of early 2023. Construction should be completed sometime by Spring 2024. We will revisit and update this review accordingly once the new building has been completed. This review has been identified as needing a *major* update including tasting notes for current release wines.
André Tchelistcheff was their founding winemaker; he was instrumental in the layout and clonal choices for the original plantings of their estate vineyard. Arguably André was one of Napa Valley's most influential and well-respected winemakers. Born in Moscow his family fled the Russian Revolution of 1917 to Kiev. Later André joined the White Army and fought in the Russian Civil War on the Crimean Peninsula. At one point his unit came under machine gun fire – André was left for dead, and his father even held a funeral for him.
Eventually his family moved to France where he met Georges de Latour who was looking for a new winemaker for Beaulieu Vineyard. André agreed to come to the Napa Valley and arrived in 1938. He stayed with Beaulieu Vineyard for some 35 years before 'retiring' in 1973. However, his career didn't end then – he continued to significantly contribute to the local wine industry as a winemaker and soils expert and one of his numerous clients was Château Boswell Winery.
The estate vineyard, while very small features a diversity of terroir including volcanic ash, volcanic based red soil as well as rocky obsidian – all good soils for growing Cabernet Sauvignon. Nearby Glass Mountain is literally full of the black shiny obsidian rock that was so commonly used by Native Americans for hunting; part of their vineyard is strewn with these sharp pieces of volcanic black stones (only about a foot deep). Only 3.2 acres are planted to vine (approximately 80% Cabernet Sauvignon and 20% Cabernet Franc). The overall property is 10 acres with the majority of the land still forested, growing on rugged hillsides. The winery is nestled against the wooded hills in a secluded peaceful location within the valley – when one stands near their cave entrance and looks west – all one sees are the wooded hills.
Thornton was interested in developing the site as a real estate investment (with the intent to eventually sell the property) – but his wife Susan offered to help grow the brand and take their winery operations to the next level. She has certainly done so in the ensuing years. She oversaw the construction of a 14,000 square foot cave tunneled into the hillside. The floor leading to the cave features an obsidian inlay using stones from the property. The wine cave is functional yet at the same time aesthetically gorgeous. Much of the cave is tunneled through volcanic rock and a number of sections are left exposed to this bare rock. The property features plenty of water and some 25+ springs can be seen seeping through parts of the cave (a beneficial feature for helping moderate humidity).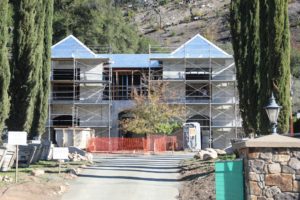 One cave tunnel connects with their existing winery; all the crush and fermentation takes place indoors. Older vintages of their Cabernet Sauvignon are stored in the small cave grottoes. During the tunneling, two large boulders fell down from one of the ceilings leaving a most unusual concave formation.
The formal and elegant tasting room is located on the upper level of the cave – however guests will sometimes taste within one of the lower cave grottoes. Visits to Château Boswell Winery are for serious wine enthusiasts and are not meant to be rushed. Their philosophy is to get to know their customers and a tasting is private and highly personable.
In the past couple of years, the Boswell family refocused their winemaking efforts; their winery used to be home to several custom crush clients, today the production facility is used entirely for their own wines. Arietta was the last brand to vacate the space. Past winemakers have included Luc Morlet and Russell Bevan; today their winemaker is well-regarded Philippe Melka (whose own winery is located a bit south of here).
Château Boswell Winery has a relatively long history in the Napa Valley and are producing elegant and inspired wines. This is a winery to definitely keep a close eye on and become familiar with their wines.
Select Wines
Their focus is on premium hand-crafted Chardonnay, Pinot Noir and Cabernet Sauvignon. There are numerous Chardonnay and Pinot Noir producers in the valley but very few who specialize in the high-end tier of these varietals. Château Boswell is one of these wineries.
Here is an example of their unwavering focus to using only the highest quality fruit. One vintage of Chardonnay had a production of 41 barrels. After their final sampling and blending they elected to use merely 8 of these barrels for their final released wine. This is a common thread that plays throughout their winemaking and is not just limited to the white wines. Some of their source vineyards not owned by Château Boswell Winery have been planted specifically upon their request. And these vineyards are very carefully selected. All their white wines are barrel fermented with non-indigenous yeast used for the primary fermentation. Each of their Chardonnay wines are sourced from premium vineyards in Sonoma County including the well-known Russian River region as well as other Sonoma coastal areas. And their Pinot Noir comes from much further to the south – the Santa Rita Hills in Santa Barbara County.
Our favorite Chateau Boswell Chardonnay is the 2005 Château Boswell Winery Dutton Ranch Braughton Vineyard (Wente Clone). Dutton Ranch produces premium Chardonnay for a variety of boutique producers. This vintage does not disappoint as it is extremely well focused on the fruit with intense flavors, vibrant acidity and overall is well-balanced. Mineral notes and nuances of lemon on the nose lead to a palate with notes of stone fruit, citrus and hints of vanilla.
The 2006 Chateau Boswell Dutton Ranch Chardonnay, but from the Martens Vineyard (Dijon clone) has a cloudy presence in the bottle due to no filtering or fining. This is a Burgundian style, Chardonnay. The nose is decidedly mineral in nature with note of dry crushed rocks. Nuances of lemon oil are found on the palate and the finish is clean and features a richness of flavor. This is an ideal food wine.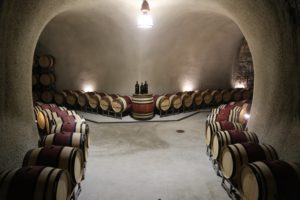 The 2007 Jacquelynn Cuvee Blanc is a 50/50 blend of Sémillon and Sauvignon Blanc. This wine was carefully made and only underwent partial malolactic fermentation. It is stirred 1x per week on the lees over about 6 months while in barrel. The vineyards for both of these varietals are carefully managed with extremely low yields based on their 1 cluster per shoot requirement. The results are concentrated fruit and a nice textured mouth feel. The bouquet is fairly refined with nuances of melon and pineapple with a palate layered in other fruit flavors.
The 2006 Jacquelynn 100% Beckstoffer To Kalon Cabernet Sauvignon is partially fermented in open top wood puncheons. This wine like their other reds is only made from free run juice (not the pressed juice after maceration occurs). This is a rich layered wine with black fruit aromas including blackberry and cherry with just a touch of vanilla. It is big on the palate with notes of blackberries carried over from the bouquet as well as nuances of black chocolate.
Château Boswell also makes several other delicious Cabernet Sauvignons one of which is sourced from premium vineyards in Oakville and the other is their only estate wine, a Cabernet Sauvignon typically blended in proportion with the Cabernet Franc growing on the property.
The 2004 Château Boswell "Beckstoffer Vineyard IV has a bit of Cabernet Franc blended with the Cabernet Sauvignon and produces a beautiful terroir driven wine with a dustiness and earthy quality to the nose – the smell of dust after a rain. This is a very rounded opulent wine with plenty of fruit showing mid palate through to the finish. Time the finish on this one – you won't be disappointed.
—
One can find their wines merely at 3 or 4 local restaurants and at the winery. The best way to gain access to their wines on a consistent basis is to join their mailing list. For more information to schedule an appointment and or to become a member, please visit: www.chateauboswellwinery.com
Wine Cave

Original Winery