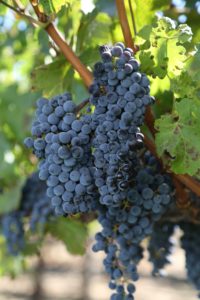 Charthia Cellars. Proprietor and winemaker Charles Keller discovered wine at an early age. Growing up in New Jersey in an Irish American Catholic family, he recalls that wine was not the beverage of choice. His first introduction to wine was when he tried dry red table wine to satisfy a curiosity in his early teen years. Later in his twenties he started exploring wines from Italy and France and as he learned more about wines he enjoyed, he started collecting wines from various producers including from the Napa Valley.
He was working for Ford Motor Company in New York City and commuting every day from the Jersey Shore into the city. The commute became taxing, the corporate world became just a job, as he says, "a job I had to do rather than what I really wanted to do". Wine had become such a passion that in his early 40's he quit his corporate job and decided to move to the Napa Valley and become a winemaker (without ever having visited the valley before).
When he eventually visited Napa for the first time – after landing at the airport he headed straight to a ZD Winery release party. He remembers driving up Highway 29 and the Silverado Trail constantly turning his head, distracted by the numerous wineries he was already familiar with – and wishing he could have stopped at each one. Rather than trying to find a job, he spent the rest of his week doing 'research' visiting and tasting at as many higher end wineries as he could gain access to.
He says the decision to go to Napa sight unseen wasn't that hard as he knew this was the epicenter of wine making and education in the country and was where he needed to be to change careers. He enrolled in the UC Davis extension program, packed up his belongings and moved across country with his girlfriend (Cynthia, who is now his wife and who also works in the wine business). And two dogs, one appropriately named Caymus. This was in 2005.
Charles worked at several wineries including Mondavi, Rudd and Raymond but it was at Jessup Cellars where perhaps he had the most impact and where he spent the longest amount of time. His experience there as assistant winemaker was invaluable; he was part of a team that saw production grow from 6,000 cases when he arrived to over 40,000 cases by the time he left.
He started making wine for himself in 2008 in his garage – and then became a bonded producer in 2009 (first vintage).
Not able to use his first or last name he and Cynthia decided to combine their names, effectively creating a new word as the name for their wine. 'Char' from Charles and 'thia' from Cynthia. In getting to know Charles you can see that butterflies have become a big part of his life – he and Cynthia are serious collectors of butterfly artwork and functional butterfly objects.
The butterfly represents his career and the process that grapes go through to become wine. His career has metamorphosed far from the urban world of New York City to a much more rewarding one based on his decision to follow his passion. And butterfly's appeal to many people. At public tastings, he has sometimes observed people stopping in front of his booth and offering to remove articles of clothing to proudly reveal their own unique butterfly tattoos (perhaps helped in part by several glasses of wine)!
Charles focuses on three wines each year – a Napa Sauvignon Blanc, a Napa Cabernet Sauvignon and a Pinot Noir from the Sonoma side of Carneros. He is in long term vineyard contracts, so his vineyard sources remain consistent each year.
His Sauvignon Blanc is aged in both stainless steel and some neutral oak barrels. Charles uses the oak to try and help round out the mid palate of this wine/variety. The 2014 Napa Valley Sauvignon Blanc was sourced from the Dalraddy Vineyard in Pope Valley. Initially the aromas show stone fruit, peach and nectarine but as the wine opens this aromatic profile moves more toward citrus (both citrus blossom and notes of lime). This wine is beautifully balanced – lean but not overly so. Long lasting rich flavors persist for some time on the finish – with notes of green and red apple.
The 2010 Cabernet Sauvignon (100% varietal) shows notes of cigar smoke, toasted caramel with darker cherry aromas. It is a brooding, deep bouquet that keeps evolving. As it continues to breathe, the bouquet reveals aromas of coffee grind and hickory spice. Shows an influence of oak on the palate, is somewhat briary and brambly (mid palate flavors) with great acidity and muscular somewhat chewy tannins.
The 2013 Cabernet Sauvignon represents a vintage that was showy, muscular – and on the whole in Napa, a very well received vintage. This wine was blended with 5% Merlot and 1% Petit Verdot. Shows more fruit on the bouquet then the '10 vintage (darker fruit) along with pretty spices including cedar and mocha. Balanced with mouthwatering acidity and flavors of dark cherry.
They produce between 1200 to 1500 cases each year, most of it sold direct. They have limited distribution in the Tri-state area of New York, New Jersey and Connecticut. Locally, you can find the wines at Cole's Chop House in the city of Napa.
Note: this review has been identified as needing a major update.
For more information and to join their wine club, visit: www.charthiacellars.com