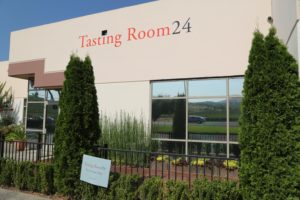 Charles Woodson Wines. Would you prefer to sit in Section 2, Section 21 or Section 24? This might be the question posed to you when you enter Tasting Room 24 in the "Crusher District" south of downtown. Non sports spans may be befuddled by this question but once you dig a little deeper into their history this question makes perfect sense. These sections represent the jersey numbers worn by owner Charles Woodson for each of the teams he played for. And this wine lounge and tasting room is sectioned off into these three areas – presumably to accommodate fans of each of those teams. Twenty Four Wines is named after Charles's jersey number he wore for the longest time in his career – as an Oakland Raider (now Las Vegas Raiders).
But if you are not a sports fan, this specific seating won't really matter. The tasting room is laid out very nicely – co owner and Director of Operations Rick Ruiz designed the bar seating and layout with communication in mind not only for the person pouring the drinks but also for customers. This is not a typical straight lined bar where you face the pourer but rather is in the shape of an H so guests always have eye contact with each other. For bar seating the tasting room is also very handicap friendly; a separate bar-top sits right next to the main bar for those in wheelchairs.
And one can only see through the tasting room windows in one direction – that is from the inside looking out. As a result, unlike most other tasting rooms who invite those to see inside from the outside – the tasting room here is about exclusivity and privacy. Sometimes when the Raiders were in town for training camp (when they played in Oakland), the tasting room would close at random times, presumably for private parties with current and retired players.
Most wine labels or tasting rooms are started by sports figures after they have retired. In 2015 co-owner Charles Woodson remarkably entered his 18th year in the National Football League – having played for his college team (University of Michigan) and two professional teams, the Green Bay Packers and the Oakland Raiders.
Charles Woodson enjoyed a storied career in the NFL (now retired) and certainly a long one where according to the NFL Players Association the average career length is only 3.3 years. Charles was born in Ohio, went to the University of Michigan for college and took home a Heisman Award trophy in 1997, beating another now prominent NFL player – Peyton Manning. He began his NFL Career with the Oakland Raiders, spent a number of years with the Green Bay Packers (where he won a Super Bowl) and currently is back with the Oakland Raiders
The Oakland Raiders have been coming to the Napa Valley for their annual pre-season training camp (at Napa Valley College) for many years. It was during the pre-season training camp in 1998 during his first stint with the Oakland Raiders that he was introduced to wine. Taking a break from football he headed up valley to eat – at Bistro Don Giovanni's. He was curious why many of the customers were already drinking wine at 1130am. Enjoying additional meals in the valley he noticed wine was an integral component with food. His curiosity was piqued.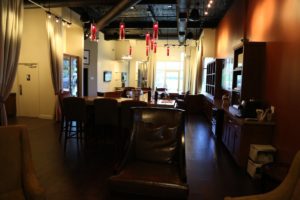 Rick was born and raised in St. Helena and worked in the wine industry for a number of years on the wine making side of the operations (10 years at Robert Mondavi). His introduction to Charles was totally random, helped by a bottle of Robert Mondavi wine. Timing is everything. During one night drinking at the old Saketini Asian Diner & Lounge in the city of Napa Rick met Charles. As Rick remembers, Charles was drinking at 1998 bottle of Robert Mondavi Merlot. Instantly recognizing the wine he helped make at Robert Mondavi he introduced himself to Charles and they soon bonded over wine.
Later when Charles was visiting Rick at Mondavi Winery, Robert Mondavi himself happened to walk by – recognizing Charles, Robert immediately congratulated him on winning the Heisman Trophy. Rick remembers being impressed that Mr. Mondavi was so up to date on the current happenings of collegiate sports!
As one might expect, the tasting room is liberally appointed with wide screen TV's all playing a variety of sports as well as plenty of memorabilia from Charles' collegiate and pro career. The atmosphere of the tasting room is conducive to meeting other guests – as Rick says half jokingly, "we needed a place to hang out ourselves". They have certainly done that and then some. Rick has thoughtfully inserted USB ports and electrical outlets under the tasting counter and throughout the lounge. The sizable spittoons could easily catch a football, not that one would throw a football there way. Guests can control what music is playing at any given time – subject of course to the tastes of those present.
Charles Woodson Wines opened this tasting room to the public in September 2015. Walk-ins are welcome -the one day of the week they are by appointment is on Tuesday. The winery is a member of the Crusher District (named after the prominent Crusher statue not far from here) – an organization of smaller, out of the way production facilities with small tasting rooms operated by wineries in this business park. One advantage Charles Woodson Wines has over the more hidden wineries in this district is they are facing the busy highway 29 and are open by walk-in. There is no shortage of parking.
Not only does the tasting room pour their own wines but when fully stocked they will have approximately 70 different labels on site to choose from including a variety of sparkling wines, beer and wine. Uber is an important partner and a Internet station on site easily allows for making reservations with Uber, suggested restaurants, hotels and the neighboring Crusher District wineries.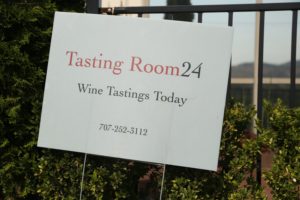 A large room to the side of the tasting bar is for private events and live music or more often, an overflow room. A pay as you go Wine Station is located here containing a number of prior vintages – automating the serving process (by the glass). An appellation wall features wines from 16 of Napa's Sub Appellations ranging from Carneros to Calistoga.
They are licensed to sell cigars – a small outdoor patio with a fountain and a tiny bit of seating is available and this is a nice place to enjoy a cigar on a warm late afternoon.
Charles Woodson Wines leases a 12-acre vineyard in southern Calistoga (just west of Sterling Winery which is planted to Sauvignon Blanc and Cabernet Sauvignon. These are the only two wines they produce – a typical production is usually several thousand cases each year. They started making wine in 2001 (a barrel of Merlot which they donated to charity) but did not release their first commercial wine until 2006. Their winery (4,000 square feet in an old sausage factory has been refurbished for winery operations) is located slightly further west of the tasting room in the same business park (first crush 2015). The wines are available at a number of downtown Napa restaurants – often by the glass. Several include City Winery and Celadon.
For a relatively young producer the wines have already received some nice accolades – the 2010 Cabernet Sauvignon was listed as the top 100 wines of that year by the Wine Spectator.
The 2014 Sauvignon Blanc was aged and fermented in mostly stainless steel. As Rick says this wine was crushed, fermented, aged and bottled – with a more hands off approach to wine making. It is floral on the bouquet with citrus blossom and dessert spices. It is a balanced clean wine – notes of a lemon lime zest linger delicately. They also bottle some of this wine in kegs – tapping the restaurant market.
The 2010 Cabernet Sauvignon shows a deep dark brooding bouquet. Blackberry and a black licorice liqueur frame layered aromatics. The palate is well balanced. These particular tannins certainly contribute to the pleasing mouth feel on the finish – they are chewy and dusty yet soft and delicate. They are certainly noticeable and linger softly for some time on the finish.
And in addition to wine, Charles Woodson is a compassionate philanthropist – he established and runs the Charles Woodson Foundation which provides funding to students studying Kinesiology in college. Charles is also a major benefactor to the CS Mott Children's Hospital & Von Voightlander Women's Hospital in Ann Arbor, Michigan.