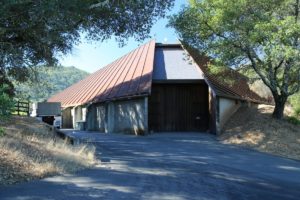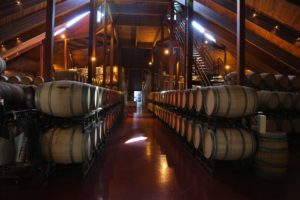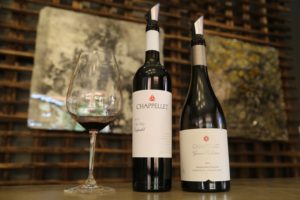 Chappellet Winery is located on the slopes of Pritchard Hill, arguably the Napa Valley's best known 'neighborhood' to not yet be designated with its own sub appellation. Pritchard Hill is named after the first settler in this part of Napa Valley, Charles Pritchard. He first planted grapes here in 1882 and the Chappellet property is where he used to live. Chappellet owns the trademark rights to Pritchard Hill, otherwise perhaps by now the region would be another one of Napa Valley's official sub AVAs.
Chappellet Winery is one of the older family-owned wineries in Napa Valley. During the early part of our project, their name came up in conversation more than a few times during our visits to other Napa wineries. Apparently, they have strong support among tasting room hosts at other wineries 🙂 Chappellet was the first of the "late 60s and early 70s" generation of wineries to be built in Napa Valley. During the 30+ years prior to when Chappellet was founded, very few wineries were built in Napa Valley. Aside from a number of wineries constructed immediately after Prohibition was repealed, it was some 50 years after Prohibition before Napa really started seeing an increase in new wineries and producers.
The Chappellet family has a rich, successful and lengthy legacy in California. Chappellet Winery founders Donn (died in 2016) and Molly Chappellet, a couple from Beverly Hills, wanted to raise their family in a more rural setting and moved to Napa Valley in the mid to late 1960s.
Donn Chappellet was not the only remarkably successful businessman and entrepreneur in his family; his great-great grandfather Felix immigrated to the USA from France and became involved in the gold mining industry. Throughout his mining career, he was associated with northern California mines such as Eureka, Mayflower and Indian Springs (either as owner or superintendent). Donn's grandfather Felix Jr. was also in the mining business including for oil in southern California. Donn's father Cyril Chappellet and partners had the foresight and personal connections to raise capital and purchase the assets of then bankrupt Lockheed Aircraft Corporation during the depression in 1932. They grew this company into a major aerospace company, ultimately making billions of dollars in sales each year. Editor's note: Lockheed Martin was the first major cash sponsor of a solar racing vehicle built at Cal Poly San Luis Obispo – through the Solar Car Club, a friend and I restarted in the late 1990s.
In 1954 Donn co-founded the very successful Interstate United Corporation, a food service company that enjoyed remarkable growth by distributing the first vending machine that made fresh coffee from coffee grounds. At one point the company had approximately 8,000 employees and had diversified into restaurants in New York and also hospital food services. Donn sold his shares in 1966 and he and Molly founded Chappellet Winery the following year – buying hillside property on the advice of André Tchelistcheff who recommended growing grapes at higher elevations.
But wine was already on Donn's mind prior to his move north. He collected French wines and was already familiar with some of the old Napa standbys at that time including Inglenook and Charles Krug.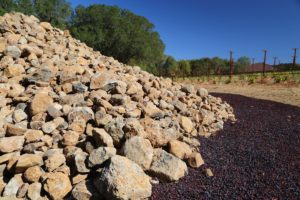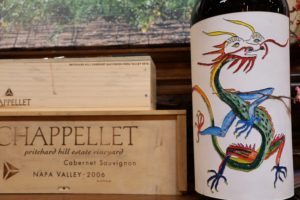 He and Molly raised six children; remarkably all six are involved in the winery operations in some capacity. They moved here before Napa Valley was well-known; they had a bit of foresight, timing and perhaps a touch of luck as their property has been proven over the decades to be optimum for growing Bordeaux varieties. The popularity of Pritchard Hill for growing premium grapes is clearly evident today; simply look at all the wineriers and or vineyards who are now neighbors of Chappellet including Bryant Family, Continuum and a bit further, Colgin.
The first vintage from Chappellet was in 1967, a Chenin Blanc and a year later in 1968, they produced their first Cabernet Sauvignon (not very widely released). The storied 1969 vintage of Chappellet Cabernet Sauvignon was built to age and helped put them on the map so to speak – only about 400 cases was made. Both varieties were already growing on the property planted by previous owner Ed Harten, along with Napa Gamay and Riesling having been planted in 1964. The winemaker at that time was Philip Togni (who later founded Togni Vineyards on Spring Mountain). Other notable winemakers at Chappellet over the years included Joe Cafaro, Tony Soter and Cathy Corison.
And not in winemaking but rather in marketing, was Jack Daniels who was Chappellet's National Sales Manager starting in 1976 for a short while before co-founding what has become a very well-known wine marking and sales company, Wilson Daniels in 1978. And Chappellet was one of their first two wine clients (the other being Cuvaison).
—
Their certified organic vineyards range in elevation from about 800 to 1800 feet and approximately 110 acres are planted to vines. Parts of the property offer picturesque views including looking down on Lake Hennessy in the distance, the backup water supply for the city of Napa. The vineyards produce high quality grapes but also plenty of rocks with a significant iron content. Every time they have to replant, they remove numerous rust-colored well oxidized rocks which are then stacked in piles next to the vineyards or used for landscaping.
A diversity of vines are planted on the property; the most common are Bordeaux red varieties but surprisingly (for Pritchard Hill) they also grow Chenin Blanc. They used to have 22 acres on site of this variety which they eventually pulled out due to virus issues. Today they have about three planted acres on their property located directly behind the winery. This variety is highly challenging to find in Napa – only 7 planted acres were listed in the 2017 Napa County Crop Report although a limited number of additional acres have since been planted.
The winery is at the end of a very small narrow winding road off of Sage Canyon Road. When guests make an appointment for a tasting or tour, the winery will email directions as online maps generally do not show their driveway or exact location.
Take a look at their logo; can you guess how it was formed? Do a fly over of the winery (or simply view the provided aerial photo at the winery) and you will see that the winery building is a series of three triangles put together just like their logo. When visitors walk up to the winery entrance past the local vegetation the building looks very small. However, once you are in the barrel room you can better gauge the size of the winery. It is a testament to the architects that they were able to successfully blend this sizable building into the natural setting.
A tour and tasting is offered at set times each day by appointment only. These tend to book up well in advance, especially during spring through autumn. A typical tour involves walking through the winery facilities with a glass of wine in hand. Weather permitting, visitors will also take in a quick educational visit to the vineyards next to the main winery building. Numerous bottles of wine are on display in their barrel room (some dating back decades). Tastings are seated in secluded spaces surrounded by oak barrels.
A part of the property, appropriately called The Meadow is located below the winery and offers stunning vistas overlooking the surrounding Vaca mountains. This space is reserved for wine club members who are also allowed to picnic here.
Phillip Corallo-Titus has been Chappellet's winemaker since 1990 who was hired by then winemaker Cathy Corison. That means a lot in this industry where often it seems that winemakers move from winery to winery every few years. Philip's wife Laura is an artist and sometimes her works are on display in their barrel room. However, Laura is certainly not the only artist whose works have been displayed at the winery – the Chappellet's are very creative (authors, photographers, videographers, sculpture and various other art mediums). Donn & Molly's daughter Carissa creates a unique colorful dragon on the label of every vintage for their Malbec and she also wrote a book called The Dragons of Pritchard Hill. As a lawyer, she assists with the legal needs of Chappellet. And Molly Chappellet has written or co-authored several books including Gardens of the Wine Country, A Vineyard Garden and Into the Earth: A Wine Cave Renaissance.
Select Wines
Chenin Blanc is not a common variety grown in Napa Valley today. We have heard statistics that over 3,000 acres of Chenin Blanc used to be planted in Napa Valley as recently as 1980. Several producers we are aware of who grow this in Napa Valley include Ballentine Vineyards, on site of what was formerly Casa Nuestra Winery, old vines above Pope Valley and a small vineyard in the Oak Knoll District. Not many Napa Valley producers can say their first wine ever created and sold was a Chenin Blanc and of the few producers in the valley of this wine, hillside grown Chenin Blanc is even more rare.
The 2019 Chappellet Chenin Blanc was fermented to dryness in both neutral French oak barrels and stainless-steel tanks. Sports riveting aromatics including dried straw after being wet for the first time by a recent late summer rain, jasmine, citrus blossom, lemon zest and more subtle notes of apricot. The bouquet shows both a sweetness of fruit and floral characteristics. Smells alive. Smells like springtime. Very balanced this wine glides across the palate with a supple quality from start to finish. It offers flavors of green apple, lemon and tangerine and is very refreshing to drink by itself. A smooth clean finish with bright mouthwatering acidity. But not tart. Shows more richness and concentration then the few other Napa Valley grown Chenin Blancs we have tried.
Chappellet used to produce a natural botrysized wine from Chenin Blanc labeled as Moelleux. If you can find some of these rare bottlings, get them.
The 2019 Chappellet Merlot Napa Valley is deep ruby in the glass with a pinkish/purple hue on the rim; the bouquet is brooding, it speaks of forest floor, wild game, road tar, roasted coffee beans, a sweaty leather which reminded us of the smell of old baseball mitt being used on a hot day, truffle oil, mushroom, crushed peppercorn, plums and a dark baking spice and dark chocolate found deeper in the bouquet. This wine is dank (in an unusual positive sense of this adjective), dark and layered. We love wines with aromatic character and this bottling certainly delivers in that regard. The palate is primarily darker fruit flavored including of blackberry, plum, cherry and dark chocolate with a note of dark pepper, especially noticeable on the finish. The palate is not as savory as the bouquet. The rounded tannins sport a light to moderate and integrated grip. Incidentally Chappellet used to grow Merlot on Pritchard Hill until 2017. This vintage is a blend of 76% Merlot, 12% Cabernet Sauvignon, 9% Malbec and 3% Petit Verdot and was aged for 22 months in French oak barrels of which 40% were new.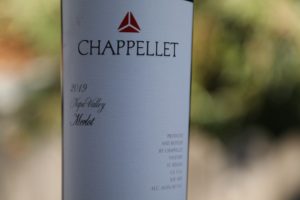 The 2017 Chappellet Cultivation is a proprietary blend of 65% Zinfandel, 23% Malbec, 7% Petit Verdot and 5% Petit Sirah. This was one of their coveted 50 year since their founding vintage wines. Dark in the glass. It is spicy and savory initially with darker fruit aromatics up front including toasted cedar and darker dessert spices including clove and cardamom. Chocolate brownie. Espresso. Dried herbs. Ripe plum and blackberry on the palate. Succulent and juicy especially on the finish with rounded integrated tannins. Lingers with some final notes of mocha. This wine over delivers for the price point.
The Chappellet Signature Cabernet Sauvignon is what one would expect of a premium hand-crafted Napa Valley wine from this variety; hallmarks of this wine are its velvety feel across the palate and rich fruit with a lengthy finish. The storied 1969 vintage sold for $3 a bottle. In 1980 Donn signed every bottle of the approximately 400 cases of this wine produced that year. His personal signature on all the bottles represented how he felt about this particular vintage. He did not sign the next three vintages; 1984 was particularly a special year so he again signed these bottles. Starting in 1989 his signature was printed on each bottle of this wine regardless of the vintage.
The 2014 Chappellet Signature Cabernet Sauvignon (76% Cabernet Sauvignon, 9% Petit Verdot, 6% Malbec, 5% Cabernet Franc, 4% Merlot) is well layered aromatically; as it opens it shows a dusty smoky note, with almost coffee like nuances to the bouquet. Plenty of fruit shows as well including blackberry and boysenberry. This wine is packed with flavor and long-lasting granular tannins. The approachability of both the fruit and the structure in its youth was representative of this particular vintage. Very long finish.
We tried a 1976 Chappellet Napa Valley Cabernet Sauvignon that Dominic Chappellet brought to one of Press Restaurant's Napaulée events. For us, this was the highlight wine of the evening, among a number of old and rare beauties from Napa Valley and beyond.
The Hideway bottling is always 100% Cabernet Sauvignon. Its name is taken from an old hunting lodge on the property that is now home to Cyril Chappellet (Donn and Molly's son). He converted 3 of the original 7 cabins. Incidentally he is a talented wood worker and some of the furniture in the winery was crafted by him including a gorgeous long black walnut table used to host slightly larger groups.
And Chappellet's premiere Cabernet Sauvignon is the Pritchard Hill bottling. This wine is blended with several other Bordeaux red varieties.
Chappellet Grower Collection, Sonoma (permanently closed)
This tasting room is permanently closed but we keep our notes and photographs here for historical reference. The Chappellet Family of Wines also owns Sonoma-Loeb in neighboring Sonoma County (acquired this winery in 2011) and in 2016 opened the Sonoma-Loeb tasting room just off the square in the town of Sonoma (at the end of what is called Vine Alley). In October 2017, Chappellet converted over this existing tasting room to the Chappellet Grower Collection space and operated the tasting room until 2020.
Tastings were held at their bar, at tables inside the main room, a private side room hosted small groups and weather permitting a number of tables were wrapped around part of the building.
Tastings would focus on Sonoma County wines from premium vineyard sites in select parts of the county including Dutton Ranch and the nearby Sangiacamo Vineyard. Unlike most tasting rooms over in Napa Valley where Cabernet Sauvignon is often the showcase varietal, wines poured here were lighter style including several whites and Pinot Noir.
The 2017 Chappellet Grower Collection Sangiacomo Chardonnay is straw yellow in the glass showing both floral notes (citrus blossom) as well as lemon zest and a hint of crème Brule as the wine continues to breath. Layered and vibrant at the same time this is a very well-balanced wine with flavors of lemon, lime and a lingering tangerine nuance. Great acidity. Dances across the palate.
The 2013 Chappellet Grower Collection Napa Valley Zinfandel (the only Napa Valley wine showing in the tasting room at the time of our visit) was sourced from the end of Wall Road in Mt. Veeder from Bald Mountain Vineyard (45+ year old vines). Dark ruby red in the glass the bouquet offers generous aromas of spicy plum, blackberry and dried herbs. Supple on the entry, shows good acidity on the palate with a lingering mouthwatering juiciness complemented by a lively well integrated tannins.
Total production of the Chappellet wines is approximately 70,000 cases each year using both their estate fruit as well as fruit they source from other vineyards (IE, their Napa Valley Chardonnay or Napa Valley Zinfandel). Chappellet celebrated a milestone in 2017, their 50th anniversary. The wines are sold direct and through retail outlets across the country and selectively in Canada and parts of Europe. For the site, pedigree, and overall quality – their wines are priced quite reasonably.
Wine club member enjoy a variety of perks including the possibility of one of the Chappellet team members hosting a private wine tasting in your home. A limited number of special and memorable Chappellet dinners are hosted in beautiful venues througotu the dinner. y. For more information, to schedule a visit and or to join their mailing list or become a wine club member, visit: www.chappellet.com
Winery & Grounds

Barrel Chai

The Meadow
Photographs coming soon.
Vineyards