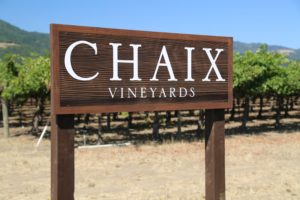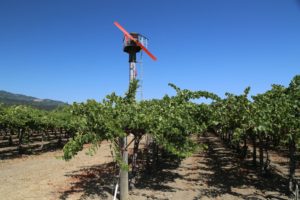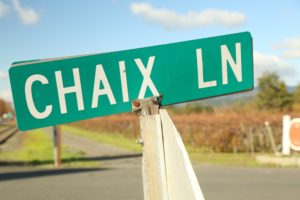 Chaix Wines (pronounced like 'shex' although some in the family pronounce it like 'checks') is a partnership between Kathy and her brother John Chaix. The focus of their efforts is on a historic 37 property planted to nearly 34 acres of vines – all to Cabernet Sauvignon (several different clones). The vineyard is separated into 7 unique blocks. This is prime Rutherford terroir – nearby neighbors include a Phelps Vineyard, Inglenook, Scarecrow's 'ancient' Cabernet Sauvignon vines, Staglin, Swanson and the acclaimed Morisoli Vineyard. And while the family selectively sources grapes for the Chaix wines from their property, they continue to sell grapes to several other premium Napa Valley based wineries.
Soils here are benchland in nature, alluvial, loamy, rich in nutrients and deep, having been deposited here over the eons from the nearby Mayacamas mountains to the west. Their vineyard while on the valley floor is still slightly higher in elevation compared to vineyards just to the east of this site and across Highway 29.
The Chaix family history in Napa Valley can be a bit confusing at times due to similarly named properties, name changes, amount of property holdings and numerous changes in ownership over the decades. Kathy and John's great-grandfather Adrienne Pierre Chaix (A.P.) and his brother Jean V. Chaix immigrated to Napa Valley from a small town of Gap in Provence, France. Adrienne purchased the existing Chaix family Rutherford property in 1909. At the time it was 80 acres, but the family sold off part of their property in the 1980s to Joseph Phelps Winery. Like many other valley floor vineyards, it has seen a diversity of agricultural crops over the years; the land was previously planted to walnut orchards and prunes, although some wine grapes have been continuously planted on the property since 1909.
This was not the only property that Adrienne Chaix was involved in; together with his brother Jean, they purchased land in Rutherford, Oakville and on Howell Mountain including founding Brun & Chaix Winery at Nouveau Medoc Vineyard, the property that used to be home of Chateau Woltner, then Ladera and currently, 13th Vineyard by CADE Estate. A Napa Register article dated March 20th, 1885, mentions Jean as "a pioneer grape grower on Howell Mountain" and continues with "For vineyard work, Mr. Chaix cannot be surpassed'.
Adrienne also founded the French American Wine Company, with vineyards and wineries in Rutherford, Healdsburg, and Cloverdale.
According to Kathy, Adrienne was involved with some 600 acres in Napa Valley at one point. Incidentally Adrienne's brother Jean Chaix was a business partner with a gentleman named Jean Adolphe Brun in Brun & Chaix Nouveau Médoc Winery, California's 9th bonded winery (which today is the site of Napa Wine Co in Oakville) and is only a several minute drive south of the Chaix property. A St. Helena Star article from November 30, 1877, references that Nouveau Médoc Winery produced 10,000 gallons in its first year of production. Brun & Chaix also operated a sizable grapevine nursery; at its height it contained over 100,000 cuttings of French varieties.
Brun & Chaix's Nouveau Médoc Winery in Oakville was sold in 1916 to the California Wine Association (CWA). After CWA sold Brun & Chaix, the winery's name was changed to Covick Company in 1923; during Prohibition, San Francisco based Covick Company established a strong trade in sacramental wines including the Brun & Chaix brand of altar wines which were produced on site. During Prohibition the winery would ship train car loads of wine to various cities across the country. A 1920 article dated September 24, 1920, referenced the Covick Company owned winery was producing up to 400,000 gallons that year. Other articles we have seen referenced the property at one point holding up to 2 million gallons of finished wine.
A row of eucalyptus trees grew in front of the winery in the late 1920s but after a windstorm in 1927, the winery elected to remove all of the trees.
In 1940 Covick Company sold their production facility to Louis Stralla, one of the seven founding members of the Napa Vintners Association. At the time of this sale, Covick Company operated the second largest winery facility in Napa Valley behind Greystone Cellars. After the purchase Stralla renamed the site to Napa Wine Company. He purchased the winery this year because his lease at Charles Krug Winery was expiring; he leased Charles Krug Winery from the owner at the time, James Moffitt, several years prior to Moffitt's sale to the Mondavi family in 1943. During Stralla's ownership of the property he produced wines under the Betsy Ross label and grew production into the largest independently owned winery in Napa Valley.
The property was sold several times over the years including finally in 1993 to the current owners of Napa Wine Co, the Pelissa family.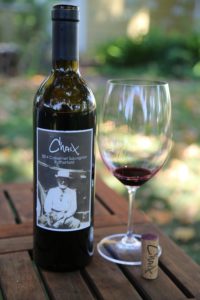 The Chaix property is a working ranch – as Kathy says, we are "maintaining a constant state of repair" or working to preserve the heritage of this particular site. When her great-grandfather purchased the property, he built a water tower; this original tower still stands. Water towers such as these used to be fairly common in Napa Valley, but as municipal water supplies were introduced, their needs greatly diminished and now the few that are left in the valley are often iconic structures for specific properties. The ranch house was already built at the time of his purchase; this home dates from the 1880s.
Kathy has enjoyed a variety of careers; she was an English major at UC Berkeley, spent 8 years in London working for United Press International (UPI) and while living in Newport Beach (Southern California) founded the Women's Varsity Lacrosse Program at Corona del Mar High School. And John runs Chaix Law with offices in Newport Beach, Walnut Creek and Sacramento. His firm focuses on construction defect law.
In 2008 with the centennial year of family ownership of their Rutherford property approaching (four generations of ownership), Kathy realized their vineyards had been providing grapes to a number of premium wineries for decades but that her side of the Chaix family had never bottled their own wine for commercial release. Ready for a career change she began to explore the idea of making wine from the property under their own brand.
She recalls reaching out to Art Finklestein (the proprietor at the time of Judd's Hill Winery). He lent her a truck and two t-bins and Kathy made the first vintage of Chaix Cellars in 2008 (with Art's consulting help). This was merely 40 cases of wine. Later vintages grew to 500 cases with current production approximately 1,000 cases per year.
For subsequent vintages, Kathy hired noted winemaker Sam Baxter (of Terra Valentine); Sam produced several vintages followed by winemaker Sara Fowlerr, noted for her work at nearby Peju Winery, who also produced several vintages (but is no longer the Chaix winemaker).
The focus is simple – hand craft a single wine, from a single varietal (100% Cabernet Sauvignon) from organically farmed grapes sourced from the same block on their Rutherford property every year. This has been their modus operandi every year since their inaugural vintage in 2008. Looking to produce an accompanying lighter styled wine, yet still use estate fruit, Kathy produced a rosé of Cabernet Sauvignon for the first time in 2017; Chaix continues to produce this wine each year.
Select Wines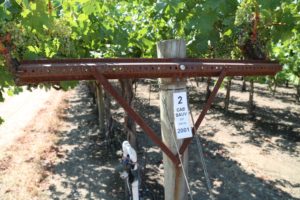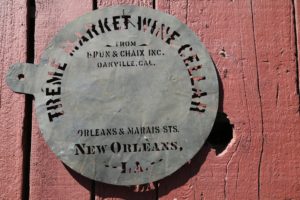 The 2019 Chaix Cabernet Sauvignon (100% varietal) is deep ruby in color; the bouquet offers aromas of red plum, cherry, raspberry, forest floor, mushroom and old cedar box. This latter aromatic reminded us of the smell of an old velvet lined cedar jewelry box our grandmother gifted us several decades ago. The brightly lit palate echoes the bouquet to some extent and sports flavors of red plum, cherry, raspberry and cranberry. The tannins are already very well integrated on the finish, perhaps a characteristic of this particular vintage. This wine lingers with their lightly grainy grip and a red-fruited mouth-watering liveliness. Balanced, savory and refreshing. It spent 25 months aging in French oak barrels, of which 66% were new: Taransaud, medium+ toast.
The 2018 Chaix Cabernet Sauvignon (100% varietal) is dark ruby in the glass; the bouquet is filled with ripe and expansive primary fruit aromatics including of blackberry late in the summer, blackberry preserve, black licorice and dark plum along with some secondary aromas of milk chocolate, cardamom, mocha and dried tobacco leaf. An appropriate word to describe the bouquet is hedonistic. Offers flavors of red cherry, red plum, currant and dried herbs. Lingers with mouthwatering acidity, red fruits, a hint of dried tobacco leaf and chewy, dusty, slightly dry and medium structured but dense tannins which continue to persist for quite some time on the long finish. This wine spent 25 months in French oak barrels, of which 66% were new.
The 2014 Chaix Cabernet Sauvignon is noticeably dark in the glass; it reveals a beautiful bouquet rich in character and depth of aroma. Two words that might not always get along can be used to describe this bouquet; power and elegance rolled into one. Dark fruit (plum and blackberry) show along with additional aromas of dust, cocoa powder and milk chocolate. There is also a floral note with subtle aromas of dried herbs. This wine needs some time to initially open but when it does it the aromas are even more generous. Balanced on the palate but with very good concentration. Offers flavors of blackberry, dark plum and black licorice. The tannins are dusty/earthy and are fairly polished (for being such a young wine) and are integrated nicely into the finish. It is very approachable young; however, this wine has the hallmarks of being able to age for some time including excellent acidity.
The 2022 Chaix Rosé of Cabernet Sauvignon is deep pink in color; this wine was intentionally made as a rosé (no saignée) the bouquet offers aromas of strawberry, cranberry, pomegranate, red cherry, and as the wine continues to breathe, a note of watermelon jolly rancher. This is not a light rosé on the palate and its intensity of flavor is immediately noted. It offers flavors of strawberry, raspberry, cran-apple and watermelon. This union of flavor continues to persist for quite some time on the lengthy and mouthwatering finish. The wine's energetic acid balances out nicely its lightly rounded texture. Refreshing. Bottled as a screw cap.
The 2021 Chaix Rosé of Cabernet Sauvignon is pale copper in the glass. This wine is a completely different color than the 2022 vintage due to its winemaking style as it was made by what the French refer to as saignée (bleeding off the juice after a short contact with the skins and seeds). This wine offers aromas of jolly rancher watermelon, raspberry, lime, green apple and some minerality nuances. It also offers a faint hint of dried straw. This wine is bright across the palate with lively acidity and similar flavors shown on the bouquet including of raspberry, green apple and lime. The palate is clean and balanced with a slight creamy texture; this wine drinks nicely by itself. Bottled as a screw cap.
—
And in a nod to their great-grandfather, the early wine label was an image of him in his later years while the present-day label for the Cabernet Sauvignon features a photographic triptych of the Chaix vineyard and the Mayacamas mountains in the background.
Distribution is extremely limited – rather the focus is a grassroots direct to consumer approach and through their wine club. Chaix wines is a member of Rutherford Dust Society (the appellation organization promoting its Rutherford wine producer members) and pours the wines at some of their events as well as select other tastings. Sometimes their wines can be found locally including at the nearby Oakville Wine Merchant next door to the Oakville Grocery (visitors can browse the museum upstairs and read some about Brun & Chaix Winery) and at select restaurants in Orange County, CA. For more information and to join the wine club or their mailing list, visit: www.chaixwines.com
Video from Wine Express