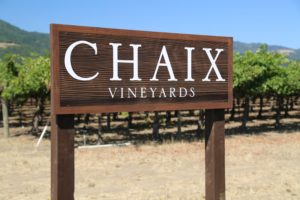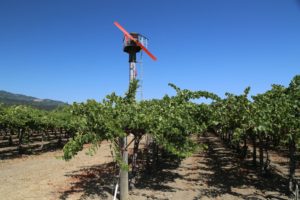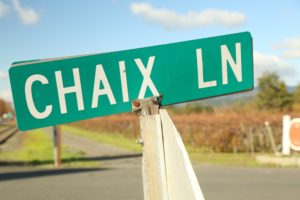 Chaix Wines (pronounced like 'checks') is a partnership between Kathy and her brother John Chaix. The focus of their efforts is on a historic 37 property planted to nearly 34 acres of vines – all to Cabernet Sauvignon (several different clones). The vineyard is separated into 7 unique blocks. This is prime Rutherford terroir – nearby neighbors include a Phelps Vineyard, Inglenook, Scarecrow's 'ancient' Cabernet Sauvignon vines, Staglin, Swanson and the acclaimed Morisoli Vineyard.
Soils here are benchland in nature, alluvial, loamy, rich in nutrients and deep – having been deposited here over the eons from the nearby Mayacamas Mountains to the west. Their vineyard while on the valley floor is still slightly higher in elevation compared to vineyards just to the east of them and across Highway 29.
Kathy and John's great-grandfather Adrienne Pierre Chaix purchased this Rutherford property in 1909. At the time it was 80 acres but the family sold off part of their property decades ago. Like many other valley floor vineyards it has seen a diversity of agricultural crops over the years – previously planted to walnut orchards.
This was not the only property that Adrienne Chaix was involved in – together with his brother Jean V. Chaix, they purchased land in Rutherford, Oakville and on Howell Mountain. According to Kathy, Adrienne was involved with some 600 acres in the Napa Valley at one point. Incidentally Jean Chaix was a business partner with a gentleman named Jean Adolphe Brun in Brun & Chaix, California's 9th bonded winery (which you might recognize today as the site of Napa Wine Co in Oakville).
This is a working ranch – as Kathy says, they are "maintaining a constant state of repair" or working to preserve the heritage of this particular site. When her great-grandfather purchased the property he built a water tower; this original tower still stands. Water towers such as these used to be fairly common in the Napa Valley but as municipal water supplies were introduced – their needs greatly diminished and now the few that are left in the valley are often icons for specific properties. The ranch house was already built at the time of his purchase – this home dates from the 1880's.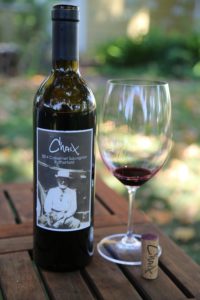 Kathy has enjoyed a variety of careers; she was an English major at UC Berkeley, spent 8 years in London working for United Press International (UPI) and while living in Newport Beach (Southern California) founded the Women's Varsity Lacrosse Program at Corona del Mar High School.
In 2008 with the centennial year of family ownership of their Rutherford property approaching (four generations of ownership), Kathy realized their vineyards had been providing grapes to a number of premium wineries for decades but that the Chaix family had never bottled their own wine for commercial release. Ready for a career change she began to explore the idea of making wine from the property under their own brand.
She recalls reaching out to Art Finklestein (the proprietor at the time of Judd's Hill Winery). He lent her a truck and two t-bins and Kathy made the first vintage of Chaix Cellars in 2008 (with Art's consulting help). This was merely 40 cases of wine. Later vintages grew to 500 cases with current production in the 1000 case range.
For subsequent vintages, Kathy hired noted winemaker Sam Baxter (of Terra Valentine); Sam has made every vintage since.
The focus is simple – hand craft a single wine, from a single varietal (100% Cabernet Sauvignon) from grapes sourced from the same block on their Rutherford property every year. This has been their wine making program every year since their inaugural vintage in 2008. Looking to produce an accompanying lighter styled wine – yet still use estate fruit, Kathy will make a rosé of Cabernet Sauvignon in 2017.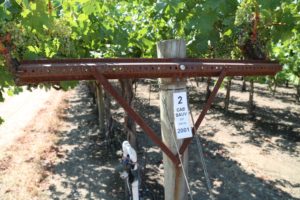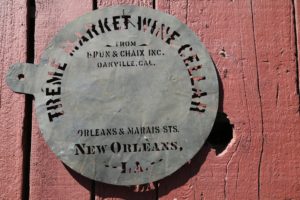 The 2014 Chaix Cabernet Sauvignon is noticeably dark in the glass; it reveals a beautiful bouquet rich in character and depth of aroma. Two words that might not always get along can be used to describe this bouquet; power and elegance rolled into one. Dark fruit (plum and blackberry) show along with additional aromas of dust, cocoa powder and milk chocolate. Also a floral note with subtle aromas of dried herbs. Needs some time to initially open but when it does it the aromas are even more generous. Balanced on the palate but with very good concentration. Flavors of blackberry, dark plum and black licorice show. The tannins are dusty/earth and are fairly polished (for being such a young wine) and are integrated nicely.
Very approachable young; however this wine has the hallmarks of being able to age for some time including excellent acidity.
And in a nod to their great-grandfather, the wine label is an image of him in his later years.
Distribution is extremely limited – rather the focus is direct to consumer via their wine club. For more information and to join the wine club or their mailing list, visit: www.chaixwines.com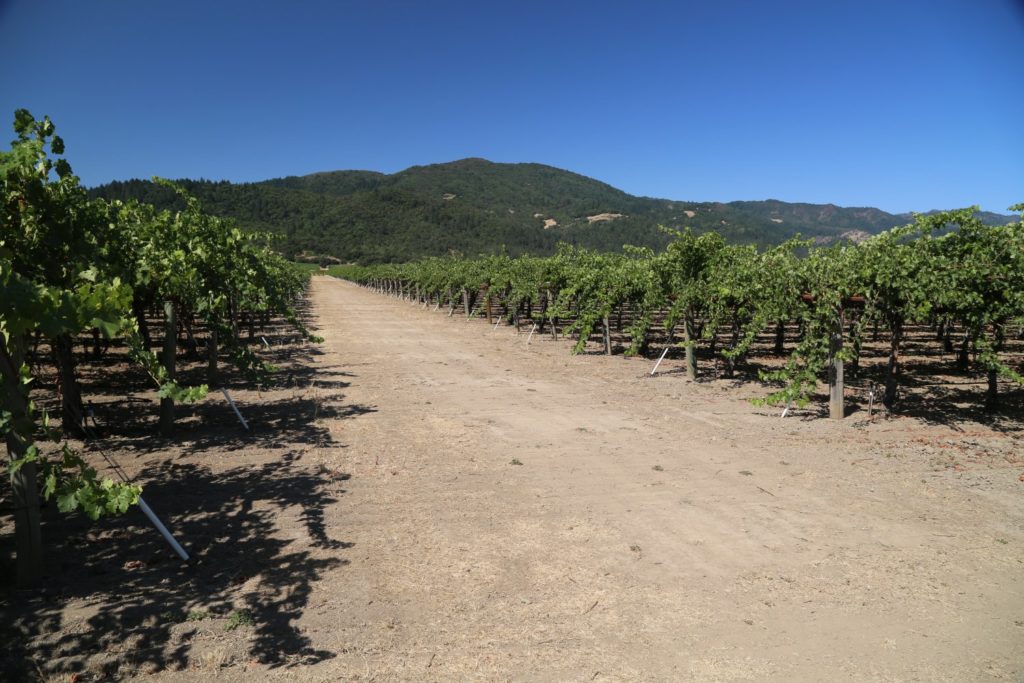 Video from Wine Express