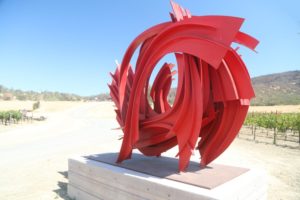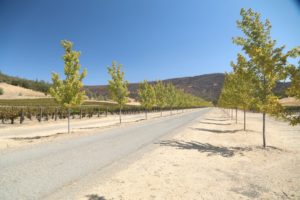 Cervantes Family Vineyards. Proprietor Xavier, his wife Cecilie and their three children, Jeronimo (Jero), Ana and Ximena are from Mexico City. Jero (who we met with) recalls the family always interested in food and wine and the kitchen was an important part of their lives. He recalls his grandmothers from both his mother and fathers' side of the family would host large gatherings every week where everyone would congregate over food and wine.
His father began his interest in wine by drinking wines from Rioja and parts of France. And his seriousness about wine further evolved through one of his partners in his real estate business – the owner of Wölffer Estate Vineyard on Sagaponack on Long Island. Jeronimo remembers his father visiting Wölffer Estate and it piquing his interest in possibly one day owning his own vineyard. Xavier looked for property over seven years in Mendoza Argentina, France, Walla Walla, Washington and also in other locations in Napa Valley before discovering a large ranch in Pope Valley. He purchased 1,100 acres in 2012 – a piece of land that was originally owned by the Hardin family (namesake of Hardin Road).
It is difficult to locate properties this size in Napa Valley as generally larger tracts of land have already been subdivided into smaller parcels. The property is gorgeous and ranges in elevation from the lower vineyards at about 600 feet to the uppermost reaches above 1,000 feet. It sits on the southernmost end of Pope Valley. On a clear day from the upper elevations, one has stunning views to the west and north overlooking much of the valley. Neighboring properties are Hardin Ranch, St. Supery's Dollarhide Ranch with its 450+ acres of vines and on the east side, Cedar Roughs Wilderness natural park, a nearly 6,300-acre reserve overseen by the Bureau of Land Management (BLM) extending almost to Lake Berryessa.
The Cervantes family changed the name of the property after their purchase to Hine Ranch; this word in old English means farm manager and hine also refers to all the deer that live on site. What is probably the largest planting of peaches and nectarines in Napa Valley is a 4-acre parcel that eventually they want to use for making cider. Several natural springs are located on site along with four reservoirs. In 2020 the LNU Fire Complex burned a significant portion of their ranch – primarily the natural vegetation on the hillsides and by Jeronimo's estimate some 70% of the ranch burned.
At the time of their purchase, the property was planted to 35 acres of vines but has since expanded to now 90 acres. The vineyard is primarily planted to Cabernet Sauvignon but also to Tempranillo and Sauvignon Blanc. For several years the Cervantes family sold all the grapes to various producers but starting in 2015 after encouragement from friends and family to make wine, Cervantes Family Vineyard produced their first vintage. Xavier originally wanted to hire a Mexican American winemaker but wasn't able to find someone fully committed to the property; getting word of his interest in making wine, family friend and winemaker Andy Erickson offered to make their wine, his first Pope Valley winemaking project.
We asked Jeronimo what he values most about their journey into the wine business and his answer was beautifully stated: to see his parents and family happy – with the property used as a place for family to gather and enjoy great food, wine and conversation. Earlier he told us, "The world is so loud, but the property brings balance and quiet into our lives." And it is the people in Napa Valley that have influenced Xavier and initially attracted him to the region – as Jeronimo told us his father was in part attracted to the region because "it is a valley of doers".
Select Wines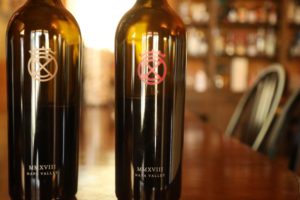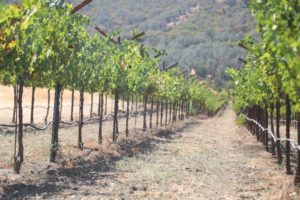 Cervantes Family Vineyards produces two wines each year, a proprietary red blend named Blacktail in homage to the blacktail deer often found on the ranch and Cervantes, a Cabernet Sauvignon.
The 2017 Blacktail is a Malbec and Cabernet Sauvignon leading blend with varietal percentages the following: 37% Malbec, 36% Cabernet Sauvignon, 23% Petite Sirah and 4% Petit Verdot. The wine is dark ruby in the glass; offers bright and fruit forward aromatics including blackberry, boysenberry and dark cherry. The aromatics are ripe but not overly so. Shows notes of mocha and as the wine evolves in the glass additional aromatics come forward including clove, cardamom, brown chocolate and cocoa powder. Offers flavors of red cherry and dark fig on the palate. The light to medium tannins are certainly noticeable but are rounded in their textural feel. Also slightly chalk like. Reveals a hint of dried tobacco leaf on the finish.
The 2017 Cervantes Cabernet Sauvignon is blended with a small percentage of Petite Sirah. The wine is dark ruby in color with purplish tinges on the rim of the glass; the bouquet offers pretty aromatics including of blackberry and boysenberry with just a hint of old cedar box in the background along with dried herbs. Also, old leather. The aromatics are dark and with plenty of depth of character. As the wine further breathes, reveals hints of rhubarb, rose stem and currant. A hallmark of this wine is its tannin density – there is still a tightness showing in its youth (we tasted three years post vintage date). Mouthwatering, lingers with flavors of dark cherry and tobacco.
The 2018 Blacktail is a blend of 27% Cabernet Franc, 23% Cabernet Sauvignon, 23% Malbec, 23% Petite Sirah and 4% Petit Verdot. Offers a bouquet with a nice mix of both fruit and desert spice notes including mocha and brown chocolate. This wine is quite approachable in its youth – it is an enjoyable showing offering layers of fruit across the palate. The tannins are dusty, somewhat gravely in their textural feel with a moderate grip. Mouthwatering on the finish.
The 2018 Cervantes Cabernet Sauvignon is 95% Cabernet Sauvignon and 5% Cabernet Franc. The Franc came from the Hudson Vineyard in Carneros; for subsequent vintages they will use their estate grown Cabernet Franc. This wine is dark inky ruby in color; features dark fruit across the bouquet including blackberry, black raspberry, spicy plum and black currant. Also shows hints of white pepper and toasted cedar. The nose is a tiny bit savory. As it breathes and warms in the glass offers aromas of Graham Cracker and mocha. This wine is mouthwatering across the palate with a noticeable intensity of both fruit and structure. The finish persists for some time anchored by firm tannins supporting layers of flavor.
—
When deciding upon a brand for the wine, Xavier initially found it difficult to come up with a representation that honored their family. Jero recalled his father created a brand years ago that the family often used and suggested this would be an ideal fit for their wines. This brand represents the first initial of each of the family members first names with an image above the brand depicting a crown showing five points of a keep (a tower in a castle).
Total production in 2017 was around 500 cases, it grew to 800 cases in 2018. Production continues to grow slowly with a desire to ultimately reach around 2,500 cases produced each year. While selling direct to consumer is their primary outlet for exposure and sales, the wines are also selectively distributed internationally; their largest overseas market is the United Kingdom. The wines are also found in South Korea, Japan and Canada.
Allocation members are offered a three-bottle selection contained in a custom designed walnut box – once the wines are consumed customers often use this for storing valuables or even fine cigars. And each box has a slightly different look, depending on the grain of the wood.
For more information and or to join their allocation list, visit: www.cervantesfamilyvineyards.com