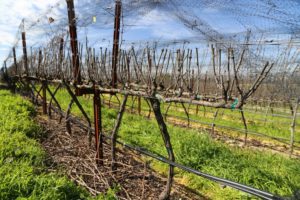 Castrucci Wines was founded in 2013 by David and Dawn Castrucci. Their vineyard is located in a part of Napa surrounded by vineyards but in an area that lacks physical wineries. The rolling hills here are covered in vines just East of Highway 29 within about a seven minute drive south of downtown Napa. One can pass by here daily without seeing this 'hidden' part of Napa.
Their vineyard was planted in 2007 – the Castrucci's purchased the property in 2011. They sold grapes from the property to several area wineries until 2013 when they started making their own wine.
The vineyard is planted to approximately an acre and a half of Pinot Noir and 5 acres of Chardonnay. While these gentle rolling hills look fertile and when covered in grass may appear to harbor deep soils, this is anything but true. These particular hills have shallow soils covered with fractured rock – which created a challenge to preparing the ground to plant the actual vines. Their 'neighbors' are jackrabbits, owls, coyotes and unfortunately at times, wild boar (can quickly damage vines).
David's 'day job' is as one of the directors of Dynacraft – a company that distributes bicycles and scooters (based in nearby American Canyon). The company was founded in Boston but moved to the San Francisco Bay area in 1998 and then ultimately moved to Napa County. As a result of moving to this part of the state, David and Dawn were able to spend time exploring Napa.
Over the years they have fallen in love with the Napa lifestyle and through wine have made many connections with winery owners and winemakers based in the valley.
David remembers taking a fishing trip to Alaska some 15 years ago. On the way, the plane stopped in the tiny Juneau airport and David started talking to the man standing next to him as they all waited to catch the next flight. David asked him where he was from and the reply was "the Napa Valley". Naturally David asked him if he was in the wine business and the reply that came next was affirmative. He was talking to David Long of David Arthur Vineyards. David Long told him about the wines of David Arthur including Elevation 1147. When David Castrucci returned after the fishing trip he then joined David Arthur's wine club.
Fast forward to several years ago when David and Dawn were attending an event at Justin Sienna High School in the city of Napa – When who happens to stroll in but David Long. Both remembered that short conversation in the Juneau Airport many years ago and have since reconnected over their shared love of wine.
When we hear of lower alcohol wines from Napa these days – usually numbers around 14% are referenced. Prior to the 1970's in Napa wines used be produced in the 11 to 13% range. Castrucci's wines are usually in the 12 and 13% range depending on the varietal. It is fairly rare these days to find a Napa producer focusing on a style of wines that truly embraces lower alcohol – crafted in a style to be enjoyed with food.
The Castrucci wines have pronounced aromas and flavor tempered by good acidity – these are wines that you can also enjoy by themselves and not be drunk after one glass!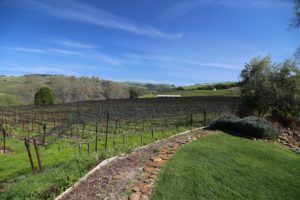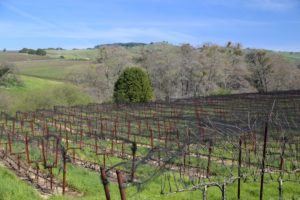 David and Dawn have always enjoyed drinking this style of wine. Two factors help contribute to creating wines of this style – one is they are located in the southern cooler part of the valley and they were introduced to a winemaker who also embraces this type of wine. Their vineyard manager introduced them to Steve Matthiasson (San Francisco Chronicle Winemaker of the year, James Beard Foundation award winner and one of Napa's top viticultural consultants). Steve has made their wine since the first vintage at a winery just minutes south of their vineyard.
As David says, his vineyard manager Jason 'creates the clay and then Steve molds his work into the wine".
The 2014 Pinot Noir Rose shows a pale light salmon color in the glass with elegant citrus blossom and lemon zest aromas on the bouquet. Good (but balanced) acidity is refreshing and crisp on the palate. Also pairs very well with cheese.
The 2014 Chardonnay is a balanced and a clean wine on the palate. This wine saw no malolactic fermentation. It is golden yellow in the glass with pronounced aromas on the bouquet including pineapple. The palate is slightly creamy and well rounded but not heavy. This is due to the acidity which helps balance out the flavor and structure. Pairs well with salami. The finish is mouth watering.
The 2014 Pinot Noir shows a generous dessert-like bouquet filled to the brim with aromas of raspberry, strawberry and layered with various baking spices. Judging from the aromatics you might think this is going to be a 'big' ripe Pinot noir but that is not the case. It is full of flavor but structurally delicate as you will find in a wine made from this varietal. There is an initial sweetness of fruit on the entry to the palate and plenty of flavor and good acidity on the finish.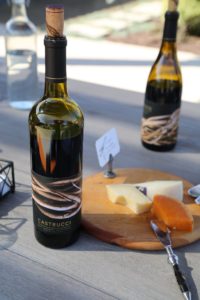 Their 2013 Cabernet Sauvignon is sourced from the Dead Fred Vineyard (yes, that is the actual name of this vineyard) in nearby Coombsville (just east of the city of Napa). The bouquet shows sweetness of fruit with notes of chocolate covered red cherries. This is a very approachable Napa Cabernet, food friendly with a lighter structure and fine grained tannins that linger softly on the finish.
The Castrucci's have built their brand from the ground up – as David says, "one bottle at a time". David recalls calling and visiting a number of wine shops and restaurants in the valley when they first started selling the wine. His hard work and perseverance has paid off. Over time they have gotten placements – based on the style of wines they are creating, these have been popular with sommeliers and restaurants. Locally the wines can be found in Celadon in Napa and 750 Wines (wine shop in St. Helena).