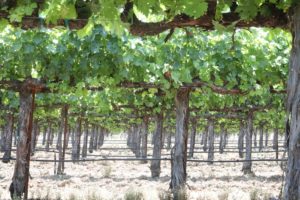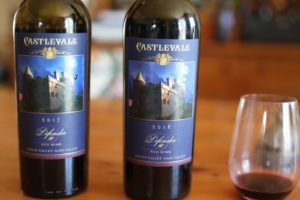 Castlevale Winery. In 2002 after the sale of Louis M Martini Winery to Gallo Family, Louis' granddaughter Carolyn Martini and her family kept an approximately 200 acre rectangular piece of land in Chiles Valley, site of their own home (the 'castle') and also 33 acres of vineyards. This property was part of approximately 800 acres her father Louis P Martini purchased in 1968 from Henry Chiles, the grandson of Chiles Valley namesake, Joseph Chiles. He called the entire property Ghost Pines; after the sale of Louis M Martini Winery to Gallo Family, Carolyn renamed their remaining parcel to High Valley Vineyards in homage of the High Valley Schoolhouse which was located on the property in the 1880s.
The property is separated into three distinctive vineyard blocks, the northernmost and smallest called Jungle, the Middle block and the Main block. Louis P Martini initially experimented with growing a number of grapes on the property, eventually reaching the decision that Cabernet Sauvignon grew particularly well here. Today the property is primarily planted to Cabernet Sauvignon with smaller sections of other Bordeaux red varieties. The vines are managed by family friend Mark Oberschulte and president T & M Agricultural Services (a vineyard management company).
In the summer the property can warm up dramatically during the day but typically receives cooling afternoon breezes. Frost can be a problem in the spring; as a result, several frost control fans are located on site.
Eventually the family plans to plant two white varieties including Folle Blanch and Gewürztraminer. Louis P used to walk his vineyards sampling grapes; when he found an outstanding vine he would hammer a nail into the top of the vine's supporting wooden post. Vines producing the most exceptional fruit earned multiple nails in the post if their quality was sustained each year. Vines maxed out at seven nails. Nails were removed from vines that dropped off in quality. Martini used this system to select cuttings from some of the best vines for propagation in some of his other vineyards including in Carneros and in the Russian River Valley of neighboring Sonoma County.
In a nod to her father's method of identifying the best vines, Carolyn selected cuttings from two white varieties from old Folle Blanche vines in Monte Rosso Vineyard located high in the Mayacamas mountains above Sonoma Valley and some Gewürztraminer from another former family owned vineyard in Russian River Valley. They planted a small experimental vineyard on their property that they refer to as the Seven Nails Vineyard containing Folle Blanche and Gewürztraminer. They plan to expand these plantings and eventually create a white wine bottled under Castlevale – most likely a blend between the two varieties.
We rarely come across Folle Blanche (also known as Picpoul) in Napa Valley. The only commercial planting we know of is in Rutherford (made by Chris Hall of Hunt & Harvest) along with a few vines in an experimental vineyard on Etude's property in Carneros, and Jarvis Estate may have a few plantings in their own experimental vineyard. This variety is one of the three primary white varieties used in making Cognac in France, the other two being Ugni Blanc and Colombard.
The first vintage the family made after the sale of the property in 2002 was in 2006. They continued to make a barrel or two of wine each year utilizing the services of several winemakers. In 2016 Angelina Mondavi finished nearly six years working at Hundred Acre Winery and was looking for another winemaking job. Timing worked out perfectly; since 2016 she has been the winemaker for Castlevale. Production is still small and is usually between 100 and 300 cases each vintage.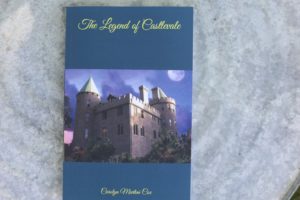 The 'castle' was built almost entirely by the family (with the exception of laying some sheetrock) over a span of about three years in the early to mid 1980s. Carolyn's husband Barry has enjoyed castles ever since he was young. He built the first prototype using Legos and then in the early 1980s drew the design on an early Apple Computer using what must have been a rudimentary CAD program at that time. Some of the wood used in the interior came from old wooden casks from Martini Winery. And in 2018 the family was approved by Napa County to build Castlevale winery on site, eventually to be located on a small knoll with fantastic slightly elevated views looking down on Chiles Valley. As expected, its design will resemble a castle.
In 2022 Carolyn published The Legend of Castlevale a quick and entertaining fictional read which connects centuries of history based on two journals, one from the 15th century and one from the 19th century. The story intertwines various events and stories, ultimately connected to Castlevale's property in Chiles Valley.
—
In 1881, Missouri based viticulturist George (Johann Hermann Carl) Husmann (wife, Louise), born in Germany in 1827 (died in 1902) and considered the father of the Missouri wine industry, moved to Napa Valley and oversaw a property in Carneros (Talcoa Vineyard) now owned by Lee Hudson of Hudson Vineyards. This was not his first time to California; in 1850 he came out lured by the excitement of California's Gold Rush. In the 1880s phylloxera was destroying vineyards in Europe; this part of Carneros was the site of the first successful American scientific experiments in which phylloxera-resistant rootstocks were developed. The experimental vineyard on this property was owned by James Simonton and was overseen at the time by Husmann who spent 5 years under contract managing the 2,000+ acre ranch.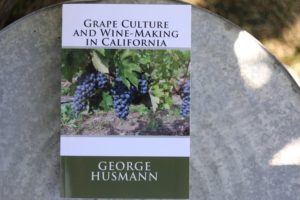 Husmann introduced the Concord Grape to Missouri in the mid 1850s and served as a delegate to the Missouri State Constitutional Convention where he signed in 1869 an ordinance abolishing slavery. Husmann wrote numerous journals and three books including American Grape-Growing and Winemaking in 1880 in which founder of To Kalon Vineyard, Hamilton Crabb authored a chapter on Napa Valley. Author Tom Pinney dedicated a chapter to Husmann in his book; The Makers of American Wine, A Record of Two Hundred Years.
His son, George Charles Husmann also played an important role in Napa Valley's viticultural history; the hallowed ground of To Kalon Vineyard in Oakville is where Husmann conducted a variety of grape experiments in the early 1900s, assisted by others including his brother Fred. George senior's sons also owned a small cooper in Rutherford; a Napa Valley Register article dated December 1, 1893, references the Husmann Bros' Cooper Shop and one special 32-stave miniature barrel made of walnut and maple holding, "some of Napa Valley's choicest wine". Husmann senior died in 1902 and is buried in Tulocay Cemetery in the city of Napa.
Which leads us to Husmann's connection to Chiles Valley and High Valley Vineyards. Within three years of moving to Napa Valley he leased land, soon purchased it with his sons Charles & Fred and then moved onto the property in Chiles Valley. This would eventually become the site of Oak Glen Vineyards and Winery which was appropriately named for beautiful oaks growing on the property, of which there are still many. And of note, the contemporary Oak Glen Vineyards and Winery is located on land that Husmann used to own in Hermann, Missouri and is named in homage of his Chiles Valley winery. Remarkably, five short rows of Norton vines originally planted by Husmann still exist on the Hermann property and are used for producing both a Norton red wine and a port-style bottling.
His old Chiles Valley vineyard and winery were on the land that Louis P Martini purchased. According to Carolyn, her father Louis P recalls remnants of the old winery when he purchased the property in 1968 and years later, he used to refer to it as, "a scene from Raiders of the Lost Ark" in reference to all the rattlesnakes that lived here. Soon after his purchase he cleared out the remnants of the old building and built a shallow water storage pond for irrigation use in the vineyards.
In 1887 while living on his Chiles Valley property, Husmann wrote his third and final book, Grape Culture and Winemaking in California.
Today no structures exist from the old Husmann winery and homesite, yet one can tell there was a home here as several old nonnative trees are still living including a couple of olives and one of two cypress trees (presumably located where the driveway to the home and winery would have been). An old walnut tree has long since succumbed, but its woody remnants live on, at least for a few more years. A number of eucalyptus trees grow across the pond and some faint outlines of terracing where wine grapes used to grow in the hills above the pond can still barely be seen.
While visiting this site, we wished there were horses tethered to one of the oak trees and a wooden carriage or two standing nearby. We wished it were a certain year – perhaps 1885 and we could walk up to the winery, knock on the door and spend an afternoon in conversation with Mr. Husmann.
George Husmann gravesite, Tulocay Cemetery

George Husmann home/winery site, Chiles Valley

The Castlevale property was originally part of the Rancho Catacula land grant. Namesake of Chiles Valley, Joseph Ballinger Chiles (1810-1885) came to California in 1841 from Missouri on a wagon train with the Bartleson-Bidwell Party. They became the first wagon train to cross the Sierra Nevada mountains and enter what was at that time Mexican Alta California. He eventually was granted several sections of the Rancho Catacula land grant totaling 8,000+ acres by General Mariano Vallejo in return for a promise to operate a grist mill.
He first settled in Chiles Valley in 1844 but made a number of trips back east via wagon train until permanently settling in Chiles valley in 1854. He built a log house, raised livestock, planted the first grape vines in the valley and also operated Chiles Grist Mill. This mill was built in 1845 and was still operating in the 1880s, but unfortunately burned down in the 1960s. Only some of the remains of the stone walls are still standing on both sides of Chiles Creek. Historical state landmark plaque number 547 marking the Chiles Grist Mill is located within a few feet from Lower Chiles Road on the side of a small hill (coordinates: 38.535259,-122.337216).
We have long enjoyed driving the section of Chiles Pope Valley Road from Lake Hennessy up to the intersection of Lower Chiles Road near the old grist mill site and not far from Castlevale's High Valley Vineyards; this is one of our favorite short drives in Napa Valley. An article in the April 22, 1875 issue of the St. Helena Star validates our feeling about this drive. It states, "Col, Chiles has made the road from his mill down the Chiles Canyon, one of the best in the county, and as for a picturesque and pleasant drive, none finer can be found anywhere."
Chiles was also a business partner with Jerome Davis in what was apparently a very profitable rope ferry for some time crossing the Sacramento River. Davis' name lives on as the town of Davis, where the University of California Davis is located. One of Chiles' daughters from his first marriage ended up marrying Davis. Chiles obituary listed in a June 26, 1885 article in the St. Helena Star mentioned that, "The friends who honor his memory are legion and his funeral today was the largest ever seen in Napa County."
Chiles built several homes in Napa Valley including what is now referred to as the Chiles House, located at Inglenook Winery. It is one of the oldest structures still standing in all of Napa Valley; it dates from 1856 and currently houses the offices of Inglenook's Human Resources department. Chiles died at one of his other homes built in 1874, still located at 1343 Spring Street in St. Helena.
Chiles Mill Site + Gravesite

Millstone, Chiles Mill

Chiles homes, Napa Valley

The Bale Grist Mill north of St. Helena is the mill that comes to mind when referring to Napa Valley grist mills, but in actuality the Chiles Grist Mill had a much larger production during its operation. Another Napa Valley grist mill was George Yount's mill near Yountville; two of the grinding stones from his Star of the Pacific Mill survived and are on display for the general public, outdoors in front of the Yountville Community Center.
In 2018 the original French made Burh bed stone from the Chiles Mill was donated to the Bale Grist Mill State Historic park and is now on display. Joseph Chiles last remaining direct descendent, his great granddaughter was Peggy Chiles.
Select Wines
The focus of the Castlevale wines is on a single wine each year, a very limited production red blend called Defender. This wine is created as a field blend and is always Cabernet Sauvignon driven but with smaller percentages of other red varieties growing on the property. Its name is in homage to Carolyn's husband Barry's passion for collecting old military artifacts including canons. While not the original intent behind this name, in 2020 the family successfully defended Castlevale, their family home, from fires burning on their property and surrounding lands.
The 2018 Castlevale Defender Red Blend is 71% Cabernet Sauvignon, 22% Malbec and 7% Petit Verdot. This wine is dark ruby in color and nearly opaque – despite only a year younger, the bouquet is dramatically different than the 2017 Castlevale vintage. This wine offers aromas of sweet licorice, mocha, cherry cola and hints of vanilla. Simply put, it smells pretty. We noted this vintage might possibly have higher acidity than the 2017. Offers mouth watering brightness across the palate with slightly chalky, dusty and persistent tannins on the lengthy finish. It also shows a slight note of dried tobacco leaf, deep into the finish.
The 2017 Castlevale Defender is 66% Cabernet Sauvignon with the remaining 34% comprising of Malbec and Petit Verdot. This wine is dark ruby in the glass with aromas of dark plum, some floral notes including violets, dark spices, dried herbs, some dried red fruit notes and an earthy almost old leather nuance. The entry is soft with flavors of plum, cherry and raspberry anchored by medium gravelly textured tannins. This wine lingers with a darker note on the finish. It drinks very well by itself.
—
With such low production, the wines are primarily sold direct to consumer with very limited retail presence or outreach. One may sometimes taste their wines at two consumer tastings in Napa Valley; the annual Napa Valley Wine Library tasting on the grounds of Silverado Resort near the city of Napa and Vintner's Vanguard, an event that highlights wines made at Brasswood Winery (where the Castlevale wines are crafted). For more information, visit: www.chilesvalleygrapes.com