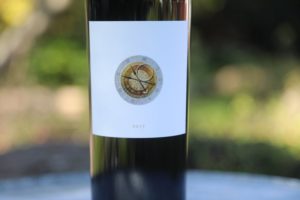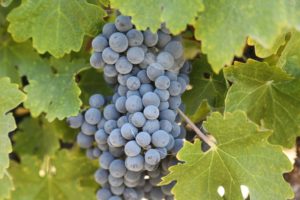 Castiel Estate. Napa Valley, to proprietors Dave and Kathleen DiCesaris is extremely personal. Their highly serendipitous story begins with a Napa Valley tasting room romance. But first some background.
Kathleen grew up in Southern California and was raised by professional opera singers; while working in a restaurant at Ritz Carlton in Laguna Niguel, she participated in a wine group with the hotel's Director of Wine & Spirits at the time, Emmanuel Kemiji (who would start Miura Vineyards in 1994, known for their Chardonnay and Pinot Noir). Kathleen later moved to Forestville in Sonoma County to attend classes at Santa Rosa Junior College with the intent to transfer to Sonoma State University to major in Art History. Looking for work to help pay for her studies at SRJC, she took a wine educator position at Freemark Abbey where she spent 2.5 years; Napa Valley viticulture pioneer, Laurie Wood was one of her mentors.
Dave grew up in Southern California and played basketball for coach Greg Popovich at Pomona College. Greg played a strong father figure role in Dave's life; Greg also happens to be one of the NBA's most passionate wine enthusiasts and collectors. Dave was one of the star players during his undergraduate years and held the schools most points record for 35 years; he was one of the early basketball players inducted into Pomona College's Athletic Hall of Fame.
While working in Los Angeles early in his career, one of Dave's colleagues, Chris encouraged him to take a few days off from his stressful job. He told Dave to visit Napa Valley and bring back some 1985 Cabernet Sauvignon. One may remember that vintage for the 1985 Groth Vineyard Reserve Cabernet Sauvignon that Robert Parker of the Wine Advocate awarded the first California produced 100-point score. Dave recalls purchasing a guidebook to Napa Valley at the last minute from a convenience shop at LAX. He circled four wineries: Caymus, Chateau Montelena, Freemark Abbey and Heitz Cellar.
When he walked into Freemark Abbey, he almost left when he spotted the $5 tasting fee due to the fact he was on a tight budget. In those days most wineries in Napa Valley had not yet started charging tasting fees. Kathleen was working in the tasting room on a day she was not scheduled to be there and when Dave walked in, she convinced him to stay for a tasting and pay the tasting fee. They eventually married and spent part of their honeymoon at Meadowood. Dave remembers they couldn't afford the room and when they explained they would be visiting on their honeymoon, Meadowood graciously discounted their room by 50%.
Dave's previous career involved building, buying and selling commercial leasing companies. Eventually retiring in 2010, he began looking for a second career; it was Kathleen who encouraged them to possibly return to Napa Valley and perhaps get into the wine business. They made some early attempts at purchasing property in Napa Valley including a parcel that eventually would become home to Alejandro Bulgheroni Winery.
The discovery of their property on Howell Mountain was rooted in Dave's interest in collecting wines, including Napa Valley Cabernet Sauvignon. Looking for a place to store his wines locally he met Neil Aldoroty (died 2016) of 55 Degrees, a wine storage warehouse based in St. Helena. Incidentally, Dave was Neil's second client. When Neil heard that Dave was looking for property, he introduced him to viticulturist Jim Barbour (Barbour Wines). Dave and Kathleen met with Jim at his office on the second floor above Vasconi's Drug in downtown St. Helena; he informed them about a perfect property on Howell Mountain. Their hopes were high but then he soon said this particular property had sold 6 months prior. But he continued with, "if something else comes up I will contact you".
Completely dejected, they left Jim's office and headed to the other side of Main Street for an appointment with relator Yvonne Rich (incidentally this author used to host Yvonne's real estate website, Fabulous Napa Valley). She soon told them about three pieces of property for sale on Atlas Peak. But then she said that only 20 minutes prior to their meeting a beautiful piece of property on Howell Mountain had fallen out of escrow. She showed them photographs and Dave and Kathleen quickly suspected that this might be the property Jim had spoken so highly about. So, they raced across the street, back to Jim's office and confirmed that in fact it remarkably was the same property. He said buy it now if you can. Back in Yvonne's office they discovered multiple offers had already been made, but then she informed them she was the listing agent.
Their timing was incredible – being in the right place at the right time. Dave and Kathleen purchased this 67-acre site in April 2014. This property was formerly a fruit orchard.
One day Neil went for a hike on the property. No more than two minutes into his hike he called Dave and said something like, "that is very nice of you". Dave was confused until Neil clarified his statement. "I am looking at a power pole on your property with metal numbers 55 and 13 nailed into the pole". Neil assumed Dave had put these numbers there in anticipation of his hike, but in actuality they were numbers relevant to PG&E operations, rather than 55 relating to Neil's business and 13 being the Celsius equivalent.
Later Jim made a point to revisit and walk the property, but during his visit he accidentally wandered onto a neighboring property. He enthusiastically called Dave and informed him that he had discovered approximately 5 acres on this neighboring property that would be perfectly suited for Cabernet Sauvignon. So, Dave decided to check out the property for himself – he spotted a small cottage on his neighbors' property and walked up and knocked on the door. After brief greetings were exchanged, Dave quickly informed her that he would like to purchase her property. She immediately asked, "which winery are you with"? And Dave said, "Ma'am, I'm your next-door neighbor." And her reply was very clear, "we have been praying for money, please come on in".
Dave and Kathleen purchased this 21-acre piece in July 2014; it is contiguous with their other property. The total size of their property after combining the two parcels is 88 acres. The property is now called Le Colline Vineyard and plans include for its development and management as a 'net zero' operation in part using electric vehicles and tractors, careful water use and retaining existing forest plus additional tree plantings.
Their property is primarily south and southwest facing with gentle slopes. Nearby vineyard neighbors include Cade Winery. While not currently planted to vines, the permitting process has already been started. Dave and Kathleen hope to eventually plant up to 25 acres of vines. The soils vary dramatically, ranging from volcanic tuff to red rocky iron rich composition to parts of the property high in organic matter.
Select Wines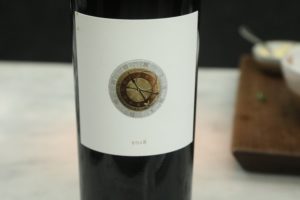 The first vintage of Castiel Estate was 2014 with a production of merely 110 cases. Castiel Estate produces a single wine each year, a 100% varietal Cabernet Sauvignon from Howell Mountain. Their first two vintages were produced entirely from grapes from Marc and Janice Mondavi owned Cold Springs Vineyard; subsequent vintages include fruit from Cold Springs Vineyard along with another premium Howell Mountain vineyard. Jim originally introduced them to winemaker Celia Welch; she has crafted every vintage since 2014. Castiel Estate is her only Howell Mountain based client.
The 2017 Castiel Estate Cabernet Sauvignon (100% varietal) is deep ruby in the glass; offers a diversity of aromatics including of ripe blackberry, mulberry and boysenberry complemented with aromas of mocha, espresso, Graham cracker, dark chocolate and dark licorice. In addition, the bouquet also offers aromas similar to an old cedar box full of cigars. Complementary and light hints of mint or wintergreen are revealed deeper into the aromatics as the wine continues to evolve. The palate is still youthful, especially on the finish with bright and mouthwatering acidity. Lingers savory and dark, with notes of crushed peppercorn, toasted cedar and grilled meats. The earthy tannins are energetic and gravelly in their textural feel – and very persistent. This wine has lots of life ahead of it.
The 2018 Castiel Estate Cabernet Sauvignon (100% varietal) is deep ruby in color; the bouquet is elegant with plum, violet, cassis, a tinge of old cedar box and dried tobacco leaf. A hint of mocha/darker chocolate shows deeper in the aromatics. Let this wine breathe, it will continue to become more aromatically fruit driven as it evolves in the glass. This bottling is not as savory as the previous vintage. The tannins are broadly dispersed with plenty of textural density and grip. Their presence is felt on the very long finish. Lingers with notes of dried tobacco leaf. Mouthwatering and juicy with mountain structure, its verve is certainly rooted in Howell Mountain.
The 2019 Castiel Estate Cabernet Sauvignon (100% varietal) is dark ruby in the glass; the powerful aromatics are well-layered and generous, with a primary focus on darker fruits including blackberry, boysenberry, plum, black cherry and currant. Deeper in the bouquet are aromas of old cedar box, crushed peppercorn and a light note of sage. We sometimes use the word dense to describe tannin profiles, but these scents can also be described as such. This wine offers an intensity of flavor dominated by black fruits. An abundance of tannins are felt, but they are fine-grained, rounded and already very well resolved for such a youthful wine at the time of our tasting three years post vintage. The finish lingers slightly savory and chalky with some darker spice notes. This bottling perhaps is a bit more approachable than the 2018 vintage.
This wine was made from four clones of Cabernet Sauvignon including SEE, 169, 191 and 337; each clone was fermented and aged for 12 months separately from each other before the final blend was created. This wine spent 20 months in 65% new French oak before being bottled.
The Label
It is rare when one puts so much thought and detail into a wine label. Their design is an astronomical clock modeled after some of the old outdoor clocks in Europe, including the famous Prague Astronomical Clock. Both Dave and Kathleen lived in Florence for one year. Their landlord was Baron Francesco Ricasoli, whose family can be traced back to the very early birth of Chianti wine, now called Chianti Classico. Both Dave and Kathleen attribute their early inspiration for getting into the wine business back to their time spent with Franceso.
During their time in Italy, they visited the Convent of San Marco and viewed the frescos of Fra Angelico. His work depicts halos behind his subjects. The gold and copper circles in the Castiel Estate astronomical clock represent the colors and halos in Fra Angelico's frescos.
A series of numbers are listed; everyone played an important role in their lives and the Castiel Estate wines. In homage to Neil at 55 Degrees, the number 55 is shown along with its equivalent numerical value in Celsius, 13; both hands of the clock are pointed at 13 and 55. And 55 and 13 are the last four digits of 55 Degrees phone number. The number 88 refers to the total acreage of the property. 2, 3 and 14 are also listed, paying tribute to the date they discovered their Howell Mountain property. And rounding out the list of numbers are 4, 14, 93 representing the date that Dave and Kathleen first met in Freemark Abbey's tasting room.
Astute observers of the Castiel Estate astronomical clock will note a rainbow depicted on one end of one of the clock hands. After Dave met Kathleen for the first time, their first date was 6 weeks later. They both arranged to meet under the iconic arch at Robert Mondavi Winery. She drove over from Forestville, and he flew in from Los Angeles and drove up to Napa Valley. After they met at Robert Mondavi, they both asked each other, "did you see that amazing rainbow". Both had separately driven up Highway 29 from the south, passing To Kalon Vineyard and each had seen a beautiful rainbow to the west of To Kalon Vineyard.
Heron House, Yountville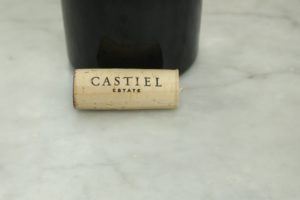 Castiel Estate was a member of the Heron House in Yountville until December 11, 2022, when the Heron House closed permanently. We keep these notes and photographs for historical reference. This retail wine tasting space in SoYo (South Yountville) opened the day after Thanksgiving 2019 and featured a select number of small-brand producers who did not maintain their own tasting rooms. Heron House was created by vintner, Allison Stelzner, and the brands represented here were winemakers or friends or colleagues of Allison.
The Heron House was setup to feel like walking into someone's living room – comfortable, cozy and inviting. The retail portion of the space was open during normal business hours and included mostly locally crafted products including select works of art – reflecting the Steltzner's love of art. Two private tasting rooms were available by reservation. Several curated flights were offered, each containing wines from the various producers represented including several flights showcasing the Castiel Estate wines among several other producers. Allow up to 90 minutes for a visit. Hours are subject to change, but as of our latest update to this review, this space is daily from 10am until 6pm with the last tasting appointment at 5pm.
Total production each year varies but is usually between 400 and 500 cases with release occurring once a year in the fall. Kimberly Jones handles distribution in California; the wines are available in select restaurants including locally at the French Laundry. Other distribution is in select markets in Chicago, Dallas and New York; certain vintages are available online through Binny's Beverage Depot. For more information, to join their mailing list, to schedule an appointment at Heron House or to purchase wines, visit: www.castielestate.com