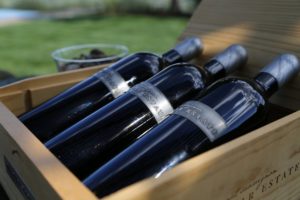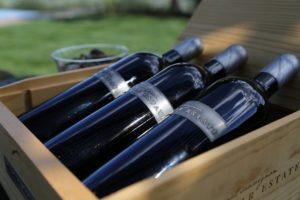 Caspar Estate is owned and managed by the brother sister team of Jody Harris and Gingy Harris Gable. Their grandparents purchased property in Rutherford in 1962 – looking to have a second property away from San Francisco. One of their requirements was they be near a valley – in hindsight they certainly chose the "right" valley based on the legacy that their grandchildren are continuing and creating for this particular property.
Their grandfather owned a shipping company and was quite familiar with the Whitehall boats, the small water taxi's that would service the larger ships in the 1800's in the San Francisco Bay. It didn't take much to sell him on this property with its stellar views and unique hillside location, but the clincher was when he discovered it was located off of Whitehall Lane.
Jordy and Gingy's grandparents developed the property over time- planting fruit trees, vegetables and herbs. They used to own nearby acreage which contained a valley their grandfather named "Long Meadow". In 1989 the family sold this adjoining property to the Hall Family – who have built a successful brand in the Napa Valley called Long Meadow Ranch.
Jordy's "previous" life involved working with commercial real estate; eventually he was ready to take a break from the grind of this "world", he "retired" to embrace a "wine country" lifestyle. In 2001 he and his sister planted this vineyard. The property is farmed sustainably and organically – after a three plus year process they earned their CCOF certification (California Certified Organic Farmers is a membership organization based in Santa Cruz California founded in 1973. Their mission is to not only provide certifications for agricultural entities but to promote organic farming).
Fruit was sold to other area wineries for several years but then in 2008 they decided to make wine commercially. In one of the worst economic downturns in recent memory they decided to launch not one but two brands – their estate Caspar wine and a much larger production, Cultivar. As Jordy indicated to us, the timing on the launching their two brands and being able to survive through the downturn has positioned them to be stronger in the market over the long term.
A word that quickly comes to mind when mentioning the Rutherford appellation is "bench land" – land not quite valley floor, yet not hillside either. If you look at an appellation map of the Napa Valley a steep rugged and relatively remote section of the Mayacamas mountains is not within any appellation – just east of the St. Helena, Rutherford and Oakville appellations.
Their vines are among the more eastern located in the Rutherford appellation – and are certainly located on the hillside rather than true bench land. However their slice of the Mayacamas mountains is not steep and overly forested like one normally associates with the nearby Spring Mountain, Diamond Mountain and Mt Veeder appellations. There are very few vineyards in this part of the appellation – only another nearby family vineyard is located slightly further east. Their property is 27 acres of which 10 acres are planted to vine.
With three acres of olive trees on site it makes sense to produce both olive oil and their own "house" olives. These trees are well over 100 years old having been planted between 1878 and 1903. The olives are cured in brine and then left to age in a natural oil infused with lemon rind and other herbs (all grown on the property). In addition, they have approximately 250,000 bees spread out among their 30 hives and a beautiful honey is also produced commercially.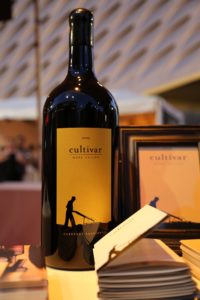 On a warm summer's day, the property itself feels like the quintessential Mediterranean estate. One could almost be in Italy. Kiwis, avocado's, a pomegranate – and a healthy garden all thrive here. But one must start with the views – 500 feet below, much of the entire Napa Valley is laid out like a patchwork quilt – and one can easily see up and down the valley.
Their style of wines are meant to be consumed with food – they are not overly extracted – and despite their hillside estate and the hillside locations of other vineyards that they source fruit from, their wines are elegant and refined. These are wines that are pleasant to drink while they are young but certainly have the acidity to age for some time.
Wines
The 2009 Caspar Estate is their first commercial release. This has a bouquet you could pick out of a lineup – it is not a nose that is entirely about the fruit. It is true to its terroir – initially it has a pleasing earthy component to the aromas, some spices, and becomes more elegant as it opens. The palate is all about balance – lively acidity, more red fruit than black fruit and finer grained tannins anchor a clean finish.
Cultivar is a separate wine brand from Caspar Estate. It is their "workhorse" wine – it sees a much higher annual production – at the time of this review approximately 5000 cases are produced annually. A more difficult proposition that Cultivar has handled well in the restaurant scene is "wine on tap" or kegs. They typically produce 500 of these for various restaurants. The name Cultivar was carefully chosen – to represent not only the name given to cuttings of small grapes but also more meaningfully – to represent the relationships carefully cultivated over time especially with the owners of the vineyards they source fruit from.
The types of wines under the Cultivar label change depending on the vintage and vineyard sources. These wines are well distributed – mostly to restaurants. The Caspar Estate wines are almost entirely sold direct – through their mailing list. You can find these wines selectively in the Napa Valley; ACME Wine Shop in St. Helena carries them.
Rutherford is certainly known for its Cabernet Sauvignon, in part defined by the moniker "Rutherford dust", however there are several sweet spots for Sauvignon Blanc in the valley – Rutherford certainly shares this distinction with Yountville. Currently their Sauvignon Blanc is sourced from a valley floor vineyard in Rutherford – but plans are underway to plant an additional section of their estate property with this variety.
2012 Cultivar Rutherford Sauvignon Blanc. This wine was aged in stainless steel and saw just a touch of neutral oak. Floral notes, and citrus blossom are revealed on the bouquet. The palate is clean, shows great acidity – notes of green apple and nice mineralities. This wine has a "simple request" – pair me with food!
In contrast is their 2012 St. Helena Sauvignon Blanc. This wine was aged similarly but it is sourced from different terroir and contains a different clone – musque. The nose is quite different from the Rutherford version – the musque clone adds some nice floral complexities to the nose, there is also some spice. It has slightly more weight with a lingering pleasing finish. This drinks very well by itself.
Their 2011 Cultivar Cabernet Franc from the Oak Knoll district has a bright, lively and pretty bouquet. There is no greenness in this wine that you sometimes find with this variety. Good acidity, good structure and a long finish. Again a good wine to pair with a variety of foods.
Cultivar Wine Bar, San Francisco
This wine bar in San Francisco opened early to mid 2017. It is located at 2379 Chestnut Street in the Marina district. The focus is on wine (6 varieties) – not only wines from their own estate in Rutherford but other premium producers spread throughout mostly Napa and Sonoma. However, while this is a wine bar – they also offer small bites to eat. They are open Wednesday through Sunday from 4pm until 11pm. For more details visit: www.cultivarsf.com
For more information about Caspar Estate and to review their products, please visit: www.casparestate.com