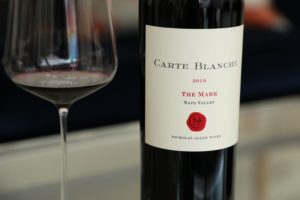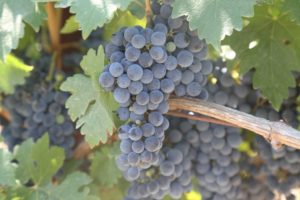 Carte Blanche Wine was founded and is owned by Nicholas Allen. Nicholas's interest in wine grew during college at the University of Denver. He remembers building a small cellar at his first house in Washington Park and simultaneously nurturing an interest in food including hosting dinner parties. He was the 'resident cork dork' as he puts it.
The first vintage of of Carte Blanche was in 2008; winemaker Luc Morlet (Morlet Family Vineyards) crafted the wines from 2008 through 2013. Nicholas met digital marketing consultant Steven Smith when Smith was working in wine sales at West Palm Wines in Florida. Smith introduced Nicholas to Luc; he learned a lot from Luc including his innate blending abilities and being introduced to special vineyard sites throughout parts of northern California.
In 2010 when looking to increase exposure for the young brand, Nicholas was introduced through a mutual friend to DJ Warner. DJ has since been instrumental in building the brand including direct to consumer sales and a careful and thoughtful approach to the right type of distribution. He has also been part of the philosophy that less is more; along with Nicholas reducing the number of bottlings produced and quantities. And in 2014 DJ's wife, winemaker Helen Keplinger took over the winemaking for Carte Blanche.
An image on all of their wine labels is of a red wax seal containing Nicholas's initials. This seal is in homage to Nicholas's grandmother, Dorothy Dillon who gifted this to him around age 19. Dorothy hosted numerous hallmark and holiday events at her house and would always choose some of the finest wines from her cellar to celebrate with her family. Nicholas fondly remembers those times from his youth; invariably she would place a few drops of wine into the children's glasses. But it was the conversations he recalls which meant more than the wine at the time; they would discuss each wine, the weather during that harvest, the winemaking but also important worldwide events which happened the same year that the bottle was produced.
And it was Dorothy who married Mr. Allen, Nicholas's grandfather. The Allen family lived on Dunwalke Farm in Bedminster, New Jersey. It's a cattle farm amidst an equestrian area of New Jersey that is known for fox hunting and until recently the U.S. Equestrian Team was located nearby.
A name like Carte Blanche implies trust, confidence, freedom and an innate desire to create something special. Their philosophy is like an open canvas to craft the best expression of each wine, while working with the nuances of every vintage. Vineyards are carefully selected for their terroir matching each variety to site as well from proven vineyards with strong pedigrees. These are balanced wines with plenty of aromatic and palate depth, even in their youth. And texturally they are highly appealing.
Select wines
The 2021 Carte Blanche Sonoma Coast Chardonnay UV Vineyard is made from 100% Wente clone. This wine was fermented and aged in French oak barrels for about 14 months. It is is medium gold in color; the diverse bouquet is immediately open and expressive with both stone fruit and secondary spices showing. It offers a honeyed note including honeycomb along with vanilla pudding, crème Brule, toffee, custard, hazelnut, dried straw, melon, apricot, yellow peach, pineapple and ripe mango. Those who have an affinity for smelling rich and sweet desserts will not be able to put this glass down. Its texture is creamy and supple without being heavy. The palate offers flavors of mango, yellow peach, pineapple, citrus, vanilla wafer, coconut, baked apple and some very light notes of popcorn butter. The rich and intense flavors are supported by its texture and bright acidity. This wine sports a noticeably long-lasting finish. It went through full malolactic fermentation, although based upon its overall character, one perhaps would not guess this was the case.
The UV Vineyard is named in honor of the late vineyard manager, Ulises Valdez Sr who planted Chardonnay and Pinot Noir on this cool weather property. The site is located only 6 miles as the crow flies from the Pacific Ocean, near Graton and Occidental in what locals' call, 'west county'. The first vintage of Chardonnay from this vineyard bottled under Carte Blanche was in 2015. Keplinger had already worked with the Valdez family for both Keplinger Wines and Kerr Cellars. And grapes from the UV Vineyard are sold to other premium producers including Paul Hobbs Winery and Aubert.
Carte Blanche purchases their Pinot Noir from the Sun Chase Vineyard in the Petaluma Gap of Sonoma County. They source four different clones of Pinot Noir from four blocks all differing in elevation ranging from 900 feet to 1,400 feet. Each of these clones is picked individually, then fermented (in 2021, 30% whole cluster) and aged for 18 months separate from the others in 40% new French oak barrels until the final blending decisions are made prior to bottling. The 2021 Carte Blanche Pinot Noir Sun Chase Vineyard is medium ruby in color; the bouquet is focused on fruit aromatics but is complemented nicely with lighter spice notes. We immediately noted that the bouquet reminded us of our grandmother's old velvet lined cedar box which must have been at least 40 years old when she gifted it to us before she passed away. The bouquet also offers aromatics of white pepper, black raspberry, dried rose petals and as it evolves in the glass shows notes of dried herbs including sage. This wine offers flavors of raspberry, red cherry and a light dried orange peel note. The ripe and rounded tannins feel the same as running one's fingers over soft velvet; they linger smoothly along with a very subtle barrel influenced sweetness.
Sun Chase Vineyard is 250 acres of which approximately 39 acres are planted to Pinot Noir (roughly 60%) and Chardonnay (roughly 40%) divided into 20 separate vineyard blocks. A number of mostly Sonoma County producers craft vineyard designate wines from this site. The vineyard is owned by Alex Guarachi; he purchased this property in 2013 and a year later acquired Meadowrock Vineyard on Atlas Peak in Napa Valley (with a physical winery on site).
The Carte Blanche The Mark was originally called the Proprietary Red. But it was a wine that was somewhat 'lost' due to its generic sounding name. DJ suggested they call it The Mark; the first vintage with the new name was in 2017. The 2019 Carte Blanche The Mark is a blend of 66% Cabernet Sauvignon, 20% Merlot, 11% Cabernet Franc and 3% Petit Verdot. This year the Cabernet Sauvignon was sourced from Beckstoffer's Missouri Hopper Vineyard, the Cabernet Franc from Sage Ridge Vineyard above Lake Hennessy (owned by Judy Jordan of Jordan Winery), and the Merlot from Beckstoffer's Orchard Vineyard in the Oak Knoll District. The bouquet immediately offers aromas of tobacco spice along with ripe dark plum, blackberry and boysenberry. The fruit aromas become more expressive as the wine has time to open in the glass. Some of the spice notes on the bouquet are also echoed on the palate. Its textural feel is a characteristic worth noting; the tannins are plush, ripe, rounded and chalky in their textural feel. And they are evenly distributed across the palate. This wine drinks extremely well in its youth; we tasted four years post vintage.
And in 2023, Carte Blanche began sourcing their Merlot for The Mark from one of the premier Merlot Vineyards in the Oak Knoll District – Blackbird Vineyards.
The 2019 Carte Blanche Beckstoffer Missouri Hopper Vineyard (Oakville) Cabernet Sauvignon (100% varietal from clones 337 and 4) is deep ruby and opaque in color; the bouquet is dark fruited including of plum and blackberry along with an earthy/dusty note, old cedar wood, tobacco spice, violets and graphite – with an almost rusting iron nuance. The palate offers mouth-filling flavors of blackberry and boysenberry but is complemented with a freshness of acidity. The palate reveals flavors of both red and darker fruits including of currant, blackberry and boysenberry. The finish lingers brightly with flavors of plum, dried tobacco spice, cedar and some dried herbs. Its savory dryness outlasts the fruit. This wine offers a textural density on the finish but with rounded and fairly silky tannins. It has plenty of depth yet a simultaneous balance. It was aged for 22 months in premium French oak barrels from coopers, Darnajou, Taransaud and Sylvain.
Tastings, Vintner's Collective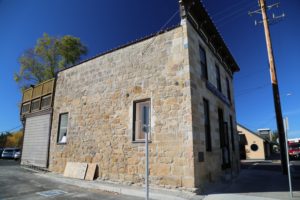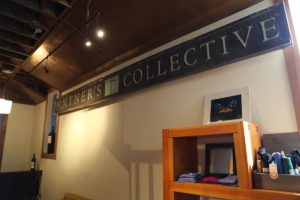 Carte Blanche is part of a coveted collection of wine producers represented at Vintner's Collective, the city of Napa's oldest collective tasting room. Vintner's Collective showcases wines from a select group of mostly Napa Valley based brands – most of which do not have their own tasting rooms. And it's not easy to have one's wines represented here. Vintner's Collective has an in-depth vetting process to make sure the wines match what their customers are interested in, including varieties, price points and wine styles.
The tasting flights differ everyday which is certainly part of the appeal for visitors. Unless you are acutely tuned into the world of boutique Napa Valley producers, you may never have heard of any of the labels that are being poured, and that is not a bad thing. These wines represented are typically from producers who have a maximum production of 1,000 cases. A number of tasting flights are offered – geared towards all levels of wine interest and prior knowledge.
Walk-in customers are generally welcome if space allows but appointments can also be requested including for more private tastings hosted upstairs.
—
And private visits can be arranged, hosted either at the winery in Carneros where the Carte Blanche wines are produced or at the Keplinger tasting room in downtown Napa.
Total production varies each year but is often around 1,100 cases. As of our latest update to this review, the wines are distributed in 12 states including in California by Kimberly Jones Selections. And there is very limited distribution in parts of Japan, Korea, the U.K. and the Netherlands. For more information, to acquire current release bottlings, to join their mailing list or to schedule a private tasting, visit: www.carteblanchewine.com
Family owned properties in France
Nicholas's great grandfather Clarence Dillon moved to New York City from east Texas and founded the Wall Street investment banking firm, Dillon-Reid. This company was independently owned until the 1980s when it was sold to JP Morgan. The October 2, 1978 edition of Newsday indicated Dillon-Reid had been recently appointed as the financial advisor to the city of New York.
Dillon purchased Château Haut-Brion in 1935. Château Haut-Brion is part of the family owned and operated Bordeaux based Clarence Dillon Wines created in 2005 by Dillon's great grandson, Prince Robert of Luxembourg. This company also owns Chateau La Mission Haut-Brion, Château Quintus in Saint-Émilion and founded in 2005, Clarendelle a negociant brand which is distributed in 80 countries. In what is a round about Napa Valley winery connection, in 1983 the family purchased Chateau La Mission Haut-Brion from Francis and Françoise DeWavrin-Woltner who moved to Napa Valley to begin Chateau Woltner on the slopes of Howell Mountain in the old Brun & Chaix Winery. Later that winery became the home to Ladera and today is the home 13th Vineyard by CADE Estate. And it should be noted that this sale involved Americans purchasing a French winery so that the Woltner's, a French couple could move to the U.S and make wine.
And in Paris the company owns the well-regarded 2-star Michelin restaurant Le Clarence and La Cave du Château, a boutique wine shop specializing in premium French wines and spirits. The restaurant and the wine shop are located on Avenue Franklin Delano Roosevelt, directly across from each other in the same building. The wine shop features a fine selection of wines from primarily French producers. A cellar located on a lower level features their most premium selections including wines from their three estates. The wine cellar for Le Clarence is also located here; visitors can view it through several windows from the lower wine shop cellar.
Carte Blanche is not associated through ownership with these other family businesses. We will visit all three estates as time permits in addition to lunch at Le Clarence during our next visit to France and will update our notes here at that time.
Le Clarence

La Cave du Château

Wineries
Chateau La Mission Haut-Brion
Château Quintus in Saint-Émilion