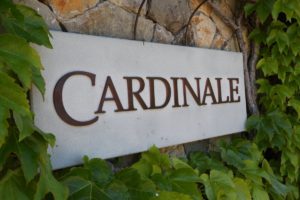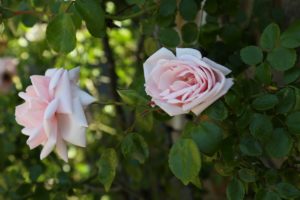 Cardinale Estate is one of the older wineries in Oakville (founded 1981) and is located a short drive off of Highway 29. The hospitality center and winery are perched on top of a small natural hill. This is the site of the old Robert Pepi winery – which used to specialize in Sauvignon Blanc, Sémillon and Chardonnay. Incidentally after selling this property and winery Robert is now running his own boutique label called Eponymous. Cardinale is owned by Jackson Family Wines.
Cardinale's hospitality center is visible from the Highway 29; the stone building is classy and elegant with great views of the Napa Valley especially from it's north facing outdoor patio. While most wineries in Napa focus on a number of wines, it is the rare winery that puts all it's effort into producing one great wine each year. Cardinale is one of these unique wineries that do so – producing a single Cabernet Sauvignon (with lesser amounts of Merlot in the blend) every vintage.
The physical winery where Cardinale's wines are made is located directly below the upstairs hospitality center. Another production facility located towards the back of the property is large by Napa standards (and houses a select number of Jackson Family owned wines). This particular facility also contains a sizable underground barrel room. When you reach the hospitality center and park – look immediately down to the East – you will notice the roof of this cellar is entirely covered in grass (a living roof is quite unique for a Napa winery).
With such a diversity in vineyard sources, blending is a critical component of making the Cardinale wine each year. All the wine lots are kept separate before blending – often winemaker Chris Carpenter starts with as many as 40 separate lots. The grapes are hand sorted and then typically fermented with indigenous yeasts. All oak used for aging is from France.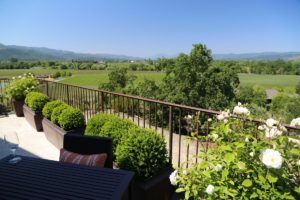 The vineyard sources for the Cardinale's wine are all from the nearby Mayacamas and Vaca mountain ranges (these ranges form the borders of the Napa Valley running in a north/southerly direction). Their focus is on sourcing grapes from both hillsides and bench-land locations including from well-known appellations such as Diamond Mountain, Spring Mountain, Howell Mountain and Mount Veeder.
Visitors to the property will observe that the winery is surrounded by acres of grapes growing on the valley floor – at the base of the hill. However none of this fruit is used in the Cardinale wine; rather all these grapes are sold to other wineries.
After fermentation, all wine is placed in 100% tightly grained New French Oak for extensive aging. Their goal is to create big, yet refined and elegant vintages – wines that can be consumed now if you choose, but really come into their own with some aging. The wine is bottled unfiltered for maximum flavor and color with minimal fining. Typical production of this one wine varies, in recent years from about 2,000 to 4,000 cases annually – it is selectively distributed nationally, most often at fine dining establishments.
All visits are by appointment and include a tasting of a Sauvignon Blanc called Intrada to liven up your palate, followed by a La Jota W.S Keyes Merlot and two vintages of Cardinale – a current release and a library wine (often 10 years old). The wines are paired with selective small bites & cheeses prepared by their culinary team.
A guest room is setup with tables adjacent to the actual tasting counter; from here on a clear day you have stellar views looking north and to the west. A telescope is also available for more intimate viewing afar. If the weather is nice, it is worth taking a few minutes to walk outside on their patio.
Select Wines
The 2015 Intrada is a 88% Sauvignon Blanc and 12% Sémillon blend sourced from valley floor vineyards. This is their 'welcome wine' as the staff puts it – only available for purchase for on site guests. The 2015 vintage shows a pretty bouquet – think springtime, elegant and floral. Has a rounded feel on the palate showing minerality notes with flavors of green apple on a very long finish. Has some weigh to the mid palate. Very flavorful.
In Italian, the name Intrada refers to the entrance of a selection of music – perfectly named for its role in leading up to the red wines. And Chris often compares wine making to music (he enjoys music and occasionally plays the trombone).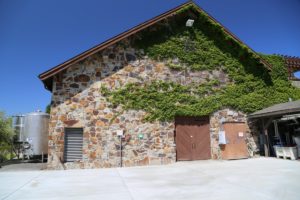 The La Jota W.S. Keys Vineyard Merlot is from a vineyard on Howell Mountain (about 1,600 feet) that was originally planted in 1888. Even early on, the wines from this vineyard received acclaim – earning recognition in 1900 at the Paris Exposition. Chris calls this one of Napa's (and beyond) best vineyard sites for this varietal. And he gets to hand select grapes from the oldest and most prized block from the vineyard each year. It is fairly rare to truly find a premium Merlot based wine in the Napa Valley (and we have tried many Napa Merlots over the years); this is one of them.
The 2013 La Jota W.S. Keys Vineyard Merlot is 76% Merlot with the balance being Cabernet Sauvignon. Dark ruby red in the glass. Shows plenty of black fruit aromatics including black licorice complemented with an herbal note – perhaps green tea leaf. Shows a bit of dustiness as it opens. A very aromatic wine. Soft mid palate with flavors of blackberry – the dustiness from the bouquet continues onto the palate. Noticeable, big but still balanced tannins persist on a finish that lasts for some time.
The 2013 Cardinale Cabernet Sauvignon is 86% Cabernet Sauvignon and 14% Merlot. Remarkably fruit from ten vineyards around the hillsides of the Napa Valley was used to make this wine. But not surprising is all the Merlot came from the W.S. Keyes Vineyard. Immediately shows an elegant bouquet – Asian spices, dust, toasted oak. This wine is well layered aromatically but even more so on the palate. Dense and rich with flavor (mostly darker fruit) the wine features grape and oak tannins, grippy in nature and slightly chewy. How many years will this age? Seems like it has all the elements to cellar for at least several decades!
The 2007 Cardinale was nearly 10 years old at the time of our tasting. Shows sweet aromatics, somewhat floral and as it opens a noticeable black fig aroma is revealed. Also a herbal hint – somewhat savory. Very approachable on the entry – shows notes of red cherry on the palate. Great acidity – mouth watering so. Tannins are noticeable but are well integrated. Seems this wine still has plenty of life ahead of it.
Other Napa wineries/brands/vineyards also under ownership by Jackson Family Wines include Atalon Winery, the old Chateau Potelle vineyards on Mt. Veeder (not the actual label), Galerie, the old Terra Valentine Winery (now Lokoya), Freemark Abbey, Mt. Brave and W.S. Keyes.
Cardinale's wines have received very high ratings from Robert M. Parker Jr. The wine they produce show intense flavors, yet retains an element of elegance with often approachable structure and an inviting mouth feel (velvety at times). Cardinale offers a variety of very personalized tasting experiences. Advance reservations are a must. Visit: www.cardinale.com