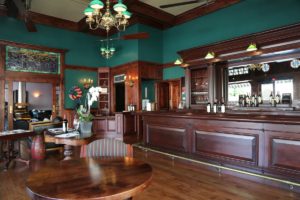 Capp Heritage Vineyards. Walking into this tasting room is more like walking into some historical bar that might well be in one of California's gold rush towns – perhaps Jamestown or Sonora in the California foothills. Combine the feel inside this tasting room with the gun and gun exchange shop that is located directly behind and you truly have a feel of "old" California in downtown Napa.
NOTE: this tasting room is now permanently closed.
A little history is in order to explain the look and feel of this tasting room. The owners are one of Napa's old time families – having first moved to the valley in 1845. David Hudson settled in what is now the town of Sonoma, before it was even a town. He and a brother and a sister crossed the Sierra Nevada Mountains one year before the infamous Donner party. He and 12 other relatives were also part of the Bear Flag Revolt of 1846 in Sonoma that ultimately seceded California from Mexico.
Eventually Hudson settled in St. Helena – and planted grapes, selling them to one of Napa's earliest wineries – Charles Krug. Another name synonymous with early Napa winery history is Beringer. One of the Beringer brothers, Jacob used to help manage Hudson's vineyards and his fruit trees. The Beringer's eventually purchased Hudson's property – the Hudson House on the current Beringer Estate ties in some of this early Napa winery history.
The "modern" day family, the Capps, started growing grapes in 1973 in Wooden Valley on their 100 acre property (North East of the town of Napa). Several prominent Napa wineries have been purchasing fruit or manage vineyards in this valley including Caymus and Robert Mondavi. Capp Estate proprietor, Daniel Capp planted the first vines for Franciscan Winery and was their first employee. Yes, the business of growing grapes certainly runs in this family.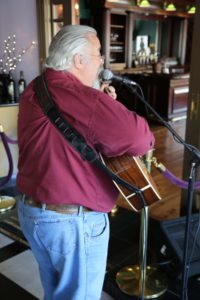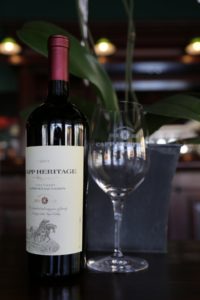 During a recent visit, Dan's daughter Rebecca was working the tasting room. She is 6th generation Napan. Her family's interest in history and heritage is clearly evident in the tasting room motif. Her parents are avid travelers and collectors of antiques. A number of interesting items decorate the tasting room, many of which were gathered during their travels. Take the bronze looking Hollywoodesque statue that is in the corner of their "Art Deco" room. This dates to 1925 and was from the old Hollywood Hotel in Los Angeles. As it is not behind glass the natural reaction is to want to touch it. Fortunately the Capps have placed several pairs of gloves nearby for visitors to use.
Other neat items of note are the still working Amish "belt driven" fans that hang over the main tasting room, a gold colored ancient looking cash register that Rebecca's mom found on Craigslist and a modern copper fireplace that the family designed themselves.
All the red varieties are grown on their property in Wooden Valley – they source the white varieties from select vineyards in Napa. Their labels show the family's original pioneer, David Hudson at work in the fields – with horses and a plow. A faded background on their label is an image of the original deed that David Hudson signed when he sold his property to the Beringer Brothers in St. Helena.
Highlights of a tasting include their 2012 Sauvignon Blanc. This wine saw both stainless and some oak during the aging. Aromatically it is very floral, with tropical notes. The palate is balanced with some spiciness and weight on the finish – some fine wood tannins show.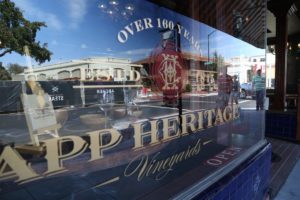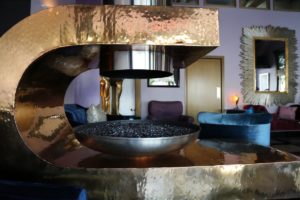 The 2012 Gewurztraminer is very aromatic – it smells like the wine should be sweet when in fact the palate is nearly dry. The nose is a mix of tropical scents including pineapple, honeysuckle and jasmine – as the wine opens the nose becomes more citrus like. The palate is lean with good acidity – and finishes with lingering notes of Meyer lemon.
The 2010 Merlot has a powerful nose – with black ripe fruit including blackberry. The palate is a little dusty, showing hints of smoke and leather. Robust tannins anchor a long finish. The 2010 Merlot Cabernet Sauvignon and Petit Verdot blend is a balanced wine. The bouquet shows high toned fruit – red currants. Mouth watering acidity with red berry fruit shows on the palate. Broad long lingering tannins anchor the finish.
Their total production is just about 2000 cases – with each of the wines only about several hundred cases. With a commercial kitchen on site they can hold events by prior reservation. Artists rotate their artwork through the Art Deco Room and music is often a part of an experience here (local musicians are often invited to perform). They are open later on Fridays and Saturdays – with sit down seating and some couches, its a great place to relax after work.
For more information, visit: www.cappheritage.com
NOTE: this tasting room is now closed and has been replaced by Alpha Omega Winery & Collective tasting room. We will update this review at some point (assuming they continue to produce wines).
We will keep an eye on this producer and will archive this review if they stop production.