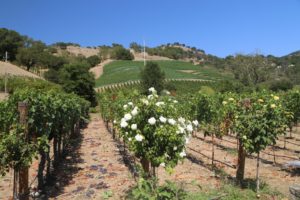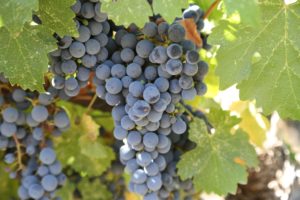 Cannatelli Wines was founded in 2011 (the inaugural vintage) by Len and Judy Cannatelli with the acquisition of a tiny property in the Yountville Appellation along the Silverado Trail. For many years they owned a home in Newport Beach; years ago, one of their Southern California friends introduced them to Sonoma Valley recommending a number of boutique wineries. After a day of wine tasting both decided to drive over to the Napa Valley using the Oakville Grade. Upon dropping down into the valley floor, as those well know who use this road regularly, the views of the vineyard covered landscape framed by the Vaca mountain range in the distance can be stunning. Both were immediately inspired by what they saw as they descended the grade and Judy immediately told Len, "We need to live here."
Len's background is in commercial construction (he still works in this field), and Judy is a trained artist focusing on California landscape oil paintings. Judy's passion for the Napa Valley is contagious – she readily admits, "passion is the key to one's charisma". But her passion for wine came later, recalling her first introduction to college was the cheap stuff, eventually discovering Merlot and later enjoying fine Cabernet Sauvignon.
Their tiny vineyard was already growing when they acquired the property – previously planted by Joe Wagner (son of Caymus Winery owner Chuck Wagner). The common phrase used in the wine industry when a vineyard is growing at one's home is to refer to it as a 'backyard vineyard'. Rather, their 1/4 of an acre home vineyard is in the front yard on the slopes just below the Silverado Trail on benchland soils slightly raised above the valley floor. This is a unique part the Yountville appellation because homes along this part of the Silverado Trail (called the Acres) were grandfathered in prior to the Williamson Act of 1968. As a result, despite being located outside of the city limits, the amount of land for each house is not tied to the 40-acre rural Napa Valley agricultural zoning limits.
And while their vineyard is small it sits in close proximity to vineyards of prominent stature including Gemstone, Cliff Lede and Robert Sinskey. In late 2021 they acquired a neighboring 5-acre parcel with a small existing vineyard.
The first several vintages were made at Judd's Hill Microcrush. Then one day Judy spotted someone walking around in one of their neighboring vineyards, the Grigsby Vineyard (part of Rocca wines) and she went out to introduce herself. Turns out it was Paul Colantuoni, consulting winemaker at the time for Rocca Vineyards.
Paul's story of how he became a winemaker in the Napa Valley is an interesting one. He was actually on a career path towards medical school and decided to pursue winemaking after earning non wine related degrees. Upon a whim Paul wrote a letter to Tim Mondavi (who at the time was still at Robert Mondavi Winery) – Tim answered back and ultimately gave him a job. As it turned out, an introductory wine job that would keep Paul in the valley year-round was in Mondavi's hospitality department, hosting tours.
Paul packed everything in a Ryder truck and made the long drive from the East Coast as well as a career change to the Napa Valley. He worked a number of years at Mondavi as well as at Neyers Vineyard and then spent time winemaking in France and Italy. Upon returning to the states, he discovered a family friend needed a winemaker (Alante Vineyards) – today Paul is consulting winemaker for the Cannatelli's and also spends his time pursuing charitable efforts.
Paul took over the Cannatelli winemaking with the 2013 vintage. He also helps out in their vineyard, but the majority of the vineyard work is done by Juan Torres – who is often serenaded by the inspiring sounds of classic Italian opera playing from their outdoor speakers.
The tiny vineyard was planted to approximately 50% Syrah and 50% Cabernet Sauvignon and a small amount of Petit Sirah. When Paul took over the winemaking duties, he encouraged the Cannatelli's to bud over the other two varieties to Cabernet Sauvignon which they have since done. The 1/4-acre vineyard is now entirely planted to clone 337 of Cabernet Sauvignon. However, they also source small amounts of fruit from the neighboring Grigsby Vineyard.
In September 2015 Judy received a call that their house was on fire. She was in southern California. A spark spread to their deck and within a short time the entire house was smoldering ruins. Three years later, they were evacuated from their newly built house at 2am when flames from the Atlas Peak fire quickly spread to the hills right above their vineyard – with flames burning almost down to the Silverado Trail directly across from their home. Fortunately, this time the firefighters were able to stop the flames from spreading further.
From 2011 to 2015 the wines were bottled under the name Legacy Oaks (Judy loves oak trees, grew up in Thousand Oaks, California). Due to a trademark issue (which they discovered the day after their house burned to the ground), they changed the name of the brand to Cannatelli Wines starting with the 2016 vintage.
Select Wines
Those who meet Judy will quickly discover her passion and zest for life is tied into relationships and friendships created with others. She and Len often dine in nearby Yountville and it's not unusual for them to meet new friends while at dinner; sometimes accompanying them back to their vineyard for more socializing. Their Sauvignon Blanc is labeled the Affection Connection – a wine created in tribute to the relationships that both she and Len have built over the years – this wine is made to share with friends and family.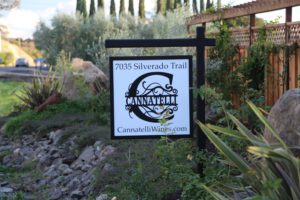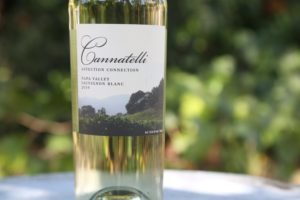 The 2019 Cannatelli Sauvignon Blanc is from a premium vineyard source in the valley. The wine is medium yellow in color; offers attractive aromatics with notes of toast, honeycomb, honeysuckle and a lemon zest. The aromatics tend to be teased out a bit more with some air; we tasted this wine about a year after harvest. Rounded with a supple slightly creamy texture that is complemented very nicely by bright but not sharp acidity. Features mineralities, flavors of mandarin, lime and grapefruit. Very balanced. Shows the varietal characteristics instead of the 'California characteristics' that riper showings of this variety often portray. And the image on the label is one of the stellar views from their back yard overlooking parts of the Yountville appellation.
The 2016 Cannatelli Napa Valley Cabernet Sauvignon is deep purple in color – with expansive fruit forward darker aromatics including blackberry, plum, black licorice, and various other notes including darker chocolate, mocha, vanilla and notes of cedar. The influence of the oak gives the bouquet a slight savory note. Almost a little 'meaty' as the wine opens further. Rounded on the palate with rich fruit including dark cherry and blackberry. Additional spice notes include hints of mocha and coffee grinds with a thread of dust towards the finish which adds a nice textural component. Features silky smooth chalk-like texture and tannins that are seamless in their textural feel – lingering with a light grip. This wine is robust in aromas and flavor – while complemented by a lighter texture.
The 2013 Legacy Oaks Cabernet Sauvignon is dark crimson in color; on the bouquet reveals aromas of blackberry, red cherry, raspberry, licorice and cedar box. Shows both darker fruit and darker spice notes including tobacco and a dry dust/dry rock nuance. Offers excellent depth of flavor perhaps a bit richer then the 2014 vintage. A dark spice component shows on the finish (white pepper) with tannins that have some grip – not as fine grained as the 2014 vintage and are grainy in their textural feel. Very long finish.
The 2014 vintage in general in the Napa Valley produced fairly approachable wines in their youth. The 2014 Legacy Oaks Cabernet Sauvignon offers an elegant bouquet with blackberry, ripe plum and Fig Newton complemented with more subtle aromas of Graham Cracker, red licorice and sweet chocolate. Offers a highly appealing texture – one that is like velvet across the palate. Nothing harsh stands out; the wine is superbly balanced showing both red and darker fruit flavors. Delicate and supple tannins linger gently on the finish. This wine continues to improve with age – we have enjoyed it several times over the years.
—
Total production each year ranges from around 100 to 200 cases. Currently they have no retail distribution whatsoever and the wines are only sold through their website. For more information or to purchase wine, visit: www.cannatelliwines.com