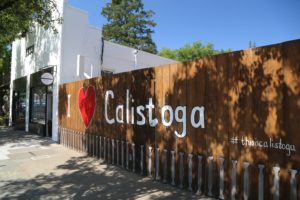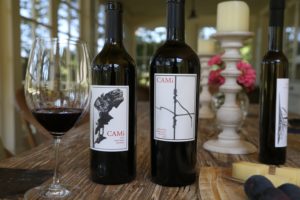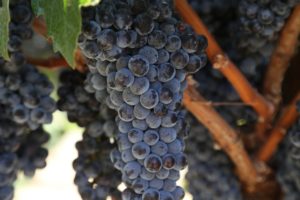 CAMi Vineyards was founded by long time Napa resident, Laurie Shelton with her first wine from 2013. Her production is rather small – usually under 200 cases from her tiny 2.5-acre vineyard in the southern part of the Calistoga appellation along the Silverado Trail. When she and her husband at the time Tom Shelton (died in 2008) purchased the property in 2009 there were already Merlot vines growing on site. Tom was well respected in the industry. His career with wine began in San Francisco in 1984 – working at Vintage Wine Merchants. Then he worked for Franciscan Vineyards as vice president of sales and marketing – and was at Guenoc Winery (in Lake County) for a short stint. But it was his time at Joseph Phelps that he perhaps will be most remembered for (he was President and CEO of that winery for many years). And he also served on the board of directors for the Napa Vintners for 5 years. He died far to young (of brain cancer) at age 55.
The wine is named after Laurie and Tom's daughter Cami. When Laurie was pregnant with her, several friends from Montreal were visiting – wine importers, Charles and Sylvie Goyer. Laurie overhead Charles one evening calling to his daughter as she was playing among the grapevines. "Cami, Cami", he called – short for Camille. Laurie had the idea to name her daughter Cami but Charles said that needed to be her name, rather Camille. And so, it was.
Laurie has been involved in the world of wine for many years. Born and raised in Ann Harbor Michigan, she recalls her childhood was rooted in agriculture with summer stays on her grandparent's farms. She first began working for Florida based wine broker McKnight Marketing where she represented a number of brands including one of Napa's older labels, Tulocay. It was her work here that allowed her to meet Tom.
Besides her role with CAMi, Laurie is also an expressionistic painter who divides her time between Palo Alto and her Calistoga property. She admits she has a specific artistic fascination for cows – and a number of her pieces feature bovines and other farm animals.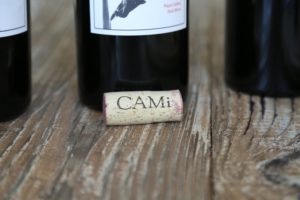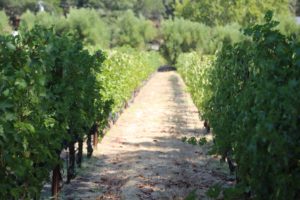 It had been Laurie's dream to make wine for many years – when Tom was alive they even had a label picked out and for three years they made a home wine at Judds Hill micro crush winery (a barrel of wine from grapes from their property). For a number of years, they were selling the fruit to select wineries. Finally, timing was right – so some 13 years after Cami was born, CAMi Wines was founded with the inaugural vintage of 2013. The focus is on a single wine – representing the estate vineyards – of which 2.5 acres is about equally divided between Cabernet Sauvignon and Merlot (the entire property is about 5 acres).
The Merlot has the distinction of being from the same cuttings that was used to plant the iconic Three Palms Vineyard (slightly to the north of Laurie's property) – it was planted in 1994 by Paul Saviez of Saviez Vineyard Management and their Cabernet Sauvignon (clone 337) was replanted in 2005 – from cuttings taken from Silverado Vineyards in the Stags Leap District.
Today the vines are under the capable hands of Piña Vineyard Management directly managed by Justin Leigon. Winemaker John Giannini has crafted the wines since 2014. Laurie first met John when he was a sous-chef de cuisine at Terra Restaurant in St. Helena (now closed). Without a formal education in oenology John has learned the art of wine making from books and from hands on work. With his culinary background he found recipe books extremely practical, highlighting which ingredients to use and how to make certain dishes. With wine making he has found there is no recipe, no formula and what has been most helpful has been the hands-on work in the cellar and vineyard – with perspective gained from well over a decade of making wine.
He has had a great mentor; through a mutual friend he was introduced to acclaimed winemaker Thomas Brown. Thomas hired him to help with cellar work in 2003 – by 2007 he was promoted to full time Assistant Winemaker at Outpost Winery including helping making wine for Thomas's other premium clients.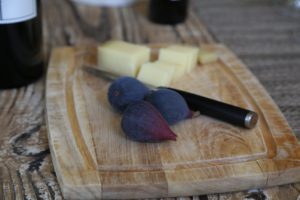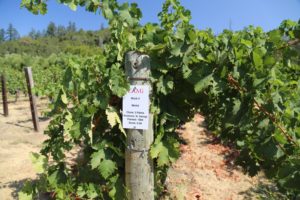 John barrel ferments all of the wines and then ages in the same barrels. He has no formula on how much new French oak is used, preferring to let the vintage dictate – although he often uses 70-90% new French oak. His philosophy is to best express the vineyard site and does not blend in any non-estate fruit. The wines are bottled unfined and unfiltered.
While this is Laurie's project, it is also a homage to Tom Shelton. And Tom's son Trevor Mansfield is also involved from afar; born with wanderlust, he is a fashion photographer whose travels have taken him from Asia to Europe (where he currently calls Spain home). His photography of various parts of the vineyard is used on every label of their wine and changes each vintage. His work with grape tendrils has created several intriguing labels. And for every vintage he is responsible for choosing a specific quote for the back label (an homage to Tom, who enjoyed reading poetry including poems from Robert Frost). And their inaugural release in 2013 includes a poem Trevor wrote which is clearly a highly personalized, powerful and poignant tribute to his father:
"The fruit has past
But its juices thrive
Its legacies never been so alive
Land, light, and wind cast by glass
The bottled spirit of the land
Remember to Laugh over this epitaph
For the memories not bland but grand
And when you taste, do so on behalf
Not of strife, but of love of life."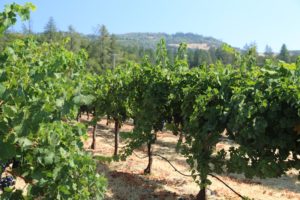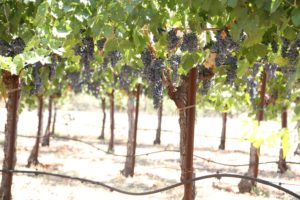 The 2014 CAMi Napa Valley Estate Red Wine offers pretty aromatics, elegant and a bit floral at times (violets and rose petal) with cedar and tobacco leaf and more nuanced secondary aromas. Packed with flavor – supple from start to finish offering flavors of blackberry. A plushness, a tangible softness shows on the finish – which lingers with both fruit, hints of mocha, toasted oak and a darker spice presence. Easy to drink.
The 2015 CAMi Napa Valley Estate Red Wine. Crimson on the rim and dark in the core, opulent and fruit driven aromatics make this a wine you immediately want to take a sip of. Bright aromatics show ripe boysenberry, blackberry, spicy plum, old cedar box and hints of cinnamon. As the wine continues to breathe, more subtle aromas of brown sugar are revealed. Very well constructed in its balance – this wine is seamless across the palate. Dark fruit – blackberry, tinged with toasted vanilla and oak linger on the finish. Smooth and supple, the integration of the slightly dusty and woodsy tannins and the fruit lingers nicely for quite some time. Very approachable in its youth.
We have heard about a number of detrimental hazards to grape vines over the years – disease and the occasional destruction of vines when one is hit by a tractor. But this is a first: one of the apparent hazards of a vineyard located next to the Silverado Trail is devastation from automobiles who in the past have become airborne after taking the bend next to the northernmost part of their vineyard too fast. One such vehicle took out about 40 vines on the edge of their vineyard after the driver's car plowed through their vineyard.
CAMi Tasting Room/Art Gallery, Calistoga
In 2019 Laurie purchased a building at 1333B Lincoln Ave in downtown Calistoga and converted this into The CAMi Art Gallery & Tasting room. The gallery opened in June 2019 – and in August 2019 opened for wine tastings during selected hours with both indoor seating at the small bar in the back and sidewalk bistro style seating. Select chocolates are available to pair with the wines. The artwork displayed on the walls is for sale.
The space features a full commercial kitchen and can be rented out for private events.
While wine is their focus – a number of olive trees are planted (originally purchased from McEvoy Ranch in neighboring Sonoma County). During a good year, they often produce up to 60 gallons of olive oil (which sells out quickly). This olive oil is sold and at times available for tasting in the tasting room. Besides sold direct to consumer through the tasting room, the wines are sold via a mailing list and locally are available at ACME Wine Shop in St. Helena and at K.Laz Collection in Yountville. Laurie sometimes pours wines at select consumer wine tasting events (check their website for details). For more information or to purchase wine, visit: www.camivineyards.com