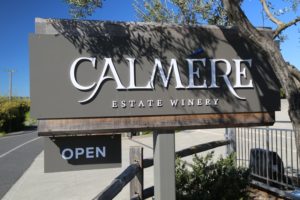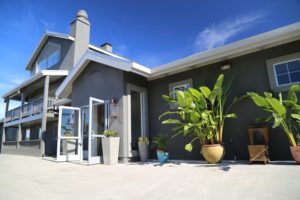 Calmére Estate Winery, formerly Liana Estates, formerly LE Estates opened in early October 2016; two sisters, Lisa and Ariana (both second generation winery family members) purchased the old Acacia Winery and nearly 100 acres of vineyards on the Napa side of Carneros. They have combined efforts to offer a variety of hospitality experiences paired with quality wines that are priced quite reasonably (by Napa standards).
Their original name Liana Estates was originally created by combining parts of Lisa and Ariana's first names. Due to trademark issues, they had to change the name, using Calmére taken from the French words for calm (calme) and sea (mer). This refers to the calm feel that one has when visiting this part of Carneros in conjunction with the view of the San Pablo Bay in the distance.
Both are the daughters of Tony and Herta Peju, the founders in 1983 of Rutherford based Peju Winery. Their parents both have an international upbringing; Tony was raised in France, Herta was born in Austria and raised in Venezuela. They met in Los Angeles where both were living at the time. Tony became involved in the nursery business in Los Angeles along with residential real estate. Eventually he decided to move the family to Napa Valley after purchasing 30-acres – at the time, site of an old house but no winery. Very much a family run business, Tony and Herta continue to be involved in the operations in advisory roles along with their two daughters Lisa and Ariana who oversee the day to day management of the operations.
Each daughter has been instrumental in their family winery's success. While growing up "among" the vineyards Lisa has officially been working for Peju since 2001 and Ariana since 2007.
Based on the winery location (elevated on the side of gentle rolling slopes), when clear, one has great views of the nearby San Pablo Bay. It is not always clear here as this part of Napa sees significant amounts of fog rolling in from the cold waters of this bay. In the summer, as a generalization, the fog tends to hang around this region until mid morning and warms up by mid day to early afternoon and then soon starts cooling down again with breezes blowing in from the bay.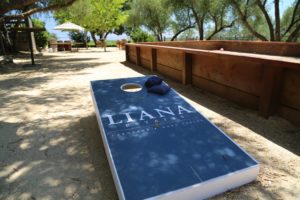 A number of unique experiences are offered for guests including at the time of our last visit, a one hour yoga session followed by a provided brunch. This occurs behind the winery on top of what they call Bayview Hill number one. The Wine + Picnic experience offers their current releases provided with a locally prepared picnic lunch. And a barn that was built in 1979 has been restored to offer guests their Bayview Barn Sunsets experience – held later in the day one enjoys both wine and small bites from local and regional producers (oysters, locally raised eggs etc). Note that these offerings evolve over time and new experiences may now be different than before.
Total production is around 7,000 cases annually but that will certainly increase as they add wines from their estate vineyards (2016 was the first harvest of their estate grapes with production occurring on site). Lone Tree Vineyard, encompassing part of their property is planted mainly to Pinot Noir but also with a small block of Viognier. Plans call for replanting part of this vineyard.
The variety of locations on the property really allows visitors to choose where they want to taste. A traditional bar is available in their small hospitality center surrounded by several wine making rooms including the barrel room and the tank room. Guests can choose to sit down at tables inside or weather permitting there are a number of tables outside overlooking the nearby vineyards. Bocce Ball and corn hole are also available to complement this relaxed setting. Calmére Estate Winery is big into corn hole.
The Mercantile features a variety of clothing options and various souvenirs. Plans call for partnering with several local Carneros producers of both olive oil, eggs, and honey to also offer these products on site.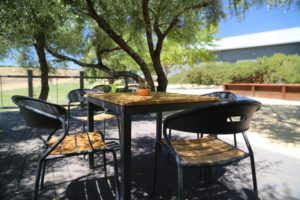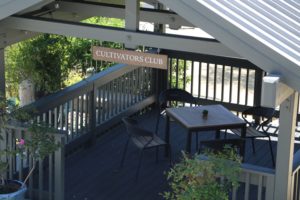 Sometimes one may see more bicycles than cars in Carneros. Along with parts of Napa Valley north of Calistoga, Carneros is one of the better regions for bicyclists (less wineries and less vehicle traffic creates a much better cycling experience). And when tasting outside, it also makes for an enjoyable experience – rather then watching or hearing cars pass by on Las Amigas Road, chances are one will be enjoying some silence between conversation with friends or family.
Select Wines
Guests will discover varieties not often found in Napa here; some of their wines feature what they call the "lost" grape – wine made from grapes that are seldom seen in the market, much less from a Napa based producer. Case in point is their Orange Muscat. The 2015 Calmére Estate Orange Muscat was fermented to dryness in stainless steel tanks. It underwent no malolactic fermentation. Initially there are notes of pear and dry grass but as the wine is allowed to breath, it becomes extremely floral (honeysuckle, hibiscus and citrus blossom). On the palate the wine is rounded but also with a crispness. Flavors include citrus with a noticeable tangerine nuance – which lingers for some time.
The 2014 Calmére Estate Pinot Noir was sourced from the Napa side of Carneros; the bouquet was somewhat closed at the time of our tasting but featured subtle aromas of red cherries and raspberries and just a hint of mocha. The palate shows a sweetness of dessert spices with additional notes of raspberry plus strawberry. Delicate tannins along with fruit linger softly on the finish.
The 2014 Calmére Estate Red Blend contains Cabernet Sauvignon, Merlot and Petit Verdot (all sourced from up valley). The wine is dark ruby in the glass showing predominately red fruit aromas including red currant and red cherry and a very subtle hint of mocha. The palate shows notes of plum, very good acidity and a lingering tartness of fruit along with a dryness of tannins (which persist well after the fruit finish). This is a lighter style blend with very noticeable tannins.
—
Notice some of their labels; all are simply presented with some variety words split in two. Their wines use screw caps (still not yet accepted by most wineries in the Napa Valley).
A rarity in Napa is a winery that produces more then one sparkling wine – there are only four primary wineries focusing on sparkling wines in all of Napa Valley (nerby Domain Carneros, Domain Chandon, Mumm and Schramsber). Calmére Estate Winery produces enough sparkling wines that they have devoted a club to these wines, simply called the Bubbles Club. Their Blanc to Blanc is light and very refreshing.
How many Napa wineries have a star gazing pad with telescope?! Sometimes special events take place at night and guests can enjoy a stargazing party.
During a recent visit, we found the staff spoke both English and Spanish. Their Cultivators Club offers a number of member benefits including use of the Calmére Club Lounge upstairs and weather permitting a reserved deck tasting area, also for members. For more information and to schedule a Calmére Estate experience, please visit: www.calmereestate.com
Winery

Grounds

Tasting Room

Calmére Club Lounge